At least once a year the football world is treated to a FCS/1-AA school surprising one of the BCS giants on their own field. We saw only one last week (Youngstown St over Pitt by 14 points), and almost witnessed a few more (Maryland barely squeaked by William and Mary 7-6, and Northern Iowa almost shocked Wisconsin, for example). It's happened to almost every FBS school over the years, with CU famously being party to it on a couple of occasions.
Sacramento State pulled their own David vs Goliath parable last season when they sneaked past Oregon State in the Beaver's 2011 season opener 29-28. The final overtime possession looked like this:
It's up to the BCS heavy-weights to take these games seriously. Some FCS teams are more than happy to collect their check and move on, but others live for the opportunity to grab the upset and see their highlights on SportsCenter. There's no reason a FBS school with a full compliment of 85 scholarships should ever lose to a FCS school, but it does happen. Hopefully the CSU loss provides more than enough motivation for the Buffs to prepare to beat the team in front of them, rather than look ahead to the road trip to Fresno St.
--
On Saturday, the Buffs return to beautiful Folsom Field for the first time in 2012. I can wait to see the old girl in her sun-splashed gameday best once again.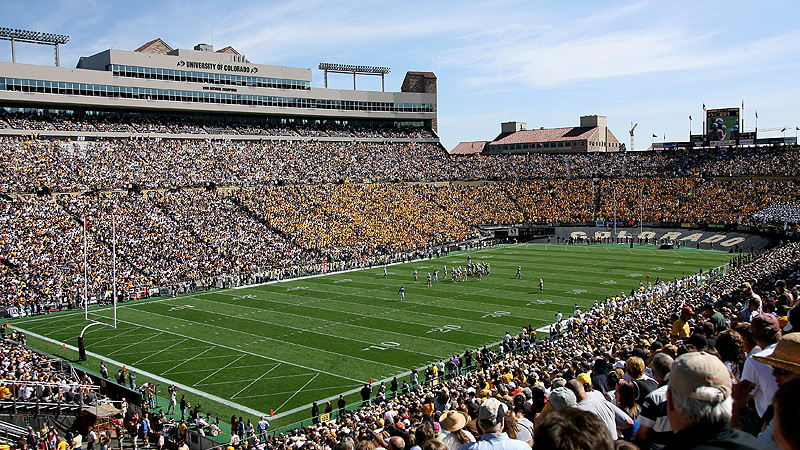 No stadium finer in all the land.
Kickoff with Sacramento State is set for 1pm. Television coverage can be found on the Pac-12 Network (if you get it). Radio coverage, with the dulcet tones of Mark Johnson, can be found on 850 KOA.
Click below for the preview...
I'd like to note that much of the information referenced in this preview comes from the Sacramento State media guide. I wouldn't know this team from Adam, and it's proven to be a vital resource. Kudos to the Sac St SID office!
Opponents season so far -
The Hornets failed to pull a second-straight opening week upset, falling to New Mexico St
49-19
last Thursday.
NMSU QB Andrew Manley had near 300 yards of passing in the first half alone, almost all of it to wide out Austin Franklin, who burned the Hornets for 8 catches and 236 yards (most of it on two big TD strikes of 53 and 84 yards). Sac St simply had no answer for the Aggie's passing attack.
Austin Franklin had a field day.
Behind for almost the entire game, the Hornets actually racked up over 300 yards of passing offense themselves. They even managed to bring the score back to 28-19 at the close of the 3rd quarter, leaving many to say it was a missed opportunity. The Aggies, however, were allowed to score 21 unanswered points in the final frame on a trio of rushing touchdowns.
In total, Sac St racked up just shy of 400 yards of offense, despite only converting three of 15 third down opportunities. Defensively, they allowed the WAC cellar dwellers to churn out 468 yards of offense, and score more points then they had in their final three 2011 games combined.
Offense & Defense -
The Hornets return less than 30% of their offensive yards from last season, as the starting quarterback, starting running back, and a pair of leading wide-outs all graduated. It's the result of a general trend in the program, as there were
42 new faces
in camp this fall (and you thought the Buffs were new...). The offense, especially, could use the influx of new blood, as last years group was one of the worst in the Big Sky Conference.
Adding to the newness in the roster, the Hornets are also showing off a new
no-huddle spread offense
. The brainchild of new offensive coordinator Paul Peterson, it's a departure from previous seasons, where the head coach ran the offense and called the plays.
New coach, new system, new players. From: the Sacramento Bee
So far so good, as the unit played well enough to compete in Las Cruces. The system does bring with it a new set of problems:
"Safron said there were some conditioning issues, and he hopes the Hornets can run their offense at a quicker pace, starting next week at Colorado." -link
Good luck with that at altitude...
On defense, while the replacement situation is much better than the offensive side, there's still plenty of turnover to address. Including all-time Hornet sack leader Zach Nash (an FCS All-American in '11), three of four starting D-linemen are gone, leaving a leaving an especially large hole up front. Under 3rd year DC Anthony Parker, they run with a base nickel, trading a linebacker for an extra defensive back. Hopefully, combined with the neophyte defensive line, the Buffs will be able to get the run game going.
No Zach Nash means an entirely new look for Sacramento St.
Star Players -
The offense is lead by sophomore dual-threat QB
Garrett Safron
who notched 680 combined yards in five games last season. Without veterans at the skill positions, his ability to make plays with his feet behind the veteran offensive line is key. He did, however, turn the ball over three times last week (two fumbles, one pick). When throwing, Safron will be trying to find junior wide receiver
Morris Norrise
. He returns as the teams leading receiver from last season, and started 2012 off with a solid 7 catch, 84 yard day against NMSU. Rushing duties seem to be handed to undersized junior
Ezekiel Graham
(5-9, 170lbs), who only managed 47 yards on 16 carries last week.
Safron is dangerous with his legs.
The lone returner on the defensive line is senior NT
Matt Lawrence
. He's made 19 straight starts for Sac St, and will heavily relied upon to stuff the middle. LB
Todd Davis
does a good job of making himself a menace, as the junior proved with his 11 tackle performance last week; he pairs nicely with senior LB
Jeff Badger
(who is an
accomplished dancer
). Junior
Osagie Odiase
is the closest the Hornets have to a shutdown corner.
Coaching -
The hornets are lead by sixth-year head man
Marshall Sperbeck
, the 9th head coach in program history. He's set the record for most wins to start his career, but has yet to manage a season with more than six victories, and the team has been outscored in four of his five season's at the helm. He owns a combined 24-33 record in Sacramento, and needs a strong season to stave off whatever kind of hotseat an FCS program can have. A second win over a Pac-12 school would go a long way to that end.
Coach Sperbeck has had... wait, wow, that's a terrible mascot costume.
On the plus side, he's a Sacramento native, and has helped the program set records for APR rate. Bully for him.
Prediction -
Only an asshole would pick the Buffs to lose. I don't care about the Montana St game, or the
near debacle
against Eastern Washington in '08. While FCS upsets over BCS programs are not unheard of, they're still very rare. This is a
must
win game, and should be addressed as such. That means no chances. No cute, foofy, and/or bullshit play calling. Win the turnover battle, spring some big plays on offense, etc. JUST PLAY WINNING FOOTBALL! (Getting that run game going would especially be nice...)
If a bottom dwelling program like NMSU can damn near crack 50 on these guys, the Buffs should have a similarly strong day putting points on the board. It may not be a "rout," but the game should end in comfortable victory. The second-string is on the field at the end.
CU 51 - Sacramento State 23
GO BUFFS! BEAT THE HORNETS