This is some bad dream. It has to be. There's no way that my beloved Buffs were made to look like a
pee-wee
team last week. Oh shit... I'm having a flashback!:
*sigh* It was
all real
, wasn't it?
Every minute
of slap-stick, Keystone Cops-esque bumbling of basic assignments and pursuit. It looked like what happens when I turn back the slider on NCAA 13 to "Freshmen," and shed some hapless digital defense. No mercy, with the computer forcing out my starters in the 2nd quarter.
Now, I am become Death, the destroyer of worlds...
There are nine games left on the schedule. Nine opportunities for the Buffs to decide if they care that they as a collective group have been reduced to some mix of national laughing stock and regional embarrassment. I'm not even talking about winning, I'm talking about competing at the basest level imaginable. Gotta walk before you can crawl (
wait a second
...).
The team got by with poor execution and substandard effort against weak-ass opponents in the first two weeks, even coming close to two wins, which now seems impossible. All that Fresno St did was expose the danger of taking that attitude into games with physical, motivated opponents. With conference play now a reality, you can bet opponents will be both physical and motivated from here on out.
May God have mercy on our souls if that statement remains unheeded.
--
Kickoff is set for 2pm MT Saturday. If you're a masochist, you can watch the action on FX. 850 KOA has the call for those who can't stand to watch
the horror
, but still want to follow proceedings.
Click below for the preview...
Let's give a shout-out to a Buff still shining in Black and Gold. Darragh O'Neill has helped the team place second in the conference for net punting, as the sophomore has averaged near 45 yards per kick. Last week, pressed into service an absurd 10 times, he boomed over 428 yards of punts. He even managed to force a fumble. Good work, Darragh!
Damn, that leg's got to be tired.
On a team seemingly bereft of any good news, I scraped the bottom of the barrel, and found the punter. Such is life.
Coaching -
If Washington State is going to dole out
over $2 million
for the honor of having Mike Leach run their team, I might as well lead off their preview with him.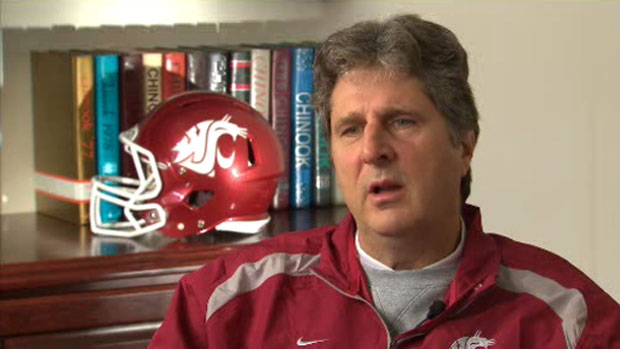 Coach Leach always appears to be suffering from the world's biggest hangover... must be all the grog.
The Dread Pirate is back, having narrowly survived a broadside from the good ship "
Craig James Killed 5 Hookers While at SMU.
" One of the more interesting characters in the modern history of college football, Leach has inspired a litany of internet types to fall under his sway. From his love of all things pirate, to his mad scientist approach to offense, he's a fan favorite for good reason.
BuffNation knows him best from his time at Texas Tech. In his 10 seasons in Lubbock, the Red Raiders never experienced a losing season, enjoying 10-straight bowl appearances. Sure, he juked the numbers in his favor by repeatedly scheduling multiple 1-AA opponents, but, when you have to play Texas, A&M, and Oklahoma each season, a little leeway can be extended.
He is famous for taking anonymous, also-ran QB talent like Kliff Kingsbury and BJ Symons, and turning them in to record-setting dynamos. Their performances seemed to come out of nowhere, and the Red Raiders routinely put up big numbers against helpless defenses under Leach's tutelage. Still, through it all, Leach struggled against CU, with the Buffs holding a 3-1 record against the pirate.
Who?
The most interesting aspect of Leach's career, at least in my eyes, is that he has achieved so much in the game without having ever played it at a high level. Leach was a rugby player while at BYU, and never touched a set of pads during his tenure. He's proven that sound planning and management can make up for a lack of empathetic playing experience. He developed the Air Raid offense under
Hal Mumme
, and has used it to great effect ever since.
Run out of Lubbock by alleged five-time hooker killer Craig James, Leach sat on the sidelines for two seasons while the heat cooled down. WSU, looking to make a splash in an offseason
dominated
by
other
Pac-12
coaching
change news, jumped at the opportunity to secure the offensive genius. It was a big hire, and one that I feel will make for a good fit in Pullman.
When last we met -
Last year's preview can be found here.
The Buffs coulda', shoulda' beaten the Cougars
last season
.
CU had edged out to a 27-17 lead with just over five minutes to go. In a home game, hell in any game, that should be money in the bank.
You can see where this is headed. From: the BDC
The Buffs, however, couldn't hold on, as Cougar replacement QB Marshall Lobbastael completed 8-10 passes for 147 yards and two scores over WSU's final two drives. He even fumbled twice, but WSU recovered both times. The final dagger? A
63-yard
death-blow from Lobbastael to wide-out Marquess Wilson on the double-move. CU's depleted secondary, down to walk-ons and offensive converts, had no chance. 31-27 final.
Just another happy day in Folsom.
Opponent's season so far -
I got a good look at the transition into the Mike Leach era during the Coug's week one
loss at BYU
. The result was predictable. On opening night, in front of a national television audience, the pumped up Cougars from Provo easily beat the Cougars from Pullman. While still getting used to the Air Raid, WSU stumbled to -5 yards of rushing, and average an overall anemic 3.7 yards per play for the game. If not for some ridiculous penalties committed by BYU (10 for 112 yards), it would've been even worse than the 30-6 final was. For the record, it was the first time in six years that a Leach-lead offense was held without a touchdown.
What the hell was Leach doing taking his team into Provo?
The first thing that occurred to me was this: if Mike Leach had been the one making the schedule, the season would never have started with a trip to Provo. Over his final five seasons in Lubbock, the Red Raiders only went on two road trips in non-conference play ('06 @ TCU and '09 @ Houston), and played at least one 1-AA school every year (they actually played two in '05 and '08). The Dread Pirate loves to soften the non-con portion of his schedule, thereby inflating win totals, and building confidence.
Indeed, after notching his first WSU victory with a
win
over Eastern Washington in week two, the Cougars went on yet
another
road trip, this time to Las Vegas for a week three
win
over UNLV. I wouldn't expect too many more early season road trips once Coach Leach begins to put his stamp on the program.
The Cougars managed to escape LV with the win.
The biggest thing I've noted from the Coug's 2-1 start is the complete lack of offense in the second half of games. Through 90 minutes of second-half football, the Cougars have only notched seven points, turned the ball over four times, and averaged 132 yards per second frame. On the plus side, yardage totals have increased each game, especially in the passing game, where WSU put up 378 yards and four scores against UNLV last week.
This is not wholly unexpected. The Leach offense takes time to implement, and he's not yet working with offensive players comfortable with, or necessarily capable of, running his scheme. It's just hard to make halftime adjustments when most of the players are still working on basic implementation.
Offense & Defense -
NCAA statistical report
here
.
Ah, the ole
Air Raid
. Expect plenty of passes all over the field, with seemingly everyone on the team available to catch passes. So far on the season, passing plays have made up over 65% of WSU's plays from scrimmage.
As I noted above, the new system got off to a rocky start in Provo, but has been coming on strong over the past two weeks. The QB situation is a little
up in the air
, with incumbent QB
Jeff Tuel
fighting a knee injury, and backup
Connor Halliday
playing well in his spot start
last weekend
. The QB controversy won't change much, as 60-70% of offensive plays will still go through the air. Conversely they are 117th in the nation in rushing offense.
Can Tuel hold of Halliday?
Defensively, the Cougars are very susceptible to the passing game. 44 of their opponent's 72 first downs have been made via the pass, and the Cougs have been coughing up nearly 350 passing yards per game. That adds up to 117th in passing defense; even with CU's lack of field-stretching wide outs, the passing game should find
some
success Saturday.
Star Players -
Regardless of who is taking snaps Saturday, the primary offensive threat is Jr WR
Marquess Wilson
. You may remember him as the wide receiver who caught the game-winning 63-yard touchdown pass in Boulder last season. He's an NFL-type wideout, combining speed with size; was also second-team Pac-12 last year. So far in 2012, despite being held to almost nothing in the BYU game, he has 13 catches for 218 yards and two scores. CU's young defensive backs have yet to see a talent of his caliber this season, and he poses a massive challenge to prepare for.
Might've wanted to stop him last season...
The running back corps, such as it is, is lead by Sr
Carl Winston
. Yet another diminutive back (listed at 5-8), Winston's primary role is to run draws and sweeps as a change-up to the nearly constant air attack. He has 136 yards on 28 attempts, or just 44 yards per game this year.
On defense, Jr safety
Deonne Bucannon
continues his strong work at the back of the set. He has 22 total tackles and an interception to his name so far on the year. He was also
suspended
for part of the UNLV game for a
nasty hit
on a defenseless Eastern Washington receiver.
Bucannon's legit, and he has plenty of playing experience, having appeared in every game of his three seasons.
Also on defense, Sr LB
Travis Long
has been tearing it up on the young season. The
convert
from the D-line has 20 tackles and 4 sacks already. Blitz pickup on Long will be key.
Prediction -
Half of me wants to believe that the Buffs are still capable of scraping enough pride together to play WSU tough.
Maybe, just maybe,
the move
of Coach Bieniemy to the sideline, and out of the booth, will make a difference. The defense is still made up warm bodies, right? Maybe, by just flinging themselves in random patters of disorganized movement, they could confuse the still-learning Cougars into self-inflicted errors (perhaps falling down due to laughter?). WSU is not that good of a team, I try to tell myself, and should be a theoretical win possibility. Hell, the Cougars haven't been to a bowl in nine seasons, maybe their culture of losing will eclipse CU's own...
I'm trying, damnit.
Then, the pain-killers (scotch and rum) wear off, and reality returns. They're more than capable of bruising this battered bevy of Buffaloes (I'm alliterating... this is the end...). We are still living in nuclear winter; hope, warmth, and laughter have no place here anymore.
Ave, Imperator, morituri te salutant.
WSU 45 - CU 17
GO BUFFS! PROVE ME ... aw fuck it, just try not to actually shit your pants.