The
Parade of Buffs
is tonight. If you weren't planning on going, you may want to rethink your decision. Not only is it free (from parking to entrance to hors d'œuvres), but it sounds like a pretty cool event. A bevy of Buff luminaries - including Coach McCartney, Coach Embree, Kordell Stewart, Michael Westbrook, Matt Russell, Coach Boyle, Emma Coburn (*swoon*), Cliff Meely, Cliff Branch, Bridget Turner, Alfred Williams, Tera Bjorklund (double *swoon*), Kami Carmann, Darian Hagan, Charles Johnson, Kelly Campbell, Billy Nelson, Emily Talley, Sean Tufts, Lisa VanGoor and Lucie Zikova - will be there along with many of the current athletes.
There's still time to register, and you can do so by clicking
here
. It's not every day you get to see so many Buff greats in one room, so it's more than worth your time to head over to the First Bank Center this evening.
--
This is a pivot game. The team can go one way or the other. Play with the passion, effort, and
will to win
that they showed Saturday in Pullman, and Folsom Field will roar once more. Come out flat, and only the band and a few close friends will see the game to its conclusion as the score gets out of hand.
I want the roar. It's been far too long since the student section was able to rush the field, after all...
Kickoff from beautiful Folsom Field is set for 4pm MT. The broadcast is set for Pac-12 Network, which you
may, or may not
, get. If you can't get it, or if you just like the radio broadcast, tune your dial to 850 KOA.
Click below for the preview...
Essentially everything I know about the modern state of the UCLA athletic department comes through the lens of
Bruins Nation
. Being that Bruins Nation has an almost single-minded focus on hating UCLA AD Dan Guerrero, that means all I know about UCLA athletics is the fact that Dan Guerrero sucks at his job. Well... that and they hate Ben Howland for taking them to back-to-back-to-back Final Fours (really must be terrible to have that problem).
Case in point: Coach Jim Mora, Jr. kicked reporters out of practice because the UCLA SID's office accidentally let two camera crews set up in a restricted area to view practice (BTW... if anything was recorded prior to Coach Mora shuttin' shit down, please forward the tapes to: University of Colorado Football Program, C/O Jon Embree). While it was probably just some intern fuckup (these things happen), Bruins Nation
took it
as just another opportunity to wage jihad on "
Chianti Dan.
"
"As an explanation for the SID staff, they have been following the lead of an amateur AD for so long that it is not surprising that they would allow things to compromise our football program. Hopefully Mora's very public scolding will have the desired effect of getting people in Morgan to start acting like pros, and to quit running our athletics department like a high school. After all, they are paid by the citizens of California to do a job, and it's time that administration started earning its keep. Dan Guerrero has fleeced U.C.L.A. and the state for long enough."
Wait, what? That's the kind of single-minded focus on making anything and everything about a talking point that is usually reserved for the political arena. I honestly believe I could tell BN that the Dodgers lost, and they'd respond with "Typical Guerrero failure." Funny people.
Hey, I don't follow this every day, and I'm certainly not invested in maintaining all that is UCLA, but it just strikes me as absurd that they never say anything nice about the guy. That every single decision he has ever made is a failure, and further proof that he should be fired. That tone reduces the impact when they make a legitimate critique, making their entire blog seem more like a
parody account
than a legitimate outsider view of UCLA Athletics.
The larger point is this: every time anyone in BuffNation gets the itch to blame CU AD Mike Bohn for some nonsense, I tend to laugh, and think about BN and "
Chianti Dan
."
When last we met -
Last year's preview can be found here.
Rolling into the Rose Bowl on the high tide caused by a beat-down of Arizona the previous week, the Buffs were
headstrong and cocksure
. So confident were they in slaying the road jinx demon that they
openly talked about it
to the press.
Whoops
.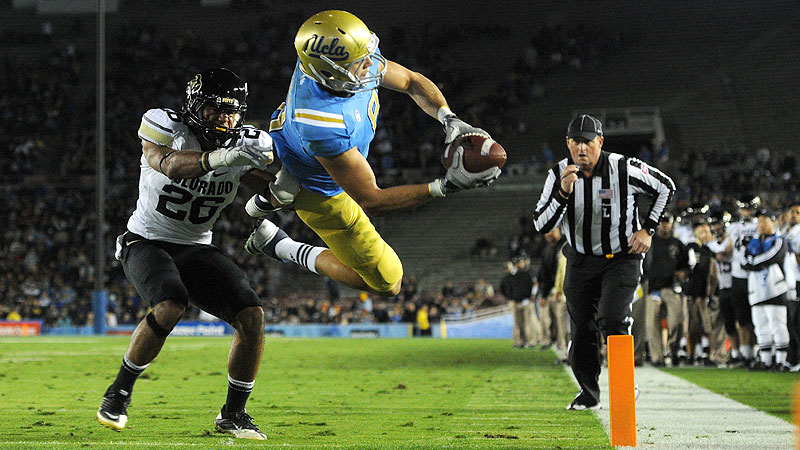 It got ugly fast.
UCLA, fueled by more than enough bulletin board material on their senior day, went about de-pantsing the Buffs
45-6
. The Bruins blitzed the over-confident Buffs to the tune of 328 rushing yards, over an average of 7.5 per carry (eek). In total, UCLA gobbled up 553 yards of territory, more than doubling the CU output of 229.
The abysmal offensive display was centered around an atypically poor performance from senior QB Tyler Hansen. The Californian tossed three picks, while only compiling 127 passing yards in what was probably his worst individual game as a Buff.
Brighter days followed with the win over Utah, but, for that Saturday at least, Hansen and the Buffs were awful.
Opponent's season so far -
Call me biased, but I only care about one of the UCLA results this season. Back on September 8th the Bruins did all of BuffNation a favor by beating Nebraska
36-30
. I don't care who the team in question is, I just love watching the Huskers lose, and the Bruins were more than happy to oblige.
All told, UCLA racked up more than 650 yards of offense on the vaunted Blackshirt defense, including 344 yards rushing (yo!). Honestly, UCLA probably should've beaten the Corn by more than just six, but I'll take it. Being stuck in a wedding reception, still digesting the CU defeat to the vaunted Sacramento State Hornets, the Husker destruction came as welcome news.
Nothing soothes the caustic soul like schadenfreude.
I would like to say that, regardless of what happens this Saturday, BuffNation owes UCLA a tiny debt of gratitude for keeping the Corn winless in the Rose Bowl. Kudos, and Fuck Nebraska!
The Bruins' other three games this season? They easily
dispatched
of Rice in their season opener, and crushed a reeling Houston team
37-6
the week after the win over Nebraska. The impressive 3-0 start was enough to earn a early season trip to the top-25 for the Bruins (#19).
The first three weeks brought plenty of joy to Westwood.
The ranking wasn't long for the world, however. Last week, the visiting Oregon St Beavers, who only won three games last year, walked out of the Rose Bowl with a
27-20
win. UCLA played from behind for almost the entire game, and saw their top-flight rushing attack only manage 72 yards as a result. Additionally, they were miserable on 3rd down (2-15) and paid the price for their lack of execution when it mattered. Overall, a very disappointing loss for a team who thought they had an easy path to 5-0 before their October 6th trip to Berkeley.
Offense & Defense -
NCAA statistical report can be found here.
Offensively, the Bruins are legitimately one of the best units in the country; the
switch
to the
no-huddle
spread
offense has served them very well this year. Their 578 yards gained per game is good for 3rd in the country, better than even Oregon in conference. If there is any good news in their offensive report, it's that they're prone to stubbing their toe after long drives. They've only converted 38% of their red zone chances into touchdowns, supported by their abysmal production on 3rd down (28.6% conversion rate, good for 115th in the nation). Keep them to field goals, and you keep yourself in the game.
Of particular interest is their running game, where they have gobbled up over 250 yards per contest this season. Take away the Oregon State game, where playing from behind tricked them into going away from the run, and the unit grabs over 310 yards per game. That is the kind of rushing stat that dedicated option offenses usually put up; stopping the run must be priority #1.
Their run game is scary good.
The Bruin defense certainly does look to be a more manageable proposition after the Beaver offense torched them for just over 500 yards of offense last week. The story, oft repeated this week, is that the UCLA defense is a bend-but-don't-break group, but I'm not buying it.
Sure, they have a decent scoring defense stat (22 points per game) compared to their overall defense stat (421 yards per game, 85th in the nation). However, I think that ranking is overly skewed by the poor performance put in by Houston a few weeks ago. The Cougar offensive coordinator
resigned
after week one, leaving a shambolic group in his wake. As a result, Houston could only manage six points despite racking up 388 yards against Bruins. Take that game out, and the Bruins are giving up 27 per game, good enough for 77th (just ahead of CSU). That's much more in-line with their other defensive rankings.
The Cougar offense just wasn't up to snuff; I think the game is an outlier.
The CU offense has been
particularly vocal
this week about their concern with the Bruin D-Line, specifically noting their high sack total (13 on the year). I look at it this way: they're so eager to get into the defensive backfield that they miss the ball carrier running past them. Yards should be available; turning them into points will be essential.
Overall, it's an overview belied by a couple of outlier outings. The defense is worse than it looks, and the offense, particularly the running game, is far better.
Star Players -
The running game being so impressive, I might as well start there. SR TB
Jonathan Franklin
is the legit running threat here. He currently sits 4th in the nation with damn near 150 rushing yards per game, but was held to only 45 yards last week against OSU. Expect a bounce-back performance from the
potential Heisman contender
.
Franklin has put up some big numbers this season.
Running the ship is R-FR QB
Brett Hundley
. He's a dual-threat, passing for 1200 yards and running for just over 200 through four games. That's good for 10th in the nation in total offense, making many question why he wasn't released on the world last year as UCLA rode a roller-coaster season to a losing record. Earlier this season, he became the first Bruin QB to pass for over 300 yards in three consecutive games. He
leap-frogged
two experienced senior options, and with good reason.
Hundley has been a revelation under center.
Primary receiving targets are JR WR
Shaquelle Evans
and SR TE
Joseph Fauria
. BuffNation should be familiar with the
Fauria
name.
The linebacking corps appeared to be gutted over the offseason with the
medical retirement
of SR Patrick Larimore. That hasn't been the case, as a pair of Bruin LB's have gone about distinguishing themselves. Of primary concern on defense is
offensive convert
Anthony Barr
. Already on the year, the 6-4 235lb JR LB has five sacks, seven total tackles for loss, and two forced fumbles. He's a havoc wreaker, and needs to be marked. Fellow
LB Eric Kendricks
is the leading tackler with 32 on the young season.
Barr has taken to this whole defense thing pretty quickly.
SO Safety
Tevin McDonald
has been very active in the backfield, breaking up four passes, recovering two fumbles, and notching a 50-yard interception return. SR DE
Datone Jones
is a menace on the line, recording eight TFL.
Coaching -
Heading the good ship Bruin is
Jim L. Mora
. The son of longtime NFL head coach
Jim E. Mora
, junior has also distinguished himself at many levels of the coaching ranks. He was a quick riser in coaching circles, landing the head gig with the Atlanta Falcons back in 2004 at the young age of 43. It didn't last long, however, as things in the NFL seldom do, and he was fired after three seasons. He had made the mistake of openly stating he'd love to leave the Falcons for the then un-open job at the University of Washington. Loyalty is king, and the Falcons quickly let him go. After a short, unsuccessful stint with Seattle in 2009, he turned to broadcasting for the past few years.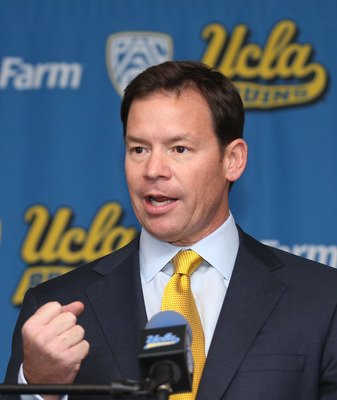 Damn fine suit.
I was very underwhelmed by Mora's
hire
last winter. It just struck me as a lame retread. He seems to be having a good time of it so far, however, as he's lead the usually inconsistent Bruins to an early 3-1 record, even briefly poking their head into the top-25. You could, however make the argument that he's benefiting from the spread stylings of first-year OC
Noel Mazzone
(formerly of ASU). Time will tell, but at least Mora got off to a fast start.
Prediction -
I'll keep it short, the Buffs are going to get lit up by the UCLA offense. Expect 550-600+ yards of offense put up. If CU can just limit the big plays, forcing the Bruins to turn to their inconsistent red zone offense, it may keep the game from getting out of hand early.
On the flip side, the surging Buffs offense should have a nice day. Probably not near the 531 yards put up last week in Pullman, but they should be capable of over 400. UCLA is just that porous.
Unfortunately, the quality of the Bruin O far outweighs the inconsistency of their shaky D. I look for them to start converting some of those red zone chances as they pull away late. Still, I like to think that the Buffs will mark a few more notches on their improvement belt, leaving plenty of positive to digest over the bye week.
UCLA 49 - CU 24
GO BUFFS! PROVE ME WRONG AND BEAT THE BRUINS!