I don't mean to undersell baseball's Opening Day, but I'm just not ready for it. Could you check back in a week when basketball is over, and I can devote my entire being to the sport I've loved since birth?
Today in the bag, I'm talking Final Four, Steve Alford, and Mike Alvarado.
Click below for the bag...
Syracuse, Michigan, Louisville, and... Wichita State -
After three snooze-fests and an almost collapse, the Final Four is set.
Syracuse was the first to state their claim to the third weekend, riding their 2-3 zone
past
Big East rival Marquette on their way to Atlanta. The Orange have beaten their four Tourney opponents by an average of 20 points per, grinding them down to about .72 ppp. They've looked more pissed-off than anything, probably a product of the NCAA conveniently
leaking
allegations of impropriety on the eve of the Dance. The lesson here is: don't piss off Boeheim.
I'm surprised he didn't cut down the nets while flipping the whole world off.
Next on the card was Wichita State, who nearly blew a 20-point second half lead against Ohio State. The West's 9-seed found their mojo when it counted, however, and landed a
70-66
knockout blow. In a year of chaos and upsets, it makes perfect sense that the Missouri Valley would place a team in the Final Four for the first time since 1979.
The Shockers!
It was Michigan's turn Sunday afternoon, turning a near-perfect game from Nik Stauskas into a
79-59 win
over Florida. It seems that the Wolverines' thrilling OT Sweet Sixteen victory over Kansas was the deciding match of the South bracket, as this one was never in doubt. Michigan roared out to a 23-5 lead, and never looked back. It's Big Blue's 1st trip to the Final Four since [
REDACTED
].
All too easy for the Wolverines.
Rounding out the group is overall #1 Louisville, who overcame a sickening
injury
to guard Kevin Ware to breeze past Duke
85-63
. The Cardinals were the only #1 looking dominant throughout the Tournament, and will deservedly appear in Atlanta.
Good for Pitino.
Seriously though, whatever you do today,
do not
watch the replay of that injury to Ware. I almost threw up my Easter ham watching it live.
UCLA hires... Steve Alford? -
When UCLA fired Ben Howland, the assumption throughout the feisty Bruins fanbase was that they were going to land one of the big names available. I heard ridiculous notions like Bill Self and Billy Donovan thrown around, in addition to more conventional dream targets like Brad Stevens and Shaka Smart. But, just like how Tad Boyle was
never going to be offered
the job, none of those guys was ever going to accept UCLA's advances. That program has blood on it's hands, and no coach currently at the top of the sport would willingly throw himself to the wolves in Westwood.
Stymied in their search by reality, the Bruins then turned to the second tier of possibilities, and unearthed, of all people,
Steve Alford
. Yes, the same Steve Alford who hasn't been to a Sweet Sixteen since 1999, just lead his 3-seed Lobos to a humiliating 1st round loss to Harvard, and has fewer Tournament wins than Howland has Final Fours over the last decade. (Wait, hadn't he just
inked
a 10-year deal to stay in New Mexico? A deal that he had asked for? *
rolls eyes
*)
Alford is the best you could come up with? From: the AP
Look, I get it. No one worth a damn wanted the job, so UCLA panicked, and grabbed the biggest name available. But Alford isn't a winner as a coach, has very loose recruiting ties into the LA area, and plays slower basketball than even Howland did.
Swing and a miss
, Chianti Dan.
Mike Alvarado making Colorado proud -
In one of the pleasant surprises of the weekend, Mike Alvarado
won a unanimous decision
over Brandon Rios for the WBO junior welterweight title. It wasn't just that Denver's own Alvarado won, it was how he won, out-boxing the more heralded Rios in one of the more
thrilling
fights I've seen over the past few years.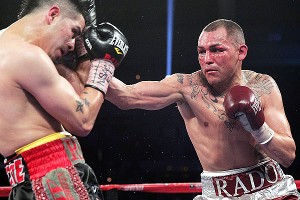 Battered but not beaten, Mile High Mike brought the belt back to the 303. From: ESPN
Through 12 rounds the action was non-stop, with both fighters landing hellacious shots throughout the evening. The fight turned in the 8th round, when Alvarado began landing combinations with little answer, leading to consecutive round victories that he rode to the win. But it wasn't a land-slide. The fight was very close throughout, and both fighters were worse for wear afterwards (both took trips to the hospital post-fight).
I love boxing, but I usually have to put up with a lot of lackluster matchups, and more politicking than Congress. Alvarado/Rios was a refreshing example of what the sport can be, and I'm glad that both parties were talking rematch immediately after the bout.
Happy Monday!