There's a lot of
uncertainty
headed into this evening's
NBA Draft
. With no unquestioned superstars headlining the class, the first round could be both chaos and entertaining television.
Closer to home, the uncertainty takes on a
different form
: what is the fate of CU's former
defensive dynamo
,
Andre Roberson
? Ever since his quiet
announcement
two months ago that he would forgo his final year of collegiate eligibility, BuffNation has fretted over this
risky choice
, and whether it was a 'good decision' or not. Tonight's result will go a long way towards providing an answer.
At first, the process didn't look kind to the reigning Pac-12 Defensive Player of the Year. He came in undersized at the
Draft Combine
, and even 'Dre himself
admits
that his on-court performance those two days could've been better. Combined with lingering questions about his offensive skillset, this lead to many experts leaving him off of their draft boards, even while teams like
Orlando
and
Detroit
were taking a closer look.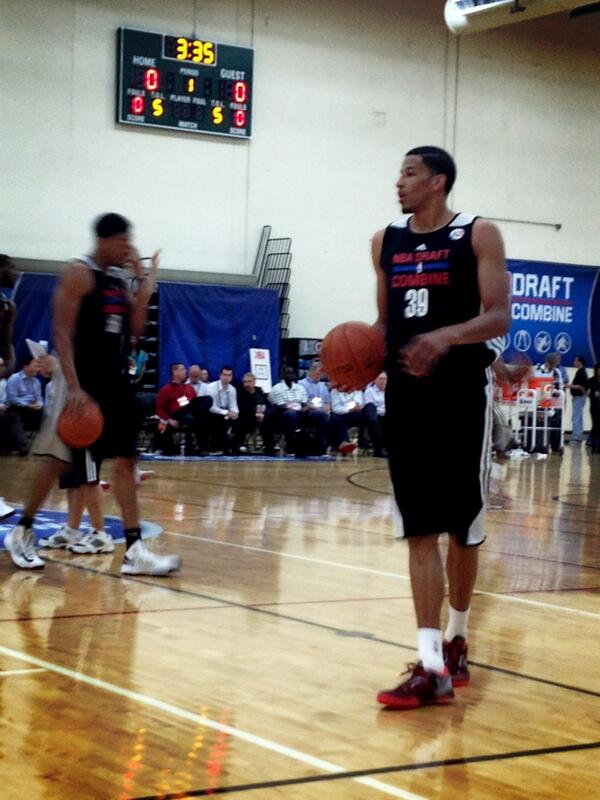 The Combine wasn't necessarily kind to Roberson. From: @RealMatSmith
The consensus has shifted in recent weeks, however. ESPN draft analyst
Chad Ford
, for one, was
adamant
this week that 'Dre will get drafted...
ESPN analyst Chad Ford on former #CUBuffs star Andre Roberson: I can almost guarantee you he's going to be drafted.
— Brian Howell (@BrianHowell33) June 25, 2013
Ford said Roberson is one of the most interesting players on the board this year; he could Roberson being drafted in the 30s.
— Brian Howell (@BrianHowell33) June 25, 2013
ESPN analyst Chad Ford on former #CUBuffs staff Andre Roberson: Many teams "absolutely love him as a player."
— Brian Howell (@BrianHowell33) June 25, 2013
... and statistical analysis was released that projects Roberson to have the
3rd best
Wins Above Replacement Player of any draft eligible player over the next five years. 'Dre, now seen as one of the best 'steals' available in an otherwise weak draft, was shooting up many mock boards, including Ford's, who has him going
41st overall to Memphis
.
The
key behind that shift
seems to be a focus on the relatability of his skillset into the professional ranks. History has shown that defense and rebounding numbers put up in college are far more predictive of future professional success, and the more statistically inclined NBA GMs will react to what they have on paper.
Rebounding was always going to be 'Dre's key to unlocking the NBA.
Still, some
remain
convinced that the most dynamic defensive force in the West will slip through the cracks, and into free agency. Specifically, both
NBADraft.net
and
DraftExpress
have left him off their final mocks. Doubt lingers.
In spite of that, I'm of a mind to be positive about this evening. The recent trend is up, and I get the feeling that some GM will try to prove himself smarter than his competitors by reaching for a toolsy, athletic project like Roberson.
Despite Ford giving Roberson a surprise final grade of '
late first round pick
', I think any hope of a 1st round pick is out of the question. However, the statistical analysis of people like ESPN's
Kevin Pelton
has convinced me that 'Dre will get selected somewhere in the first 20 picks of the second round. Specifically, I look at a team like Portland, who has back-to-back picks at #39 and #40, and see the potential for a chance taken on a '
glue-guy
' project like 'Dre.
That kind of a result may not be as good as the Robersons may have dreamed, or BuffNation feared, but I think it's a happy medium. Any drafted status is nothing to sneeze at, and a good agent should be able to turn a pick in the first half of the second round into some guaranteed money.
Regardless, this evening is the easy part. Starting tomorrow morning, it'll be up to 'Dre to see his NBA dream to fruition.
--
Of course, 'Dre isn't the only one hoping to hear his name called this evening. Here is a list of some familiar names for BuffNation to listen for:
- Ben McLemore - 6-5, SG - Kansas -
I really like McLemore. He's an elite playmaker, and has the
numbers
to back it up. He should easily go in the top-5.
- Shabazz Muhammad - 6-6, SF - UCLA -
Conversely, I've never been high on Muhammad. Sure, he can score, but his attitude in college stunk, and he would rather lick the floor than play defense. I just don't think he made UCLA better than they would've been without him. He'll slip out of the lottery, but still find a nice paycheck.
- Allen Crabbe - 6-6, SG - Cal -
A great scorer with solid rebounding numbers as a 2-guard, Crabbe has always reminded me of Alec Burks. Hopefully, whoever drafts him won't relegate him to the bench like the Jazz have with the former CU standout.
- Isaiah Canaan - 6-0, PG - Murray St. -
Canaan came back for his senior season, but I don't think it helped his draft stock any. Still, he can shoot the lights out, and teams love to see points put up on the board. Should be a late first rounder.
- Jeff Withey - 7-0, C - Kansas -
Another player who excels at defense and rebounding, Withey's selling point won't be as an offensive piece.
- Pierre Jackson - 6-0, PG - Baylor -
An undersized, yet skilled guard, I think Jackson will be a nice pickup for a team looking for some depth at the point. Also: Fuck Baylor.
- Grant Jerrett - 6-10, PF - Arizona -
Jerrett took a big risk by turning pro after single collegiate season spent mostly riding the pine. He's been rated near Roberson on many 'big boards.'
- Colton Iverson - 7-0, C - CSU -
The bulky Ram makes the list for his size and motor, but I don't think any GMs will overlook his low-level athleticism and age to spend a pick on him. Solid prospects as a free agent, though.
- Arsalan Kazemi - 6-8, PF - Oregon -
The metrics wonder. I'm very interested to see if the under-rated Iranian gets a late call this evening.
- Solomon Hill - 6-7, SF - Arizona -
Hill has all the talent in the world, but often gets lost on the court for long stretches. I don't think he will get drafted.