I don't know about you, but I'm still recovering from last night's traumatic episode of
Game of Thrones
. Even though I've read the books, I was still thrown for a loop by the brutality and senselessness of the 'Red Wedding' brought to life. The lesson, as always, is that George R. R. Martin ain't care.
Today in the bag, I'm still talking about Bohn's 'resignation,' catching up on some recruiting news, and prepping for tonight's Game 7 between the Heat and the Pacers.
Click below for the bag...
More on Bohn's 'resignation' -
Not even a week later, I'm still trying to make sense of Mike Bohn getting the axe. Regardless of how the University wants to phrase it, they pushed the long-time athletic director out of the picture at a very inopportune time.
George Solich, former CEO of Cordillera Energy, and the closest thing CU has to a bell cow donor, underlined that point through his
open letter
from Sunday's Denver Post.
In the letter
, Solich steadfastly denies having any part in Chancellor Phil DiStefano's action, saying bluntly, "if it was my decision, Mike would still be the AD."
Solich goes on to question the timing of the move (much like I did last Wednesday), and say that he has no interest in becoming the new athletic director.
Considering that the stated rationale behind the move was to jump-start a new era of donations into athletics, it's probably not the best idea to leave the highest profile donor we have scratching his head at the decision making.
If Solich was against it, then why did CU 'resign' Bohn in the name of donations? From: the BDC
At least CU was spared another ugly departure. While obviously frustrated and disappointed with the decision, Bohn left with the kind of grace some of his former employees lacked.
Over his press availability on Thursday, Mike
continued
to proffer a hopeful vision of CU Athletics, still
talking in terms of 'we,'
and concluding speeches with his trademark 'Go Buffs!' BuffNation was even spared the awkwardness of explosive press conferences past, as Bohn held his separately from DiStefano's
Wednesday snoozefest
. Give Bohn a point for professionalism.
I don't know where CU goes from here. Frankly, I don't trust the current administration to competently guide the department into the uncertain future, let alone hire Bohn's replacement. What I do know is that CU has intentionally let go a
unique, vibrant, and influential steward
, one that won't easily be replaced. My guess: we're going to regret this decision.
Recruiting round-up
-
Buried under an avalanche of Bohn-related press was a pair of promising football recruiting notes. Coach Mike MacIntyre, still yet to see the field in anger, was able to get an early start on landing verbal commitments by pulling two decent recruits at positions of need.
The
first
, Longmont's own
Isaac Miller
, is an offensive tackle prospect. Listed at 6-7, he's got the frame coaches look for in tackles. Honored as
first-team All-State
as a junior, he had been receiving interest from Pac-12 rival Washington St among others.
Could Miller follow in the anchoring footsteps of Nate Solder? From: TRR
Following on Isaac's footsteps was a
commitment
from
Grant Watanabe
of San Antonio, TX. The 5-11 LB prospect is from the same high school as
recent basketball signee George King
, giving CU a multi-sport pipeline into the heart of Texas' fertile recruiting grounds.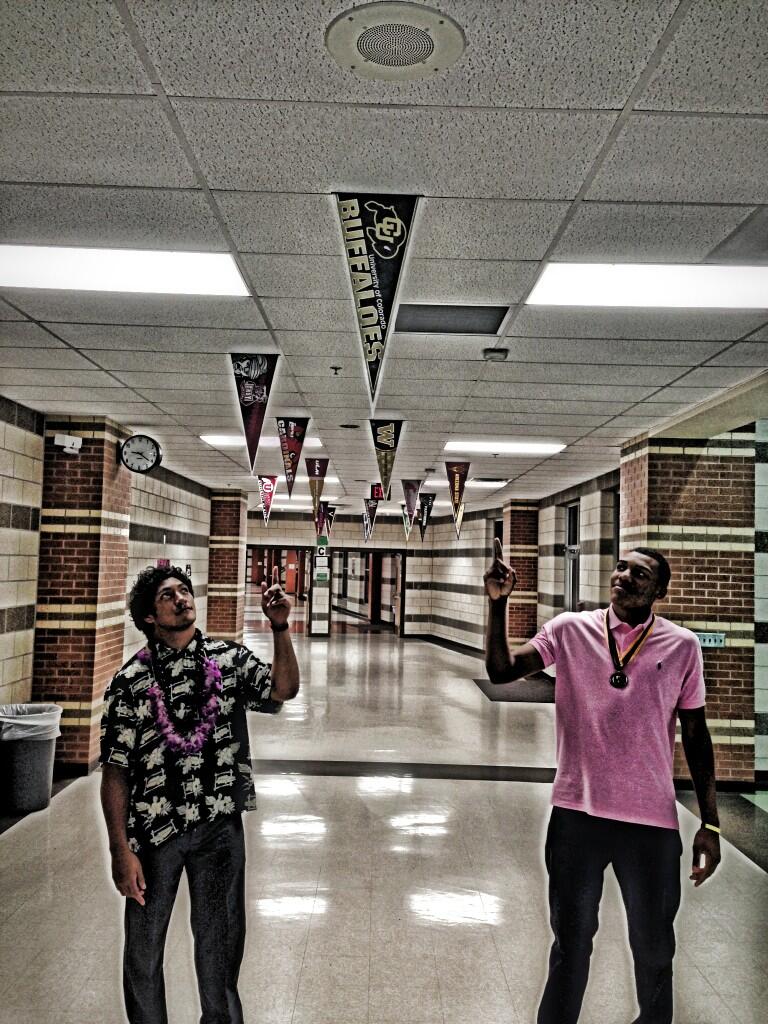 Watanabe (left) and King look to make an impact in Boulder. From: AllBuffs.
Both Miller and Watanabe are listed as 3-star recruits by the various sites.
Look, commitments like these aren't going to make a lot of waves on a national level, and neither may turn out to be anything more than a footnote, but CU football isn't going anywhere until recruiting improves. To his credit Coach MacIntyre has been active and aggressive on the trail, and this pair of early commits at positions of need is a good sign. Hopefully, they're just the beginning of something special.
Welcome to the Black and Gold, Grant and Isaac!

Pacers and Heat in Game 7 -
Hey, look, a Game 7! If you can't get excited for a deciding game, you just aren't a sports fan.
I have to admit, with LeBron playing as well as he has been, I had all but given up on this series. The problem has been that, beyond James' heroics, the Heat have had relatively little else to rely on.
Lebron has had to go it alone the last few games. Will his efforts be enough to make the Finals?
Dwyane Wade has been particularly non-existant, suddenly becoming a shrinking violet in front of ever more discerning officiating and defense. Without contributions from players like Wade and the exposed Chris Bosh, even James and his Superman routine can't save Miami.
Case-in-point, Heat not named LeBron James only shot 31% from the field in Saturday's Game 6. Add that to their continuing rebounding woes (out-rebounded 53-33 in Game 6 alone), and Miami got housed
91-77
with an opportunity to clinch.
Since Saturday, I've almost been able to convince myself that the Pacers can pull this off. They've already managed to steal one in Miami this series, and seem to have the right combination of interior skill, defense, and opportunistic scoring to trip up a suddenly reeling Heat squad. While the smart money is still with LeBron at home, I can envision plenty of scenarios that see Indiana through.
Regardless, the winner this evening gets a rested, rejuvenated Spurs team in the Finals. I'm starting to like San Antonio's chances.
Happy Monday!