Despite winning their last two, my White Sox are just about the most pathetic team in baseball. I challenge anyone to watch them play, and successfully resist the urge to wretch.
Hitting? Worst of any team with a DH. Fielding? 2nd worst in the league. Base-running? Beyond incompetent. Pitching? Well... actually, they're pretty good at pitching, which would matter if they could hit, field, or run worth a lick. The worst part is, after eight years of chasing the championship dragon in the wake of 2005, the farm system is so depleted that I think I have a shot to start tomorrow in A ball.
Hell it's gotten so bad that the manager, former Sox star Robin Ventura, can't even be bothered to
show up to games anymore
.
The point is, I'm ready to light the season on fire, and start openly hoping for loses and a good draft pick. But, what to do with the remaining three and a half months of the baseball season? I can't just give up on the sport entirely, I love it too much.
So, I'm selling my allegiance for the remainder of 2013. If you think I should be following your favorite team until the end of October, pop me a
tweet
with your reasons. I'll buy the winning team's hat, and watch their games. If they're in the NL, I'll even go to a game when they're in Denver (or simply go to a game, if I pick the Rox).
Those suggesting the Cubs, Tigers, Twins, Yankees, or Red Sox will get blocked, but I'm open to any of the other 24 teams.
--
Today in the bag, I'm talking track and field excellence, yet another late add to the 2013 football roster, and the Miami Heat bouncing back in Game 2.
Click below for the bag...
Coburn goes out a champion, gets paid
-
The biggest news over the weekend came from the track, where two stars ended their careers in style.
Continuing CU's dominance in the 3,000m steeplechase, Emma Coburn
cruised to victory
, posting a 9:35:38 (the 5th best time in NCAA history) to defend her 2012 crown. Overall, this marks CU's sixth national title in the women's 3,000m steeplechase in eight years, a string that has ended all doubt as to which program knows best how to chase steeples. It was Coburn's third overall national title, and second in the steeplechase.
Coburn, cruising to victory.
After the career-concluding run, Coburn quickly
announced
that she had accepted a sponsorship deal with New Balance. Not a bad way to cap a weekend: secure a national title, get paid. You know, the usual.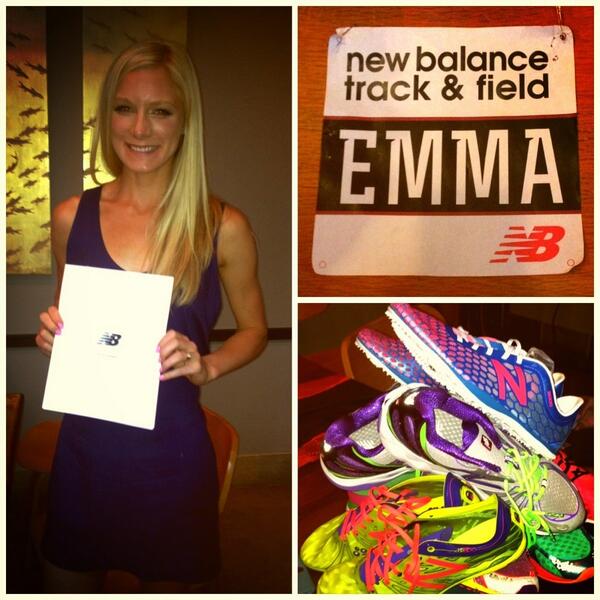 Cash. Money.
Over on the men's side, Aric Van Halen also ran well in the steeplechase,
finishing eighth
to secure All-American status. It was a good run for the departing senior, who was part of the lead pack for four of the five laps.
Congrats to Emma and Aric for their amazing careers in Boulder!
The ever-expanding football roster -
Not content to enter the season with the roster he inherited, Coach Mike MacIntyre has once again pulled the trigger on a late add to the 2013 recruiting class.
Last month, CU brought in some much needed depth under center with the addition of
JuCo QB Jordan Gehrke
. This time, CU is
taking a flyer
on a TE/OL prospect who hasn't played a down of football since Pop Warner.
One more for 2013. From: Scout
Enter:
Connor Center
. The 6-8, 250lb New York native grew up playing baseball, but eventually realized that his size pointed more towards a sport where such things can help, rather than hinder, your performance. Despite never playing the properly organized game before, Center apparently drew
interest
from about 30 teams, eventually choosing CU over Syracuse and Miami (FL).
Obviously, this is a project. The frame and athleticism immediately bring to mind former Buff and current New England Patriot Nate Solder, but Connor is the definition of raw. With Center having completely skipped the high school stage, he'll need at least a redshirt year to even begin to play like he knows what's going on. But, I think that's all right. You can't teach 6-8, and this whole team is a project, so one more can't hurt. If CU can get even one year of productive football out of him, it might end up being worth the scholarship.
Welcome to the Black and Gold, Connor!
Heat rally to tie-up Finals -
As predictable as the clouds pouring over the mountains every summer afternoon, the Heat rebounded from their Game 1 loss to the Spurs to cruise to a
103-84
win in Game 2.
I probably shouldn't be as impressed with their efforts as I am, but, in five games after losses this post season, the Heat are now 5-0, having held opponents to an average of 83 points in those games. The key in the history of the playoffs has always been about not allowing your opponent to go on a run against you, and the Fightin' LeBrons seemingly have all the answers when getting back up off the canvas.
San Antonio actually had a lead late in the 3rd quarter before Miami unleashed a hellacious 33-5 run that effectively ended the game. With Bosh and Wade sitting on the bench, LeBron provided the spark. Going 5-5 from the floor over the stretch, his performance kicked the reserves into high gear, capped by a exclamation block on a wilting Tiago Splitter. Once the run petered out, there was no coming back for an obviously beaten Spurs squad.
Whoops. I'm sure Splitter thought that was going to go better.
Tied 1-1, the series now shifts to Texas for a potentially decisive three game set. We know how the Heat respond to adversity and out-of-the-block stumbles, but this will be the first time that San Antonio has really been pushed in these playoffs, having won seven straight between the conference semis and Game 2. One key will be turnovers. After famously only committing four in the opening game, the Spurs coughed it up 17 times in Game 2, leading to 19 Miami points. If the Spurs can cut out that fatty excess, they will be in good shape to recapture the series lead.
Happy Monday!