I hope everyone had a happy and safe holiday break. For the Buffs, the sting of a neutral court loss to top-10 power Oklahoma State must be short-lived. There's no shame in
losing by five
to the Cowboys, regardless of situation. With only one minor hurdle standing between Colorado and the conclusion of a successful run through non-conference play, it's imperative that the team maintains focus, and complete the task at hand.
That hurdle is, of course, the Georgia Bulldogs, who come to the CEC Saturday night. Not a traditional basketball power, Georgia has been putting some talent in the NBA the last few years without much on-court success to show for it. This year, at least from what I can tell, they're still mired in inconsistent, ineffective basketball. They've lost every game played against a team of consequence, while narrowly avoiding defeat in recent games against
Gardner-Webb
and
Western Carolina
. Blech.
The Bulldogs continue to be a forgettable basketball program under Mark Fox.
The departure of star wing Kentavious Caldwell-Pope to
the Association
has left the Athens, GA cupboard bare of 'names.' With him out of the mix, head coach Mark Fox (once a mid-major darling at Nevada) has had to turn to a more balanced attack, as four Bulldogs average in double-figures this season. Key on that list is 6-5 sophomore guard
Charles Mann
, who averages 13/3/3. Mann leads the team in scoring, free throws and assists, but negates much of his skill in attacking the rim (top 50 in FT rate and fouls drawn/40 minutes) by shooting under 70% from the line.
Beyond Mann, Georgia gets its scoring from
Kenny Gaines
,
Nemanja Djurisic
, and
Brandon Morris
. Djurisic is probably the most intriguing of this bunch, as he posts an offensive rating in the low 130s. I also like his ability, with his 6-8, 230 frame, to attack off the dribble. The Montenegran is coming off the bench, but make no mistake, he's a big part of the Bulldog attack.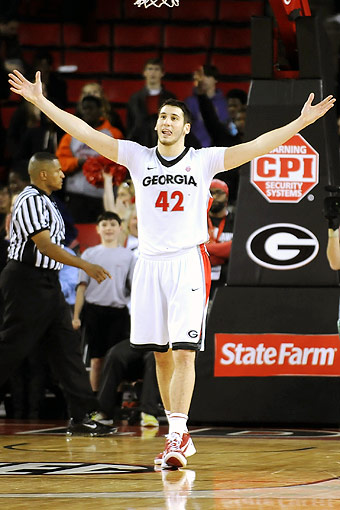 Djurisic is an interesting talent off the bench. From: ESPN
In spite of the balance, I don't see a lot of danger from Georgia offensively. Not only do they eschew taking advantage of the three-point line (less than 18% of scoring comes from beyond the arc, near the national basement), but they take a lot of two-point jumpers (nearly 38% of attempts, nine points over the national average) which is the sign of a poorly-organized offensive effort. Mid-range jumpers, while wistful reminders of an era long passed, are the most inefficient shot in the modern game. The more you take, proportionally, the less efficient you are, and the easier you are to beat.
Take for example the case of starting forward
Marcus Thornton
. A bulky 6-8, 235lb athlete, Thornton should be attacking the rim at every opportunity. Instead, he's taking nearly 40% of his shots as two-point jumpers, ceding much of his size advantage out of the gate. As a result, his offensive rating is in the mid-80s, and the Bulldogs aren't as potent as they could be.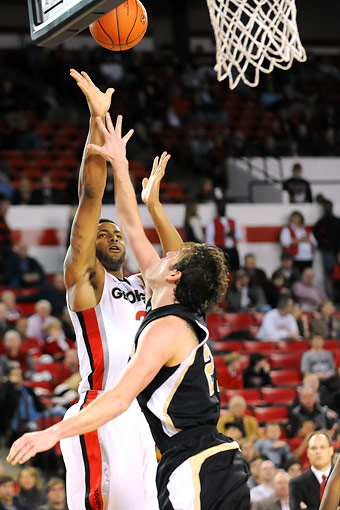 Jump shots from Thornton are slashing his statistical value. From: ESPN
It's statistical cracks like this that have me shaking my head, and blithely disregarding Georgia. The fact that tomorrow night will be their first true road game of the season makes me even less convinced of their ability to compete with the Buffs. Sure, maybe they'll jump up and bite Colorado in a moment of weakness and distraction, but I doubt it. Even a marginal effort should get CU win number 11 tomorrow. Probably by a comfortable margin, too.
Tip-off from the Coors Events Center is set for 8pm on Saturday. Coverage can be found on Pac-12 Networks, with the radio call on 850 KOA.


GO BUFFS! PROVE ME RIGHT, AND BEAT THE BULLDOGS