Christmas break is just around the corner, which means a slight disruption to my already abbreviated blogging schedule. I'll have a preview up later this week for the Oklahoma State game, and a short recap Sunday morning, but there will be no Grab Bag next week, as I will be out and about for the holiday. After coverage of the OSU game, my next post will be a teaser for the Georgia game on or around December 27th.
--
Today in the bag, I'm wrapping up the Elon game, talking expectations, and taking a stroll around the nation of basketball.
Click below for the bag...
Buffs 'survive' by 17 against Elon -
In what turned out to be a glorified scrimmage, CU overcame a distracted effort and a mostly absentee home crowd to roll past a feisty Elon squad
80-63
in their final home game before Christmas.
No one will get much of a thrill watching the replay of this one, with the Buffs missing 19 free throws, committing 16 turnovers, and generally playing unfocused ball. The game started slow, with CU failing to score for the first few minutes (which sent Coach Boyle into 'line-shift' mode), and Elon, uncharacteristically, missing some wide open jumpers. Behind a pair of double-doubles from Xavier Johnson (12/15) and Josh Scott (12/13), however, the Buffs were able to assert themselves before things ever got out of hand. They stirred long enough to grab a lead, and sat comfortably in cruise control into the second half.
Xavier Johnson was too much for the Phoenix to counter. From: the BDC
Things got a little scary after the break, as the Phoenix rallied behind the stellar shooting of Sebastian Koch. The German import was allowed to get loose for 27 points, mostly from range as he went 9-14 from deep. Sure, Koch was hot, but the Buffs were also a little sluggish on fighting through screens, and fell asleep on a few back-cuts. That said, even though Koch helped Elon cut the lead to seven midway through the second half, I never felt that CU was ever in any real danger from the run of play. They rewarded my confidence by rolling down the stretch.
There was a palpable grind to the way Colorado dealt with their assignment Friday night - like a student taking a final he wasn't fully prepared for. CU didn't out-work, out-scheme, or out-play the Phoenix, they just let their superior level of athleticism do the talking, and got lucky with a few open misses by Elon. In the end, against a small conference opponent, that can be good enough, and it was on Friday. Colorado now takes a week off for finals before heading to Las Vegas to take on old Big XII rival Oklahoma State.
Don't be that guy -
Speaking of taking finals, there's some perspective required to digest Friday's victory properly. If you came up to the CEC expecting a free-flowing exhibition of exactly how good this team can be, you were fooling yourself. The Buffs were never going to play well against Elon. The game came sandwiched in-between emotional tilts with CSU, Kansas, and Oklahoma St, was played in front of a dead crowd, and went down while the players were preoccupied with
finals
. That scenario screamed 'let-down,' which is exactly what we saw.
But some fans lack that basic understanding of how college basketball works. Case-in-point, there's a man who sits in my row a the CEC. He's a passionate, oftentimes hyperbolic Buff fan, who has a less-than-optimum grasp of the game of basketball. I'm sure you know a few fans like him. You know, the kind of fan who has yet to see CU commit a foul, couldn't tell a moving screen from a hole in the wall, and seriously expects every shot to go in. Yeah, he's
that
guy.
This dude was
pissed
Friday night. There was booing, there was yelling. At one point he even started 'rooting' for the Phoenix in some sort of childish protest. I honestly don't know what he expected. Despite the fact that he had obviously never heard of Elon University, or lacked the basic concept that they are a tough, veteran team who looks to be in the Tournament this season, he seemed to have completely forgotten the circumstances. Don't be
that
guy. Chill out, and take the win with some grace.
The team Colorado will showcase in conference play is not the team that played Friday. Sure, it was the same bodies in the same uniforms, but the mental approach wasn't there, and, you know what, that's understandable. Given everything, I thought the team played well (enough), and they got the win, which is all that matters. Leave the over-wrought fanaticism for later. The kids can be allowed an indifferent performance in the middle of December, especially after reeling off 10 straight wins against a grind of a schedule. The best is still yet to come with this group.
Around the nation of basketball -
- Arizona 72 - Michigan 70 -
In a huge win for the Wildcats and the Pac-12, Arizona went into the Crisler Center, and survived against a very athletic Michigan squad who still boasts many of their key pieces from their Final Four squad of a year ago. The Cats were down big at half, but rallied behind the cool shooting of Nick Johnson, who hit six free throws down the stretch. The win all but assures 'Zona the #1 into the start of conference play.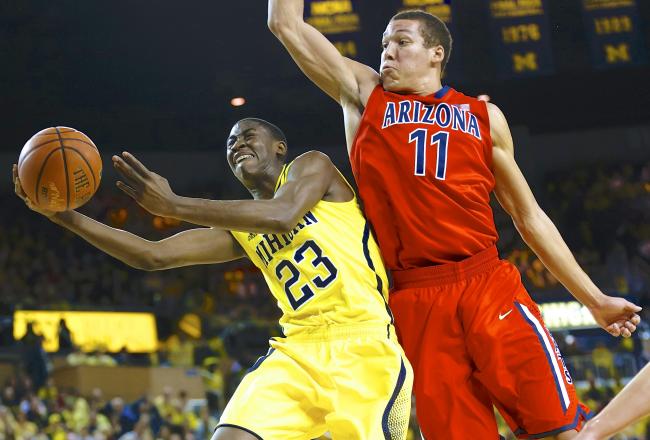 #1 Arizona survived their big test in Ann Arbor.
- Michigan St 67 - Oakland 63 -
Another team who seemed distracted in the midst of finals preparations, Michigan St almost stumbled against home state minnow Oakland. Double-doubles from Adreian Payne and Branden Dawson helped turn the tide in the second half, however, as the Spartans powered down the stretch to avoid a humiliating defeat.
- North Carolina 82 - Kentucky 77 -
North Carolina missed 19 free throws, but hung on at home to beat a Kentucky squad that still seems in dire need of some veteran leadership. The Heels were playing without two of their best players, who are sitting due to eligibility concerns, so the win was well earned. For Kentucky, I think it's clear that this group of heralded freshmen are no where near the caliber of the group that carried UK to the national title two season ago.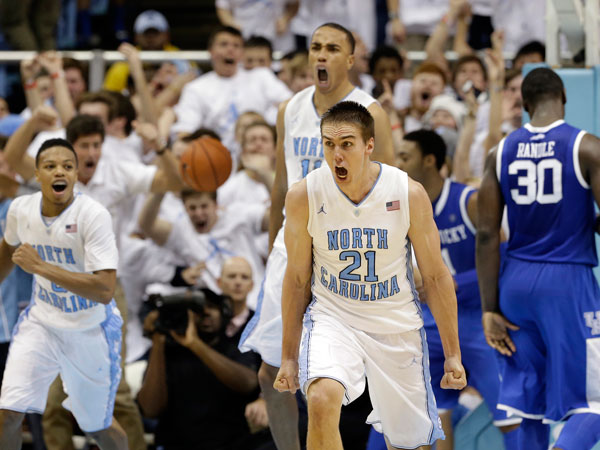 UNC may not be perfect, but they have some nice wins under their belt.
- Oregon 71 - Illinois - 64 -
In another good win for the Pac-12, Oregon had to come from behind to secure the victory. Duck point guard Johnathan Loyd was clutch down the stretch, knocking down the game winning shot after some fancy footwork in the face of an Illinois defender. Oregon is about to get sidelined stars Dominic Artis and Ben Carter back from suspension, and it's a testament to their caliber that the team is still perfect in their absence.
- Iowa St 85 - Iowa 82 -
For my money, this was the best game of the weekend. In front of an electric crowd, the intra-state rivals put on a fast-paced show that grabbed my attention the second I got back from the CU/Elon game. The Cyclones had to come back from a seven point halftime deficit, but prevailed thanks to Georges Niang, who notched 24 points, including the basket that put ISU ahead for good.
Niang leads a pretty damn entertaining ISU squad.
Happy Monday!