The final leg of the Big XII revenge tour brings our heroes to Las Vegas for a nationally televised tilt with Oklahoma State. It's a little different from the other two old school rivalry games already played this season. While the brawls with Baylor and KU were matchups that held plenty of external purpose for the fanbase, playing OSU means... well, relatively little outside of practical basketball realities (RPI, rankings, public perception). No players in a Colorado uniform have ever even played against OSU. Whatever rivalry there may have been will not define the narrative tomorrow night; the Cowboys may as well be a really good Big East or ACC team. Baylor and KU was for the fans. CU/OSU is for the players. This is a statement game, the final opportunity for the #20 Buffaloes to make some national noise before conference play starts.
The other difference between the BU and KU games and what we'll watch tomorrow is setting. Against Baylor, the young Buffs had yet to find their sea legs, and were fighting a tough team on, essentially, their home turf. Of course, the setting for the Kansas game, taking place at the roiling cauldron that is the Coors Events Center, was the definition of home court advantage. In (Las) Vegas, we'll see the team on a true neutral court against a very difficult opponent under the national spotlight. If you have any remaining questions about this team, they'll be answered at the MGM Grand.
It certainly won't be easy. Oklahoma State is rightly considered a top-10 team, possessing some of the best talent in the country, with a solid chance of making a Final Four this season. That's not to say CU is completely out-classed, however. In fact, we in BuffNation need to get used to the fact that the program belongs on this stage. These are the kinds of games great programs play in, and expect to win. It's not a fluke or mistake that CU is in the marquee game of a nationally televised weekend showcase, after all; the Buffs belong here. It's time for Colorado to take advantage, and enjoy the spotlight.
--
Tip off the
MGM Grand Garden Arena
is set for 9:30pm MT tomorrow evening. So, if you, like me, will be in the Eastern Time Zone at tip-off, it's going down at 11:30 at night. Woof. I'mma need some coffee... Anyways, coverage can be found on ESPN2, with the radio call on 850 KOA.
Click below for the preview...
When last we met -
You have to go all the way back to January 2011, and Tad's first season for the last time these two teams met. Overcoming abysmal shooting (37% from the field), CU claimed a
75-71 victory
in front of the first sellout crowd of the season by leveraging a favorable home whistle. The Buffs relentlessly attacked the rim, getting to the line 39 times, converting on 35 of those attempts to claw their way into the win column.
CU survived thanks to an abundance of contact. From: the BDC
The trips to the line cannot be understated. Getting 47% of your points from the charity stripe is obscene, made all the more incomprehensible when you consider OSU received 25 fewer attempts than Colorado. While I don't specifically remember the officiating being especially egregious, when a team like that Cowboy squad, who was in the top-10 nationally for FTA/FGA ratio in 2011, has to sit and watch a parade like that to the line, you have to wonder...
Regardless, this win spoke to a grit and will in the face of adversity that would serve the Buffs well in later games against KSU and Texas. After shooting under 30% in the first half, and falling down by as many as 12 in the second frame, they found top gear when they needed it most, going on a 20-6 run to turn the tables on OSU, and take a lead with just under six minutes to go.
Another solid win for Cory and the fantastic 2010-11 team. From: the Post
CU's comeback effort was lead by the dynamic duo of Alec Burks and Cory Higgins. The pair of future NBA talents combined to score 43 points, 21 from the free thrown line, to pace the squad. Burks was especially fantastic, notching 11 rebounds to go with his 20 points. He only went 4-13 from the field, but that was a result of his bullheaded slices into the lane that, repeatedly, got him a whistle and a trip to the free throw line. Spencer Dinwiddie, pay heed: get to the line like a maniac, and you'll bag a victory against the 'Boys.
Star Players -
It would be criminal to start a review of OSU's roster anywhere other than with
Marcus Smart
. There are teams in the NBA right now tanking for an opportunity to draft a player of his caliber, as the 6-4 sophomore point guard from Texas figures to be a top-5 pick this summer. He is the classic combination of speed, athleticism, and size that the Association loves, and he boasts production to match. A legitimate candidate for the Wooden Award, he's probably the best individual talent that CU will face all season.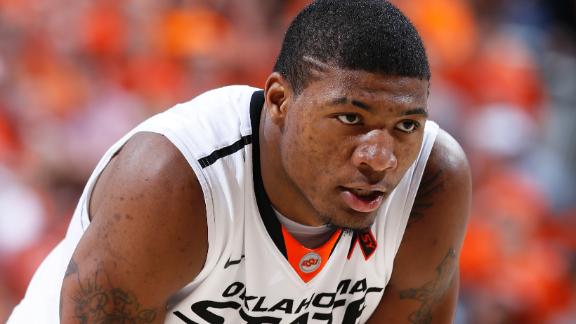 Smart is one of the best in the country. From: ESPN
The big surprise with Smart is that he's still in Stillwater. Already a guaranteed lottery pick as a freshman, he chose to
forego the NBA
for a second bite at the collegiate apple. Ignoring the risk, he came back to prove a point and 'satisfy himself.' Shrugging off criticism and second-guessing, he said of his decision "Thanks for your concern, but I know what I'm doing.' Fair enough.
To date, he's backed up his choice, dropping 18/5/4 on a nightly basis for one of the best teams around. It's interesting that, with his talent, he gets less than 80% of available minutes (less than he did last season), but he makes up for a slight drop in court time by carrying the team on his back. With a top-7 steal ratio (he grabs three per game), and a usage rate over 30%, he can dominate both sides of the game. The matchup between OSU's Marcus Smart and CU's Spencer Dinwiddie is the stuff television promos are made of, and should be a treat for all true basketball fans, regardless of allegiance.
Beyond Smart, the Cowboys rely on the versatile duo of
Markel Brown
and
Le'Bryan Nash
. Brown, the only senior who gets regular minutes, is second in the team in scoring (15.7/game), and an
explosive athlete
who would star on most other teams. The team looks to him to draw some attention off of Smart, and the interplay between the two is what makes the efficient Cowboy engine hum. Nash, a junior forward, has been forced into a more post-centric style that I think he would like. He has cut his long jumpers out almost completely, boosting his percentage of shots at the rim by nearly 30 points this season.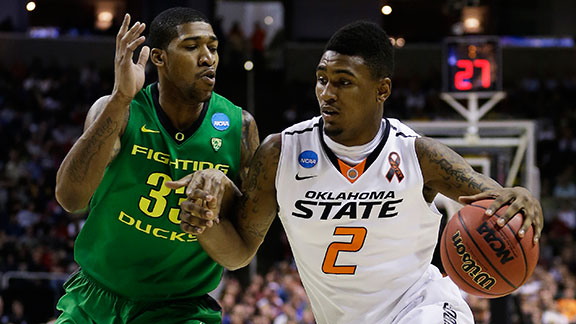 You can tell Nash would like to be shooting, but his more efficient play is helping the Cowboys. From: ESPN
Outside of the big three, OSU appears much more human than other top-flight teams. 6-8 junior
Michael Cobbins
is what serves for a true post-presence, but he isn't even close to what teams like Kansas and Baylor threw at CU, and is mostly a defensive threat (nearly two blocks per game in just over 20 minutes per). Junior guard
Brian Williams
rounds out the starting five as a
complimentary
wing who also plays tenacious defense. Off the bench they boast one of the nation's most efficient shooters in the form of sophomore guard
Phil Forte
(148.7 offensive rating). A high school teammate of Smart's, Forte shoots nearly 46% from deep, and is almost perfect from the line.
The Cowboys in 2013-14 -
OSU has been a top-10 squad since the very first preseason polls. To date, they've backed that faith up with a 10-1 record, and offensive and defensive efficiencies in the national top-10. Their
Kenpom profile
($) is a swath of green, attesting to their balance and strength.
The Cowboys have been nearly perfect in the early going.
Behind Smart, Brown, and Nash, they're one of the fastest, most efficient offenses in the nation. They average an adjusted 1.18 points per possession, and usually take a shot well before the clock ticks towards zero. Defensively, they're even better. They're in the top-10% nationally in every major defensive category, and excel in limiting good looks (opponents post an eFG of 42.6%) and forcing turnovers and creating extra possessions (9th in steal rate, 16th in block rate). OSU likes to speed you up to their level, and makes you pay for the privilege.
Accordingly, the best way to beat them is... slowing down the pace of play, and owning transition. Case-in-point: their two game series with Memphis. On November 19th in Stillwater, the Cowboys took the Tigers to the woodshed, flying to a
101-80
victory that grabbed headlines. Two weeks later, the two teams met again in the Old Spice Classic, and Memphis turned the tables, earning a
73-68
victory.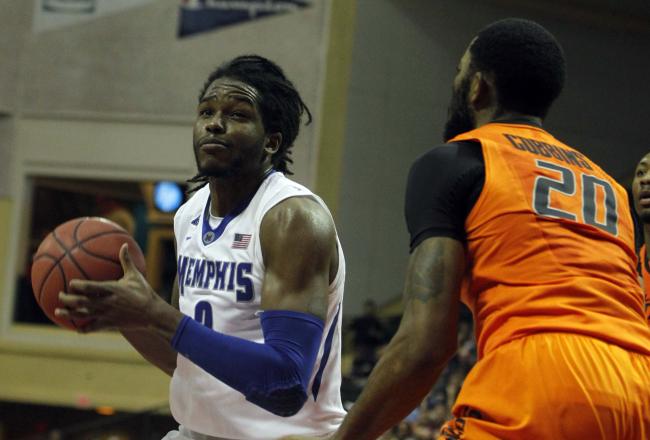 Memphis returned the favor in the rematch.
The difference? Well, besides a change in venue and holding the great Smart to only 12 points on 4-13 shooting, the Tigers slowed the pace down dramatically (20 fewer possessions than the first meeting), and limited OSU to only eight fast break points (the Cowboys had 23 in Stillwater). Interestingly enough, these are two areas CU can thrive. A little TadBall is always good for a long-possession slugfest, and CU is 37th nationally in limiting transition attempts (
H/T JG
).
Coaching -
Yep,
Travis Ford
is still kicking down in Oklahoma. Now in his sixth year as head Cowboy, Ford may finally have his program headed in the right direction. His 24-9 campaign of a year ago showed vast signs of improvement, as the squad posted the best in-conference mark of the Ford era (13 Big XII wins, good for third). Now, with a top-10 target on their back, they head towards conference play, at least in my eyes, as as a slight favorite to win the league, even over talented squads like Baylor and Kansas.
Yep, Ford still runs the show at OSU. From: the AP
Ford caught a break with the return of Smart, and now needs to capitalize. You don't recruit a kid of his talent expecting to get more than one year with him in school. With him still running the show, Ford can make a statement by guidig this team into the Sweet Sixteen, and securing the foundation for the next stage of the program.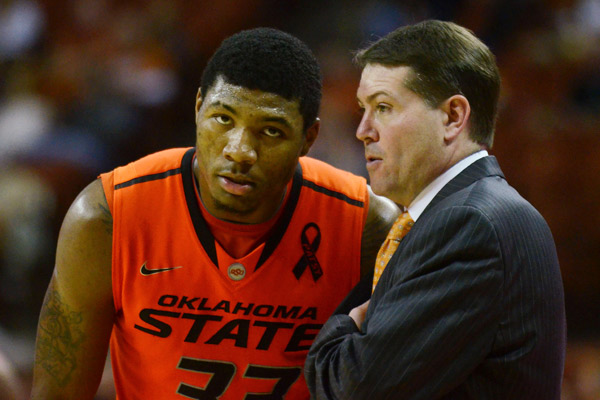 Keeping Smart in house was a lucky break for Coach Ford. From: ESPN
I've never been that impressed with Ford. His Cowboys have been talent-in-talent-out without much production up until last season. If he can make this season count, however, he could be in good shape to become a long-term resident of Stillwater.
Prediction -
(My record on the season: 0-2. Against the spread: 0-2. Optimistic/pessimistic: CU +5 pts/gm)
Lines as of 12:45 on Friday: OSU -6
I've been struggling with my basketball picks this year. I will admit I was betting with my heart, not my head, against Baylor, but I'm kind of frustrated with my read on the KU game. I knew the Buffs would make it close, a smart bet would've been on the home crowd against a team of freshmen. Oh well, back to the action.
CU caught a big break with the news that both Askia Booker and Wes Gordon
will be in uniform
tomorrow, giving CU as good a shot as any of knocking off the Cowboys. With them back in the fold, I actually like how the Buffs matchup. Unlike KU, OSU doesn't have a physically imposing front line, and, while the Cowboys do just fine in the paint, the Buffs don't have to look up to their forwards, which is a start in the right direction. Their guard-oriented, fast-paced style also plays into Tad's hand. I'm probably overselling it, but Colorado should do just fine tomorrow.
Give me the Buffs to cover, but not win. It comes down to the finish, but Smart gets the calls when needed.
OSU 71 - CU 68
GO BUFFS! PROVE ME WRONG, AND BEAT THE COWBOYS!