"I will hurt you for this. I don't know how yet, but give me time. A day will come when you think yourself safe and happy, and suddenly your joy will turn to ashes in your mouth, and you'll know the debt is paid." - Tyrion Lannister
The Kansas Jayhawks. The gold-standard by which every Big 8/Big XII basketball team has ever been measured. Colorado may have left the old conference affiliation behind, but it still means something to see that logo, and
those fucking fans
, come to town. The pain, the suffering of being a die-hard Colorado Basketball fan was never more prevalent than those nights when CU hosted KU. Sure, there was a chance to make a few minor headlines, but, for the most part, it was a humbling exhibition of just how far the program was from respectability.
Only driving home that point was the thousands of Jayhawk fans who would pack the CEC each and every year. It was an exhibition for them, an opportunity to lustily cheer for their team on the cheap. They owned the building, and they made it known. Suddenly, those patrons who had been sleeping through games against UMES and Stetson showed up in blue and red, and rubbed it in that
they
were members of the
chosen fanbase
. That BuffNation wasn't worthy of even witnessing their pure version of the sport. For good measure, a few rounds of
that fucking chant
on their way out the door ended all doubt.
I have been (im)patiently waiting for this game since the
day it was announced
(BLOOD AND REVENGE!). After years of frustration and humiliation, it seemed like one last chance to slay the mythical beast before he escaped for good. To spite those fans for punking the slow kid at the back of the basketball class.
Kansas is coming back to altitude... willingly!
And we no longer suck! Could I be so lucky?!
Now, on the eve of that game I've been waiting for, and just under 4,000 days after CU's
last victory
over the blue-bloods of blue-bloods, one plea dominates my mind: don't let this opportunity slip away. Don't let
that team
and
those fans
get away clean. Last year doesn't matter, the 39-122 history of this series doesn't matter. Just win this one, please.
I'm not saying that CU
can
win, or that they
will
win. I'm saying they
must
win. The program needs this monkey off it's back to make a national statement that this is no fluke, that this
program
is for real. A win tomorrow night will define this era of growth, with CU basketball fans in futures as of yet unimagined speaking of 12/7/2013 the way CU football fans today speak of 10/25/1986. This is a new era, a new program - it deserves a capstone. I don't care how, get it done.
--
Don't get frustrated when you see Kansas fans tomorrow. Even with the season ticket sellout and the measures taken to stem the red and blue tide from slipping into the CEC, those assholes are still going to do their 'Jayhawk' thing and eat up seats. A $200 after-market ticket to CU/KU at the CEC is still a cheaper proposition for many local KU fanatics than a trip to Lawrence and a ticket to the Phog. Still, if you have a ticket, but now don't think you can make, you better not sell it to some Jayhawk. If you do, You might find an angry man with a pitchfork on your doorstep. Do your duty, and sell to a Buff.
Tip-off from the CEC is set for 1:15 on Saturday. The C-UNIT has designated this as a
BLACKOUT GAME
, so wear the appropriate vestments. It may be cold outside, but gym will be warm and toasty. Coverage for those unable to find a ticket can be found on ESPN2. Mark Johnson and the radio call are on 850 KOA.
Click below for the preview...
When last we met -
Even though CU brought an
unprecedented number
of fans with them on their December 2012 trip to Lawrence, they were no match for the Kansas Jayhawks last season. From the opening tip-off through the final buzzer it was the definition of a rout. Deservedly, CU was handed a humiliating
90-54 loss
.
The game wasn't even as close as that score makes it sound. Sure, it already
sounds bad
when CU, in two halves, scored only seven more points than KU did in the second half alone (54-47), but, believe me, it was worse. Colorado allowed Kansas to shoot near 55% from the floor, was out-rebounded by 11, only hit two of 13 three point attempts, and turned it over 18 times. At no point was the game even half-way competitive.
Yeah... about that.... From: the AP
There is a minor caveat to the blowout. Spencer Dinwiddie injured his ankle in the opening minutes, and, while he did grit it out for 21 minutes of action, he was a shell of himself for the rest of the game. His 4/0/2 performance was possibly his worst ever in a Colorado uniform, and a drastic exception to his norm. Still, no one else on the team stepped up in his pseudo-absence, and his injury alone does not excuse a 36-point pounding.
Without Spencer, the Buffs were lead by an actually solid 19/4 game from Josh Scott. Getting the ball inside to the big man was really the only thing that was working for Colorado on the afternoon. Beyond him, you're looking at 15 points on 5-15 shooting from Ski, a 'Dre-like 8-11 from Andre Roberson, and
that's it
. The Jayhawks were lead by the since-departed Ben McLemore, who abused the CU defense for 24 points. Without Dinwiddie, there was no one left to guard him.
Josh Scott was the only Buff who seemed to belong on the same court as the vaunted Jayhawks. From: the BDC
It was a perfect storm of fail. The team wasn't ready for the environment into which they stepped, their star guard was injured a few minutes into the game, and KU was playing on all cylinders. Coach Boyle put it best:
We got our (butt's) kicked in every form, fashion and way you can do it. There is just no other way you can put it. There is no other adjective to describe it; we just got whooped in every way shape or form, mentally, physically. -link
That CU got that mess out of their system, and recovered to make the NCAA Tournament, says a lot about the character of that team.
Coaching -
The one, the only, Bill Self. You can look all you want, but you'd be hard pressed to find a better coach working today. Outside of Krzyzewski, I wouldn't take anyone over him, and that includes Izzo, Boeheim, and Pitino.
Self is one of the best ever.
He has never lost to Colorado, but that's almost a given. Since leaving independent Oral Roberts in '97, his teams (Tulsa, Illinois, and Kansas) have never finished lower than 3rd in conference play. Over that stretch, he's won or tied for the conference crown 13 out of 16 years, and is going for his 10th-straight regular season Big XII title this year. A Self coached squad hasn't won
fewer
than 23 games since 1998, and has won
at least
30 games in seven different seasons. Boeheim has been coaching since 1976, and doesn't even have that many.
'Oh, but he struggles in the postseason!' Does he? He only has two first round exits to his name, compared to 10 Sweet Sixteens, seven Elite Eights, two Final Fours, and one title. His run over the last 15 years is beyond equal. Yes, he's been blessed with some prodigious talent, but so have others, and even Coach K has an off year every once in a while. Given another 15 years like this, he'll belong on the Mt Rushmore of college coaches with the Wizzard, Bobby, and K.
... and I still fucking hate him for ditching Illinois.
Star Players -
Despite losing the heart of their 2012-13 roster to graduation and the NBA, the Jayhawks are back with a lineup as talented as ever. The only downside? To keep up the talent level in the wake of that loss of talent, the Jayhawks have had to go young. Very young. They roll ten deep, but, of that dime of talent, only two players, one of them a one-and-done transfer from Memphis, can claim to be an upperclassmen.
Of course, when you can haul in super-freshmen like
Andrew Wiggins
(aka, the
Canadian Jordan
), maybe going young isn't such a bad idea. Wiggins, a 6-8 swing guard, is the latest in a line of one-and-done talents to come through Lawrence. The #1 recruit in the 2013 cycle,
according to Rivals
, he has yet to really get going, and struggled over their recent non-conference tournament in the Bahamas (11-30 from the floor, 9-18 from the line). Still, he's the kind of athlete the NBA drools over, and, once his game develops, he's going to be a nasty player at any level.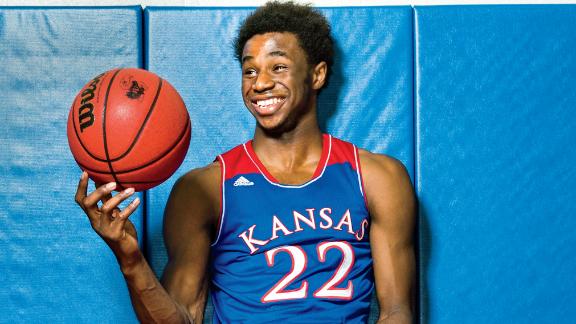 Wiggins is a star in the making. From: ESPN
Down low, we find KU's leading scorer: sophomore
Perry Ellis
(15 ppg). He strikes me as slightly undersized for a starting '4' on a power team, but the 6-8 Ellis (decidedly not the
designer
) brings some versatility to the power forward slot, and has the highest offensive rating on the team (124.7). High-profile
transfer
Tarik Black
normally starts up front with Ellis, but the lone senior has seen scant few minutes this year (12.3/game) as he is still getting used to his new surroundings. Between the two, they do nothing but pound opposing defenses with body-blow shots at the rim, helping the Jayhawks notch a solid 1.14 adjusted points per possession.
Ellis is probably the team's best player right now. Come March, it may be a different story.
Wayne Selden
and
Naadir Tharpe
would normally round out the starting lineup in the backcourt. The freshman Selden would have highlighted almost any other recruiting class, but takes second billing behind the headline-grabbing Wiggins. He's your proto-typical two-guard prospect, and will get pretty damn good as his career develops. Tharpe, a 5-11 junior guard who passes for a grizzled veteran on this roster, brings a pretty damn good assist rate (28.5%) to the floor, and does a good job controlling the the throttle of the refurbished Kansas Ferrari.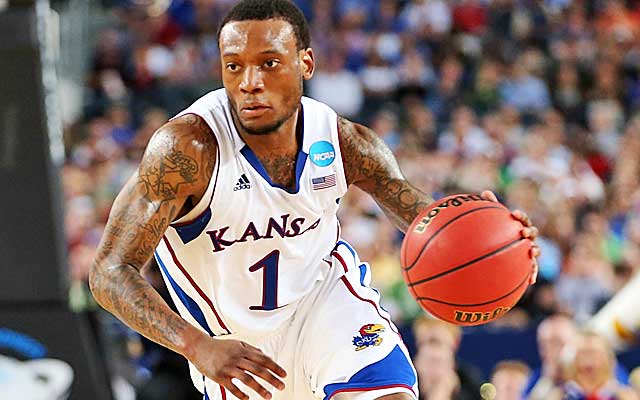 Tharpe does a good job metering out the rock. From: CBSSports.com
Outside of the starting five, true seven-footer
Joel Embiid
will be a tough matchup for the Buffs, as CU only gets shorter when they go to their bench. Embiid, a freshman from Florida, boasts the nation's 12th-best block rate (14.7%) and is top-50 in both rebounding categories, but that aggression in the paint does tend to get him into some foul trouble (7.8 fouls called/40 minutes played). Also off the bench come scintillating freshman point guard
Frank Mason
, and the still-developing swingman
Andrew White
(incidentally, their best three-point shooter). They could all start and star anywhere in the country
today
. With that trio, KU is easily the deepest team the Buffs will have played to date.
(UPDATE 12/6 - The freshman Mason
will start
in place of Tharpe. Self said, "He's been one of our more consistent, better performers so far this year. I think he deserves the opportunity." And the Jayhawks only get younger... HT to Wyo and Skye)
The Jayhawks in 2013-14 -
As always, the Jayhawks are one of the best teams in the nation. #10 in the current KenPom rankings, 6th in the current AP (what they were on Jan 22nd, 2003, fwiw...), they're an imposing team to have on your schedule, regardless of history and other factors.
Coming in at 6-1, they have a few solid wins under their belt, highlighted by a neutral site
victory over Duke
at the Champions Classic in Chicago. Buoyed by a phenomenal pair of performances from Wiggins (22 points in 25 minutes) and Perry Ellis (24/9), they overcame a statement night from Chicago native Jabari Parker. For the game, the Jayhawks shot 56% from the floor, and scored a ridiculous 50 points in the paint. It was the kind of win a #1 seed boasts on selection Sunday.
KU was able to hold off a strong game from Parker and Duke. From: Kansascity.com
Overall, the 'Hawks love to pound the ball inside.
53.5% of their shots
are at the rim, despite only 25.5% of attempts coming in transition (thanks JG!). They make a point of playing to their interior advantage - as we saw in the Duke game - which is a doubly-concerning tendency now that
Wes Gordon may be out for the game tomorrow
. Of course, the flip side is that, much like CSU, the Jayhawks are unlikely to take advantage of CU's porous perimeter defense. They shoot barely over 30% from deep, and only score a little under 17% of their points on three pointers (334th nationally). The Buffs pride themselves on protecting the paint to take away layups, so their best path to victory may be to pack the line, and hope KU stays cold from the perimeter.
Case-in-point, their one loss to date, a grind-it-out,
four-point shortcoming against current-#14 Villanova
at the unfortunately named Battle 4 Atlantis in the Bahamas, provides a potential blue-print for getting at the Jayhawks. In the game, Villanova was able to force turnovers (16 of them turned into 22 points), hold Kansas to only 2-11 shooting from beyond the three-point line, and watch as Kansas missed a bevy of free throws (8) in the second half. The lesson here is that KU just isn't a strong shooting team, and can be made mortal by forcing jumpers.
'Nova was able to take advantage of poor shooting from KU.
Another thing that is encouraging is that Kansas, unlike many of CU's opponents to date, won't give up on the offensive glass to sell-out on transition defense. While the Jayhawks are still stingy in transition (only 15.6% of attempts against them occur within 10 seconds of a change of possession), this will open up the court more than against, say, Wyoming. CU needs
something
in transition, as the half-court has a tendency to desert them at inopportune moments. If Dinwiddie can jumpstart the fast break, either off a miss or a score, CU will be all the better for it.
One final note: even acknowledging the tough Bahamian tournament and the high-profile meeting with Duke in Chicago, the Jayhawks have yet to make a true road trip this season. It wouldn't have been much of a factor last season, when the roster was highlighted by four 5th-year seniors, but this year, with a lineup lousy with underclassmen, there is a wiggle in the back of my mind that the Coors Events Center could play a big factor. Until you've gone on the road in
college basketball
, you've yet to truly test yourself, and these freshmen, while outrageously talented, are still wet behind the ears.
Prediction -
(My record on the season: 0-1. Against the spread: 0-1. Optimistic/pessimistic: CU +17 pts/gm)
NO LINES POSTED
I don't know why, but I can't, for the life of me, find a posted line on the game. I've looked everywhere for the past week, and no dice. Maybe Vegas isn't interested? Regardless, if I do find a line prior to tomorrow, I'll post it here.
As to the game itself, the awful truth of life is that we don't always get what we want, and that the bad guy does, in fact, win far too often. And so I see it tonight.
This KU team is completely different from a season ago. Gone is the veteran core, but it's still Kansas, and they're still overly talented. They're deeper, stronger, and faster than any team CU has seen to date, and are probably too much for this still-developing team to handle. I don't like that Ski isn't hitting his jumpers, I don't like that Wes Gordon is potentially out with illness, and I don't like that Jaron Hopkins will be
guarding
Wiggins from the opening tip. It won't be the 36-point blowout we saw last year, far from it, in fact, but CU will still have to stomach a loss. It pains me to even express the thought.
Leaving open the door for some home-aided explosion, like we saw in the '12 CSU game, put me down for a close Colorado loss.
KU 69 - CU 65
GO BUFFS! PROVE ME WRONG, AND BEAT THE JAYHAWKS!