The Buffs head to the Bay Area for their second true road test of the year. The Cal Golden Bears are a significant upgrade over the UMass Minutemen, however, so it'll take a much stronger effort to claim a second-consecutive road scalp this weekend.
Kickoff from Strawberry Canyon in Berkeley, CA is set for 2pm MT. While plenty of our West Coast brethren will be in attendance, those of us back home in Colorado will have to make due with watching the game on Pac-12 Networks. The radio call, pending late-season Rockies 'baseball,' will be on 850 KOA.
Click below for the preview...
When last we met -
In an absolute ambush last November, the Buffs blitzed past the Golden Bears
41-24
to earn their final win on the year. While Cal was about
as bad as they've ever been
last season, the easy win kept CU out of the basement; no small feat for a team that lost seven of their eight other conference games by at least 18 points.
VICTORYYYYYY! From: the BDC.
The 17-point spread may hint that the proceedings were close(ish), but at no point did I feel that CU was ever in danger of letting the Bears make a game of it. They scored the first 10 points of the contest, and put up 24 unanswered to hide the win away by the start of the 4th quarter. While Cal did post 411 yards of offense, 141 of them came late in the 4th quarter (well after the decision had been rendered), and the nation's 8th-best passing unit was only able to put up 214 yards in a game they trailed for all but a few possessions. For a program that had gone winless in their previous 14 conference tries, it was a hell of a performance.
Colorado's 300th victory at Folsom Field was undoubtedly won thanks to the passing game, as an aerial assault from messrs Paul Richardson and Nelson Spruce combined for 280 receiving yards on 19 grabs. Despite not hauling in a touchdown catch for the game, the pair wrecked the
short-handed
California defense, making both scores and the eventual result a
fait accompi
. Understandably, then-freshman quarterback Sefo Liufau enjoyed a comfortable day throwing to the wideouts, and the combinations produced 12 of CU's 23 first downs.
With Liufau getting the ball to his targets just ahead of the Cal D, the Buffs were able to claim the win. From: the BDC
The defense should also be recognized for slamming the gates shut after Cal managed to tie the game at 10 in the first half. Following running back Khalfani Muhammad's 55-yard scoring run with over seven minutes remaining in the first half, the Buffs limited the Golden Bears to just 97 yards through their next eight possessions. It wasn't a perfect performance, but it allowed the offense's successes to marinate on the scoreboard, rather than help the game devolve into a shootout.
All-in-all, a win to be proud of. With Cal on the rise in 2014, however, it may not be so easy to create a repeat result this weekend.
The Golden Bears in 2014 -
Following up on their 1-11 campaign from a year ago, the Golden Bears appear to be 'back' on the competitive track, looking strong in non-conference play and their conference opener. As it stands, only a converted Hail Mary sits between them and a perfect record headed into Week 5.
As satisfying as I'm sure they were, I don't think there's too much to learn from their early wins over
Northwestern
and
Sacramento State
. Other than the fact that they converted both par saves, albeit in convincing fashion, the quality of their opponents makes cogent arguments difficult to generate. The main course of last week's
road loss @ Arizona
, however, makes for much heartier consumption.
It would be easy to focus on the
miracle throw
from the UofA's Anu Solomon to receiver Austin Hill. It's certainly a statement moment that will feature in highlight packages for the foreseeable future. But the true tale is so much more interesting when you pull back the camera to take in the whole state of affairs.
First, as was clear from the onset of the action Saturday night,
Cal's offense
is for real. They scored 14 points on their first four plays in the desert, cranking out a 44-yard run and an 80-yard pass before the crowd had even settled in. Through three games they've out-scored opponents 97-20 in first halves, and the opening frame in Tucson was no different, with the Bears taking a 28-6 lead. Much like with ASU, these guys can
score quickly
to rock the opponent back on their heels before there's any time to react. As a result, Arizona went into the locker room looking absolutely dead in the water, and were lucky to hit the break as close as they were; the power of a quick-hitting offense. For the game, Cal put up 573 yards, and they're
starting to look
about as good as Sonny Dykes' high-flying Louisiana Tech squads did when he was lighting up the WAC.
Of course, the flip side is that Cal's defense
leaks
like the proverbial Polish submarine. Against FBS opponents this season they've been outscored 60-24 in the final 30 minutes, reducing the quick-start advantage that their offense has been generating. Against Arizona, this translated into a ridiculous 627 yards on a Pac-12 record 107 offensive plays, including 444 and 57, respectively, after halftime to fuel the comeback. As any CU fan who survived the Dan Hawkins era will tell you, giving up 35+ points in the 4th quarter is not a recipe for success (and can lead you to make some even larger institutional mistakes), but there was Cal, allowing the Wildcats to score on their final six possessions. I hope Sefo and the Buffs were taking notes, because that defensive backfield can be used and abused.
Cal couldn't guard a statue late in the game.
The dynamism from this team, both for good and bad, comes through the air. They're the 3rd most efficient passing team in the country, while sliding home 118th in average passing yards allowed. The Arizona game weighs heavily on both ends, but I really think that result was indicative of where this program is right now. Those stats are just an extension of where they were last season, when the passing attack put up the 10th-best numbers in the college game, while the depleted defense was giving up over 340 yards a game to finish 123rd nationally. Yes, the Bears are more competitive in 2014, and figure to notch a few more wins as the season rolls along, but the long-term story seems eerily similar on the Bay. Until they prove they can defend the leads they produce, true success will be fleeting.
Star Players -
On a team with such a prolific passing attack, of course the depth chart review is lead by the quarterback.
Jared Goff
is back for his sophomore campaign, as the
long-term solution
paid off for the Bears. Despite breaking nearly every freshman passing
record
ever set in Berkeley, he had
spent
most of last season
battling
the since-departed Zach Kline for the starting position. That battle only seems to have steeled him for further action, however, as he currently sits as the nation's 7th most efficient passer. Goff is already a record setter under center.
The 6-4 Novato, CA product, while more efficient in 2014, hasn't been putting up the numbers he did a year ago. In fact, CU's Sefo Liufau stacks up pretty well against him. But, that's not really the point, is it? His command of the offense is far
superior
to that of a year ago, and there isn't even a whiff of the controversy that defined the run of play in 2013. I'm not yet ready to call him one of the conference's best, but he's getting close...
Goff likes to spread the ball around, and five Bears have at least eight catches and 100 yards on the year, as a result. The best is probably junior
Darius Powe
, who leads the team in yardage with 188, but compatriots
Bryce Treggs
and
Kenny Lawler
are just as talented. The trio have combined for six touchdown grabs on the year, and the quick strikes through them are the biggest danger posed on Saturday. A
move inside
to the slot has done the junior Treggs especially well, and I'm interested to see him match up against CU's nickels.
Powe is one of many targets in the passing game.
Who exactly is lining up with Goff in the backfield has been a
big question mark
this season. CU got a great look at
Muhammad
last season in Boulder, when the then-freshman busted out his 55-yard touchdown scamper, but he's been sharing the load in 2014 with junior
Daniel Lasco
. Lasco has actually been getting the majority of reps after impressing throughout the spring. With 244 yards on 37 carries, he's been getting good production, as well. Still, regardless of who gets the carries, either can hurt when Cal stays on the ground.
Junior linebacker
Jalen Jefferson
leads the team in tackles this season, and almost single-handedly sealed off the win over Northwestern in the season opener. At 6-2, 220 lbs, he makes for an athletic presence behind the line, and can be very active in pass defense.
Jefferson has been featured heavily this season.
Up front is a pair of aggressive ends in juniors
Todd Barr
and
Brennan Scarlett
. With Cal putting teams behind early, they've been allowed to get after the QB a lot this season, and have combined for four sacks through three starts. Scarlett had
missed
the entirety of last season due to a complicated recovery from a broken left hand, so it's altruistically good to see him back on the field.
The most interesting defensive piece, however, is
Griffin Piatt
. Originally a walk-on receiver, he was
converted
to defensive back for depth purposes during last season's incredible wave of injuries. Echoing the successful morphing of CU's own Jason Espinoza into a defensive dynamo in 2011, Piatt has more than held his own playing safety at the FBS level. In just three games (one start) he's recorded 14 tackles, six passes defended, and
three interceptions
(one in each game). Talk about making an impact! I guess you never know where you'll find the next great performer; for Cal and their shaky pass defense, it's found money.
Coaching -
Sonny Dykes
is working through his second season on the Berkeley sideline. At the time of his hire, it seemed that former Cal AD Sandy Barbour had scored a coup, but much of that shimmer has faded, thanks to a historically bad first year. 1-11 is excusable, however, when accompanied by the new coach excuse; CU's Mike MacIntyre certainly rebounded from a similar hiccup in year one of his stint at San Jose State. Still, Dykes better hope that positive early returns continue throughout 2014. With a new athletic director
on the way
, it's time to be building good will among the fan base.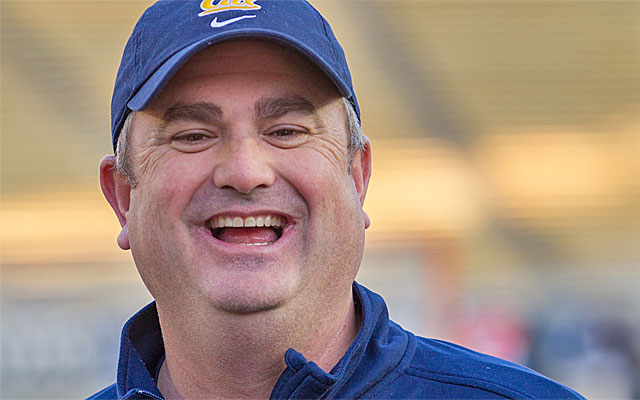 HAHAHA! FootbalL!
His task this week has been all about salvaging the psyche of his team after their disastrous 4th quarter in Tucson. I don't buy too much into that kind of emotional factor, however. If you're expecting/hoping the Golden Bears suffer a hangover from coughing up 36 points over the final 15 minutes, you're just asking too much. Cal was a flawed team long before the Wildcats decided to explode the scoreboard, so, should CU stay competitive on Saturday, please don't blame that on what happened a week ago.
Prediction -
My record: 3-1. Against the spread: 2-2. Optimistic/pessimistic: CU +6.5 pts/gm)
Line as of Thursday @ 7pm - CU +11 1/2, O/U 67
I can't help but sense a shootout coming on. Salt added in the form of CU's road struggles, but I see two offenses primed to put up points and yards, and two defenses who don't seem capable of stopping them. I'm definitely taking the over, but I'll flip a coin on the cover. (*flips a coin*) It came up tails, so I'll say the Buffs slip late in the 4th to fall behind by two scores.
Cal 47 - CU 33
GO BUFFS! PROVE ME WRONG, AND BEAT THE BEARS!