It's not a huge surprise, but the great Chauncey Billups made it official yesterday when he
announced his retirement from the NBA
. An unrestricted free agent since the Pistons
declined
to pick up his $2.5 million option in July, Billups had quietly mulled continuing his career with other teams, including the reinvigorated Cleveland Cavaliers, but decided that 'it's just time.'
The 17-year NBA veteran and Colorado basketball immortal leaves the game having accomplished what few can claim. A five-time All-Star and 2004 NBA Finals MVP, he was legitimately one of the best players of his era, a smooth point guard known across the country for his clutch shooting and measured control of his team. He won numerous honors, both collective and personal, while being a model citizen and ambassador of the game. There were few like him.
After successful stints with seven different teams, it's easy to say Billups had national reach, but it's hard for me to think of him as anything other than Mr Colorado. I'm not just talking about CU, he defined the pinnacle of the game from the high school ranks on up through the professional in the Centennial State. You'd be hard pressed to find of another athlete from a major sport who can claim to be a state's singular icon in the way Chauncey stood for hoops in Colorado. For basketball fans on the Front Range, his exploits were a source of continuing pride. 'Absolutely, we belong - just look at the King of Park Hill!'
But the wear of all those miles as a leading man had begun to show, as the star had only seen action in 61 games over the past three seasons. With nearly everything possible accomplished in the game he loves, I imagine he retires with a clear mind and few regrets.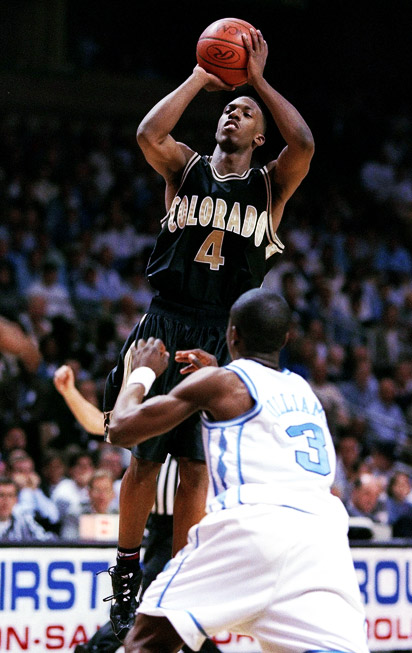 I'm sorry to say, but my CU fandom is purely
ex post facto
Chauncy's tenure in Black and Gold. I have no direct memory of the Big Shot era in Boulder, no personal connection to the heroics that
sent Bobby Knight on a cold, rainy walk home
. To me, Chauncey was always a professional athlete. But even from my more neophyte view, it would be impossible to discuss the history of basketball at the University of Colorado without devoting volumes to #4. Accordingly, there is simply no amount of gratitude that I can express that would live up to his contributions to the game in Boulder. The best I can say is 'thank you Chauncey,' and hope he gets the successfully peaceful retirement that he has earned.
... also,
a big damn statue
outside of the CEC.