Straight to the action today...
In the bag, I'm talking CU's comeback win over the Minutemen, the status of Colorado's next three opponents, and the NFL's opening week.
Click below for the bag...
CU survives eastern road trip
-
My mind tossed and turned all weekend over how to digest CU's
41-38 win
over UMass. It's the policy here at the Rumblings of a Deranged Buffalo that all wins are wins. Just as there are no moral victories, there are no moral losses. But, this weekend's three-point road win over a very weak opponent pushed me the brink of breaking my own rule.
Yes, CU is now 1-1 on the year, but they managed the feat in unconvincing fashion. Against one of, if not
the
worst team in all of FBS football, the Buffs found themselves pushed to the brink, down as many as 11 in the third quarter before pulling off the comeback. They even allowed a mostly indifferent offense to rack up 371 yards and find the endzone five times. Yet, still, they dug deep when they needed to, and salvaged a win from a situation that seemed destined to spin the entire MacIntyre era out of control. Maybe that's the point. This team could've caved after QB Sefo Liufau threw a pick-(near)6 to put them down two scores with just under two quarters to play, but, instead, circled the proverbial wagons, got nasty, and pulled out the win. It wasn't pretty - far from it, in fact - but it was hard earned. The exact set of circumstances that the 'a win's a win' axiom was invented for.
Reality has set in; 2014 will not be the year the rebuilding process stumbles into the 'next level.' But, after some consideration, I'm at least happy with Saturday's performance. The team showed real spirit in a situation where previous teams under previous head coaches would've completely folded, and I think that's what all of BuffNation has been praying for - a sense of competitive spirit.
Behind the calm, commanding Liufau, the Buffs didn't buckle.
What will be key going forward is finding that competitive spirit against 'real' competition. Every team remaining on the schedule is better, on paper, than the Minutemen. The Buffs need to find a way to turn Saturday's win into honest momentum, rather than a repeat of 2012's saving throw miracle over Washington State.
The Bulle(i)t points:
Liufau continues to shine. Outside of the ugly interception, he racked up 62% passing for 318 yards and three scores. Calm leadership displayed throughout, which was key in the comeback.
Related: Nelson Spruce is loving life in the Sefo era. 10 catches, 145 yards and two scores on Saturday. That'll do.
The return of Tony Jones and Christian Powell - with Michael Adkins struggling, the upperclassmen duo combined for 129 yards and two scores on 26 carries. I doubt that will continue against the stouter defensive lines of the Pac-12, but still nice to see.
The Special teams continue to be, well, awful. Nearly 200 yards of return yardage allowed, including longs of 43 (kickoff) and 31 (punt). The best of the young talent is on the two-deep, rather than the ST rotation, but still... inexcusable.
Some baby steps forward for the defense, even in view of the opponent and the fact that they allowed them to score 38 - I saw some sacks (two), some tackles for loss (four), and some honest-to-GAWD penetration. Tedric Thompson and Addison Gillam combined for 20 stops and a turnover.
Upcoming schedule update -
Arizona State 58 - New Mexico 23
-
The Sun Devils continued to cruise through the early portion of their schedule. They put up 58 points and 621 yards against the Lobos on Saturday, including 423 rushing yards on 48 attempts. I'm literally trembling in fear of what they will do to CU's porous defensive line.
The plus-side is that CU won't be alone in getting gashed by ASU. From: the AP
Does CU
have
to play ASU next? Can't the Buffs just skip them and move onto Hawai'i? No? *sigh* OK, bring on the punishment.
Oregon St 38 - Hawai'i 30
-
Two Warrior home games against Pac-12 opponents, two near misses. In this one, however, they were down 38-7 before they mounted a comeback that almost managed top clip the Beavers at the wire.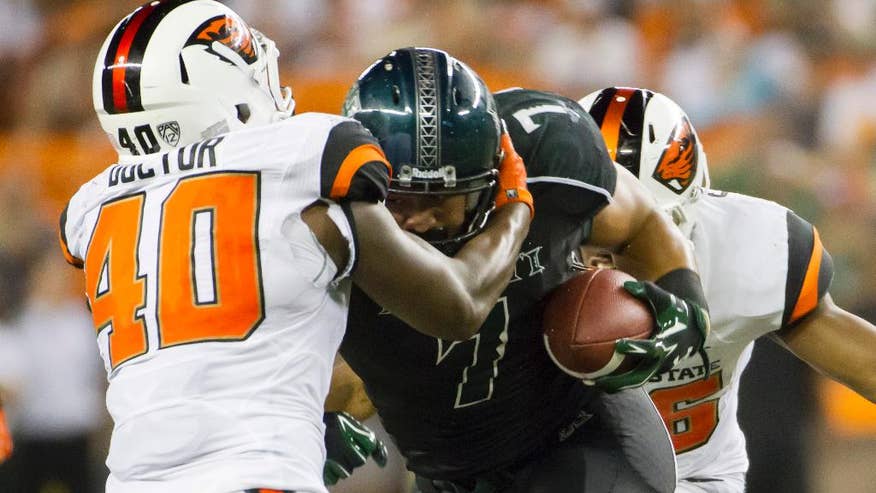 The Beavers nearly turned off the gas too soon.
Hawai'i just can't seem to close the deal on the islands, which doesn't bode well for the rest of their season. This program is habitual home dwellers (with good reason), and it'll be interesting to see how they fare once they hit the road (or the skies, as it were).
Cal 55 - Sacramento State 14
-
Hey, remember that FCS team that the Buffs
lost to
two years ago? Yeah, the Cal team that was supposed to challenge CU for worst in the Pac-12 status ripped the shit out of them on Saturday. Yeah, it's only Sacramento State, and yes, the Hornets seem to be a step or two down from where they were in 2012, but that upcoming road game in Berkeley is looking less and less 'winnable' by the week.
Damn, couldn't they have stayed awful for just one more season?
The Golden Bears put up over 580 yards of offense, and went 9-16 on third down. Maybe Sonny Dykes does know what he's doing, after all.
Around the world of NFL football -
Buffalo 23 - Chicago 20 (OT) -
Breaking news:
My Bears
are in for a rough year. They dropped the home opener to the always in-limbo Buffalo Bills as Jay Cutler pulled a typical Jay-pocalypse. Driving in the 4th quarter and overtime, the Bears went punt/interception/field goal/punt, giving the Bills ample time to plan their escape from Soldier Field.
Wait, what?
Good job, good effort.
San Francisco 28 - Dallas 17 -
... at least I'm not a Cowboys fan. Tony Romo continues to be the leading cause of depression in the greater DFW region, as 2014 got off to a typically awful start for the Eastern Illinois product. Behind his leadership,
America's Team
committed turnovers on four of their first five drives, including three picks thrown by the man himself. How does he still have a starting job?
Denver 31 - Indianapolis 24 -
Much of Denver awoke this morning to discover that the Broncos, who seemed so in control of the game early, nearly coughed up the lead against Andrew Luck and Indianapolis. Luck's comeback effort, however, stalled after NFL legend Reggie Wayne grew butterfingers on the final drive. A drop and a slip from the future Hall of Famer sealed the Colts' fate.
Pey-Pey and the Donkeys are up to their old tricks.
Pittsburgh 30 - Cleveland 27 -
I was glued to this one on Sunday, as the Steelers nearly conspired to blow a 27-3 first half lead at home. After tying the game at 27, however, the Browns stopped moving the football, and Pittsburgh escaped thanks to a 41-yard Shaun Suisham field goal as time expired. My roommate (a diehard Steelers fan) was allowed a large sigh of relief.
Happy Monday!