Short and sweet tonight, week 4 brings a visit from the Hawai'i Rainbow Warriors. Yep, 'Rainbow' once again, as the school
brought the name back
last year for the first time since 2000. Legitimately one of the coolest team nicknames in all of sports, I'm glad they brought it back.
Kickoff from beautiful Folsom Field is scheduled for high noon on Saturday. Coverage for those out and about can be found on Pac-12 Networks, with the radio call on 850 KOA.
Click below for the preview...
When last we met -
You don't have to take the WABAC Machine too far back for the last meeting between CU and Hawai'i. It was only three years ago, after all, that the Buffs traveled to the islands for the first time since the Coolidge administration, looking to start the Jon Embree era off on a high note. No such luck, however, as the Warriors claimed a solid
34-17 win
.
The big star in the game was Hawaiian quarterback Bryant Moniz, who, surprise surprise, did most of his damage on the ground. With a soft CU secondary backing way off in an attempt to buy a cushion against the historically strong Hawai'i air attack, 'Mighty Mo' was able to gash the Colorado front seven for 151 positive yards and three scores; not inconsequentially his team's first three touchdowns of the game. While his passing production was held in relative check - 178 yards on 33 attempts - his rushing proved more than enough to stymie Colorado that evening.
There he goes again. From: the BDC
On the flip side, the Buffs were far from good when their turn came on offense. They just couldn't move the ball, only gaining 17 net rushing yards (thanks to seven allowed sacks of QB Tyler Hansen), and were absolutely impotent with drives on the line (2-12 on 3rd down, 0-2 on 4th). The Buffs actually had more punting yardage (314) than they did yards from scrimmage (240), including punts on their first five drives of the game. Colorado football: keeping Darragh O'Neill busy since 2011.
There were some good things on display. The emerging QB to WR duo of Hansen and Paul Richardson hooked up for CU's only two touchdowns, Speedy Stewart put up 150 combined yards, and the defense recorded five sacks. It just wasn't near enough, however, to overcome some glaring inefficiencies, and the Buffs never really deserved to be in this one.
The offense was hounded in Honolulu. From the BDC
At the time, it was CU's 19th consecutive road loss, just another in a string of indifferent performances away from home. I wasn't shocked that the Buffs had lost - by then I had gotten used to it - which was precisely the problem. That damn road losing streak had rotted the heart out of the program with losses like the listless effort in Honolulu, a crime that the program continues to pay for to this day.
The Warriors in 2014 -
For a decade, Hawai'i football was known for being a run-and-shoot quarterback haven. Behind stars like Timmy Chang, Colt Brennan, and Bryant Moniz, they routinely set the pace for passing offenses throughout college ball. At the height of the spread passing era, there were few teams cooler through the air than the Warriors. Those days are long gone, however, as head Coach Norm Chow has brought his conventional pro-style attack to Honolulu.
The heady days of June Jones are long past.
The offense is balanced now, with the running back there for more than just show. To date, they've called 137 running plays to 130 passing attempts, and, while they've gained about 200 more yards through the air, the numbers speak to a new day. I don't know if it's working, however, as the Warriors are 88th nationally in offense after three home games. At least when they were throwing the ball they had an identity (and a large tally of wins).
On defense, as Ringo
noted
this week, the Warriors are getting better. A year after joining Colorado as one of the worst defenses in the country, they've closed some gaps, and have returned to national averages. The team currently sits at 58th in total defense (373 yards allowed, after playing two Pac-12 offenses, no less), and 52nd in stopping the run (131 ypg, same). So far so good for new defensive coordinator Kevin Clune, who attributes the turnaround to being more 'aggressive.'
It has been a rough start to the season for the Warriors
Improvement on defense aside, the total package hasn't added up to much, so far this season. Hawai'i is 1-2 through three games, with the lone victory coming, unconvincingly,
against FCS squad Northern Iowa
, who had to travel 4,000 miles for the privilege. Prior to that, a pair of home losses to Pac-12 foes sprinkle the resume. Sure, they gave both
Washington
and
Oregon State
a fight before succumbing, but it's hard to see a much better performance in 2014 than those from the last few years in Honolulu.
Star Players -
The single best offensive performer on the roster is probably
Joey Iosefa
. Unfortunately for the Warriors, the bruising 245 back out of Pago Pago is out for the next few weeks
with an ankle injury
, leaving a massive production hole in the backfield. Sophomore
Steven Lakalaka
is tasked with trying to plug that hole. He did alright with his first opportunity as a feature back in last week's win over UNI, but needed a honking 32 carries to get his 132 yards on the day. Not extreme production, and I actually like CU's chances to have a good day against the run (that'll come back to burn me...).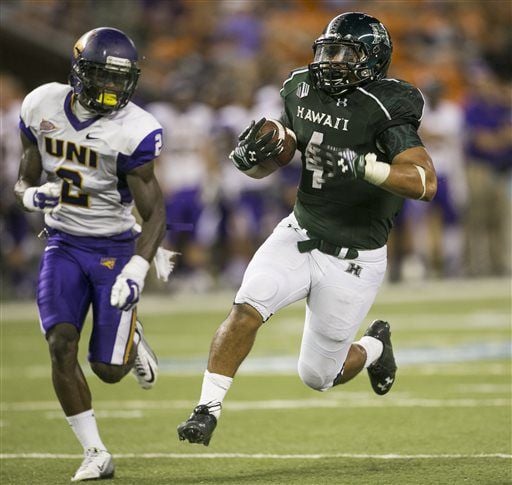 Expect Lakalaka to see a lot of carries on Saturday
Under center is sophomore
Ikaika Woolsley
.
Named
the starter in camp, Woolsley brings the modern flash of speed an athleticism to the position, and is third on the team in rushing yardage. But he has been far too inaccurate, especially when compared to his peers around the country, to the point that I can't help but wonder if there is a better option somewhere on the depth chart. He's only completing 46% of his passes this season, and has only thrown for one touchdown through three starts. Since Bryant Moniz left, this position has been in nearly continuous flux on the islands, and it doesn't look like Woolsley is, yet, the answer.
Woolsley has a trio of wide receiver targets to look to in
Quinton Pedroza
,
Marcus Kemp
, and
Scott Harding
. Pedroza, a transfer from Utah, is a possession receiver, and leads the team in catches this year - 20 in total. Kemp is a little more explosive, as the sophomore leads the team in receiving yardage. None of the three, however, have recorded a receiving touchdown this season, further emphasizing the stumbles in the passing game.
Harding is an interesting case. More than just a solid receiver, the senior out of Brisbane, Australia is also the team's
punter and primary punt returner
. I have never seen a
stat sheet
like his before; the only thing he needs to do now is get out on defense and start wreaking havoc. Of course, Harding began his athletic career in Aussie Rules football, even playing five seasons in the Australian Football League, so his multifaceted approach to the game is not all that surprising. The former professional, for the record, is nearly as old as I am (dude is 28).
Harding logs a lot of time on the field for the Warriors.
On defense, junior linebacker
Julian Gener
has had a solid season, to date. He's recorded 17 solo tackles, including a few for loss, to lead the linebacking corps. Gener, who
missed most of 2013
with an elbow injury that required Tommy John surgery, has had to step his game up in the absence of
Jerrol Garcia-Williams
, who is out for the rest of 2014 with an ACL tear.
In the defensive backfield, the star is
Dee Maggitt
. The senior out of Tacoma, WA has been stuffing the stat sheet early with four pass breakups, 16 solo tackles (one for loss), and a forced fumble.
Coaching -
Offensive guru
Norm Chow
is currently holding the reins in Hawai'i. The well-traveled veteran of over 40 years in the coaching game is running a team for the first time in his career, having been named the Warrior's head coach in 2012. Success hasn't followed, however, as Chow has struggled to a 5-22 record into his third season.
Chow is running the Hawai'i program during a period of uncertainty.
He's leading the program in a time of uncertain future.
Speaking
to the school's board of regents back in August, athletic director Ben Jay dropped a bomb, saying that University of Hawai'i may soon be forced to cut the football program. 'There's a very real possibility of football going away." Jay's primary gripe was the nearly $2.1 million budget deficit the program is carrying, and how that will be impacted by the growing disparity between the haves and the have-nots in the era of the Big 5. Compare that, of course to CU, who had been racking up a
$5.6 million budgetary shortfall
in recent years, only to turn around and start up a massive facilities improvement project in 2014.
Anyways, I remember being on the islands a few years ago, and being impressed by the way average Hawaiians took pride in their flagship's football team. The people I met held the program in such high regard, that it's almost impossible to reconcile those memories with the notion of abolishing the program. For their sake, I hope that the comments by the AD were more political in nature, rather than an actual prescription for the ails of his department.
Hopefully, Ben Jay is just blowing hot air, and doesn't actually intend to can the program.
Of course, my experience in the winter of 2011 was at the tail end of an unprecedented era of success for Hawai'i football. They've been far less successful in recent years, and anyone in BuffNation can tell you what
losing can do
to a fanbase. As in Boulder, the remedy require is money and wins - I'll leave to you which one is the chicken and which one is the egg.
Predicition -
My record: 2-1. Against the spread: 1-2. Optimistic/pessimistic: CU +4.67 pts/gm)
Line as of Thursday @ 7pm - CU -7, O/U 61
With Hawai'i's star running back out, and an inconsistent starter under center on their first road game of the season, I'm hard pressed to think up ways CU could blow this one. The one thing we know about the Buffs is that they can score, and I just don't see the Warriors putting up enough points to keep pace. I'll give the points, and take Colorado to claim win #2 in comfortable fashion.
CU 38 - UH 17
GO BUFFS! PROVE ME RIGHT, AND BEAT THE WARRIORS!