This will be the last meeting for CU and Wyoming on the hardwood for some time. Coach Boyle, having sweated it out against the Cowboys the last three meetings, has decided to
let the series expire
after the four-game contract concludes on Saturday.
Part of me is sad to see this series fade away. I look at it as a tough, regional rivalry that adds character to the non-conference schedule, if not gravitas. It's a good contrast in styles, and generally an entertaining contest. Of course, the other part of me is more than happy to put the 'Pokes in the rearview. With the
home win last November
, the Buffs improved to 7-16 against Wyo since 1982. I've taken it as a humbling test of will; CU has a nemesis, and it wears Shit Brown and Piss Yellow. They've always played Colorado tough, and the risk involved at this point - a win over the Cowboys usually doesn't do much for the RPI - just isn't worth the effort required.
Who wouldn't like to keep fun moments like this one on the schedule *sigh*
Going forward, Boyle hinted that he wants to get other regional programs involved. Specifically, he name-checked Northern Colorado and Denver. Fair enough, but, if CU is going to stay in region, I'd much rather them aim higher, like New Mexico, or even, *cough*, Nebraska. Why not play the Lobos at the Pepsi Center? I bet that'd draw a decent crowd. (Look at me try to give away the best home court advantage in the West, *sigh*)
But, that's for the future; the present is all about this afternoon's visit to Laramie. It's an important game for both sides. Obviously, for CU, this is all about resume building, and, as the first road test of the season, it marks an important right of passage on the path to the Dance. For the Cowboys, this is
the
red-letter date of their non-conference schedule. They have some tough games remaining on the road (against SMU and Cal), but the visit from Colorado is, by far, their sexiest home game before New Year's Day. Not only is this a big rivalry game for them, but also a big night for their fan base, who will have to sit through a slew of contests against teams currently in the KenPom 300+ in the coming weeks.
Shayatt's second run in Laramie has been increasingly successful.
Much like with the Buffs, the soft home schedule is probably a factor of teams simply not wanting to climb up the 7,000+ feet of altitude to take them on. With good reason, as, not only is the trip to the Gem City of the Plains a difficult one, but the Cowboys are a good team this year, to boot. Head coach
Larry Shyatt
, who has had his bunch in the CBI each of the last three seasons, may finally have the pieces in place to break into the NIT, or even, *gasp*, the NCAA Tournament. They return four of five starters from '13-'14, and should contend in the top-half of the Mountain West.
Key to their success is the
healthy
return of senior forward
Larry Nance, Jr
. The lanky 6-8 Ohio product was First-Team All-MWC a year ago, as he lead the team in points (15.4), rebounds (8.6), blocks (2.1), and steals (1.4) per game. An
ACL tear
in his right knee, however, derailed what was a strong junior campaign, and really hurt the Cowboys. Without him, Wyoming went 1-6, and tumbled out of NIT contention.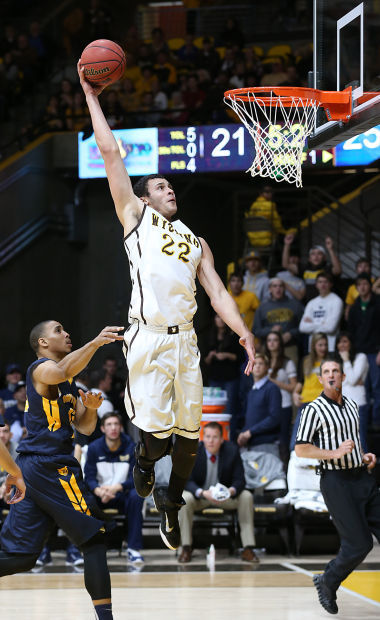 Nance, Jr. is easily the best player on Wyoming
Assuming he's made a complete recovery, the senior's presence in the lineup makes the 'Pokes a much more difficult animal to take on. A completely different challenge from Auburn Cinmeon Bowers, Nance will give multiple looks from the forward slot, shifting from the post to the wing as necessary. I still would take either Josh Scott or Wes Gordon over him, but there's not many other forwards in this timezone who can hold a candle to Larry. Nance will pair up front with
Derek Cooke
, a bulkier forward who stays inside.
The backcourt features Colorado native
Riley Grabau
. The hero of Boulder High's 2011 run to the state final is a strong shooter (shot 42% from deep last season), and really feeds off of kick-outs from forwards like Nance and Cooke. He pairs well with another Colorado product, junior
Josh Adams
. The 6-2 spark plug is also a good shooter, but aditionally adds an athletic dimension to the guard corps. Between them, they can rain threes if you're not closing out the perimeter.
Boulder's own Grabau has come into his own at Wyo.
What makes this matchup so difficult for CU is the slow, measured pace that the Cowboys like the employ. They revel in possession basketball, and generally take over 20 seconds per set. Since Shyatt came back to Laramie, the Cowboys have finished no higher than 343rd in average possession length, making every trip down the court a battle of wills. For a team like Colorado, who likes to get out and run a bit, it can be very frustrating. The 'Pokes will also throw some zone out there, which really gets in CU's head. If the Buffs can steal out of Wyoming with a win, it will tell us a lot about this team.
It's going to be tough, but I think the Buffs should be able to earn that big victory. A good, deep veteran team like Colorado should perform well on the road, and the forward strength on the team should neutralize the versatile Nance. Believe me, it's going to be ugly, it's going to be tense, it's going to be #TadBall, but I see a close CU win.
Tip-off from the Arena-Auditorium in beautiful Laramie is set for 4pm this afternoon. For those making the drive up, it's supposed to be a clear day, so we all caught a break. Coverage for those who aren't making the drive can be found on ESPN3 (the streaming service). The radio call, sans Mark Johnson, will be on AM 760 - because: football.
GO BUFFS! PROVE ME RIGHT, AND BEAT THE COWBOYS!