Congratulations, BuffNation, it's finally a basketball game week! You've survived the over 230 days between the last time we saw the men's basketball team and the start of this new campaign. I hope it wasn't too rough on you. I, personally, can't wait for the season to start. I've had that counter on the upper-right side of this page ticking down since March 21st, and it's finally almost down to nothing. I couldn't be more excited.
Luckily, the football team is on a bye week, so it's all about hoops this week on the blog. I'll be finishing up my annual Massive Basketball Preview this evening. Expect it to be released tomorrow at about 8:30 AM - just in time for you not to be able to enjoy it since you're at work. But, that's sort of the point with those things, they're not meant to be consumed in a single sitting. Much like Thanksgiving dinner, the leftovers are just as part of the experience as the initial sitting.
Later this week, I'll be releasing my first basketball preview of the year: a teaser of opening night against Drexel. Remember, I don't do full previews for all of the non-conference games, just those that are of utmost importance. For this season, that means full previews of Auburn, Wyoming, Georgia, and CSU.
After that, it'll be time to sit back, relax, and take in the first real basketball action of the season. The Dragons are going down!
--
Today in the bag, I'm talking the late collapse in Tucson, discussing the latest from the non-revenue sports, and previewing tomorrow's Massive Preview.
Click below for the bag...
Dispatches from the Department of Redundancy Department -
What else can I say? It was a far too familiar story of opportunity lost this weekend in Tucson. CU had themselves in position to claim a win at #19 Arizona, but couldn't close the deal thanks to a series of untimely turnovers and an inability to move the ball after halftime. They fell,
38-20
, almost, but not even close to quite, to only further the narrative of self-destruction.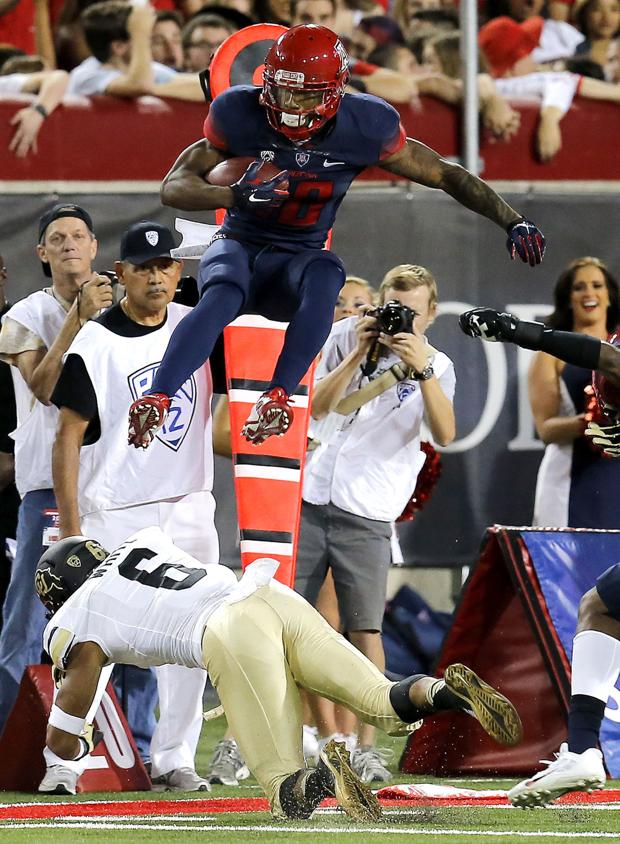 It took some effort, but the Wildcats leaped over the Buff late.
Really, you could cut and paste any one of a handful of game stories from the last few months, and do a half decent recap of this one. The Buffs took two first half leads, looking competent and inventive in the process. Their first score, a 75-yard strike from Sefo Liufau to Shay Fields on the first play from scrimmage was a thing of beauty, and their second touchdown, on a reverse WR option pass from Nelson Spruce to Liufau, had me jumping for joy. But those would be the only times the offense would find the endzone, and, thanks to a quartet of horrendous turnovers that lead directly to four touchdowns for Arizona, the 'O' actually scored more points for the opponents than they did for themselves.
The second half collapse was inevitable. Here's the Colorado drive chart after they kicked a third quarter field goal to bring the game within 24-20: punt, punt, interception, punt, turnover on downs - 51 yards on 23 plays. Whatever the Buffs are doing to throw the opponent off guard in the first half, it's not working anymore after halftime. Opponents have figured out the game plan, and the dinks and dunks, the misdirections, and the conservative creativity are getting broken up in crunch time. There's no downfield danger, no explosive threat to keep the opposing defense honest. It looks easier and easier to defend these guys as the game wears on.
A lot of the offensive struggles were the result of another shaky game for the QB Liufau, with the sophomore committing all four of the turnovers (although a few were due to a rough pass rush), including another instance of the ball slipping from his hand while he was trying to tuck it. Liufau was knocked out of the game on his final turnover, a fourth quarter interception, but, for those calling for the backup QB (always the most popular athlete on campus), Jordan Gehrke didn't look much better through two drives that went nowhere. My confidence in Sefo being the answer under center is shaken, but I don't believe a viable alternative is currently on the roster.
Sefo is starting to regress as the season gets closer to its conclusion.
To their credit, the CU defense did their job about as well as could be expected. Up against one of the better offensive attacks in the entire country, they bucked down, and held the Wildcats to 7-17 on third down, 1-4 on fourth, and forced them to punt five times. While they gave up nearly 500 yards, a lot of that was thanks to the offensive mistakes putting them behind the eight ball, and, in fact, key defensive stops early in the game were the whole reason CU was ever in a position to win.
At the end of the day, it's just another loss, another reminder that the team, while more competitive, is still years away from relevancy. The frustration mounts.
Non-revenue wrap-up -
Separate directions for the soccer and volleyball teams, as dueling homestands produced very different results.
Needing a win to beef up a bubble resume for the upcoming NCAA Tournament, the women's soccer team faced rival Utah on Senior Day. They came through with flying colors, shutting out the Utes
2-0
. Brie Hooks and Darcy Jerman, both frequent visitors to the score sheet, netted the winners in the first half. From there, it was all about the defense anchored by goalie Kate Scheele. She held strong throughout the match against 11 shots and six corners to earn her 10th clean sheet on the season.
The soccer team claimed an important win on Senior Day. From: the BDC
To their credit, the ladies have handled the final stretch run with aplomb. Kicking off a five game homestand last month, they stumbled against the Washington schools, going 0-1-1, but recovered quickly to win the last three in regulation. Tickets for the Dance are being handed out in a few hours, and based on the strong close, I expect CU to be among the names called out.
Unfortunately, over at the CEC, the women's volleyball team didn't fare as well. Coming off a fantastic road trip that got them ranked for the first time in nearly a decade, they came home to play the always difficult (and ranked) Los Angeles schools. The Buffs failed to even win a set, however,
losing
each
game
3-0. The Buffs hit under .300 each night, and, while close in most of the sets, were never able to make the plays needed to turn momentum.
CU struggled through six-straight set losses this weekend.
It only gets more difficult going forward in the nation's toughest volleyball conference. The ladies will host the #2 Washington Huskies this Thursday, and travel to the #1 Stanford Cardinal next weekend. While the Buffs are respected enough to have been ranked, they still have some work to do to secure a Tournament bid. A win in either of those games would all but wrap it up.
Previewing the Preview -
Following a yearly tradition, the following is a excerpt from my basketball preview to whet your appetite. This is from 'The Team' section about the headlining member of CU's 2014 recruiting class. Enjoy!
- Dominique Collier, 6-2, 170 lbs, Fr from Denver, CO - #15
Collier comes to Boulder as one of more heralded recruits in the modern history of Colorado high school basketball. A do-it-all point guard from Denver East, he lead the Angels to a
5A title
as a senior when he averaged 23/4/3/3. For his efforts in high school, he was named Mr Colorado Basketball two years running, and earned a four-star ranking and a top-100 grade from most recruiting services.
Dominique had been on the national recruiting radar since even before he was a freshman at East. CU had to beat out interest from schools like Arizona, Gonzaga, and UCLA for his services. When Coach Boyle and staff earned his commitment, not only was it a major coup, but it also marked the first time since the heady days of Chauncey Billups that the University of Colorado signed a national recruit from a Denver high school. The comparisons, therefore, will be impossible to avoid as Collier develops.
He boasts a high basketball IQ, with a strong feel for the game and how best to apply himself in any given situation. Flashy one minute, deftly distributing the next, the times I saw him play in high school, he struck me as a player who makes his teammates better, while also being able to get his own. Against Boulder High a few years back, I thought Dom was having a good, not great game on a slightly tweaked knee, only to look up and see that he had stuffed the stat sheet with a 25/8/6/3/3. He has undeniable talent, and I'm very excited to see him finally don the Black and Gold.
I hope too much pressure isn't thrown on Collier out of the gate. I certainly would not expect him to start from day one, or anything like that. He's been on campus since June, taking classes and practicing, but has been
fighting off
an ankle injury that has kept him from recent practices, and is still a little lean, coming in at a generous 170 lbs. Dom will have to get healthier and bigger quickly to factor once the competition level gets ratcheted up (the coaching staff wants to see him
up near 185
). In addition, there's the typical transition issues:
"In high school, it was easy for me to get to the basket, but going against college guys, it's harder for me to get where I want on the court. In high school, you can get away with the little things, but in college everything counts." -link
Still, there's no doubt in my mind that he'll be fighting for key minutes sooner rather than later, and could be a big part of the rotation by the time conference play comes around.
The full preview releases at 8:30 tomorrow morning. Get ready, it finally IS November!
Happy Monday!