BuffNation, welcome back to all that is basketball.
It's been a long, strange, desperately boring offseason, but the countdowns have finally spun to zero, and it's time to open the 2014-15 basketball season. As if to remind us all, the weather gods have brought a chill to Boulder, making it certainly
feel
like a ball night. Thankfully, while the weather outside is frightful, the CEC is warm and delightful. That is where our campaign begins, back at home for the first time since late February for a welcomed opportunity to wipe the taste of
that night
out of our mouths.
First up,
the Drexel Dragons
, a mid-major riser with a history that dates back over a century to almost the founding of the collegiate game. Hailing from downtown Philadelphia, they promise to bring a tough-minded, defensive brand of basketball to the Front Range, and should be a feisty opponent for the Buffs on Night #1. Fearless, Coach Boyle never shies away from an opening challenge.
Bruiser Flint
has been at the head of the program for what seems like an eternity. After a spin with UMass in the late '90s, the Philly local was hired on at Drexel in 2001, and has been there ever since. In that time, he's won a lot of games, 228 of them, in fact, but has never once gotten the Dragons into the Dance. It's hard out there in the CAA, but I would've though he'd have gotten lucky at least one of those years.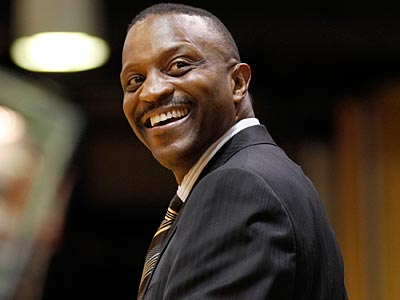 The long-tenured Flint has struggled to overcome a series of injuries in Philly.
By far, Bruiser's best season at Drexel was 2011-'12, when the team won 29 games and claimed the league title. They fell short in the CAA tournament, however, stumbling against VCU in the title game. The NIT came calling, and the Dragons managed to make it all the way to the quarterfinal.
Coming off of that successful campaign, it was expected that Drexel was on the verge of a string of postseason trips. Unfortunately, that has not been the case, as, since 2012, the Dragons have slumped to three games under .500. Injuries have been the primary culprit, keeping a strong foundation of talent from reappearing on the Madness' radar. It especially hurt last winter, as they had more than enough talent, on paper, to make the Tournament. Without some their best players on the court, however, the team that pushed UCLA and Arizona to the brink in November of 2013 was all but gone by the time conference play rolled around last January.
Trying to turn the corner in '14-'15, the Dragons will be working to make up for the graduation of two of the best players in program history - Frantz Massenat and Chris Fouch. The pair alternatively formed the backbone of the squad the last few seasons (trading injuries along the way), and helped make the team guard oriented. It's never easy to replace a duo who combined to average 36 points per and placed in a school's top-10 scorer's list, so expect a change in philosophy from a year ago. Without them, Coach Flint and crew should try to turn the focus inside in an attempt to take advantage of a core of long, athletic wings. Particularly, without the shooter Fouch, expect a lot fewer jumpers early in possessions.
Even with those graduations, they're picked to finish 4th in the CAA this season behind a rotation that features
superlative talent
Damion Lee
. A strong candidate for All-Conference honors, the 6-6 junior missed the vast majority of last year with an
ACL tear
, and didn't even resume basketball activities
till this fall
. When healthy, however, he's a reliable scoring wing. Lee averaged 17/5 two seasons ago, despite missing extended time for yet another knee injury. How aggressive he is with his lower body will be a key this evening, as he returns to a live action. Eventually, I expect him to get up to a near-30% usage rate.
Damion Lee is the real deal.
Pairing with Lee is another big guard in 6-7 junior
Tavon Allen
. He averaged 12/3 last season despite struggling from behind the arc. Up front, they're lead by 6-7 sophomore
Rodney Williams
. More on the athletic, rather than bruising, side of the power forward spectrum, Williams was on the conference's All-Rookie Team a year ago. All told, these big three are legitimate talents who will push CU.
Beyond them, however, it gets a little dicey. The Dragons are dealing with yet another set of injuries, having already
lost
returning point guard Major Canady and
powerful forward
Kazembe Abif to the injury bug. Replacing Abif is the easier challenge, as they'll probably go with defensive-minded center
Mohamed Bah
. Who will bring up the ball up, however, is a trickier answer, with some discussion that they could with freshman
Rashann London
over Seton Hall transfer
Freddie Wilson
. Regardless, as a result of the injuries, they're still feeling each other out, particularly at the point guard spot, and will struggle with bench depth.
Overall, while Drexel features a lot of headline talent, the depth and point guard question don't lead me to believe that the Buffs will face too deep of an upset scare this evening. Not that there won't be nervous moments, though. Flint is known for pairing solid defensive basketball with a slow, possession-based approach to offense. Usually, his teams have been in the low-60s per game, and over 19 seconds per trip, so don't expect this game to break out too fast, or anything. It's a fascinating opening challenge for the Buffs, who have been rumored to be struggling with turnovers in fall practices. Possessions will be sacrosanct this evening, and an excessive amount of turnovers would cause some headaches.
Either way, we're going to see a heavy dose of #TadBall. *smirks* I wouldn't have it any other way on opening night.
Tip-off from the CEC is set for 6pm this evening. Tell the boss you're leaving 30 minutes early to insure you can beat the traffic up to Boulder. Coverage for those who can't make it can be found on Pac-12 Mountain, with the radio call on 850 KOA.
GO BUFFS! PROVE ME RIGHT, AND BEAT THE DRAGONS!