This week's
Men in Blazers podcast
reminded me of a quote from the Great Gatsby (which I loathe): "The loneliest moment in someone's life is when they are watching their whole world fall apart, and all they can do is stare blankly." F. Scott Fitzgerald generally had his head up his ass, but managed to find the target with that one. Standing on the sidelines during a meltdown is the absolute worst.
We've all faced those moments before, and I can't help but feel for Askia Booker, who stared one down last Wednesday. Sidelined with a pair of hip pointers, all he could do was watch as the Utes ripped his punch-less teammates apart. There won't be a repeat this evening, however, as Ski's
had enough with the watching
.
"I'm still playing through some injuries and pain, but I don't really care now. My team needs me. They need me to perform and they need me on the court, so that's what I'm going to do."
Whatever you say about Ski, the kid knows the tune, and has the will of a warrior. He's going to fight through the pain to try and give CU a chance at staying afloat. I'm not expecting a lot from Ski, remembering what his jumper looked like at Pauley two weeks ago, but just his presence on the floor will change the way the Buffs are defended. If that even opens up one extra opportunity for a teammate, then it's worth it.
It's an important moment, because, as Xavier Johnson pointed out
today
, it's the first time in a long-ass while that everyone on the team practiced together. For all the crap handed out to the squad this year for not having their heads on straight, they've been dealing with a lot of absences, which has contributed to the
unique
timbre of the season. Certainly, some of that has been self-inflicted, but it's important to acknowledge that the team we expected to see back in November has rarely had a chance to run out onto the court as a whole.
We'll just have to see how it all fits together this evening. The time to turn the season around has passed, but there's still pride at stake. It worked for Cal, as they recently righted their own listing ship, so maybe the Buffs are in store for a revitalizing performance against a team that has often brought the best out of them.
Tip off from the CEC is set for 7pm this evening. Fox Sports 1 has the pictures, 850 KOA the descriptions. Let's get after it, Buffs!
Click below for the preview...
When last we met -
Cal and Colorado last met in the quarterfinals of the 2014 Pac-12 Tournament. In a tilt that came less than a week after a heartbreaking
overtime loss
to those same Bears in Berkeley, the Buffs won the game that mattered, holding on for a
59-56 victory
that sent them to their third conference final four of the Tad Boyle era. I'll admit to having put money on Cal, giving in to the allure of the City of Sin and my damned negativity. Never have I been so happy to tear up a betting slip.
The Buffs were getting after it yesterday. From: the BDC
The performance was a complete reversal from the
opening round win
by the same score over USC, when the Buffs played down to the level of their opponent. Against Cal, CU acquitted themselves much better, with the team proving why they would go on to earn a berth in the NCAA Tournament. Colorado was invested from the opening tip, and it showed in their body language. No hint of lethargy, they were intense throughout. Two nights, two games, two identical 59-56 results, two completely different outlooks. It's a funny game, basketball.
Continuing the trend from the opening round game against the Trojans, Booker lead the team in scoring, dropping 17 on the Bears while shooting over 50% from the field. Unlike the USC game, however, Ski was supported by a solid, aggressive performance from Josh Scott, who chipped in 11/6. Not his best game, but he looked much better than he did in the tournament opener. The Xaviers, Johnson and Talton, also recorded double-digit points, chipping in 10 and 13, respectively. CU needed everything those four could give, as Cal's Justin Cobbs had his own monster game, going for 21/4/5.
Ski has been having a great tournament. From: the BDC
Damn, I really wish I could bottle that level of energy up. The version of the Buffs that took the floor in the the quarters and semis last March is the version I expect to see every time out on the court. Tenacious, defensive-minded, mentally tough. Unfortunately, we just haven't seen that team a lot this year, which is why CU is mired at .500, and two games under in conference play. For completely different reasons, Cal fans haven't seen the March version of their club, either. Along with the head coach (the retired Mike Montgomery), the two best players from that Golden Bears team - Justin Cobbs and Richard Solomon - are gone, leaving the bunch we will see tonight a fundamentally different group. What was a nerve-wracking set of two high-caliber games last spring has given way to a battle between disappointing teams this winter. What a difference a year makes.
The Golden Bears in 2014-15 -
After not really challenging themselves in non-conference play - save for their 2K Classic tour of New York - the Golden Bears suffered a rude awakening come the start of the Pac-12 season. We all probably should've seen it coming, as their
Dec 28th loss
to Cal St Bakersfield was absolutely inexcusable, but they simply flat-lined once the new year hit. After an opening
win
against Washington, Cal would lose their next six games, totaling eight of nine. They were getting routed too - the last five came by at least 10 points, including a
35-point loss
to ASU in late January. Cal took a lot of lumps in January.
The Bears have been able to arrest their downward momentum, however, by reeling off a surprising set of four-straight wins. The road
win over Washington State
isn't anything special (although it did mark a nice turning point), and
beating UW
after the Robert Upshaw mess isn't all that exclamatory, either. Similarly, feel free to look past their
last-second triumph
over those woeful USC Trojans (court rush, and all) last week. But, their most recent effort, a
64-62 home win
over a red-hot UCLA team, raises both of my eyebrows involuntarily. The Bears haven't been blowing past teams, but the last fortnight has been very telling, as they've played with heart and energy to save a dying season. All it took was one night of solid basketball - that win over WSU - and suddenly Cal is a completely different team. A good lesson to keep in mind.
Overall Berkeley really struggles on offense. The biggest problem is that they simply don't get to the line enough, or know what to do once they get there. 320th in free throw attempt to field goal attempt ratio, and 296th in hit rate from the line, they simply don't take enough advantage of the charity stripe. This really hurts their scoring potential since they don't grab many second chances (312th in offensive rebounding), and a lot of what shots they do take are inefficient two-point jumpers (8th nationally, 43.5%) It boils down to an adjusted .98 points per possession, which is criminal. Unsurprisingly, it only got worse in conference play, as production slipped to .95 ppp (10th in the league) against the higher level of competition.
There've been signs of life in recent weeks, however, especially against UCLA
It's a little better on defense, where they've proven to be good one the glass (76%) and in running opponents off the line (only allow 22% of scoring from deep). They field a guard-heavy lineup, though, featuring a lot of rangy guys who can fill numerous spots, so none of this is revolutionary. Like a lot of man-to-man teams, they also don't force a lot of turnovers. It only underlines their deficiency from the free throw line and they offensive glass; the Bears just aren't giving themselves enough opportunities to exert possession leverage on their opponents.
Star Players -
Former CU recruiting target
Tyrone Wallace
is the most versatile athlete on the Cal roster. The junior point guard is a rangy 6-5 talent who can feature in multiple ways. Standing as one of the best rebounders in the conference (22% defensive rate, eight per game), while also being a sly distributor (four assists per), he's a poor man's Kyle Anderson (he's even got that slo-mo swivel on the dribble).
Wallace is a jump shot from being a Wooden Award candidate.
Unfortunately, he's had to take on the lead guard role in the wake of Cobbs' departure, and it just doesn't fit his game. While he has turned 30% of Cal's shots into a team high 17 points per game, he simply isn't a good enough scorer to carry that load. Ty's triple-slash is an ugly 45%/32%/60%, which looks like a car wreck if you stare at it long enough. As a result, the Bears are in desperate need of another option on offense. Some of those shots and opportunities need to be spread around if he's going to continue to post an Ortg under 95.
Enter: sophomore guard
Jabari Bird
. The one-time five star recruit out of the Oakland area fought a
stress fracture
earlier this season which kept him out of the action for almost two months. While he hasn't really blossomed yet, the sophomore Bird offers athletic scoring vibrancy to a team in desperate need of some, and his absence really hurt the offensive punch on the Bay. Jabari's recent return has
helped
, particularly during the recent four-game winning streak when he averaged 12/6 (scored 16 against UCLA). He's a volume shooter, but don't let that fool you. Now healthy, he makes them a more difficult team to guard.
Bird's return has them smiling again in Berkeley.
Working off Wallace and Bird in the backcourt is the Bear that scares me the most, sophomore shooter
Jordan Mathews
. The kid can flat-out kill it from deep, and has hit on over 44% of his 120 three-ball attempts this season. With the Buffs' continuing penchant for giving up back-breaking open looks on the wing, a big night from Mathews is Cal's most promising path to victory tonight. Oh, and he just happens to be coming in hot, having hit 10 of his last 21. A similar defensive effort to the one against Utah will see him drop buckets of points.
Up front is veteran mainstay
David Kravish
. He's been a key component of the Bears' attack each of the last four years (feels like forever), and anchors the post in this, his final collegiate campaign. The 6-10 stick from from Missouri has always struck me as a player who should be more productive than he is. I see flashes, but he has never been one to consistently dictate his will. I think he was more effective working off of Solomon last season, but producing a respectable 11/7 each night is far from shabby.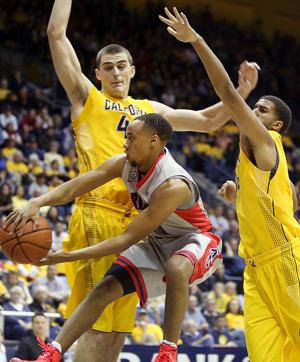 Kravish looms large in the paint for Cal.
Rounding out the featured players is Ivy League transfer
Dwight Tarwater
. The former Big Red from Cornell was booted out of the Evil Eight, despite having another year of eligibility, because, of all things, he graduated. Cal was waiting and willing to offer him a spot, and are better off for it. An undersized stretch-four with experience, he's proven to be a nice piece to be able to plug in at the last minute. The senior won't wow you athletically or statistically, but he does a lot of nice things when on the floor.
Coaching -
Trying to fill the massive shoes left on the sideline by Bay Area legend Mike Montgomery is
Cuonzo Martin
. I first remember Martin as the shooting sidekick for Glenn Robinson at Purdue in the early 90s. After kicking around the pro ranks for a while, he returned to West Lafayette, IN to cut his teeth under another regional legend - coach Gene Keady. After starting his head coaching career at Missouri State, he was tabbed by Tennessee to serve as the successor to the disgraced Bruce Pearl. Fans
resented
him from the start, and, after leading the Vols to the Sweet Sixteen last March, he
bolted
for more welcoming environs. The SEC's loss, the Pac-12's gain.
Martin is a great 'get' for the Golden Bears.
Cal is situated in one of the strongest recruiting hotbeds in the country. Given that Berkeley is also one of the best schools around, you'd almost have to be a fool to struggle there. Martin is no fool, and, while this season hasn't gone to plan (recent successes aside), I have a hard time imagining the Bears regressing under his watch. An up-and-comer in the business, Cal found themselves a coach with great upside without having to really try. I would expect him to be hanging around in the Pac-12 for a while.
Prediction -
(My record on the season: 8-4. Against the spread: 7-5. Optimistic/pessimistic: CU -1.08 pts/gm)
Lines as of Wednesday @ 7pm - CU -9
Vegas must not get the Pac-12 Network, otherwise, having seen the Utah game, I don't think they'd have given the Bears this many points. Their January record may not impress, but Cal's recent run has shown that they've sobered up, and are ready to compete again in the Conference of Champions. What looked to be an easy win a few weeks ago, now looks like a fight to the finish.
Even with Bird back, this isn't a great offensive club. Much like CU, they struggle shooting the basketball, and will be very vulnerable if they can't get anything going from outside. Unless someone else gets red hot, expect a low-scoring affair.
While the Bears have been surging, even leap-frogging the Buffs in the standings, they're still far outside of the KenPom top-100. This is important, as Colorado has yet to lose a home game to a team outside of that group. I'm going to bank on that, and pick the Buffs to claim a close, ugly win. Cal covers, though.
CU 59 - Cal 56
GO BUFFS! PROVE ME RIGHT, AND BEAT THE BEARS!