The agonizing wait for a new defensive coordinator is over, and, in retrospect, the whole process looks to have been well worth it. Gettin' down with the realities of cleaning up a defense that ranked 111th nationally in total yards allowed per game (461 per... yo!), Coach MacIntyre dipped into his bag of tricks, and pulled out the name of
Jim Leavitt
. Yep,
that
Jim Leavitt, the one who was long known as one of the better defensive minds in the collegiate game for his efforts at South Florida, as he took the Bulls into a national title hunt in 2007. For on-the-field production, I doubt CU (as currently constituted) could've done much better than the 58 year old lifer, who comes directly from the San Francisco 49ers where he was coaching the linebackers. Indeed, in accordance with his quality, Leavitt will be paid a cool
half-mil per year
, making him the highest-paid coordinator in school history.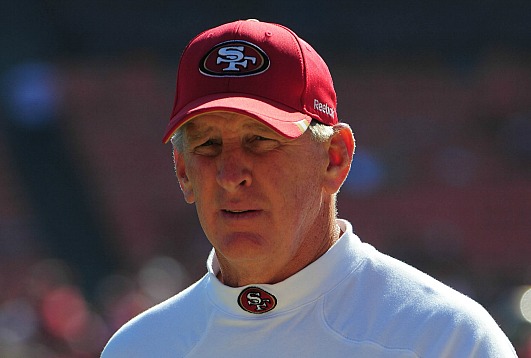 One of the best defensive minds in the country is now heading the Buffs 'D.'
Of course, Leavitt comes with a hefty amount of baggage. In 2009, he was accused of grabbing the throat of, and repeatedly slapping, a
student athlete
, which resulted in his
termination
from South Florida. Leavitt has repeatedly denied that version of the encounter, and
sued
the school for wrongful termination. Nonetheless, there are some who would recoil at the notion that Leavitt ever again coach in the collegiate ranks.
I have no doubt that this played a part in CU's ability to hire a coordinator who would, otherwise, be considered for some very high profile gigs. Colorado offers an opportunity to rebuild his image, while Leavitt offers a major upgrade over former DC Kent Baer. As to the 'South Florida Incident,' I also have no doubt that MacIntyre, a man who's first season was dedicated to the
CARE
slogan, wouldn't have signed Leavitt unless he truly felt that there was no possibility of a repeat scenario developing.
It's not a perfect marriage, but one that fits with the current state of Colorado football. Of the available targets, CU grabbed the biggest they could find, and one that projects to help the defense out dramatically. Off-the-field issues could be something to watch, but, for the time being, I'm pretty happy with the move.
Welcome aboard, Coach Leavitt!
--
Today in the bag, I'm talking Saturday's basketball implosion against Utah, the noise surrounding the RMS, and the football recruiting class
Click below for the bag...
Turnabout is fair play -
Back on New Year's Eve 2011, CU played their first ever Pac-12 basketball game against a very un-Pac-12 opponent. Facing off with fellow conference neophyte Utah, the Buffs thrashed the rebuilding Utes
73-33
. It wasn't even that close. Colorado flat embarrassed their neighbors to the west, rubbing their nose in the realities of high major basketball. Snide jokes were made, I proclaimed it a statement win, and everyone rejoiced.
There's no laughing now. It took them just over three years, but the Utes have managed to return the favor. A listless and indifferent CU squad was upended at home by the visiting Utes Saturday night, suffering through a
79-51 humiliation
on their own floor. Nothing went right, from another pregame benching (due to a normative starter - Wes Gordon - failing to show up to shoot-around on time), to the horrendous offensive performance (under 30% shooting for the game), and the effortless defensive letdown (Utah shot 58% from the field, 59% from deep). There was one team on the court who looked like a Pac-12 squad, and it certainly wasn't the one with 'COLORADO' splayed across their chests.
Josh Scott's healthy return was about all the positive you can take from Saturday's game against Utah. From: the BDC
The one bright spot in white on Saturday was the return of Josh Scott. Back issues seemingly cleared up, Scott came off the bench to chip in 10/7 in 23 minutes. But, his guards couldn't get him the ball in good spots enough times, and he received little to no support from running mate Wes Gordon. Dom Collier also had a nice game, putting up 11/4, but much of that came in garbage time.
Without Askia Booker (out with a pair of hip pointers) bouncing around the backcourt, the Buffs were left with nothing from their guards. The starting trio of Jaron Hopkins, Xavier Talton, and Tre'Shaun Fletcher combined for 12 points and no assists in 69 total minutes. College basketball is built around guard play, and CU just doesn't have enough of it right now if Booker is out or off his game. As a result, the wide-eyed, fearful offensive set returned, with no one willing to step up in Ski's absence. Boyle's teams have never, with one major exception, been explosive, but averaging .63 points per possession 3/4ths of the way through a home game is inexcusable, even against a fantastic defensive squad. That Pitt game last March was far more telling than I wanted to admit; the lack of substance on the ball has been, and will continue to be, an issue against competent teams, one that looks to factor into the plans for next year, as well.
Without Ski, the backcourt was a mess. From: the BDC
If you were looking for one, we've discovered a new low-point for the season. Hell, it's probably the regular season low-point of the entire Tad Boyle era. Saturday night's performance was worse than Stanford 2012 (a bad night from an otherwise solid team), Arizona 2014 (they were just that much better), or the Laramie disaster from last November (road excuse). Utah is a good-to-great team this season, but I've never seen a Boyle-lead group play with that little energy or effort (or, what I termed the night of, 'giveafuck'). To my eye, they flat quit. It was a stunning display of discordant basketball, heretofore unequaled in this decade.
Most fans left in droves early into the second half, but I did not. I sat through all 40 minutes of that debacle, more stunned into inaction than anything else. The lesson learned is this: there's not just 'something wrong' with this team, it's completely broken. We could all be in store for a very long final month of the season.
On the RMS... again -
Last week at the annual recruiting luncheon, CU Athletic Director Rick George (he of strong jaw and gallant virtue) announced a new plan for the coming football season. Buying tickets to the uniformly loathed Rock Mountain Showdown in Denver would no longer be a compulsory part of getting season football tickets. Instead, fans can choose to purchase additional tickets to home games in Folsom, skipping the Mile High mess altogether. My reaction:
The ploy is clear: undermine the game in Denver, allowing the fanbase to vote with their feet, while still filling CU's coffers, rather than those of outside entities. It's part one of an offensive by George to change the basis by which the annual series is played. No longer content in giving away Colorado's bargaining position for... really nothing in return, the AD will now be looking to play the game on campus, as part of a 2-for-1 deal, or not at all.
BuffNation has been near-unanimous in their voice on this issue for as long as I've been here: a yearly neutral site deal is not what's best for CU athletics. The AD gives away a valuable home date for a headache game that isn't
that great
of a payday, and one that falls far short of maximizing value for the space. In a time that Colorado is looking to its financial future, and it's an easy call. Control your influx of cash by getting full value for the weight of the brand. If outsiders can't understand it, then too bad.
Rick George has a plan, and it doesn't include the RMS. From: the BDC
The series, as currently constituted, is scheduled to run through 2020, so I wouldn't expect immediate movement, but the terms have been set. And, no, before you ask, this isn't 'fair.' As Neill Woelk
perfectly expressed
it this week, "'fair' has never been a cornerstone of business negotiations. George and the Buffs are not interested in 'fair.'" The CU-sponsored bailout of local college football is quickly coming to an end. Capitalism at its ugliest. Welcome to the real world.
The 2015 football recruiting class -
Last week marked the yearly dive into the hopeful waters of recruiting for the Buffs, as they put the finishing touches on their
19-man class
for 2015. Here's a quick summary of the names to keep in mind:
19 new Buffs, including big Tim Lynott from Parker. From: AllBuffs
Headlining the class is local offensive lineman
Tim Lynott
. The big 6-2, 295 guard comes from a CU family, which made Lynott's choice to don the Black and Gold a relatively easy one. Rivals has him as a three-star prospect, and the highest rated in the class. One of the best players in the state, it was key that CU locked in his signature.
The biggest Signing Day noise, however, was made in the offensive
backfield
, where CU grabbed the surprise signature of
Patrick Carr
. Rated as one of the top-15 runners to come out of Texas this cycle (and a
four-star
by ESPN), Carr is a solid 5-9, 190 lbs, and looks to contribute to a growing stable of running backs. Originally an Arkansas commit, Carr's reversal was a major news item last Wednesday, and instantly gave credibility to the work the coaches have been doing on the trail.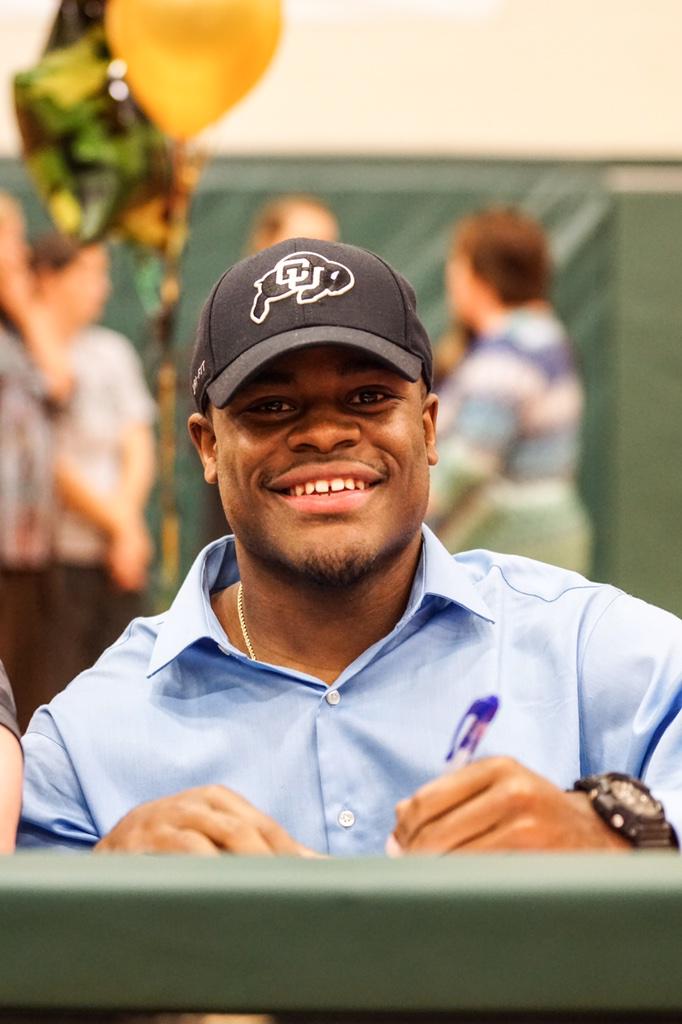 Patrick Carr is happy to be a Buff! From: Twitter
The Buffs also grabbed a QB in El Paso product
Steve Montez
. A second-team All-Texas slinger, he compiled over 8,000 total yards of offense in High School. He can run and throw from his 6-4 frame, exhibiting that modern game that offensive gurus covet so much.
On defense, one name to look out for is tackle
Jordan Carrell
. The 6-3, 275 lbs transfer from American River College in California was named as a Junior College All-American in 2014, and could make an immediate impact on a line that was frighteningly porous last season. With true freshman I'm usually much more cautious, but it's perfectly reasonable to expect Carrell to play a big role this season.
Jordan Carrell, coming to an offensive backfield near you. From: Rivals.
Finally, the Buffs also grabbed a punter in Alex Kinney who should get the majority of snaps this fall. Weirdly, Kinney grew up
rooting
($) for a pair of CU rivals (including, *cough*, Nebraska), but still committed to the Black and Gold. Either way, expect him to be the replacement for the graduated Darragh O'Neill.
Happy Tuesday!