The Buffs seemed to have a lot going for them Thursday night against Cal. For the first time in 2015, every eligible scholarship athlete was available, they were playing a 'beatable' team at home, and even 'The Mayor' Spencer Dinwiddie was in attendance. Even still, Colorado struggled on both ends of the court, continuing to play a tentative brand of offense, while leaking like a sieve defensively. They would have a chance to steal the win late, but CU couldn't make the necessary plays, and lost yet another home game. This time by a
68-61 final
.
Bruh, I just need a TO. From: the BDC
I hate to repeat myself, but the same damn issues keep popping up. Perimeter defense was typically porous, with Golden Bear shooting specialist Jordan Mathews allowed numerous undefended looks at the basket. He would finish with 19 points, buoyed by 4-of-6 shooting from three (overall, the Buffs allowed Cal to go 10-22 from beyond the arc). The defensive woes didn't just stop there, however. With the Buffs clinging to life down the stretch, the Bears scored or got to the line on seven of eight possessions from the fourth minute onward. That's how you lose a close ballgame.
This was particularly painful because the Buffs were still playing tentative and inefficient basketball on offense. CU was held under 37% from the field, to only 3-of-10 from beyond the arc, and continued to pass up open looks to hit a cutter or shoot. It continues to amaze me that 19 year olds, many of them with the attention span of a gnat, are reluctant to fire one off. I would think that you'd have to plead with them
not
to pull the trigger, but the reality is the opposite. The result is yet another game scoring under one point per possession. For the record, the Buffs are 9-2 this season when they're over that Mendoza line, 2-10 when they aren't. The proof is in the pudding; sometimes, you just need to score some fucking points.
Josh fought through lingering back pain for a nice night, but he was mostly alone. From: the BDC
And yet, knowing all of that, Colorado still had a chance to win the game in the final minutes. A clutch three pointer from Askia Booker with 1:43 to play made it a two-point ballgame. The Buffs wouldn't score again, however, as a Josh Scott baseline jumper on the next possession rimmed, deflating sails. Booker and Scott, who combined to score 28 of CU's 61 points, just couldn't do enough to engineer the comeback. A few turnovers later, one each from Ski and Xavier Johnson (who's
still not 100%
), and the fate was sealed.
CU has now lost seven of their last nine to slide into 10th place in the Pac-12. 10th? Really, 10th? Has it gotten
that
bad? Yep, 10th. *sigh* Another opportunity to right the ship presents itself this afternoon, as the Buffs will take on Stanford at home. Tip-off from the CEC is set for 2pm today; television coverage will be on Fox Sports 1, with the radio call on 850 KOA.
Click below for the preview...
When last we met -
On the final weekend of the 2013-14 regular season, Colorado was in desperate search of a win. They had lost two straight to Arizona and Utah, and seemed to be flirting with dangerous bubble territory in their hunt for a third-straight trip to the NCAA Tournament. But they brought their #TadBall best with them to Palo Alto, and ground out a gutsy, gritty
59-56 win
to seal their Dance Ticket. Remember back when the Buffs could do things like that?
Eye of the frickin' Buffalo! From: CUBuffs.com
No one shot well in this one. The two teams combined to go 8-34 from behind the arc, and 38% overall. It was an ugly, defensive struggle, the kind of game that Coach Boyle-lead teams have typically thrived in.
Echoing a theme that has continued to plague the program, Colorado went eight minutes without so much as a point in the middle of the second half. With the Buffs stalling, the Cardinal was allowed to creep back into the proceedings, evaporating a hard-fought eight point advantage. Momentum see-sawed a bit, but, with a Xavier Johnson made jumper announcing a break to the drought, CU came alive. Eventually, they would go on a quick 7-0 run with about three minutes left to grab the baton, and never looked back.
Josh Scott lead the way, dropping 17/11 on only six shots in 33 minutes. Typically efficient (9-11 from the free throw line), CU needed everything he could give to counter the dominating Cardinal duo of Josh Huestis and Chasson Randle. That inside/outside pair combined for 33/16, and were really the only threat from Stanford. In fact, Randle had a chance at a game-tying three at the buzzer, but left it well short.
Soar, big man, soar!
After the final horn, the win seemed like a statement from the previously struggling Buffs. Stanford, who would go on to make the Sweet Sixteen later in the month, was a solid, veteran squad, and the Buffs had out-worked them on their home floor. It also marked Colorado's 21st win of the regular season, tying them for the most in program history. CU, however, wasn't able to capitalize, loosing a few nights later in Berkeley, and failing to bring the same mentality with them into the Tournament against Pittsburgh. In retrospect, the victory over the Cardinal was more of a fleeting memory, than a declaration of things to come. What a long, strange journey it's been from there to here.
The Cardinal in 2014-15 -
Typical of 'good' Pac-12 teams, the Cardinal have proven to be an inconsistent beast this season, just as easily beating teams like
Texas
and
UConn
as losing to also-rans like
Washington State
and
DePaul
(hell, even CU can beat those two). Despite sitting at a solid 16-8 overall (7-5 in the Pac-12), I worry about them come Selection Sunday, and have higher hopes for teams like UCLA and Oregon who have spottier overall resumes. Typical of Johnny Dawkins teams, they just don't appear to be able to capitalize on a good thing when it presents itself, which only makes that Sweet Sixteen run all the more miraculous.
How do you let WSU punk you like that?
They've struggled in recent weeks as the schedule has gotten more demanding. Starting with a seven-point home loss to
Arizona
, they've played sub-.500 basketball, also losing to
UCLA
(OK),
Utah
(very understandable), and those WSU Cougars (...the fuck?). The loss in the Palouse (by one stinkin' point) was a direct result of some slacking defensive play, allowing over 55% shooting from the Fight'n' Ernie Kents.
It's been an ongoing narrative for this bunch, as defense has routinely proven to be an Achilles's heel against competent offensive clubs. In the last three weeks alone, the Cardinal has been allowing over 1.1 ppp, and about 75 points per game. Part of it comes down to speed of play - they're letting teams get them with quick hitters, and dribble-drive penetration, allowing about 52% shooting inside the arc in their last four losses. It also doesn't help that they're the
worst
team in the league at putting opponents on the line, as over 45% of all opposing attempts have come from the charity stripe. It boils down to 27% of points scored against them in those four key losses coming from the line, which is well over the national average. Go fast, get to the line, and you have a shot... which just isn't how CU plays basketball this season.
The Cardinal has struggled defensively this season.
Offensively, they're much stronger. Over the course of the season, they've been scoring an adjusted 1.13 ppp, which is good for 20th in the country. That trend has continued into conference play, where they've scored over 68 points each and every game (For reference, Colorado has only done it four times). The key for the Cardinal is their outside shooting numbers (over 40%), and a seriously low turnover rate (under 15% in conference play). They cherish their possessions, and take high-leverage shots, putting their opponent behind the eight ball. It's basic math, and - surprise, surprise - the kids from Stanford excel at it.
Star Players -
It would be criminal to start a discussion of the Stanford roster with anyone other than senior point guard
Chasson Randle
. A leading candidate for the Pac-12 Player of the Year award, Randle is one of the premier talents in the league. Standing at a springy 6-2, the former Illinois Mr Basketball can do it all: slash to the rim, pull up with his deadly jump shot, or fire off an incisive pass. The Cardinal isn't a one-man team, by any stretch, but Randle makes up for a lot of issues all by himself.
Chasson is the BMOC
Chasson is putting up a 20/3/3 line this season, along with a 46%/37%/89% triple-slash. He simply has ice in his veins, and is one of the more dependable performers around. If you're hoping to steal a game late, do whatever you can to foul anyone
but
Randle. He has already cracked the 2,000 point barrier for his career, and could wind his way to the all-time program record with an extended post season run. A great player, and an even better person, when it's all said and done, Chasson should be viewed as one of the best players in Cardinal history. Not too shabby.
Finally out of the shadow cast by graduated do-it-all dynamo Dwight Powell,
Stefan Nastic
now rules the roost under the basket in Palo Alto. Averaging 14/7 this season, the 6-11 senior from Canada has really developed his midrange game. He takes nearly 75% of all shots as jumpers (none from three), and really likes to work between five and fifteen feet. An interesting challenge for Josh Scott, Nastic doesn't have all the moves in the book, but can really knife less capable defenders. Stefan's primary limitation, however, is his penchant to pick up cheap fouls defensively. He's averaging five called per 40 minutes played. A few quick ones on him today would be very helpful.
Nastic has blossomed into a nice post performer.
The go-between on the wing is 6-6 wing
Anthony Brown
. Another senior, from Fountain Valley, CA, Brown is a fantastic scorer, and would be claiming the majority of defensive attention if Randle wasn't bouncing around. He's shooting almost 47% from deep this season, and, much like Jordan Mathews did on Thursday, should have a big game today, given CU's proclivity to forget about perimeter defense.
Brown can kill you if left alone.
The Buffs will catch a break up front as junior forward
Rosco Allen
is still out with a back injury. Allen is one of the better rebounders on the squad, and served as a nice-stretch-four when working off of Nastic. He
missed the trip to Utah
, though, and is listed as being 'out indefinitely.' In his place will probably be freshman
Michael Humphrey
, who has struggled with a startlingly high foul rate in limited minutes (over 10 called per 40 min played). CU needs to insure this continues to chip further into the Cardinal bench.
Rounding out the lineup is 6-3 off-guard
Marcus Allen
. No, not the hall of fame running back from the LA Raiders, the 2013 Gatorade Player of the Year from Nevada. The sophomore primarily defers (only utilized on about 16% of possessions) with so much veteran talent around, but keep an eye out for him in future years.
Coaching -
Previewing the Cardinal gives me the recurring joy of rattling off the ridiculous title given to
Johnny Dawkins
: Anne and Tony Joseph Director of Men's Basketball. I don't know who Anne and Tony Joseph are/were, but there's just something shockingly self-indulgent about having someone's professional position named after someone yourself. I love the idea of the fundraising tool, endowing the chair, but, damn, even with all the money in the world, I'd never saddle Tad with my name... although, the 'Rumblin Buff Executive of Basketball and Awesomeness' does have a nice ring to it...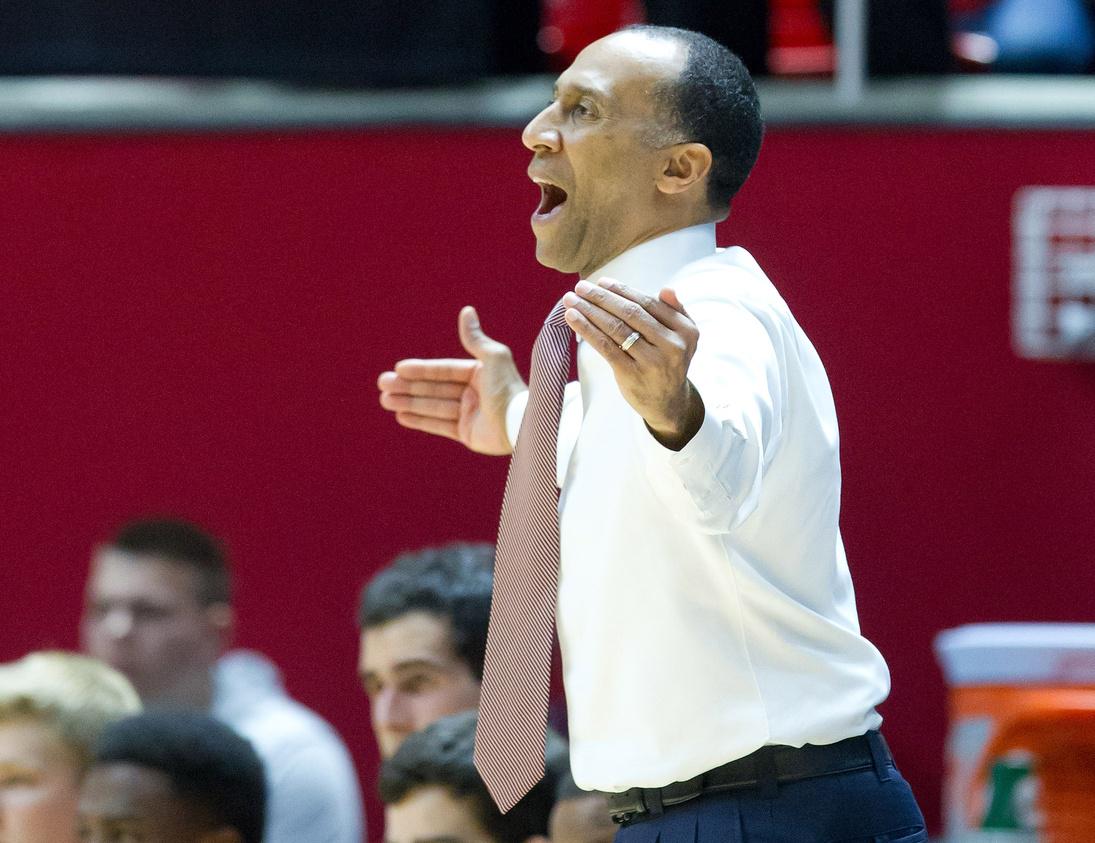 Yep, Johnny will still be around for the foreseeable future.
Anyways, let's get real. Johnny Dawkins saved his job last March by squeezing his team into the Sweet Sixteen. After years of routinely underwhelming high expectations, he was, by all accounts, a gone goose before he turned shit into gold by beating New Mexico and Kansas (LOL, keep fucking that chicken, Bill) as a 10-seed. Instead, for his troubles, Coach Dawkins was awarded a
contract extension
. Anne and Tony Joseph 4 evah!
Prediction -
(My record on the season: 8-5. Against the spread: 8-5. Optimistic/pessimistic: CU -0.23 pts/gm)
Lines as of Saturday @ 7pm - CU +1.5
This could get ugly. The Cardinal crushes it from outside, and CU doesn't do the right things on offense to make Stanford sweat. Josh Scott can erase Nastic, but no one else in Black and Gold will be able defend the perimeter enough to keep this one close. At some point, the Buffs will forget to put points on the board for a few minutes, and the game will be over. Essentially, I'm expecting a double-digit loss.
Any path to upset victory would have to include extended foul trouble in the paint, as Stanford's forwards hand them out like party favors, but no one on Colorado really excels at getting to the line, especially Booker. Jaron Hopkins would be wise to try and press the issue, drawing contact in the lane and letting the refs do the work for him, but those sorts of efforts are come-and-go from the Arizonan.
Stanford 74 - CU 62
GO BUFFS! PROVE ME WRONG, AND BEAT THE CARDINAL!