So, as you may have heard, CU didn't earn the commitment of highly pursued five-star guard Tyler Dorsey. Instead, the 40-point scoring machine will be attending the University of Oregon. Yes, before you ask, vomiting a little in your mouth
is
an appropriate reaction to hearing this news.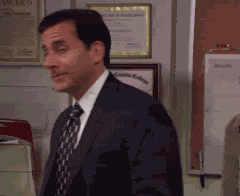 Not entirely unexpected, it still stings a little bit, not only because of how
little
I view Dana Altman and his program (and the fact that he stayed in the Pac-12 at all), but because of how
much
I coveted Dorsey's offensive spark being added to the 2015-16 mix. Scoring has been a struggle for the team this year (duh), and a little single-guard creativity seemed to be the cure-all headed into next. Yes, Josh Fortune waits in the wings, but this program still needs more scoring punch from the backcourt. As Ski has proved this season, going at it alone can only take you so far.
Sadly, however, disappointment is one of life's least fleeting pleasures, so we'd all best get to looking past this. The non-commitment leaves CU's one-scholarship 2015 recruiting class still wide open, although the prospect of advancing the time table on Deleon Brown remains. Beyond that... I... have nothing. Nothing at all. This really kind of sucks. Happy Tuesday, y'all!
--
Today in the bag, I'm talking the loss in Los Angeles, the Superbowl, and Marshawn Lynch.
Click below for the bag...
Lackluster second half offense earns a split in LA -
There was no Hollywood ending to the LA trip. Following up on Askia Booker's transcendent 43-point performance last Thursday, the Buffs struggled to find the same spark and determination on Saturday in their
72-59
loss to the UCLA Bruins. All the old keys were there: long scoring droughts, poor second half defense, a lack of urgency or efficiency in attack the rim on offense. #TheScript to a 'T.' Much like everything emanating from the town these days, this LA sequel was a dud. Zero out of five stars, would not watch again.
The team as a whole seemed exhausted in the wake of their triple-overtime effort against USC. Jumpers flagged as the game went on, and the Bruins slowly, but surely, claimed ownership of the glass and the paint. Colorado would hang around through the first half, but, out of the break, the rout was quickly on, as UCLA stormed out on a 25-4 run partway through the second frame. It was a run that featured little creativity from the Buffs, and more than a few sideways glances on defense (the Bruins shot 56% after halftime). Opportunities were missed, mistakes were made. It all seemed so very familiar. When this team goes bad, it goes
real
bad.
There was no 'phone booth moment' for Askia in this one.
While I called for it in my preview, Super-Ski was never going to be able to go off for a second-straight game to save the ballclub. The Bruins were waiting for him, running the spark-plug off the line, and driving him to double-teams on the wing. Without an inch to spare, Booker struggled through a 6-15 shooting night, only tabbing 16 points. On a team in desperate need of as many scoring threats as they could muster, this just wasn't enough. Ski tried to make up for it by dishing out the ball (five assists,
NO
turnovers), but teammates dropped as many beautiful passes as they turned into points.
Elsewhere, while Xavier Talton started out the game red hot (eight points out of the gate), a single heat check was all that followed. Wes Gordon had a nice 10/8 line, but was mostly attacking the UCLA front line by himself, as CU dropped into 4-1 ball for most of the evening. On the injury front, Jaron Hopkins returned to the lineup after only a one game absence for a sore ankle, but seemed to be missing that fire that had served him so well over the last few weeks of play (zero points, one rebound in 16 minutes). Similarly, while Xavier Johnson saw his second spate of action after
his
ankle problem, he was much less effective this time, going for 0/6 in 21 minutes. Both looked to be still mired in the recovery process.
Early herpoics from Xavier Talton were short-lived. From: CUBuffs.com
Honestly, this game was about what I expected. Barring a Ski-splosion, UCLA was always going to win this one in breezy fashion. It just hurts to see it go down in real time. At the end of the day, against quality teams like the Bruins, the Buffs need a full, healthy compliment of their talent, and they just didn't have it. Hopkins and Johnson were each far from 100%, and Josh Scott was watching from Boulder. Essentially three starters down, a 13-point loss on the road is par for the course. Now, headed into the bye week ahead of their rematch with Utah, I hope the team can rest up, get healthy, and reassess. The break is much needed.
The worst play call of all time? -
Another Super Bowl appearance from the New England Patriots, another close finish. This time, at least, they were able to come out on top, thanks to a final minute defensive stop at their own goal line. Up 28-24 in the dying moments of the NFL season, the Seattle Seahawks had the ball with a chance to score a championship-clinching touchdown. A mind-boggling tipped reception from Jermaine Kearse had them deep inside the redzone, with Patriot blood in the water. It wasn't to be, however, as an interception thrown on the ensuing 2nd down play sealed the final.
28-24 Pats
; Brady and Belichick get their fourth ring.
The talking point from almost every corner of the assembled media horde (when not discussing
#LeftShark
) was that the pass play called on that second down was the single dumbest play call of all time. The call, a designed slant pass out of a three-wide receiver set from the New England one yard line, ran counter to the conventional wisdom: keep handing the ball to beefy running back Marshawn Lynch as many times as necessary to get six.
A Super Bowl winning play, not a Super Bowl losing play. From: the NFL
Hindsight is certainly 20-20. Let's say, for hypothetical sake, that Lynch does get the ball on 2nd down, but, instead of plunging into the endzone (probably while
holding his junk
), he fumbles. Is the narrative suddenly "why not, given three downs and a time out, don't the 'Hawks try it through the air?" Still, there is a significant amount of logic behind just letting Beast Mode do his thing. The single dumbest call of all time though? No. I've always liked short, quick passes at the goal line, especially when everyone in the building thinks you're going to run. It's a style that works, and is just as justifiable, given the down situation, as having Lynch run at the Patriots' defensive line.
This is something sports fan struggle with - using the results to justify or decry decision making. We're a culture that loves to react and judge, rather than react and celebrate. Malcolm Butler, the New England defensive back who jumped the pass route, made a spectacular play. In my eyes, the narrative should be more about the great play he made, rather than whether or not Seattle head coach Pete Carroll and offensive coordinator Darrell Bevell should be committed. Sometimes, the other guy is just better.
On Marshawn Lynch -
Speaking of Lynch, his presence at last week's media day drew plenty of criticism. In typical Beast Mode fashion, he decided to
answer
every question on day one of availability with "I'm just here so I won't get fined." This is status quo from the former Cal back, who shies away from the press, and seems like he would prefer sticking a needle in his eye to giving interviews. Yet, still, the press was ever eager to jump on his back for denying them their scraps of verbal refuse.
I just don't get it. As
Deadspin
pointed out last week, his defiant one-liners still give the assembled media the bullshit column fodder they're so paranoid about losing. More to the point, this is American, ain't it? Let the man not talk to the press if he wants (given the known consequences). At the end of the day it has no bearing on what he's paid to do, which is run the damn football (or not, given how Pete Carroll is feeling).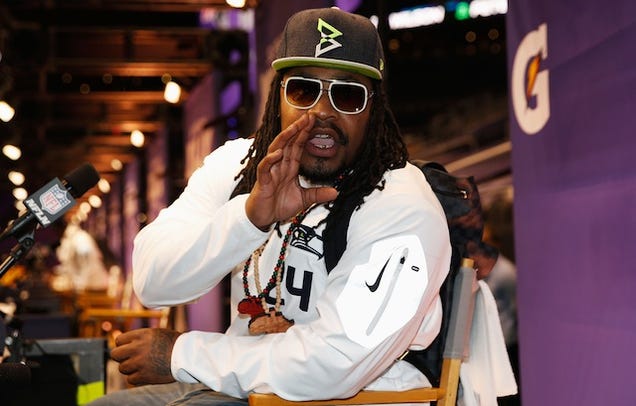 "NO COMMENT!" From: Deadspin
'Oh, but isn't part of his job media availability?' Well, while that may be a line item in his contract, no, it really isn't. Tom Brady is paid, partially, for that dimple and his press availability. PFM and Aaron Rodgers are paid, partially, for their affable facade. Their dealings with the media are a significant part of their value to their team. But Marshawn? Nope, he's just paid to run the football. No one from the Seahawks organization is saying, 'Damn, we aren't getting what we're paying for.' In fact, Beast Mode gives them exactly what they pay for. The media horse-shit is dealt with by Russell Wilson and Richard Sherman
et al
, and no one's appreciation of the game is lessened in the process. There ain't a Seattle fan on the planet who feels cheapened by Lynch's simplistic quotes.
Do not be fooled, the only reason anyone with a media credential cares about Lynch and his press conferences is because they rely on brainless tropes uttered by famous athletes to justify their paycheck. If one suddenly rebels, why couldn't more? 'Soon,' the paranoid beat writer ponders, 'I could actually have to be creative and thoughtful with my writings! That sounds like work!' (I'm kidding, this shit is hard)
Some athletes are comfortable with the media beast, outgoing and verbose, while others just want to get their work done, and put wins on the scoreboard. As someone who, in my day-to-day life, sympathizes with those who just like to get shit done, quietly, and go about life, I completely understand the reticence to play the court jester. I also understand that to play it that way limits opportunities, but such is life. Do what you do, Marshawn.
Happy Tuesday!