It's going to be right to the action today, as the work week from hell has left me precious little time to muse on things outside of the boundaries of the standard preview fare. Without further
adieu
, let's kick it off!
--
Hype Music for the Week: "Hey Ya!" by Outkast
In honor of Homecoming, a throwback to my college days. 'Shake it like a Polaroid picture,' HAHA! Seriously, I hated this song in every way imaginable. Outkast had a number of interesting tracks, but this hit strikes my ears like nails on a chalkboard. It's a blight, an honest to goodness blight on the auditory system. But, who am I to judge; enjoy!
--
Kickoff from a suddenly chilly Folsom Field is set for 7pm tomorrow evening. If you're going to the game, might I suggest a coat? Temps should be in the low 50s by the game's end. Hopefully, that drop in temperature will help cool off the 'Cats red-hot offense. Coverage can be found on FOX Sports 1 and 850 KOA.
Happy Homecoming!
Click below for the preview...
When last we met -
As I said in Tuesday's Grab Bag, the Buffs have found a myriad of ways to lose their last 13 conference games. Against the Arizona Wildcats last season, CU had circled the wagons and put themselves in position to claim an improbable win on the road against a tough top-25 opponent, playing stellar ball through the opening 30 minutes. But, in an all too familiar tale of woe, they couldn't close the deal, dooming themselves with a series of untimely turnovers and an inability to move the ball after halftime. In the end, Colorado fell
38-20
; almost, but not even close to quite, only furthering the maddening narrative of self-destruction.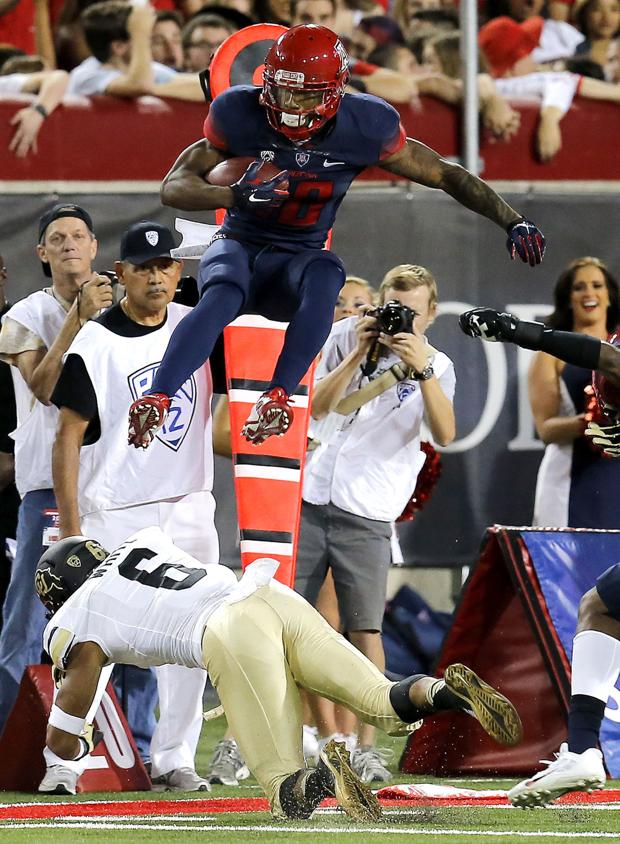 It took some effort, but the Wildcats eventually leaped over the Buffs late.
It's really frustrating to look back at this one and see how strong CU came out of the gate. The Buffs took two first half leads, looking competent and inventive in the process. Their first score, a 75-yard strike from Sefo Liufau to Shay Fields on the first play from scrimmage was a thing of beauty, and their second touchdown, a reverse WR option pass from Nelson Spruce to Liufau, had me jumping for joy. But those would be the only times the offense would find the endzone, and, thanks to a quartet of horrendous turnovers that lead directly to four touchdowns for Arizona, the 'O' actually scored more points for the opponents than they did for themselves.
In retrospect, the second half collapse was inevitable. Here's the Colorado drive chart after they kicked a third quarter field goal to bring the game within 24-20: punt, punt, interception, punt, turnover on downs. Good for 51 yards on 23 plays. You see that kind of second half production slip a lot with the offensive attack in recent years. After a halftime to adjust, opponents figure out the game plan and cap the dinks and dunks, the misdirections, and the conservative creativity to stymie the offense when it is needed the most. The occasional strong 4th quarter effort aside, it looks easier and easier to defend the Buffs as games wear on -- a fact that Arizona took advantage in Tucson last Fall.
For those interested in taking some cheap shots, yes, a lot of that offensive wavering can be laid at the feet of Sefo Liufau. In this game alone, he was guilty of committing all four of the turnovers (although a few were due to a rough pass rush), including a familiar instance of the ball slipping from his hand while he was trying to tuck it. It should be noted, however, that Lifau missed the final few drives due to a knock he took while throwing his fourth pick. Backup Jordan Gehrke came in and didn't look much better leading two drives that went absolutely nowhere. As often as it looks like the Buffs need a change under center, the backups come in to prove that, yep, Liufau's still the best QB on campus.
Sefo always seems to be under pressure; both on the field and off. From: the Post.
To their credit, the CU defense did their job about as well as could be expected. Up against one of the better offensive attacks in the entire country, they bucked down, holding the Wildcats to 7-17 on third down and 1-4 on fourth, all while forcing five punts. Sure, they still gave up nearly 500 yards, but a lot of that was thanks to the offensive mistakes putting them behind the eight ball. In fact, key defensive stops early in the game were the whole reason CU was ever in a position to win.
I guess it comes down to what kind of person you are when trying to read tea leaves like last year's matchup. A positive person will note how competitive the Buffs looked on the road against a very strong ballclub, while a negative person will scoff at the second half collapse and enduring patterns. I'm of both minds, so I'll leave it up for you to decide. Before moving on, however, I will note that I think tomorrow's game will play out in a much similar fashion to last year's model. The only question for me is, given the benefit of home field advantage, can the Buffs keep up with the scoring pace of Arizona?
The Wildcats in 2015 -
Their NCAA statistical profile can be found here.
It's been an up and down year on the gridiron for Arizona, who have alternatively looked like a division contender and a division also ran. A lot of it comes down to the old chestnut of health and who's available, but, even with that caveat, it's a little difficult to reconcile the way they looked last week against
Oregon State
(fantastic) with the way they looked against
UCLA
(all over the place) and
Stanford
(awful).
In the action with the Beavers, everything seemed to click on both sides of the ball. The Wildcats out-gained the visitors nearly 3-to-1, scored five rushing touchdowns, and forced nine punts. It was the complete opposite from their game with the Cardinal the week before, where Arizona barely cracked the 300 yard mark and ceded a very Stanfordian 15 minute time of possession advantage. To confuse you further, look at the stat lines against a then top-10 UCLA squad in their conference opener. They racked up the yardage (353 rushing yards), and otherwise kept up with the Bruins' attack, but continually turned the ball over, and couldn't swat a moth in the red zone (UCLA went 7-7 with seven touchdowns).
'Zona recovered a bit against OSU, but the start to conference play has not been smooth. From: KGW.com
Portions of that inconsistency comes down to the health of a pair of All-America candidates - QB
Anu Solomon
and LB
Scooby Wright
. Solomon
exited
the UCLA game early, thanks to a hit to the head, and his absence in the Stanford Trip directly affected the team's ability to compete on a high level. For Wright, a
meniscus tear
suffered in the season opener has kept him a non-participant in all but the UCLA game, leaving the defense to suffer against better opponents. The Wildcats often seem a capable bunch, though, even when these two are off the field - Solomon's Stanford absence is off-set by the way the team performed in the second half against the Bruins - but no team can replace players of their elite level easily.
Overall, this is a team that depends on its offensive attack, hence the importance of Solomon. They're 9th nationally in total yardage per game, racking up over 530 per contest which nets them about 42 points per. Most of this damage is done on the ground, where they get almost 300 yards per game from their impressive rushing attack (7th in the country). That game without Solomon metering out the attack and keeping defensive backs on their heels? Only 118 rushing yards on 3.5 yards per carry. Even though he's not much of a runner, his presence matters.
The UofA offense really needs Solomon. From: Bleacher Report
On defense, things aren't nearly as pretty -- they're giving up almost 420 yards and 30 points per game. Now a trend in the desert, this is the second straight year the Wildcats have logged numbers in the bottom third of the country. Certainly a product of the conference they play in, you still have to find a way to stay effective and get your offense back the ball. Arizona just isn't doing that well enough, allowing 3rd down conversions 45% of the time while only once stopping an opponent in the red zone.
My impression, then, is that this in an imperfect team, one who exists relatively at the whim of their offensive attack. If it's clicking, they can patch over the rough edges. If it's not... well, let's just say they're vulnerable.
Star Players -
I've already talked about the importance of Solomon under center. The 6-2, 205 lbs sophomore was admittedly
a little rusty
in his efforts against Oregon State last week, but the overall production of his teammates speaks for itself. The 'Cats need him out there, which makes protecting him all the more important and only increases the pressure on offensive linemen like massive 6-8, 316 lbs
guard-convert
Freddie Tagaloa
. He says he doesn't remember the UCLA game at all, which in and of itself is scary. As Colorado fans know, your QB can only take so many knocks and remain effective; how clean his jersey is at the end of the full 60 minutes will go a long way to telling the story tomorrow evening.
The big question is whether WIlson plays this week. I would bet that he does.
In the backfield, the primary threat has been feisty 5-10, 200 lbs sophomore
Nick Wilson
. The Fresno, CA product is second in the Pac-12 with 683 yards and eight scores through six games, at an average of almost six yards per touch. However, the All-Conference candidate got a little banged up against the Beavers last week, not playing at all in the second half, and
is listed as questionable
for the Boulder trip. I don't believe for a second he won't be out there gashing the CU defense, but, if he were to sit, it would be a huge boost to Colorado's chances. Still, please note that backups
Jared Baker
and
Orlando Bradford
, while diminutive, are more than talented enough to keep up the pressure on the ground should Wilson stay on the sidelines.
When the Wildcats decide to throw, they like to spread the ball across a quintet of targets. Wideouts
Johnny Jackson
,
Cayleb Jones
,
David Richards
,
Nate Phillips
, and
Samajie Grant
have each caught between 15 and 22 catches on the year, showing a balance across the corps that is quite impressive. Seniors Jackson and Richards have been the most productive, for the record, hauling in eight touchdowns and 631 yards between them. As opposed to the Sun Devils, the threat out of the backfield isn't as great on passing downs, however, with 'Zona mostly looking to hit conventional spread routes with their four-wide receivers.
Scooby's absence has hit hard. From: USA Today.
On defense, the awkward 3-3-5 lives on in the desert, ready to pounce on those who are unready. Pressure comes from a lot of different angles and positions, and it is one of the keys that experts point to when considering Arizona's recent successes against the Oregon juggernaut. Of importance is the interplay between the linebackers and up safeties (called the 'Spur' and 'Bandit' in Tucson), which is why the loss of a roaming tackle machine like Wright hurts so much.
His meniscus tear kicked off a turn through
five different inside linebackers
this season, with the four after Wright all being current or former walk-ons (See, BuffNation? It's not just CU's linebacking corps). The position is now manned by Tucson product
Jake Matthews
-- he's a step down from Scooby, to be sure, but may be coming into his own after a five tackle, one sack performance against OSU. Still, if you want a cause for the UofA's defensive struggles, just look to the front-six, who have eaten it for much of the season.
Parks will be all over the field on defense. From: AZDesertSwarm.com
In the backfield, the number one threat is senior 'Spur' hybrid safety
Will Parks
. A
thumper
of a defensive force, he leads the team in tackles (41), pass breakups (six), and forced fumbles (two). He gets to get aggressive in the action because senior
Jamar Allah
plays over the top at free safety, keeping a cap on things. He's made 34 tackles of his own, and created two turnovers on the season. Out on the edge, junior
DaVonte' Neal
is probably their best. He'll probably be the one making it tough on Nelson Spruce to get open tomorrow.
Coaching -
It's year four for head coach
Rich Rodriguez
in the desert, and he's proven to be much more successful than many would've thought. The reigning
Pac-12 Coach of the Year
, he lead the Wildcats to a 10-4 (7-2) record last fall, a trip which put them in the Pac-12 title game and earned them a bid to the frickin' Fiesta Bowl. Not too shabby for a man who was flat run out of Ann Arbor on a rail without much of a chance to get his pieces in place.
RichRod has carved football out a place in Tucson. From: AZCentral.com
Some early hiccups this season aside, I really like the job he's done in Tucson. The Wildcats play an interesting, fast-paced version of football, and are far more likable than their neighbors to the north. No, they won't be going back to the Fiesta Bowl this season, but they did
host Gameday
, and RichRod has succeeded in something I thought unlikely - steal some of the southern Arizona spotlight from the UofA's vaunted hoops program. Not too much, mind you, but just enough to remain relevant. Pretty cool.
Prediction -
My 2015 record: 5-1. Against the spread: 4-1. Optimistic/pessimistic: CU +3.2 pts/gm
Line as of Tuesday @ 7pm - CU +8, O/U 66 1/2
Neither team is going to honor the glory of defenses past with their effort tomorrow. Throughout, this should be an up-and-down affair. In the end, that's the difference - Arizona's offense is simply better, even if Wilson sits out.
The Buffs give a punchy, energetic defense of Folsom, but it all slips away early in the 4th thanks to an untimely turnover or two. Yet another Pac-12 loss, and a non-cover, at that.
UofA 49 - CU 30
GO BUFFS! PROVE ME WRONG, AND BEAT THE WILDCATS!