Each week throughout the football season I'm going to suggest a good beer for the ubiquitous pre-game tailgate. Let's be honest, with tailgates it's not always top quality that you're looking for. To steal a phrase from the heinous beer terrorists at Budweiser, you want "drinkability." (or what a real beer connoisseur calls "a session beer") So, be warned, these may not be "the best" beers around. But, in the words of Dave Chappelle as Samuel L. Jackson "IT'LL GET YOU DRUNK!"
It's been a rough week, so I am in search of the one thing that can set my weekend off right: hops. While I was unable to attend the Great American Beer Festival this year, my last visit in 2014 left me with the impression that only two American IPAs currently on the market really get the whole hop 'thing' right. The first,
Apex
from Bear Republic, was reviewed last year. The second, Ballast Point's
Sculpin IPA
, is still on my to-do-list, and is this week's gameday beer-o-the-week.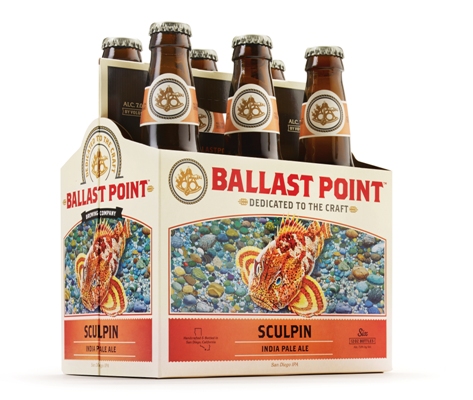 Ballast Point, which I don't think I've ever featured before, is a wonderful little brewery from San Diego. I've visited them twice, and enjoyed my time each trip (... although their tap room in Little Italy is a shit show in desperate need of better management). Like a lot of well-distributed West Coast brewers, they specialize in ales and hoppy concoctions. Don't let that fool you, however, 'cause they have a deep bench.
The Sculpin IPA - rebranded a few years back to evoke the
California Scorpionfish
, which I have personally encountered off the coast of SD - has won a ridiculous number of awards over the years, a testament to it's craftsmanship and balance. It's pleasingly floral and fruity, without losing the true bitterness of the hop. Hop-forward, but not overly 'dank.' You can tell these guys know their shit.
The cool thing is, after years of only being found in Cali, you can now grab six-packs and mixers of their product in well-heeled Colorado liquor stores. I would suggest you do just so this weekend. Additionally, if you can find it, the grapefruit version of this, tweaked with just the right amount of ruby red deliciousness, is just as fantastic and also worth a try.
Happy Friday! Go Buffs, beat the Sun Devils!