Conference play. It's been a 'Stop Sign' for the hopes of BuffNation since the start of the decade. Our new friends in the Pac-12, while wonderful in every other way, have proven to be less than accommodating to the Colorado football program. The Buffs, unable to swim upstream against the current of talent, have gone 4-32 through four seasons out West. It hasn't even been that close, with CU being outscored 1570-763 in those 36 contests for an average of 43.6 to 21.2 each week. *blech*
Well, the time has come, my friends; that crap is done and dusted. The season of relevancy is upon us. Colorado may not wind its way to a bowl, it may not yet release itself from the death-grip of the Pac-12 South's basement, but it sure as hell is going to put the fear of Ralphie into a few teams. It all starts tomorrow, as a wide-eyed, bruised, and beaten brace of Ducks come to Folsom. They've had the run of the series since expansion, but it's time for Colorado, yes COLORADO!, to make some noise. Into the wilds of a night time kickoff we go, let's give Oregon a healthy fear of #Pac12AfterDark!
--
Hype music for the week: "Fear of the Dark" by Iron Maiden
MAIDEN! For the 12-yr old metal head in all of us, I present a quintessential track from this quintessential heavy medal staple. These guys are weird but harmless, and one of the most successful acts in all of music-dom. Crank it!
--
Kickoff from Folsom Field is set for 8pm tomorrow evening. Folsom is never better than when it's packed for a night game, so I'm expecting everyone in the region to head to this one. Coverage for those unable to attend will be on ESPN: the Mothership, with the radio call on 850 KOA.
Please remember: if you're sitting in an even section -
wear black
, if you're a student, or are sitting in an odd numbered section -
wear silver/grey
.
Click below for the preview...
When last we met -
Matchups against the Ducks have always been hard to properly assess. In previous seasons, the Colorado program hadn't, yet, been in a position to even register as a threat to the champions of swoosh. Such was the case last year, as the Buffs meekly fell
44-10
on the road to the #2 team in the country.
CU came out aggressive, at least, recovering an onside kick to start the game, but they couldn't convert on the drive (moving backwards to a 3-and-out), and never came close to a foothold for the rest of the afternoon. After that, it was about what you'd expect - the Ducks put up just shy of 600 yards of offense, ticking off 7.8 yards per snap. 2014 Heisman Trophy winner Marcus Mariota - in his final home game as a Duck - recorded 404 of those yards in combined offense to go along four total touchdowns. Generally, an onslaught of ball movement.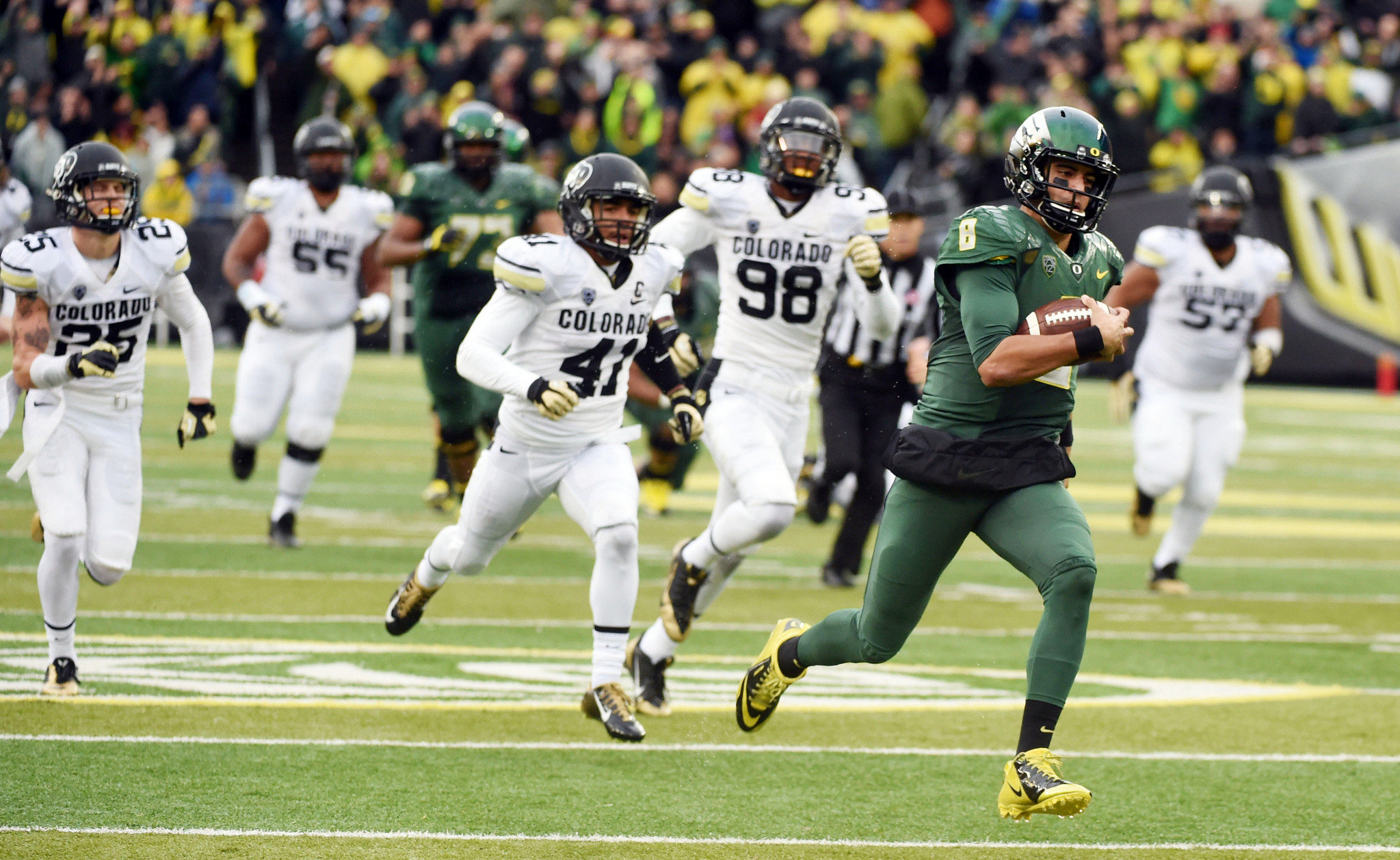 The Oregon matchup has always been a stale narrative... at least until now.
You may recall that backup Jordan Gehrke was given the start at QB for this game as an experiment to get him some experience. Unfortunately, the JuCo transfer looked out of his depth in his first collegiate start, going 9-18 for 64 yards in just over a half of play. With him at the helm for most of the action, the Buffs slid to season lows in plays (46), yards (226), and points (10). Settled starter Sefo Liufau eventually got back under center in the second half, and, while he fared little better overall (7-14, 41 yds), at least lead the Buffs to their only touchdown on the day.
Pare it all down, what do you get? Yet another noncompetitive effort against the Ducks. Since joining the Pac-12, the Buffs have lost the four meetings by a total of 216-42 on the scoreboard, with the divide on the field even wider. There have been some whispers this week, however, that the 2015 tilt between Colorado and Oregon will be anything but business as usual. The Ducks look weaker now than at any other point in the last decade of football, and the Buffs are pumped up after spending the last month feasting on cream puffs. With the tide seemingly turning, can CU finally reverse the ugly trend of blowout losses to 'Nike U' and put up a true fight tomorrow evening? Well, let's find out...
The Ducks in 2015 -
Their NCAA generated statistical report can be found here.
These are not your slightly older brother's Oregon Ducks. The team that featured in the national title game only last January has been depleted by graduation and professional ascension, giving way to something suddenly
un-Oregon-like
. Coming in at 2-2 on the year, having lost both of their games against teams worth a damn (
31-28
@ Michigan State and
62-20
vs Utah), these guys are shaken and *gasp* mortal.
That's... that's not good.
It starts on defense, where the Ducks allow 474 yards per game, good for 110th nationally. The unit leaks like a sieve, having already allowed a Pac-12 worst
23 plays
of 20 or more yards this season. Passing has been the primary concern, where they rank near the bottom of the barrel in both yardage and efficiency allowed. This isn't helped by the fact that they simply aren't getting to the quarterback (five sacks through four games, after featuring in the top-40 last season), as opposing passers are being given enough time to slice and dice. It's translated to nearly 100 first downs allowed, 3rd and 4th downage stats that are on the same level as a car crash, and a 90% red zone conversion rate. Add it all up, and this is truly one of the worst defenses in all of football through four weeks.
Note, their defensive woes are not just an outlier product of the whuppin' laid down by the Utes (although it doesn't help). Look back to their
season opener
against frickin' Eastern Washington for proof. Even against that FCS squad (albeit, one that's in the FCS top-10) the Ducks struggled, allowing 438 yards through the air, and 42 total points. The Eagles converted all six of their red zone appearances into touchdowns, and generally kept pace with the defending Pac-12 champions after the first quarter. It was a performance that should've clued everyone in on the secret: something is rotten in the Ducks' defensive backfield.
Oh no, they hemorrhaging yards!
The defensive issues have countered the typically effusive Oregon offense. For all intents and purposes, they're just as strong as they've been over the last decade, scoring 42 points and racking up well over 500 yards per contest; their work is just being covered up by their opponents suddenly scoring at will. They still play fast, run the ball extremely well (285 rushing yards per), and keep defenders on their heels. Do not overlook them -- against Colorado's defense, they will still move the ball early and often.
But, even here in Oregon's comfort zone, there are niggling issues. Coming down off the Marcus Mariota-fueled high of a year ago, there was always going to be a drop-off under center, but the results have been even rockier than imagined. Oregon has been pedestrian through the air so far, about 60th in overall efficiency, and take far too many unnecessary risks. Possibly a factor of the pressure put on them by opponents' scores, interceptions, sacks, and inefficient play have followed, keeping the Oregon offense from doing what it does best: grinding down opponents. They're only converting 35% of all 3rd downs this fall; while they're still racing towards the endzone (7th nationally in total first downs), the backdoor to defensive stops is being left open.
Even the offense isn't as good as it had been... but they can still soar.
Which brings me to the crux of the matter: turnover margin. With their weak defense and and an offense prone to the occasional lapse in judgement, the
net result
of the turnover battle has been worth -11 points this fall. This used to be where Oregon excelled: back you into a corner, force you to over-extend yourself, and pounce with a quick turnover-and-score, one-two combination. That trend has been flipped on it's head this fall, and Oregon is all the weaker for it. If they are truly vulnerable, then this is their
thermal exhaust port
. You win the turnover battle, you have a shot. It's as true against them as anyone in America.
Star Players -
Following on the heels of Super Marcus Mariota, the Ducks went out and
secured the transfer
of 5th-year graduate QB
Vernon Adams Jr.
The undersized 5-11, 201 lbs California product was supposed to make the transition to life-after-Heisman free and easy. He certainly looked the part, having posted some phenomenal numbers while with Eastern Washington -- over 3,700 total yards and 41 combined touchdowns in 2014 alone, good enough to earn him runner-up status in the race for the
Peyton Award
. Throw in the obvious athleticism required of the guy taking snaps in Eugene, and he's a seductive package for any offense looking to rebuild on the fly.
Adams comes to Boulder, with altitude mask and a broken finger, looking to take flight.
Unfortunately, that transition hasn't been as smooth as advertised. Saddled with a
broken index finger
on his throwing hand and the quick study of a possibly
overly-complicated offense
, the veteran has struggled a bit through three games of action. To my eye, he's really stressing throwing down field (not unlike CU's own Sefo Liufau), and is taking unnecessary risks with the thoroughbred Oregon offense at his command. What made Mariota so wonderful as a centerpiece for UO was his insane efficiency. He always kept the ball in green hands and moving down the field. Adams, as of yet, hasn't quite locked in on an ability to do that, having thrown two picks and lost a fumble in a handful of starts. It's exceedingly unfair to compare him directly to the current Tennessee Titan, but it's just as impossible to ignore direct correlations between the Ducks of a year ago and this breed today.
Of course, the Buffs may not even see Vernon this weekend. Not only is the broken finger still an issue (2-7 for 26 yards against Utah), but a sickle cell trait combined with Boulder's altitude threatens to sideline the presumptive #1 QB. Adams himself
admits
that he's 'scared' of the altitude issue, and has been training with an altitude mask. If he's unable to go, the Ducks will certainly turn to backup
Jeff Lockie
. The junior has already appeared in three games this year - once as the starter with Adams injured - and has put up some decent numbers. He's just as shaky through the air, however, as Adams has been (two picks), and generally keeps the ball in the short field (fewer yards per completion than Liufau).
Lockie has seen the field more than expected this season.
Whoever is under center tomorrow will be worse off due to the
potential season-ending injury
suffered by all-world wideout
Byron Marshall
. He was the team's biggest deep-ball threat, and also featured on special teams as one of the most dangerous return-men in the country (385 yards of returns on only 14 attempts). Without him, the already shaky Oregon passing game seems less scary, even though stalwarts like
Bralon Addison
(now back from a knee injury that cost him all of 2014) and
Charles Nelson
are more than talented enough to wreak havoc. The trend, as always in Eugene, is speed, and either can burn CU deep; UO will never lack for skill position players.
With passing troubles and wide-out injuries, the focus on Saturday will probably be in the backfield... or, at least it should be. Sophomore burner
Royce Freeman
is already building off a fantastic freshman season (1,365 yds and 18 touchdowns - easily the Pac-12's 2014 freshman of the year) with 462 yards and five scores through four games. Strong, fast, and, above all else,
elite
, he is a difference maker in the backfield. Colorado has shown a propensity to miss tackles this season, and any against this guy will just wind up in the end zone. He certainly won't be here for what would be a senior-year trip to Boulder in 2017, so catch him while you can -- the next time he'll be on the Front Range will be as a pro in Mile High.
Freeman is the difference maker, and the reason they won't take a full step backward.
Over in the beleaguered defensive backfield, the issue is youth and attrition. Gone are Troy Hill, Ifo Ekpre-Olomu and Erick Dargan, a trio who formed the backbone of a sufficient defensive backfield a year ago. Without them, the Ducks have had to turn to a youth movement, and the results have been, as of yet, rather ugly. There are 'ORs' listed at three of the four backfield slots on Saturday's UO depth chart, and with reason -- the coaching staff is still desperately searching for answers. Sophomores
Arrion Springs
,
Chris Seisay
, and
Tyree Robinson
will all be good in future seasons, maybe even frighteningly so, but just aren't there right now. Beyond them, keep an eye on returning junior starter
Reggie Daniels
. The veteran of the bunch, he rules the roost.
Up front, the battle-tested front-seven is lead by a pair of seniors: end
DeForest Buckner
and inside linebacker
Joe Walker
. Buckner is listed at a massive 6-7, 300 lbs, which in and of itself is scary. He's currently third on the team in total tackles, and is their single biggest threat at getting into the backfield. A certain pro prospect, it's a little surprising that he
returned
for his senior season at all, but the Ducks are better off for it. Walker, a 6-2, 240 lbs inside run-snuffer from Cali, leads the team in tackles, and should feature heavily against CU's ground-based attack. Beyond just those two, note that this is a 3-4 scheme, so expect to hear a lot from the rest of the linebacking corps. Seniors
Tyson Coleman
,
Christian French
, and
Rodney Hardrick
round out the group, and each is a top-flight Pac-12 performer.
That Buckner dude is huge.
Overall, the easy weakness to spot is out on the edge, which makes sense when looking at the stat sheet. It'll be up to the Buffs passing attack, itself an adventure, to prove to them that night time in Folsom is dark and full of terrors.
Coaching -
A sign of weakness? From Oregon? What is this world coming to? That's probably not what Oregon head coach
Mark Helfrich
was asking himself this week, but it is what I'm asking. This unsinkable ship, the Titanic of the modern football age, suddenly seems vulnerable, a seemingly lesser competitor in a dog-pile race for the 2015 Pac-12 crown. Worrying enough for the bandwagoneers at the heart of the Oregon fanbase to start
lashing out
at Helfrich and staff.
Helfrich has had to face some tough question for the first time in his tenure.
Of course, this is all smoke and mirrors. It's easy to pop holes in the Oregon balloon, as heavily as it had been inflated in recent years, but make no mistake: they are still an exceedingly good team. The talent is still there, the foundation is still sound. One home disaster against a surging Utah team does not spell the end of the Eugene Empire. Helfrich, now only a paltry 26-6 (lol) as chief Duck, and with a national title appearance under his belt,
isn't going anywhere
. We in BuffNation may not give him much credit, due to his association with the Hawkins era, but Helfrich is a legit power in the coaching industry. With the added cachet of Nike's cash and flash at his back, he'll have this team back on its feet and roaring towards bowl season in no time.
Prediction -
My 2015 record: 3-1. Against the spread: 2-1. Optimistic/pessimistic: CU +2.67 pts/gm
Line as of Thursday @ 7pm - Oregon -7.5, O/U 69 1/2
It's easy to envision CU's path to victory tomorrow night. At home, under the lights of Folsom, and in front of a roiling student section (It will be roiling... and full... right?), CU comes out playing the winning brand of football they displayed all September. They control the football, eliminating mistakes in the passing game, and running the ball with aplomb. Against the soft Oregon pass defense, they even show off a few downfield attacks, and get into the endzone. The defense forces a few key turnovers, as they've done all year, and special teams errors are painted over by some key bend-but-don't-break stands. At the final whistle the student section riots, and I taste my fourth victory cigar in as many weeks. All is happy and beautiful in Boulder again.
Unfortunately, the dream starts to fall apart at the seams when you break it down. The Buffs have struggled out of the gate in each game against FBS competition... CU's rushing attack hasn't had to face a Pac-12 run defense yet... Sefo Liufau probably isn't healthy enough to attack Oregon's glaring weakness in the defensive backfield... Colorado's special teams is a disaster in waiting against the Ducks' speed merchants... The UO offense will still move in great leaps when they have the ball...
The gap may have closed, but the fact of reality remains: CU just isn't there... yet. They're not... yet, in a position to challenge Oregon, even as they appear ready for the fall. The Utes did the deed last week with transcendent special teams and dynamic QB play. They Buffs certainly don't have the former, and only occasionally boast the latter. That, along with almighty athleticism and speed, is the difference here.
Oregon, looking for a bounce back, will sputter here and there, but will otherwise look like their old selves (especially out of the gate). That defense, though, will help keep CU in it, and the Buffs will put on an early second half show to fire up the bulging sea of Silver and Black. In the end, however, it won't be enough, as the Buffs, once again, fail to cover against the Ducks. Oregon will leave knowing they were in a fight, though, which is a massive step in the right direction.
UO 48 - CU 32
GO BUFFS! PROVE ME WRONG, AND BEAT THE DUCKS!