Ideally, in some distant and hard to contemplate future, CU should be able to compete with the best in the nation. The Buffs of this future would look at the visit of a top-10 team like Oregon as an opportunity to showcase all that is football in Boulder, possibly even upsetting the Ducks on national TV.
But, this is not that distant future, this is the brutally painful present. The only thing CU will showcase on Saturday is how far it has to travel before relevancy returns.
This season has flown off the fucking rails, speeding down a precipitously steep hill towards death and doom. There is no saving it, no
Denzel Washington
coming to save the day, the season is lost. And, just in time to administer the
coup-de-grace
, in steps the vaunted Oregon offense. Unlike the fight'n Andrew Luck's from Stanford or the good-but-not-great boys from UW, these guys don't give a fuck, and will hang-a-hundred on you if given the chance.
Unfortunately, CU will offer them that chance on Saturday.
--
Quack quack quack quack, Mr. Ducksworth.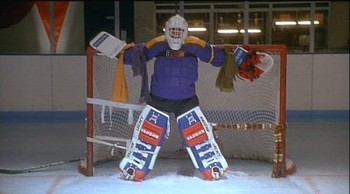 In the Mighty Ducks analogy, CU is poor Goldberg, tied to the net, destined to be pelted by many hockey pucks for the nation's amusement. Oregon is Goldberg's friends and teammates, possessing neither compassion nor understanding as they abuse the helpless goalie.
If you're a masochist, or an Oregon fan, the game will kick off at 1:30. If you can't make it up to Folsom, yet, bizarrely, still desire to watch the bloodbath unfold, you can tune in to the channel formerly known as FSN (Root Sports). May God have mercy on our souls.
Click below for my preview...
Injuries have blighted the depth chart, and few remain who would scare a BCS opponent. Speedy Stewart, Paul Richardson, and Doug Rippy are all out Saturday, leaving the team devoid of much of its remaining explosive talent. The secondary was already depleted, and even those who have stepped into the gap to try and hold the line, offensive converts Brian Lockridge and Jason Espinosa, are out for this week.
Is anyone left?
Tyler Hansen is left
.
Tyler's has performed great in his senior campaign.
Having run afoul of the injury bug himself in previous seasons, the senior remains, blessedly, healthy. He's also experiencing a hell of a senior campaign. Despite having to fight through an over-abundance of losing, Hansen has provided many of the CU highlights this season. He's on pace to crack 3,000 yards passing, while showcasing an impressive 13-3 TD-to-INT ratio. Yes, his completion rate is on the low-ish side at under 56%, but I think Tyler has had an overall great season so far.
While CU won't be able to enjoy his services much longer, I'm at least happy that Tyler's finally getting a full season to show off his skills, and launch an aerial attack worthy of the nation's premier passing conference. Good on ya, Tyler, and stay healthy!
Opponents season so far -
In case you haven't heard, the #10 Oregon Ducks are kinda good. While the season started with a disheartening loss to LSU in Dallas, the Ducks have gone on to 5 straight wins by at least 2 touchdowns. Overall, they've crushed their opponents 292-140, and only those Bayou Bengals have shown any ability to shut down the Duck offense for more than a few fleeting drives.
The best of the SEC seem to be the only ones capable of tripping up the Ducks.
They sit at 5-1, and are coming off a home victory over Arizona State, the best the Pac-12 South has to offer. With one loss, even to a great team like LSU, a national title shot is out of the picture. However, a win over Stanford in 4 weeks would essentially give the Ducks the North crown and a pretty good shot at the Pac-12 title and a BCS bowl. Not too bad for a program beset with injuries and still trying to forget a
recruiting scandal
.
For the record, I still think Stanford, despite the loss of Shayne Skov, is the class of the conference. The Oregon/Stanford game will be played in Palo Alto, and, while Stanford Stadium isn't much of a home field advantage, it'll be enough to help the Cardinal walk away with a win. Sorry Duck fans.
Offense & Defense -
The Ducks utilize their infamous "
blur offense
" to beat opponents into submission. They rely on
high-paced execution
and stellar talent to speed past defenses that have yet to figure out how the whole thing is vulnerable, if at all. Teams have tried everything they can think of, including
faking injuries
, to slow the Ducks down, and little has worked. This is, simply, one of the best offenses in the nation. (LSU was only able to contain the unit simply by being as fast, if not faster, than the frantic Ducks. Seriously, LSU's D is scary.)
Following on the footsteps of their impressive 2010 campaign, which saw the unit speed into the national title game, the Ducks are still strong on O, grabbing nearly 540 yards per game (5th in the nation) and scoring damn near 50 points per contest (3rd in the nation). Most worrying, their offense averages over 70 plays from scrimmage per game, meaning defenses stay on the field longer than they should, eventually leading to breakdowns which the Ducks are more than capable of exploiting.
This group is above all else a rushing team. Six Ducks have at least 100 yards rushing on the season, and the group
averages
over 315 yards rushing per contest, good for 5th in the nation. The only squads in front of them run the triple option, and may not have discovered the forward pass yet. Luckily for the CU secondary they won't be
as
under fire as previous weeks, but they'll still get plenty tired chasing down loose running backs.
CU, like most teams, will be in pursuit mode for much of the afternoon.
Defensively, the Ducks have been vulnerable, giving up over 400 yards per game (440/game in games not played against the ground-and-pound centric LSU Tigers), but that is largely a result of opponents spending plenty of time on the field after Oregon has finished running past them on offense. Overall, the Ducks average a 10 minute deficit in ball control per contest, but I doubt they give a damn. The offense runs the show and gets the babes, and I don't see anyone in Eugene complaining about the leaky D. As long as they keep opponents under 40 points, the team will win.
Star Players/Ephemera -
The governor had granted CU a stay of execution. The leaders of the Oregon offense had come up lame in previous weeks, lending hope to the notion that CU might just be able to hang with the Ducks while they figure their replacements out. Unfortunately, that stay had been revoked, as both star RB
LaMichael James
and star QB
Darron Thomas
are expected to return to the Duck offense Saturday. Fuck that noise.
James
is a lightning fast speed-back designed by
God Herself
to run in a system like this. The diminutive (5-9, 195) junior running back has racked up eye-popping numbers in each of his 3 seasons in Eugene. He's on pace for his 3rd straight season with over 1,500 yards, has an outside shot at 7,000 career rushing yards (if he stays for his senior year), and is averaging over 9 yards per carry in 2011.
James is a special back, capable of breaking all-time records if he stays in school.
Thomas
, yet another junior offensive starter, is normally tasked with a limited role in the Ducks O. Mainly there to look pretty after handing off to James, Thomas has put up respectable numbers, displaying 61% passing accuracy and a sterling 17-3 TD-to-INT ratio. He has yet to crack 200 yards passing in any one Pac-12 game this season, averaging 162 yards per league game.
Thomas may not throw a whole lot, but with that rushing attack, why would you ever have to chuck it more than 20 times a game?
On defense the Ducks are lead by junior safety
John Boyett
, senior linebacker
Dewitt Stuckey
, and dynamic corner
Cliff Harris
. Boyett leads the team in tackles a year after leading the squad in solo stops, Stuckey gets all over the field, and Harris, the '10 Duck leader in picks, has
finally gotten into the flow of the game
after as slow, suspension-laden start to the season.
Coaching -
Oregon head coach Chip Kelly is an offensive guru, and there's nothing else to it. He has redefined the concept of the spread offense, smashing records in the process, and, most importantly, bringing success to Eugene.
Heading west from his alma mater New Hampshire in 2007, Coach Kelly, then the offenseive coordinator under long-time Duck head man Mike Bellotti, quickly imprinted his high-scoring brand of offense on the Ducks. That '07 team set Oregon records for most points scored and most yards gained. Not a bad start.
Since then, the Oregon offense has only gotten faster and more prolific. His squads routinely litter the top-10 offenses in the nation, relying on a punishing rushing attack to gut opponents. But this is not the ground-and-pound that Buff fans are familiar with. This run-game is all about quick-hitting, fast play with many downs going by in as little as 15 seconds.
The endzone is that way.
When Kelly ascended to the top spot in Duck-land in '09 he became the first coach in Pac-10 history to win an outright conference title in his first season, en route to the program's first Rose Bowl appearance in over a decade. The Ducks have now been to two straight BCS bowls under his guidance, with their appearance in the national title game last season, and look poised for yet another BCS berth this season.
He holds an overall record of 27-5. While he was gifted a nice place to build from when Coach Bellotti left, he's done wonders with the program, and has only built upon the success of his predecessor. We'll have to wait and see how this recruiting mess ends up, but, for now, the legacy of Coach Kelly is glittered with offensive gold.
Prediction -
Can CU at least compete? That's the question that the over 50,000 who have bought tickets to this game are asking themselves. It's at home, at altitude, and on homecoming... that should help the Buffs out a little bit, right? Maybe the Ducks, rightfully confident of easy victory, will play complacent football. Maybe those star players with injuries will keep the ducks grounded.
Nope. There is no hope, no chance that this depleted bunch of Buffaloes can even compete with the high-flying ducks. Honestly, I've tried, I just can't envision a scenario where the fucking dog isn't laughing at us by the end of the game.
Vegas likes the Ducks by 32.5, I like them by more than that.
Oregon 67 - CU 17
*sigh* 22 days left until basketball season...
GO BUFFS, PROVE ME WRONG AND SHOOT DOWN THE DUCKS!