Jon Embree and Tyler Hansen do not give a fuck. 22 straight road losses? Fuck that noise, they flat out
guaranteed victory
Saturday over UCLA. Well, maybe they didn't
guarantee
victory, but it's still a pretty strong declaration to emphatically say that this program, which hasn't won a road game since the
before time, the long, long ago,
will march into the Rose Bowl, and march out with victory in hand.
Those are some big-assed marbles the team has grown since Saturday morning.
The line has been drawn in the sand, the markers placed. This team expects to win Saturday and I like it. The win last weekend over Arizona seems to have done wonders for the teams confidence, and combined with them being as healthy as they've been since the early goings of the season means that now is as good of a time as any to bring some swagger out.
Broadway Joe approves.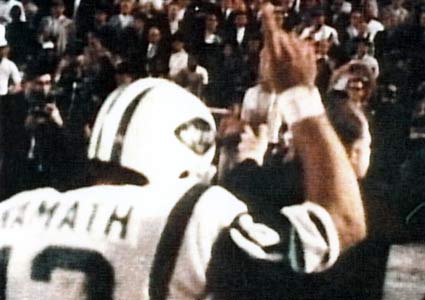 Now all they have to do is back it up...
--
CU heads into the Rose Bowl looking to finally, mercifully end the the interminable 22-game road losing streak. These seniors who have seen their careers marginally defined by this streak have a great chance to get it done on Saturday. Kickoff is set for 5:30MT, and the action can be seen on Versus. If you can find that channel to watch hockey, then you can find it to watch Buffs football.
Click below for the preview...
Shhhhhhh
... quietly, CU has found it's running attack. Over the past two weeks the Buffs have busted out for 407 rushing yards, 273 of that coming last week in the win over Arizona. With nearly six yards per carry now finding its way into the Buffs offense, things are starting to look...
not-awful
with the ball in the hands of our Black-and-Gold warriors. You can chalk that improvement up to one thing: Speedy's back.
Speedy's back to terrorizing opposing defenses. From: the BDC
The diminutive senior has been on fire the past two weeks. Coming back from an injury that cost him three heart-breaking games, he's cranked out 283 rushing yards the past two weeks; an average of over six per carry, while scoring three times, and even throwing for a score on a half-back pass. All told, 359 all-purpose yards when the Buffs desperately needed them. It's been a joy to watch him the last two Saturdays.
While it remains to be seen if Speedy, as
Coach Embree would suggest
, can find his way onto an NFL roster, he's got two more games in his Buff career to put his mark in the record books. He probably won't reach the mark required to become the program's all-time leading rusher, but he's already the leader in all-purpose yards, and his name litters the record book from cover to cover.
Speedy, and his exploits are a heart warming reminder that heart can often win-out over recruiting rankings and prognostications. Give 'em hell on Saturday, Rodney, you've got two more bites at the apple, and I want to see all you've got as the Buffs look to break the road losing streak.
Opponents season so far
Wait, the Bruins are
still
a possibility for the Pac-12 title game. WHAT THE FUCK, ASU? This shit was placed on a platter for you...
Arizona State's inconsistent bullshit of a season aside, the Bruins have somehow put together a average season. A team who, before the season, I pegged as being horrible now finds themselves tied for the 'lead' in the Pac-12 South (remember, USC is ineligible) with a 4-3 conference record and a 5-5 overall mark. A month ago they were getting worked by the trainwreck that is the SS Arizona to the tune of a 36-point loss. Now, with a 1-point home victory over the baffling ASU Sun Devils in their back pocket, they hold their destiny in their hands.
Somehow, someway, UCLA ran past ASU and is within reach of the Pac-12 title game.
Seriously, this is fucked up as the Bruins average scoring 8-points per game
less
than their opponents. It's the Big XII North all over again.
UCLA desperately needs to win this game if they hope to lose to the North representative in the Pac-12 championship, as ASU has two very winnable games left on their schedule. I would very much expect the Bruins to come out swinging on UCLA's senior day.
Offense & Defense
Offensively, this bunch of Bruins isn't that much to write home about. They're a middle-of the pack unit, grabbing just over 375 yards per game. Their best statistical category is rushing, where they find themselves the 3rd best unit in the conference, but any advantage is out-weighed by their passing game's ineffectiveness (less than 200 yards per game; shit, even the Buffs get close to 250 every weekend).
Defensively, they're pretty weak, allowing well over 400 yards per game, and seemingly incapable of stopping anyone on the ground. Yes, the Bruins defense isn't necessarily as bad as the CU or Arizona groups, but they're still quite awful.
Star Players
Bruin QB
Kevin Price
should still be the one
taking snaps come Saturday. While one-time starter
Richard Brehaut
is healthy again, word is that Prince still has the job. Whoever starts needs to be accounted for as the Bruins use a dual-threat backfield, and their QB's have combined for 610 yards on the season. Prince, a junior, has started six games now, and has just shy of 1,000 passing yards on the season via a 54% completion rate, and throwing more interceptions than touchdowns. Sure, start him, why not?
Bruin QB Price isn't exactly scary as a passer, but he can burn you on the ground.
The Bruins also rely on two strong RBs in the form of junior
Johnathan Franklin
and senior
Derrick Coleman
. The duo have combined for over 1,200 yards this season and 12 scores. The primary receiving target is senior
Nelson Rosario
, a tall target with three years of experience. He's grabbed 42 catches for 788 yards and a score on the season. Our good friend
Josh Smith
, while mostly a non-factor on offense, is still a dangerous kick returner, and is the Bruins leader in all-purpose yardage.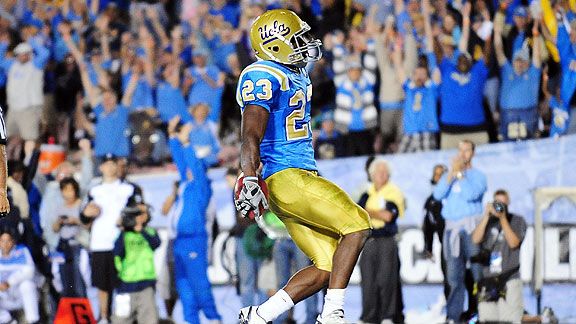 Jonathan Franklin is a good back who can find the endzone.
On defense, look out for senior LB
Sean Westgate
and freshman safety
Tevin McDonald
. Westgate has 42 total tackles and two picks, while the freshman McDonald has enjoyed a promising start to his career with three picks. Junior LB
Pat Larimore
is the teams leading tackler with 63. Overall, not too much talent with this bunch.
Coaching -
UCLA Head Coach Rick Neuheisel was once a very promising young offensive assistant under the Legend Bill McCartney at Dear Old CU. So promising, in fact, that when it came time to pick Mac's successor, the school went with Rick over the more obvious choice of Gary Barnett. While Coach Barnett would run off to run my beloved Fight'n Purples in Evanston, dragging that program to, of all things, the Rose Bowl, Rick turned a jewel of a program into an inconsistent, and violations prone, disappointment over his four years in Boulder.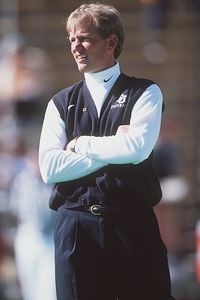 He sure had a lot more hair back then.
He would escape off to Seattle to lead the UW Huskies after the '98 season. His tenure there was cut short as he was caught up in a NCAA Tournament betting pool scandal (load of bullshit). After a break from major college coaching, he went back to his alma mater UCLA to take the reins of his beloved Bruins. He hasn't had too much success in Westwood, and may be on the precipice of losing his job; should he lose it after this season, his tenure would mostly be remembered for producing this laughable piece of advertising: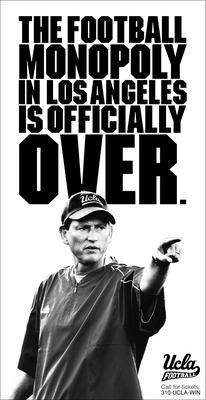 That declaration may have been a little premature...
All told, his career record stands at 85-56, and he has lead his teams to 8 bowl games and even a Rose Bowl appearance. A successful, if not controversial, head coach.
Many Buff fans have been waiting for this moment. A shot at kicking Rick Neuheisel when he's down, possibly even putting the
coups-de-grace
on his coaching career as his future at UCLA is dim at best.
I don't know how much time Rick has left in Westwood.
But... I feel nothing. Slick Rick means nothing to me. I wasn't here during his tenure, safely off in the land of milk and honey (Chicago), and have no personal experience with the way he stabbed the program in the back. Oh, don't me wrong, I'll take any excuse to roll around in some schadenfreude, but most of the Slick Rick hate is lost on me.
I'll defer to the natives on this one. Drop your hate in the comments if you feel strongly.
Ephemera
There are plenty of cross-over storylines for this game. Off the top, the head coach has progeny playing for UCLA. Coach Jon Embree will be there to watch his son run out on UCLA's senior day as this will be Taylor Embree's last game in the Rose Bowl. Additionally, Coach Embree used to coach for the Bruins, so the entire Embree family is all over this matchup.
Additionally, former CU players Josh Smith (how's that rap career shaping up, dude?) and Kai Maiava will be suiting up for the Bruins, while the Buffs super-soph Paul Richardson will be facing the program he originally signed with out of high school. While this game may not have any juice nationally, the combatants should be plenty engaged.
Predicition
So, can CU really end the damn road losing streak?
Talking with my roommate last evening, he said something that struck true: this game comes down to which UCLA squad shows up. Will we see the Bruins that got demolished by Arizona, or the group that stunned ASU?
So far on the year, the Bruins are 4-1 in the Rose Bowl, with their one-loss coming at the hands of revenge-minded Texas. UCLA plays decent football at home, capable of beating an average opponent. Add to it the fact that it's senior day in Los Angeles, and that they're fighting for a divisional crown, and I'm betting that this is the ASU-beating version of UCLA.
But, I don't care. I'm tired of predicting CU losses. I'm taking my cue from Tom Hanks:
HAHA, GOT HIM!
CU certainly played better last week in avoiding their first ever winless season in Folsom Field. The team is healthier, playing with a lot of confidence, and certainly more assertive on both sides of the ball. I want to believe, I want to think positive thoughts and see through the fog of losing to a Buffs road victory. If anything, the senior deserve it.
CU 31 - UCLA 28
GO BUFFS! BEAT THE BRUINS AND END THE STREAK!