This weekend is homecoming... which means... something. Damn it, I swear I had something for this. I'm sorry, it's just the haze of losing has stunted my memory. Wait... it's coming back to me...
In recent history, at least, homecoming has meant that CU is about to get their asses kicked. Since squeaking by Oklahoma on Kevin Eberhart's last-second
field goal
in 2007 the Buffs have lost four-straight homecoming games by an average of 22.25 points. Included in that is last season's 45-2 disaster against Oregon.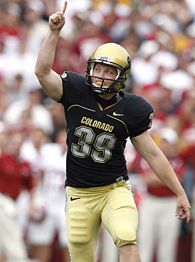 Don't mind him, he's just livin' the dream.
To be fair, you could pick any random game since that miracle over Oklahoma and have a 69% change of picking a loss (CU is 20-45 since that day), but they've been remarkably consistent in treating the returning alumni to shit performances.
Based on that open, I bet you can tell where this preview is headed... but don't forget to
GET YOUR TICKETS TODAY
! :-)
--
Kickoff from sun-splashed Folsom Field is set for high noon on Saturday. Coverage can be seen on FX (I don't know why CU keeps getting the non Pac-12 Networks slots, but they do), and heard on 850 KOA.
Click below for the preview...
When last we met -
Last year's preview can be found here.
All-world QB Andrew Luck had a field day against the depleted Buffs secondary, throwing for 370 yards and three touchdowns in the Cardinal's
48-7
win.
The Buffs actually had a chance to score first as Stanford fumbled the opening kickoff. The dream beginning, however, quickly turned into a nightmare. Stanford blocked Will Oliver's resulting field goal attempt, and returned it all the way for a touchdown. An early 2nd quarter CU TD made the score 13-7, but the Cardinal would go on to score seven unanswered touchdowns before the dogs were called off early in the 4th.
One bright spot for the Buffs: DB Terrel Smith picked off the great Luck, earning him a quality story to tell his grandkids.
Opponent's season so far -
The crown jewel on the schedule is the
21-14 home win
over USC in week three. It was Stanford's fourth straight win in the series, and made for a humbling blow to the Pac-12 South favorites. The win propelled the Cardinal all the way into the
AP top-10
, and thing were looking up for the Trees in life after Andrew Luck.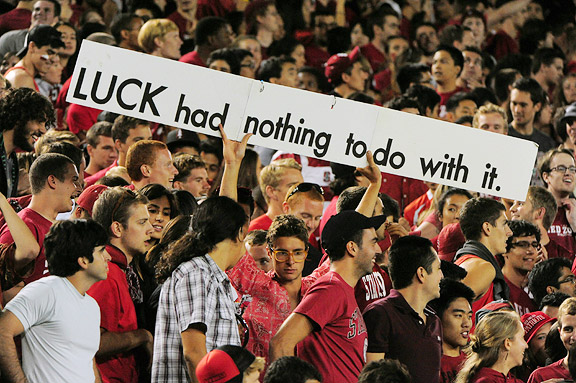 'Cause you wouldn't want him back...
Of course, life being what it is, the Cardinal went on to lose two of their next three ballgames. A very disappointing trip to Seattle to play Washington ended in a
17-13 loss
. Stanford could only manage 235 yards of offense against the exceedingly average Huskies. The following week, Stanford rebounded against Arizona, but still needed overtime and
53-points
to emerge victorious. All would've been forgiven, however, if only they could take a win from Notre Dame in South Bend in week six.
The game against the Irish was played in a driving rainstorm. It quickly devolved into a marathon defensive struggle, with both teams seemingly blind to the location of the endzone. Stanford had a lead late, but Note Dame was able to push the game to overtime with a last second field goal. In the extra frame, the Irish scored first, putting all the pressure on the beleaguered Cardinal offense. Forced to a 4th-and-goal from the inch-line to extend the game, Stanford turned to running back Stepfan Taylor to plunge through the Irish defense. With a second effort he managed to slip across the goal line... only to have it disallowed because the officials were too eager to get out of the driving rain. Game unfairly over.
Not on the ground, over the goal line... looks like a TD to me.
Overall, the Cardinal is 6-2, and still control their own destiny in the Pac-12 North with a game in hand against Oregon (yeah, good luck with that). However, they were in line for a much better season before the Washington and Notre Dame debacles.
Offense and defense -
NCAA Statistical report can be found
here
.
On offense it's all about a power rushing attack, lead by All-America candidate Taylor. They may not get a lot of yards (161 per, good for 65th in the nation), but their manner of gaining them - repeated, straight ahead, and punishing - is like a heavyweight landing body blows. It takes multiple tacklers in the box to bring them down, and as soon as you think you're prepared for it, they pop in a play-action pass to one of their excellent tight ends, and they're in the red zone.
It's an old school , pro style attack. They'll wear you down with efficient physicality that Chuck Knoll would be proud of. Certainly a change from the countless spread variations seen around both the conference and the country.

On defense, they pride themselves in stopping the run. They're second in the country in rushing yards against (65 yards per), which helps their overall defensive numbers (352 total yards, 36th in the nation; 18.6 points per game (20th nationally). They also make a point of getting in the backfield. They're 3rd nationally in sacks (4 per), and 1st in tackles-for-loss (9.5 per).


Star players -

This team is built on a backbone of senior leadership. They are lousy with veterans across the depth chart.
Sr RB
Stepfan Taylor
is the diesel engine powering the running attack in Palo Alto. He has 938 yards and six scores on the season. He won't run away from you, necessarily, but he will definitely run through you if given the chance.
Dude runs like a freight train.
Sr QB
Josh Nunes
was given the task of following up Andrew Luck's bravura act of the past two seasons. He's done solid, but not explosive, work, throwing for slightly over 200 yards per game on 53% passing. His primary targets are the pair of All-America capable tight ends: seniors
Zach Ertz
and
Levine Toilolo
. The pair has combined for 813 yards and six touchdowns.
On defense, the primary leader is SR LB Shayne Skov. He lost most of last season to a
knee injury
, and was
suspended
for a game this year due to a DUI, but the veteran remains a force to be reckoned with.
Skov is a difference maker.
His play is supported by a trio of senior players who all have at least 10 tackles-for-loss on the season: NB
Usua Amanam
, OLB
Trent Murphy
, and DE
Ben Gardner
. They've combined for 16 sacks as well.
Coaching -
Stanford has this penchant for selling coaching titles for big-dollar endowments. In basketball, head coach Johnny Dawkins is officially the "Anne and Tony Joseph Director of Men's Basketball." For football, the head coaching position is officially labeled the "Bradford M. Freeman Director of Football." Not content there, some anonymous donor
gave big money
to tag the offensive coordinator position with the gaudy title of "Andrew Luck Dir. of Offense." I can't wait till they get to the other coaching positions.
I'm exhausted just thinking about his title.
We could do the same here at Colorado, only with more self-aware deprecation. How about "Designated
Dave Logan
Placeholder" for head coach? Possibly "
Markeesha Houston
Administrator of Running Backs?" Wait! I got it! The "
Nathan Maxcey
Coordinator of Recruiting!" ... What, too soon?
Oh, yeah,
David Shaw
. Well, he's not
Jim Harbaugh
, but he has gone 17-5 with the foundation left by the 49ers head coach. He's still putting his stamp on this team, and it'll be interesting to see how the program progresses once Harbaugh's seniors graduate after this season. For the time being, however, Shaw has continued the recent run of strong play in Palo Alto.
Predicition -
The good news is that Stanford is more of a grind-it-out team, meaning that CU could get crushed, but still keep the scoreboard "reasonable."
Maybe a four touchdown spread?
Yeah, I'll go with that
.
Stanford 38 - CU 10
GO BUFFS! ONLY EIGHT MORE DAYS 'TIL BASKETBALL SEASON!