"Jaws dropped and syllables spilled out, to be rearranged into meaningful thoughts at a later date."
(-
Jim Margalus
)
I've struggled since the final moments of the Pac-12 championship game to turn my incoherent syllables of joy into meaningful thought about the state of the program. I guess today is that later date to rearrange them into a cogent narrative...
To whet your appetite, both for this preview, and the forthcoming season, I encourage you to take a look at the wrap-up video from LA, courtesy of BuffVision and RootSports:
Wasn't that fun? Doesn't it make you want to jump up and start singing the fight song right now?
The hoops program is dominating conference opponents, bringing home titles, and representing well in the post-season. The football program... well, that's just better left unsaid. BuffNation, we need to be honest with ourselves: we're a basketball school now.
I can already hear the howling: "
but football brings in more money, and basketball can't even get more than 3,000 fans to attend their season kickoff!"
If it was based on money spent, or other financial factors, even obvious hoops schools like UCLA, Kentucky, and Kansas would have to be considered football schools. Absurd. Football is expensive, and cost is therefore not a fair indicator. As for attendance, I think
3,000 fans at BuffsMadness
was a good start, considering it was the first event of it's kind, it sprung up out of nowhere, and was poorly advertised during the lead-up. No, the difference between
basketball school
and
football school
is all mental.
Seriously, what has dominated your thoughts all summer? I bet a plurality of Buff Nation spent more time daydreaming about Coach Boyle and winning than they did focusing on the football team and negativity. Let me put it another way: collegiate athletics is just a large marketing tool used to make money and sell the academic brand. What do you think is a better way to sell CU right now: Folsom, beautiful as she may be, half-filled with forlorn and bored football fans, or the CEC, jam-packed and simmering with excitement? Saturday's in Folsom, when things are going right, are special beyond description, but those days are five years removed at this point.
Winning is more fun than losing.
I'm not saying the change will be permanent, or even long-lived. Colorado, the state, is, to it's core, a football mad society (much like the rest of the country, for that matter). But, for the time being at least, we're a basketball school. Almost every positive mention of CU athletics for the last three years has come from the basketball side of things, and we need to embrace that fact.
If those of you in the old guard are still up in arms over any hoops junky trying to wrest the football loving mantle from this university, just remember that the children born immediately after the Buffs last bowl victory are sitting in 3rd grade classrooms. Those born after the last hoops post season victory? Well, most of them have still yet to learn to walk. The athletic perception of this school now resides with the fortunes won or lost on Sox Walseth Court.
--
Conference champions, lone Pac-12 team to advance past the opening round of the NCAA Tournament, biggest home court advantage in the West...
The 2011-12 Buffaloes have been labeled by many as the
best team in program history
. That's a lofty standard to live up to. The funny thing is, going into last season, the consensus was that the program was going to take a slight step backward from the Alec Burks lead 2010-11 squad. Instead, the program took a massive, and almost entirely unexpected, leap forward.
Things rarely go according to plan, but that tired old saying can also work to your benefit. Despite losing 75% of offensive production from the previous season, the Buffs turned in a bravura sequel to the joys of 2010-11. They proved countless doubters and pundits wrong, while raising the bar for basketball along the Front Range.
But, it almost never happened.
It's
hard to remember
in the after-glow of a championship, but the Buffs finished 6th in the Pac-12 last season. By the start of March, they were floundering in a sea of bad play, and at risk of slipping out of even the NIT before they took off for LA
"You look back on it and think, 'How the hell did we do that?' We lost three of four games going into [the Pac-12 tournament]," coach Tad Boyle said. "We were going in there seeing if we could beat Utah [in the first round]. Then we got on a roll and our guys started believing." (-link)
Such are the vagaries of March that a starburst 5-game win streak can turn an above-average team into one of the 32-best in the land. The lesson, of course, is that predictions are funny things, just as often wrong as right. You can spend every waking hour looking at statistics and correlating factors, yet still end up miles off base. That won't stop me from trying, however.
How does this team try and advance the program further than the previous two seasons? How does Coach Boyle live up to the expectations that he has worked so hard to create? Is the specter of a backwards step about to become a reality?
In this, the third annual Massive Basketball Preview, I aim to answer those questions, and prime any and all for the upcoming season. I'll break down everything from the players, to the schedule, and the conference at large. You won't find a more exhaustive look at this team anywhere; leaving no stone unturned, this beast lives up to the word massive. I hope you aren't going anywhere for a while...
So, grab a beer, strap in, and
click below for the preview...
THE TEAM
The narrative going into last season revolved around the lack of on-paper experience caused by the departure of 75% of the offense from '10-'11. This season features a similar narrative, albeit slightly tweaked. Almost everyone will admit that the '12-'13 team will be more talented than it's predecessor, but that talent comes at the cost of experience.
Gone is the four-member
senior class
which helped bring home the inaugural Pac-12 title. In their place, a six-member freshman class, which many say is the best in the program's history, steps to the stage. Many of those six will play right away, with upwards of four becoming key contributors by season's end. Still, being true freshman, their lack of experience is destined to define much of the coming season.
Of course, the holdovers from last year's squad are no slouches, either. Included in the mix is a
defensive dynamo
, capable of earning national honors, and a coveted lottery pick in next year's NBA draft, a
pair of sophomore guards
, silky smooth, and ready to take a leap forward, a
bruising international center
, still coming to terms with his capabilities in the wake of a devastating injury, and a
veteran reserve guard
, who must alone carry the burden of senior leadership. They form the core of a team ready to defend their title, and prove that the past two years were no fluke.
Heading the team, of course, is
the local genius
, who's fast approaching near-mythic status amongst his legion of fans. Whether he and his charges can continue the upward swing of Colorado Basketball remains to be seen. However, after two consecutive years of winning basketball, I won't be the one to bet against them.
Guards
- Sabatino Chen, 6-4, 190lbs, Sr from Louisville, CO - #23
The lone senior on the roster, "Super Nin-
Chen
-do" is most prized for his
leadership and experience off-court
. The one-time transfer from Denver is a popular fixture in the locker-room, and both the staff and the team looks to him to set the tone, luscious locks a-flowin', during practice and his few minutes on the court. Sabatino is the hustle guy, the glue guy off the bench; Coach Boyle likens his versatile skills to those of an utility infielder. His minutes could take a hit if freshman guards like Eli Stalzer prove effective early, but will probably be the team's 7th or 8th man this season, if only because Coach Boyle trusts him to be in the right spots.
He wants to be a knock-down shooter,
a la
Levi Knutson in '10-'11, but he hasn't shown that ability in the past. Last year he missed all 11 of his 3-point attempts, and only shot 27% from distance during his 2-year career at DU. He's reportedly been better behind closed doors (he surprised me by hanging in with Askia Booker during the BuffsMadness 3-point shooting contest), but he even failed to hit a single in-game outside shot during the Europe trip. Because of that, I still cringe at the thought of him taking any number of 3-point attempts. I think he'd be best served sticking to what he proved to be good at last season: attacking the rim with his left-handed lay-ups. The southpaw flip catches opponents off guard, and it helped him shoot a team-high 65% from inside the arc in '11-'12.
On the flip side, Knutson had been a woeful shooter for much of his CU career before his breakout senior campaign, so maybe Sabatino is
ready for a similar leap
.
- Andre Roberson, 6-7, 210lbs, Jr from San Antonio, TX - #21 -
('Dre continues to be listed with the guards. He's a forward, and a damn good one, but, for the purposes of this article, I'll include him with the other guards. Just remember, he'll guard, be guarded by, and be projected in the pros as a forward.)
It's been an amazing journey for 'Dre in Boulder. He arrived on campus as a bean-pole freshman with incredible
rebounding skills
, and was the much need 6th man during the Burks/Higgins fueled run to the NIT Final Four in '10-'11. Last year he transformed into an all-around monster, capable of much more than just putting up
amazing
rebound numbers
(near 30% of available defensive rebounds). His offensive game improved, allowing the lanky Texan to average a double-double for the year, while his off-ball defense improved to a terrifying point. When he was denied the Pac-12 defensive POY honor last season (instead going to the good, but not great, Jorge Gutierrez of Cal), many were quick to
point out
the snub.
That journey, however, while fun for us in BuffNation, is quickly drawing to a close; it is widely anticipated that this will be 'Dre's final year as a Buff.
If this is to be Andre's final season in Black and Gold, it's shaping up to be a good one. He's been garnering plenty of preseason
love
, being a
noted
selection
on numerous preseason
watch lists
and all-conference teams, while also being anointed as one of the Pac-12's
best
professional
prospects
.
When I look at 'Dre, I see a Dennis Rodman clone, only with weaker on-ball defensive capabilities, and a stronger offensive game. Dennis was
the
premier defensive player in the NBA for over a decade - a Hall of Fame talent - and I'm not leaping to the conclusion that 'Dre will ever achieve that level. I'm just saying a lot of Roberson's on-court tendancies remind me of 'the Worm.' I grew up watching Rodman toil in a Bulls uniform, and getting to watch him every night was a treat. I can tell you, when 'Dre tip-tip-tip-tips a loose board to himself, it's a chilling reminder to me of the Rodman rebounding special.
Despite 'Dre's massive list of skills and accomplishments, however, there is still room to improve. Surprisingly, his own coach thinks he can
improve his rebounding
. Maybe fundamentally, but 'Dre was already the 2nd best defensive rebounder in the country last year (behind only KU's departed Thomas Robinson),
and I find it hard to believe that 'Dre can improve his glass-cleaning numbers all that much, especially when you consider he's going to have much more competition from his own teammates this season. The kid has high motor, and a fantastic knowledge of the glass. A little refinement is all that's needed to turn him into a terror at the next level.
No, instead I'd like to see improvement in one particular area: free throw shooting. With how much he's relied upon in the offense, he needs to be shooting over 70% from the stripe. As it is, he was only a 61% free throw shooter last season. That improvement alone could add more than a point per game to his averages, and help the Buffs in the W/L column as well.
As for his floor-shooting, I think it's already acceptable for CU's purposes. His set, outside jumper (38% from deep last year, 56% in post season play) isn't prolific, as he only attempted 50 on the season, but it's reliable and getting better. That 18-foot shot is required of power forwards in the pros these days, and 'Dre's is adequate. Add to that his skills at the rim, and it's easy to see why he's a first-round NBA prospect.
Slight him at your peril,
disregard
his numbers if you dare, but 'Dre will be a top candidate for conference MVP come season's end. As the man himself
said
earlier this month: "They (read: doubters) will recognize."
- Jeremy Adams, 6-5, 220lbs, Jr from Madison, MS - #31 -
It's unfortunate that we've yet to see the real Jeremy Adams. Hampered by knee issues,
concussions
, the normal transition issues when transferring into a program, and his
battle
with
diabetes
, Jeremy struggled both last season, and over the summer to
show his full potential
.
The guy is built like a fullback, and he causes immediate matchup issues with his size alone when stepping onto the court. The health is the bitch of it. When I went to practice earlier this summer, he passed me headed to treatment, and has been sidelined from pre-season games and scrimmages alike throughout the offseason.
If healthy
, his ability off the bench will only serve to
make the team better
.
He also may still owe Texas A&M some money:
- Kevin Nelson, 6-2, 175lbs, Jr from Albuquerque, NM - #13 -
The most recent addition to the program, Nelson was added over the summer as a
transfer
from Missouri State University West Plains (Go Grizzlies). He had started his collegiate career at New Mexico, before injuries lead him to the JuCo route. A walk-on reserve, it'll be interesting to see how much run he'll get outside of practice. As a JuCo transfer, he's eligible to play right away. He's also an excellent student, which is what you hope for out of your walk-ons.
- Spencer Dinwiddie, 6-5, 190lbs, So from Woodland Hills, CA - #25 -
best freshman campaigns
in CU history (also,
this
). He lead the Buffs as a freshman in Kenpom's Offensive rating (111.0) via strong freethrow (82%) and 3-point (44%) numbers. In fact, he was one of the best 3-point shooters in the Pac-12, and set CU freshman records for both starts (38) and 3-point shooting. He's got a lot of Cory Higgins in his game, and can fill up the stat sheet.
His shot is soft, his touch deft, and his vision ahead of his years. With the departure of Nate Tomlinson, he'll be transitioning into a more natural point guard role. While he'll be the primary distributor in '12-'13, I hope that doesn't mute his offensive potential. His shot is too good to sink into a completely deferential role.
I
would
like to see him improve his finishing at the rim to open up other areas of his offensive game. He struggled last season inside the arc, only shooting a paltry 38% on 2-point shots. He gained
10 lbs
of muscle over the summer, which should help him bang closer to the rim, and tick that number up a bit.
There has been some talk that Dinwiddie could be on an NBA track, and I can't disagree. Still, he's probably a year or two away from that leap. What should be evident this season, however, is his ascension to an All-Pac-12 level performer.
- Askia Booker, 6-1, 170lbs, So from Los Angeles, CA - #0 -
Along with Dinwiddie, "Ski" enjoyed a strong freshman campaign. He found a comfortable role as CU's 6th man, and he became one of the primary offensive stalwarts towards the end of the year. In fact, Ski and Dinwiddie combined to become the most prolific freshman scoring duo in program history, totaling 677 points. Projecting their production upward after that strong start to their careers is the driving force behind positive predictions for the upcoming season.
Going into last year, ESPN predicted Ski to be the "
incoming sleeper
" for the Pac-12, and he lived up to that billing; he scored nine points per game, and Coach Boyle used him as "instant-offense in a can" to kickstart scoring after sluggish periods. A lot will be asked of him this season, and much of the team's success will
depend
on his ability to
step into
the role of starter/scorer. To that end, I was very pleased to see his workout ethic at practices this summer. I saw him repeatedly stay after practice to work on free throws, jump shot, etc, even when he was exhausted after a long scrimmage. He's becoming a true team leader.
I really like his jump shot, but it is definitely on the streaky side. When he's on, however, as he was
in Albuquerque
, he can carry the team. I perceive him as more of an offensive talent, so it'll be interesting to see if he can develop his on-ball defensive skills when provided with a larger share of available minutes.
- Beau Gamble, 6-0, 180lbs, So from Boulder, CO - #14 -
- Eli Stalzer, 6-3, 185lbs, Fr from Brea, CA - #5 -
-link
)
It's probably best to think of Eli as a Nate Tomlinson replacement, a steady point guard who's adept at guiding the team, rather then creating action for himself. As I was watching summer practice earlier this year, I was continually impressed by his game. He seemed to grasp the transition to college quickly, and all in my group agreed that he seemed to play more like a senior than a freshman. That impression was only reinforced during the European trip, when the French announcing crew couldn't stop praising the mercurial Stalzer. This year, I expect him to carve out a role as a back-up point guard, capable of a solid 5-10 minutes in relief.
I'll admit, when I first heard of Eli's commitment, I was a little confused. At that point, five had already been inked to the 2012 class, and a further scholarship would only take away from options in 2013 (possibly limiting things to as few as one scholarship). As it was, the 2013 class ballooned to three players anyway (more on that later), and Eli emerged as a contributing option. So, Coach Boyle was right, the world is round, yadda yadda...
- Xavier Talton, 6-1, 180lbs, Fr from Sterling, CO - #3 -
Xavier
is the one of the three home grown Colorado talents in the heralded 2012 recruiting class. Along with forwards Josh Scott and Wesley Gordon, Talton won a state title during his high school career, and has proven to be a winner. A gritty guard, I didn't see much out of him when I snooped summer practice, and I can't help but wonder if he's a candidate for a redshirt season to help him develop.
Coach Boyle has described him at times as a jack of all basketball trades, yet master of none.
Forwards/Centers
- Shane Harris-Tunks, 6-11, 250lbs, Jr from Liverpool, Australia - #15 -
is
that masked man!?!
Continuing to bounce back from an
ACL tear
which cost him the entire 2010-11 season, Shane was usually the first forward off the bench last year. The injury has definitely taken a tole, however. His hops aren't as springy, and his speed is curtailed dramatically. Still, he seems good for 15-20 minutes per night, a few buckets, and a different look out of the paint.
His stat line may not impress (2/2 per night), but his minutes spent pushing around the opponent's bigs are vital. With all the incoming talent on the front line, he's also an important mentor for his fellow paint warriors, and he'll have a large leadership role over the next few years.
Health remains a concern. The knee opposite the one from his ACL tear has been giving him trouble. Everything I hear is that he's ready to go, but I need to see him play at full speed first.
- Ben Mills, 7-0, 225lbs, Jr from Hartland, WI - #32 -
For the second straight offseason he was rumored to be transferring out of the program, even being erroneously included on a number of lists of verified transfers. To his credit, the big man is still here, eagerly anticipating his moment, if ever it is to arrive. Unfortunately for Ben and his legion of fans, I think that moment is still more theoretical than practical this season. Frontcourt depth has solidified, and there just doesn't seem to be a lot of extra minutes available. I expect him to spend most of the season as the 10th or 11th option; let's see if he can prove me wrong.
- Josh Scott, 6-10, 215lbs, Fr from Colorado Springs, CO - #40 -
The top-50 talisman at the head of the 2012 freshman class, there's a lot of
weighty expectations
resting on the big man's shoulders. Probably the most highly regarded recruit in the last decade of the program, he is expected to make an immediate impact in the paint, using a
polished offensive game
to become the consistent inside scoring threat the Buffs have lacked since the David Harrison era. Coach Boyle even allowed the name Tim Duncan to be
invoked
when discussing the former Lewis-Palmer star.
Yet, despite all the lofty hype, the
Colorado Gatorade Player of the Year
may be capable of living up to it.
Rough statistical projections
are placing him in the upper echelon of Pac-12 big men, and
Jelly Scott
dominated
during the European pre-season trip, averaging over 17 points per game, leading the team in scoring in four of the five games, and
grabbing
a total of 27 offensive rebounds. Big men often take longer to develop than their guard counterparts, but Scott seems primed to perform from game one.
He's not a complete package yet, with most experts agreeing that he needs to continue to work on improving his
size, strength, and jump shot
, but his
current repertoire
will be a revelation to most CU hoops fans who haven't seen a post player of his caliber in Black-and-Gold for a decade.
- Xavier Johnson, 6-6, 220lbs, Fr from Los Angeles, CA - #2 -
other
top-100 player in the 2012 recruiting class,
Xavier Johnson
seems to be the prototypical Coach Boyle swing forward. Big, athletic, fast, and versatile, Xavier will cause matchup problems all over the court. From what I've seen, he's also a fantastic rebounder (Spencer calls him
'Dre, but stronger
), and could join 'Dre and Josh Scott on the list of multiple double-double entrants. How his perimeter game shakes out is the biggest question I have, and it'll be interesting to see where his shot is when the lights turn on. Also, he struggled a bit with turnovers while on the Europe trip.
In high school he showed a fearless
attitude
when playing
against other greats
in the game,
throwing down
on fools regardless of how high their ranking may be. I love that attitude, and can't wait to see it in effect on the court when running against the numerous flashy freshman around the conference. No fear, because even a little hesitation or softness at the rim will end up like
this
.
- Wesley Gordon, 6-8, 225lbs, Fr from Colorado Springs, CO - #1 -
Wesley
is better known for his defensive abilities. In that way, the pair from Colorado Springs compliment each other, and should work well together on the court. He's got the size to battle Pac-12 big men today, and will be a powerful part of the frontcourt revival at the CEC. With Wes and Josh in the paint,
it's a completely different
style of post play from previous years.
A side note: he was coached at Sierra by former CU assistant Terry Dunn.
- Chris Jenkins, 6-7, 180lbs, Fr from Detroit, MI - #11 -
The
word
on signing day from Coach Boyle was that this kid might become the next Alec Burks. He was overlooked by local schools (who Chris would've jumped at the chance to play for), and has the resulting chip on his shoulder to show them all what they missed. About the chip, Coach Boyle said, "I see that in Chris. He has a fire in his belly, and that will serve him very well throughout his career here."
The swing forward from Detroit has an excellent outside shot, which should develop into a terror in future years. His size combined with athleticism is, again, prototypical of the players Coach Boyle recruits and schemes for.
Head Coach
- Tad Boyle, 49 years old, from Greeley, CO, graduated from Kansas -
I'm not sure what's left to say about the man. Utilizing a system which relies on physical man-to-man defense, and a quick-hitting motion offense, he's hauled in 48 overall wins in two seasons, a 32-4 record at home, the highest rated recruiting class in program history, and the program's first conference title in over 40 years. If any one word defines the still developing Tad Boyle era in Boulder, it's
winner
. That word was once foreign on the south side of campus, but, with the help of Coach Boyle, Colorado basketball fans across the state can hold their heads high.
For almost any other big-6 team in the country, these achievements would seem very pedestrian. From a national perspective, the Buffs have been good, not great, the past two years. But, it all comes down to context. Coach Boyle has made CU basketball seem... legitimate. There are no more snickers when I ask friends if they want to go to a game. The student section is engaged, and vibrant. Season ticket sales are
up dramatically
. On every measurement, Coach Boyle is more superhero than head coach.
The quality of hoops in Boulder is at such a stark contrast to that of previous years, even good ones from the past four decades, that it's hard to believe this is the same program. Part of it is luck (he came along at a perfect time for growth due to facility improvements, and roster potential), and part of it is him being the quality of coach who would usually pass Boulder by.
He, of course, hasn't been doing this alone; Coach Boyle has a great team of assistants who have been tirelessly working to make this whole thing go.
Mike Rohn
and
Jean Prioleau
, who both worked with Boyle at Wichita State in the early 2000s, are excellent assistants, and have both done enough to warrant jobs elsewhere.
Rodney Billups
is a rising star, and
Tom Abatemarco
is an old-guard stalwart whose name brings basketball-lifer gravitas to the staff. That these guys have been together for three years now both informs the program's success, and speaks to the quality of Coach Boyle himself.
So, when do we start building the statue? Maybe more importantly, when is his name going to appear on the court next to that of Sox Walseth? It's a testament to his immediate success, and the paucity of sustained achievement seen previously in the program, that I reflexively link his name with that of the best coach in CU history after only two seasons of work. I'm almost afraid to ask where he can lead this program in future years...
The question then becomes, how many future years are we talking, here? Make some ripples in the pool, and sharks are going to notice. Two Springs ago it was schools like Oklahoma and Texas A&M who were eager to get a piece of the Coach Boyle magic. After a title run and a successful trip to the Dance this past season, even more suitors showed up, more confident than ever that they could woo the Greeley native away from the Front Range. Nebraska
turned up first
, offering piles of red-stained money, and promising a new commitment to hoops. Their feelers were
rejected
almost before they could get the message out. Slightly more worryingly, K-State then
took up the call
, hoping to lure Coach Boyle back to the Sunflower State. Instead, Tad
remained firm
on his
commitment
to live the impossible dream in Boulder.
To this point, about the only Big XII school to
not
ask for Tad's hand is the only one that matters: Kansas. Coach Boyle is a KU grad, and I have no doubt that he'd accept an offer from his
alma mater
. The good news for us in BuffNation is that Bill Self isn't going anywhere, so that job is securely
off
the market. Short of KU, some other power school like UCLA or North Carolina, or someone offering up football-coach-like dollars, I'm confident that Coach Boyle will remain a Buff.
As to the question of money, there is no doubt that the man is underpaid. After post season bonuses, Coach Boyle reeled in a healthy $1 million last season. Large as that pile is, it pales in comparison to fellow members of the Pac-12 coaching fraternity, whom he spent months besting on and off the court; his peers are known to make as much as double his post bonus earnings. Still, I have no doubt that when he asks, Tad will get his payday. For the athletic department to let their crown jewel fly away in the middle of the night, over the petty issue of straight-cash-homey no less, would be a travesty requiring an old-school
Boulder riot
.
Look, athletic directors are always going to look for the next big thing. They're going to jump all over themselves to get at Tad as the program continues to grow. We're just going to have to get used to these stories. Still, even if Coach Boyle were to leave after this season, I'll be more than grateful to the man who has re-invented basketball in the Mountain Time Zone.
Overall
I expect the starting five to look something like this:
Spencer Dinwiddie - PG
Askia Booker - SG
Andre Roberson - G/F
Xavier Johnson - SF/PF
Josh Scott - PF/C
Johnson's spot is a question mark, but his speed and athleticism make that lineup far more interesting than any alternatives. He also rebounds on par with 'Dre, making that lineup damn difficult to score on. His turnover issues concern me, which may make the starting-five volatile in the early going. You could do a version of that starting lineup with Shane Harris-Tunks in XJ's place, but I don't think Coach Boyle will ever go that big, that slow to start a ballgame. Additionally, I've heard some rumblings for Sabatino Chen to slip in, but I think that would be short lived, and an over-reaction to the underclassmen slant of the roster.
In theory, the bench goes 5-deep. Heavy rotation reserves will be SHT and Sabatino Chen; if Chen's shooting has really improved (which I doubt), that role could be bumped significantly in his senior campaign. Jeremy Adams health concerns are too many at this point to accurately project a role for him, but his veteran status probably slots him into a 7th/8th-man role if healthy. 2nd tier freshmen like Wes Gordon and Eli Stalzer, should they prove their reliability early in the season, could see significant playing time as well. The remaining five (Ben Mills, Xavier Talton, Kevin Nelson, Chris Jenkins, and Beau Gamble) should see their spare patches of playing time dwindle as the season progresses towards January.
The team only returns 14.14 of the team's 23.25
win shares
from last season, and that gap will have to be made up by the incoming freshmen class, along with expected improvements from the sophomore guard duo of Dinwiddie and Booker. While it's not necessarily uncommon to see a team rely on this many underclassmen, there will be some stretches this season, probably long ones, where the large size of the freshmen class will be painfully evident.
This team is probably relying on 3-4 of the freshman to make solid contributions right away. To his credit, Coach Boyle understands the risks inherent with playing that many freshman right out of the gate:
"The question is whether we rely on two or three [freshmen], or four or five," Boyle said. "If it's four or five, I feel pretty nervous as a coach." (-link)
I don't know if this team, with so much youth, can break much higher into the upper echelons of the revitalized Pac-12. Growth and development are fickle things, and the true strength of the Pac-12 is still an unknown, but I struggle to see this team relying on freshman for 60 (or more) minutes each night, and still succeeding on the road enough to compete for much higher than 4th. Still, I like the depth and versatility, and there hasn't been this level of
depth and skill in the front court
since the latter stages of the Patton years.
Luckily, the staff has been aggressive with their offseason coaching, using artificial experience to try and combat the lack of on-court exploits. The Europe trip is a great example, but they also recently put the team through the paces of "
the Program.
" Couch Boyle learned about this from mentor Mark Turgeon at Maryland. It's
designed
to
put the players
in uncomfortable positions of exhaustion, and to force them to stretch their physical and leadership boundaries. What a great way to force a young team to grow up quickly.
"One more."
Josh Scott, for his part, won't apologize for the team's
youth
. "We're young, but that's not an excuse. Hopefully, we just go out and play basketball." There will be bumps along the road as those freshman find their respective niches, but I continue to be enthused by the level of talent they bring to the table. I certainly trust the coaching staff to put them in positions to succeed.
Even if the freshman struggle to make an impact immediately, the veteran core of the team is capable enough to carry the weight for a time. Roberson is going to work his magic, probably to the tune of 14/12 per night. Add to that Dinwiddie and Booker combining for 25/8/8 each evening, and that should be enough of a foundation to keep the Buffs bobbing along as the freshman get used to top-flight collegiate hoops.
--
EUROPE TRIP
The wild card in the development schedule of this young team was the team exhibition trip to Europe.
The team finished 2-3 on the trip, losing
both games
in Paris before taking
2-of-3
against lighter competition in Belgium and the Netherlands. The losing record, however, is neither surprising, nor worrying. Coach Boyle was playing around with different lineups and playing styles, even going so far as to give the top-half of the roster the night off against Gembo BBC Borgerhout, and focus on the freshmen and bench players.
On court, there were a few performances that were very promising. Freshman Josh Scott was the team's leading scorer on the trip (17.4 points per), and Andre Roberson had a double-double in three of the four games he played overseas. Of biggest note were the rebounding numbers. In Paris, the Buffs out-rebounded a team featuring NBA power forward Kevin Seraphin 41-27 in the second game, while blitzing Optima Ghent and the Rotterdam Challengers 105-48 on the glass. If those numbers are to be even slightly believed (and certainly they are inflated to some extent), missed shots are going to be mostly Buffalo fast-break opportunities this season.
Some of the young Buffs checking out the sights. Josh Scott is... lurking.
Results aside, the main benefit is the experience gained. Coach Boyle
said it
best after returning from the excursion, "there's no substitute for experience." With the roster relying so much on underclassmen, every minute spent playing in Europe is worth it's weight in gold getting the newcomers and second-year players additional experience. 10 extra practices, 5 extra games, and a month spent
growing closer
as a team. The perfect trip came along at the perfect time for this developing program, and it should make for a large advantage once real games start tipping off.
Of course, CU isn't the only team that will be enjoying that advantage this season. In fact, 10 of the Buffs 23 opponents also went on
foreign trips
over the past few months. Washington St (Australia), Utah (Brazil), CSU (Bahamas), Wyoming (Canada), Kansas (France, Switzerland), College of Charleston (possible opponent, Canada), Arizona (Bahamas), Oregon St (France, Spain), UCLA (China), and Washington (Senegal, Spain, France) all played international basketball this summer, and enjoyed the added practice time.
--
THE SCHEDULE
Non-conference
(The non-conference schedule is presented with links to Blue Ribbon previews for those with ESPN Insider subscriptions)
11/9 -
Wofford College
- Boulder
11/15 -
Dayton
- Charleston, SC
11/16 -
Baylor
/
Boston College
- Charleston, SC
11/16 -
Auburn
/
Charleston
/Murray St/
St. John's
- Charleston, SC
11/25 -
Air Force
- Boulder
11/27 -
Texas Southern
- Boulder
12/1 -
Wyoming
- Laramie, WY
12/5 -
Colorado St
- Boulder
12/8 -
Kansas
- Lawrence, KS
12/12 -
Fresno St
- Fresno, CA
12/21 -
Northern Arizona
- Boulder
12/29 -
Hartford
- Boulder
Last year, the team only left the state of Colorado once prior to conference play (for the San Juan tournament). Not the case this year, as the team will take three true road trips in addition to the Charleston Classic, and play half the non-conference schedule away from the CEC.
Obviously, the highlight is the
Kansas game
, where CU will re-ignite the series with their old Big XII/Big 8 rival. It only recently struck me that sophomore stars
Spencer Dinwiddie
and Askia Booker never got a chance to play in Lawrence. This was a fun series back in the day, and an entirely new generation of Buff stars gets to live it through the grace of a non-conference scheduling contract. CU hasn't won in Lawrence since before I was born (1983), and even with the team as strong as it's been in recent years, they're a long shot to steal one this year. Still, I say it's good to see the Circus Chickens back on the schedule. To win there would be a dream, and one that I wouldn't want to wake up from...
This may be CU's last chance to steal on in Lawrence.
Road trips to Wyoming and Fresno State are also sneaky difficult, and the Charleston Tournament is quietly one of the better holiday tournaments around. Dayton will be a very difficult first-round opponent (although star post player Matt Kavanaugh has been
suspended
for the season), and Baylor looms in the second round should CU beat the Flyers. If there's a Buff fan out there who doesn't want to see Baylor hoisted on it's own petard, I need to meet them, and explain
some
things
.
The home slate is highlighted by an in-state two-step with Air Force and little brother. That CSU game should be especially good; the last two versions of that series have been incredibly close, with the Buffs winning in '10, and CSU surviving a last-second shot to win in '11. The Rams return plenty of starters for newly minted coach Larry Eustachy. The
loss of Jesse Carr
to an ACL tear will hurt them, however. The other home game of note is opening night against Wofford. The SoCon power is a damn difficult small conference school who can cause headaches with their commitment to defense and offensive efficiency.
Of the six home games games, the Buffs should take at least five. I continue to be worried about the CSU game, where the Buffs play a veteran Ram squad, eager to notch a statement road win to elevate their case for a second-consecutive at-large bid. The others, however,
should
be guaranteed wins with the team's swagger at home.
The Buffs will have revenge on the brain during CSU's December trip to Boulder.
As for the games played outside of Boulder, CU should have no trouble winning two of them at minimum. That Charleston tournament, as previously discussed, is a quiet bear of a tourney. CU hasn't done well at holiday tournaments the past few years, only getting one consolation win in each of the last four years, so put me down for only an opening round win over Dayton. (Losing that first game might actually prove to be the better course, as games against Boston College and Charleston/Auburn are more winnable propositions than Baylor and St. John's/Murray St., but life doesn't work that way) The Buffs should be able to win at least one true road game; on paper, the trip to Wyoming would be the easiest.
If you've been counting, that's only seven. An eighth win could then come from the pool of the second two rounds at Charleston, CSU at home, Fresno St. in Fresno, and Kansas in Lawrence. The most likely scenario is beating CSU to sweep the home portion, which would be fine with me. I'd also take a historic upset over Kansas. That win alone could push the Buffs back into the Tournament come March.
So, the target is 8-4 headed into conference play. Considering the youth of the team, and the strength of the schedule, I'd be very happy with that.
--
There's no doubt that the package is a tougher non-conference schedule than we've seen in recent years. Even Coach Boyle
admits
as such, "I wish maybe in retrospect that it was a softer schedule this year for this young group, but we'll see how it goes." But that's not my issue with this schedule. No, if there's any problem that I have with Coach Boyle's scheduling policy, it's that the non-conference schedule still features far too many games with teams typically in the RPI 250+. Besides sometimes being a tough sell at the box office (especially on snowy December nights), they are a lose-lose proposition when considering RPI.
This
recent article from Sports Illustrated does a particularly good job underscoring the point: "It's almost always better to play a mid-major that'll go on to have 20-plus wins than it is a cupcake mid- or low-major, or a basement-dweller from a major conference." If the Pitt portion of that article is to believed, it'll even save the program some money. If you want to see how this problem can kill an at-large resume, just look back to the 2010-11 season where games against RPI killers Texas-Pan American, The Citadel, Longwood, and Maryland Eastern Shore butchered the RPI, and left the Buffs on the outside of the Committee's plans.
TSU, again?
Especially considering Pac-12 play produced two of these teams last year (Utah and USC) it's important to build out the schedule in such a way that RPI is boosted by CU's non-conference schedule, rather than hindered by it. Adding the series against Kansas is a great start, and recent SoCon power Wofford certainly fits the bill, but the Northern Arizona, Hartford, and especially Texas Southern games are RPI anchors. CU could still put easy wins on the December schedule without those RPI killers. Hell, it's probably better to schedule a D-II school (like CU did with Ft Lewis last season), than repeatedly schedule a D-I dreg like TSU.
--
Conference
1/3 - Arizona - Tucson, AZ
1/6 - Arizona St - Tempe, AZ
1/10 - USC - Boulder
1/12 - UCLA - Boulder
1/16 - Washington - Seattle, WA
1/19 - Washington St - Pullman, WA
1/24 - Stanford - Boulder
1/27 - Cal - Boulder
2/2 - Utah - Salt Lake City, UT
2/7 - Oregon - Eugene, OR
2/10 - Oregon St - Corvallis, OR
2/14 - Arizona - Boulder
2/16 - Arizona St - Boulder
2/21 - Utah - Boulder
2/27 - Stanford - Palo Alto, CA
3/2 - Cal - Berkeley, CA
3/7 - Oregon - Boulder
3/9 - Oregon St - Boulder
3/13-17 - Pac-12 Tournament - Las Vegas, NV
Last season's conference schedule was one the team could ease into as they started with three home games, including one against that woeful Utah squad. This season's conference slate isn't as comforting. The Pac-12 saw fit to schedule the Buffs a championship game re-match with Arizona,
in Tucson
, to start the year. Woof, thank you very much.
The easy thing to note is that CU doesn't have to make return trips to the LA schools. Having UCLA, and to a lesser extent USC, in Boulder this season will be a fun treat. Conversely, the Buffs only play the Washington schools on the road. That trip to the Apple State is one of the most difficult travel-partner swings in the conference, and can't be taken lightly. CU got off easy last year not having to make the swing, and it'll be interesting to see how the young roster handles it.
This will be CU's first trip to Alaska Airlines Arena.
I can't conceive of a situation where the Buffs don't win at least six games at home, and there are four strong road pickup opportunities (@ASU, @WSU, @Utah, and @OSU) that CU can easily take at least three from. Nine wins and a .500 record is essentially the worst-case scenario. Wins after that are what separate a third straight post-season run from a mid-table disappointment. Upsets at home of preseason favorites UCLA and Arizona would go a long way here.
The Buffs spent much of the last season's final weeks away from the CEC, playing five of the final seven conference games on the road. Flip that script in 2013, as CU will enjoy friendly confines down the stretch. This is probably a situation where the Buffs can reel off a 5-2, or 6-1 record to close out the season. If the Buffs are still in contention for the league title come the middle of February, that'll be a big boost to a title run. Conversely, if the Buffs struggle early, that final stretch at home could salvage a respectable seed in the conference tournament.
That 11-7 record from last season actually sounds pretty good considering the youthful slant to the roster. Put me down for 11 wins, with a strong finish possibly opening things up for a 12th. Add it up, and I'm looking for 19-20 regular season wins, on par with what we've seen the last two seasons.
--
THE PAC-12
As I noted
last year
, the Pac-12 has often slipped behind it's peers, allowing groups like the Atlantic-10 and the Mountain West to jump into the top-6. 2011-12 was even worse. The league finished
10th
in
conference RPI
, coming in behind not only the A-10 and MWC, but the C-USA and Missouri Valley as well. Kenpom was slightly kinder, placing the Pac-12
7th
, actually ahead of the vaunted MWC.
There's just no denying that the Pac-12 was terrible last year. The regular season champ, Washington, wasn't even worthy of an at-large bid to the Dance. Additionally, while the conference was saved the embarrassment of being a one-bid league, the lone at-large pick, Cal, was summarily bounced from the Tournament with little difficulty by the abhorrently boring South Florida Bulls. In a damn play-in game, no less.
The Buffs, via winning the first round game over UNLV, saved the Pac-12 a lot of face. I'd even go so far as to say that the other 11 schools owe the Buffs a debt of gratitude. I would never suggest that they lay down for CU in a game, but I bet the AD would take compensation in the form of straight-cash-homie. (Arizona, UCLA, Washington, etc, please make your checks out to "The Tad Boyle is Awesome Fund," C/O the CU Athletic Department.)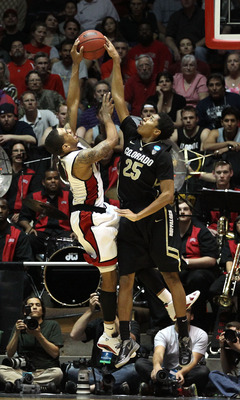 You're welcome.
This season, the Pac-12 needs to bounce back and prove that it's still a respectable power conference. Traditional conference powers like UCLA and Arizona
need
to
reassert
themselves, and the dumpster fire at the bottom of the table needs to sit-up, and stop drooling on itself (looking at you, Utah and USC). The problem last season was the felt effects of a talent drain, where injuries, transfers, and early jumps to the NBA piled up to leave the conference undermanned. That won't be the case this season, as CU isn't alone in claiming a nice
influx
of quality young
talent
. This is especially true with league giants Arizona and UCLA, where top-5 recruiting classes have everyone thinking their Tournament drought will be short-lived.
I expect the Pac-12 will be "back" this year. I'm talking four-to-five bids back. Arizona and UCLA should make for a young, yet explosive 1-2 punch at the top, with strong squads from CU, Stanford, Cal, and USC (yes, USC) fighting for the final two bye slots in Vegas, and at-large Tournament consideration.
What really jumps out at me is the large number of Pac-12 teams who traveled abroad this summer. Seven of the 12 league members broke out their passports, making this a battle-tested league before the season even starts. UCLA,
especially
, seemed to take full advantage of the time, which is probably for the best considering how disastrously last year went for them. If the Pac-12 does indeed enjoy a resurgence this season, it might be worthwhile to look back on these international trips, and the resulting extra practice time, as a supporting cause.
(The conference breakdown is presented with links to Blue Ribbon previews for those with ESPN Insider subscriptions)
- Arizona -
Alphabetically and qualitatively, the Wildcats sit atop the vast majority of Pac-12 Preseason prospectuses. They are projected to be among the top of the conference, and with good reason. In the wake of a bitter trip to the NIT, they've re-loaded with a top-5 recruiting class, containing five players from among the top-50 in the nation. Throw them in with star returners Nick Johnson, Mark Lyons and Solomon Hill, and the Wildcats are poised to make a run for the Pac-12 title.
I know the 'Cats are still bitter over the Pac-12 title game.
Interestingly enough, Coach Sean Miller has already gone ahead and used all 10 of his timeouts afforded to him for the two UofA/CU games this season before the start of November. Interesting strategy. I would probably have saved some for key points in the ballgame, perhaps when you need to setup your offense for a
last-second shot attempt
, but then again I'm not a head coach. Let's see how this strategy plays out for him...
- Arizona State -
Normally pedestrian ASU head man Herb Sendek apparently wants to let his horses out of the barn, and see if they can run a little bit. I remember when Coach Bzdelik, also a utilizer of the Princeton offense, said the same thing. The results weren't much different than previous years.
For his sake, Sendek better hope something is different from the past two years, where problems on and off court allowed the Sun Devils to spiral into a combined 10-26 record in Pac-12 play. The late arrival of electric point guard Jahii Carson should help. He didn't qualify last season, which greatly hurt the ASU backcourt. I'm not convinced about his support, however, and I pick them to finish towards the bottom of the table as a result.
- Cal -
Senior-laden and experienced last season, the Golden Bears were the sexy pick to win a depleted Pac-12. They stumbled down the stretch, however, losing four of their last five, including an embarrassing showing against South Florida in the Tournament.
The opportunity of last season wasted, the current reality is less than fulfilling. Jorge Gutierrez is gone, the
furry-browed
Harper Kamp is gone, and the rest of the conference is poised to pass them by. I really like the backcourt duo of Allen Crabbe and Justin Cobbs, Richard Solomon should have a nice break-out season, and one-time CU recruiting target Ty Wallace could be a nice player for the Bears off the bench, but the rest just doesn't ruffle my feathers.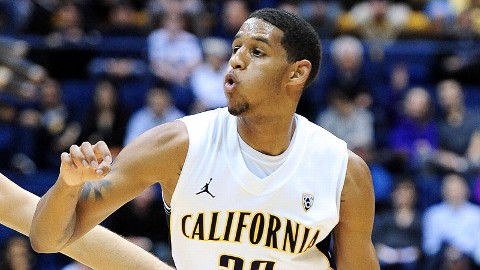 Crabbe is legit.
I'm probably under-selling them, but I just don't see them ending up above the Buffs in the final standings.
- Oregon -
I still really like Oregon, but they no longer have a world-beater in Devoe Joseph who can change games all by himself. It also doesn't help that three-fifths of their '11 recruiting class has already left the program. Dana Altman is a fantastic coach, and deserves better.
E.J. Singler is going to have to be the whole show, and I don't think he's that kind of talent. They could still finish in the top-half, but not much higher.
- Oregon State -
The First Brother-in-Law continues to toil in Corvallis, but I'm not sold on the Beavers at any level. The 1-3-1 trap zone, the knuckleball of basketball defenses, isn't made for title pursuit, and the departure of All-Pac-12 performer Jared Cunningham leaves the cupboard mostly bare of star talent.
They do, however, have some nice veteran depth, capable of running multiple 6-10 players at you at any moment, and Devon Collier should have a nice season. If Ahmad Starks, who killed the Buffs last March, continues to shoot lights out, they can cause major headaches, but even an eye-popping season from him probably won't be enough to get them much higher than 7th.
- Stanford -
If you were at the Stanford/CU game at the CEC last year, I'm betting you still have nightmares from the 24-point blowout. The Anne and Tony Joseph Director of Men's Basketball, Johnny Dawkins, must have some Tad Boyle kryptonite hidden somewhere, because the Buffs had no answer for the Trees last season. They beat CU at every phase of the game for all 80 minutes played against them in 2012, and I'm doubting things will be much different this go-around.
*expletive deleted*
The defending NIT champions return all but one of their top scorers from last season, and are anchored by the strong play of sophomore guard Chasson Randle. The Johnny Dawkins era may be drawing to a close if he can't make the most of this group, but I think he'll have them in the Tournament after a strong top-quarter conference finish.
- UCLA -
As UCLA goes, so does the Pac-12, or at least so goes the thinking.
Last year was a disaster for the Bruins, and the national perception of the conference followed. Assumed star forward Reeves Nelson turned out to be a clubhouse cancer, and a March
story from SI
only made public the deterioration within the once-proud UCLA program. An ugly situation made uglier.
The hope is that the
#1 recruiting class
will combine with strong returners, like Tyler Lamb (who's fighting a preseason
injury
) and the Wear twins, to let Coach Ben Howland purge quickly, and move on from last year's mess. Even that isn't a given, as prize recruits Kyle Anderson and Shabazz Muhammad have been hit with
eligibility issues
. Still, even if the NCAA finds fault, they probably
won't miss the full season
.
Assuming he sees the floor, Muhammad will be a difference maker.
Coach Ben Howland once lead the Bruins to three-straight Final Four appearances. As much as
Bruins Nation
may hate him, he didn't forget how to coach. A season free of distractions, played back at home in
Pauley Pavillion
, should help get the ship righted, and the Bruins back into respectability. Assuming Anderson and Muhammad are available by at least the start of conference play, I'll take UCLA to win the regular season conference title.
- USC -
What goes down must come up?
Bombarded with injuries and transfers, the 2011-12 iteration of USC basketball did a great disservice to the beautiful arena they played their home games in. By far the worst major-conference team last year, they couldn't shoot, rebound, or pass. In fact, the Trojans failed to score at least 50 points a shocking total of 13 times last year, and possessed essentially the worst offense in all of college basketball. Excuses, legitimate ones, abound, but the fact of that turd of a season still haunts the rafters at the Galen Center.
I know the team suffered from some massive roster issues, but coach Kevin O'Neill must come up with
something
this season to survive life after the 6-26 slog. The good news for Trojan faithful is that the '12-'13 USC squad will bare almost no resemblance to that disaster of a team from last season. Jio Fontan, Dewayne Dedmon, Aaron Fuller are all recovered from season-ending injuries. Ari Stewart (Wake Forest), Eric Wise (UC-Irvine), JT Terrell (Wake Forest), and Renaldo Woolridge (Tennessee) will be newly available after clearing transfer restrictions. Add it all up, and USC has the talent to rebound from 6-26 to find themselves in the top-half of the league.
- Utah -
Speaking of bad basketball
... The rough basketball equivalent of Colorado football, the Ute program, once a proud regional power, has been reduced to rubble. When watching them last year, I often wondered if they were pulling a practical joke on the world.
This can't really be Utah, right? This is Utah Valley in the wrong uniforms, it has to be...
Coach Larry Krystkowiak managed to squeeze some effort from them a few times - they did manage to win three conference games last season, afterall
-
but, barely avoiding the conference's basement was about the only thing they accomplished in 2011-12.
2012-13 doesn't hold much more promise. They're not going to be the pushover they were last season, but I don't expect them to break out of the bottom quarter of the league. Just, please, stay out of the RPI 250+!
- Washington -
The '11-'12 Huskies will be a trivia answer in future years. They won the regular season title, sent two guys to the NBA, and still missed the Tournament. Trying to rebound from the snub, they're
installing a new offense
, and trying to build around returning veterans Abdul Gaddy (solid point guard), C.J. Wilcox (great outside shooter), and Aziz N'Diaye (big interior presence).
Gaddy will be integral to the Huskies this year.
The loss of Tony Wroten and Terrance Ross
to the NBA
will hurt, as will the
non-arrival
of JuCo superstar Mark McLaughlin. As a result, I'm expecting a step back from the Huskies. With teams like with USC and Stanford poised for a jump, it'll probably be at Washington's expense.
Poor WSU. They were going to be a dark-horse team for top-half consideration after last season, then off-season attrition hit. Neither member of their strong freshman class
made it into
to WSU, and star guard Reggie Moore was
dissmissed
from the program.
The losses leave the outlook in the Palouse "
bleak.
" As a result, even with the excellent Brock Motum patrolling the paint, they're on a course for the bottom quarter of the conference.
--
FACILITIES AND RECRUITING
Compared to the highs of the past few seasons, it's amazing to think back only a few short years to the end of the Patton era, and remember where the program was.
CU had a former football star as a color analyst on hoops broadcasts (Charles Johnson)
Players often had to practice at local high school and middle school gyms when the CEC was otherwise being used for academics or other winter sports.
Coaches offices were in the football stadium, requiring a snowy trudge to and from Folsom during the winter months.
Video boards at the CEC were so antiquated that the thought of seeing a replay in-stadium was laughable.
That's the definition of a football school, if I've ever seen one. Seeing the program in such a state, Athletic Director Mike Bohn went about injecting steroids into the historically below-average program. Through five years of fundraising and departmental focus, the program has enjoyed the following improvements:
A dedicated practice facility built at stadium. This has allowed players to practice on their schedule, while keeping all teams on campus. It has also helped facilitate an immediate boost to recruiting, even before completion.
New coaching offices were constructed at the CEC.
Dedicated strength and conditioning facilities were built at Coors, along with upgrades to the old locker rooms.
New video and ribbon boards were installed, making in-game experience better for the fans.
The student section was moved to a more logical location, allowing them to become more involved in the home atmosphere. Additionally, money and institutional support had helped build a long-term organization.
The basketball band now has a dedicated director (formerly handled by disinterested TA's).
Everything has improved in the basketball program. Attitude, on-court competitiveness, recruiting, game-day atmosphere, long-term sustainability... you name it, and it's seen an upgrade over the past half-decade. And the total cost to improve the program? Around $25 million in new outlays, which service three different programs (men's and women's basketball, along with volleyball). By comparison, the proposals to improve the football program have been well north of the
$200 million range
, and could still take a decade to bear fruit.
Just look at the recent implementation of HD video boards at Folsom. They cost
$7 million
to install, and some fans are still complaining about the size (for the record, I think they look great). By comparison, the entire cost of building the new practice facility at the CEC was slightly less than
$11 million
.
Looks pretty badass for $11 million.
God, I love basketball.
That investment has paid immediate dividends for the program, especially in terms of recruiting. It doesn't give the Buffs an advantage,
per se
, but it definitely levels the playing field, allowing CU's other advantages a chance to sway recruits. Without these program upgrades
in addition
to the success on-court, I find it hard to believe that Coach Boyle is still able to pull off this year's lauded 6-man freshman class.
For next year, Coach Boyle has already earned the commitments of three players. Maybe not the flashy haul of last year, they are still very good recruits of a caliber commensurate with the Buffs newly-created elevated stature.
Probably the plum of the class, point guard
Jaron Hopkins
has great size and
plus athleticism
. He's been ranked on the fringes of the top-100 by rivals.com, and received interest from fellow Pac-12 members Arizona, Oregon St, and Washington St. Coach Boyle and staff went into Arizona to land this kid, and he seemed to be their most sought after target. ESPN worries about his
tendency
to over-handle the ball.
Dustin Thomas
will come to CU as an under-evaluated tweener forward from Texas. Sound familiar? It should, because that was Andre Roberson's narrative when Coach Abatemarco suggested that Coach Boyle give him a look. Probably most intriguing aspect of his game is his 3-point shooting, where he hit 48% as a junior.
The final member of the 2013 class,
Tre'Shaun Lexing
appears to be the prototypical wing that Coach Boyle looks for. Tweener size,
plus athleticism
, and the ability to play multiple positions. Much of scouting concern revolves on turnover issues, but he will probably enjoy some time to develop, as he is not projected to be depended upon immediately.
Technically, CU only has one scholarship to offer for next season, as senior Sabatino Chen is the only scholarship scheduled to open up. However, if you read between the lines, more should be available. The possibility that Andre Roberson will jump early to the NBA seems like the most likely route to an available scholarship. After that, I could see the third slot opening up via either a transfer, or a medical retirement. There are a few possibilities for both. As a result, I don't doubt for a minute that all three members of the 2013 will have the spots offered to them.
--
CONCLUSION
I'm a little worried that everyone may panic after a rough start, forgetting that it's normal for a Tad Boyle team to start slow, and steadily improve throughout the season. Therefore, to ensure everyone is duly prepared, I've created the 2012-13 CU fanbase pledge.
*ahem*
Repeat after me:
I, (state your name), will not get discouraged should this team lose early season games to quality opponents. I realize that basketball is not football, and that a few early losses are not disqualifying events. I will continue to stay positive, even if this teams enters finals break at 5-5. I believe in all that is Tad, and will continue to pack the CEC, regardless of how the KU and CSU games go.
Also, fuck Baylor.
--
Repeatedly over the offseason Boyle has tried to
pump the brakes
, reminding everyone about how young the team is, how difficult the schedule is, and that the expectations may be ahead of development. He's trying to keep things reasonable because expectation is the root of all heartache. It's going to be easy for this team to under-preform what is now expected of them, and that may make it all the more painful since we know what this program is capable of.
It used to be easy for the Buffs to beat expectations. Pundits would pick them in the bottom quarter of the league, they'd play all season with a chip on their shoulders, and a 6th place finish would be seen as a gift from God. Now, for the first time since Coach Boyle stepped on campus, the Buffs are going to feel the weight of expectations. It's simply the price you pay for claiming a conference championship and a top-25 recruiting class. The fanbase now expects a certain level of excellence: compete in the Pac-12, win almost every game played in Boulder, and make the post-season in some form. Anything short of that will be seen like a massive disappointment...
... which is weird, because, outside of Boulder, expectations for this program are still relatively low. During his media day press conference, Coach Boyle emphasized this by saying:
"All we've done is open some eyes. They (opponents, particularly the Pac-12) are not going to fear Colorado basketball for what we've done. We've got more to do."
Or, as Darth Vader would put it, "The Force is with you, but you are not a Jedi yet."
This program has shown a lot of promise over the last two seasons. It's a program on the rise; currently in the top-75 of the nation, with the potential to grown into the top-50. It's strengths are shot percentage defense, rebounding margin, and attacking the rim on both sides of the ball. It also enjoys one of the best home court advantages in the region. Those are identities you can build on, win championships on. But they aren't
there
yet.
While the past two years have been non-stop fun, the results have been, from a national picture, simply "above average." Progress needs to continue to make this something more than an aberrant flirt with success. The program needs to grow to the point that a trip to the NCAA Tournament is no longer an abnormality.
That doesn't mean they have to make the Tournament again this year. Even with the young roster and the difficult schedule, there is a doable path to 18-20 wins. I think that will be good enough to keep the progress ball moving forward. Expectations may be ahead of current on-court performance, but this team will get better as the year progresses. The talent on this team is impressive, and it will shine if given the chance.
The nut of this season will be built around whether Coach Boyle can harness that talent. After all we've seen the last two years, is anyone really going to flat-out say they can't beat expectations? I'm not.
The season starts next week. I can't wait.
In summation, Tad Boyle is awesome.
- Fin -