You may not have ever heard of it, but the Buffs are wrapping up something called the
Global Sports Main Event
this evening. A series of games played between Colorado, Wyoming, Arkansas St, Jackson St, and Tennessee-Martin, feel free to look at the GSME as glorified schedule filler; it's primary importance being a few guaranteed wins, and some extra home dates.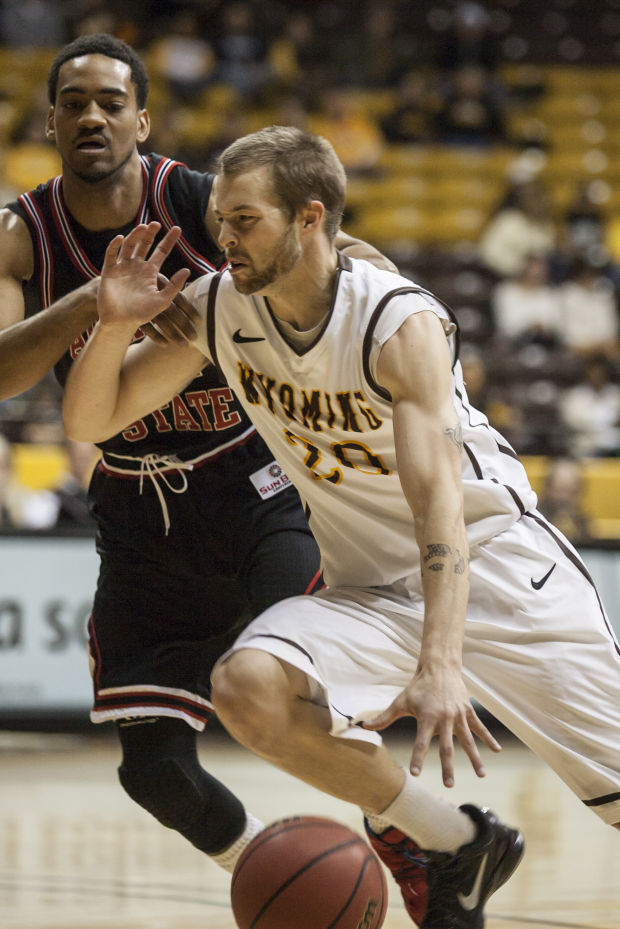 The Red Wolves and Cowboys - just two of the teams in the GSME.
Not that you should care - hell, even I barely care - but the Buffs could clinch the round-robin tournament title this evening with a win over the Arkansas State Red Wolves. That should be expected, however, and I doubt there's even a trophy to display in the coaches office. I certainly hope there's not a trophy...
Anyways, on to those Red Wolves. Despite a solid 19-12 campaign, the reigning champions of the Sun Belt - West were not granted the opportunity to play post-season basketball. (The disadvantages of playing small conference basketball in practice.) Undeterred, they've reloaded with four senior transfers to challenge for a spot in some form of post-season play. They're deeper now, and are the best of the three teams CU will face in the GSME.
As opposed to some of the more guard-oriented teams the Buffs have played over the past week, Arkansas St has most of their talent up front. Wiry swing-forward
Melvin Johnson III
pairs nicely with lanky center
Kirk Van Slyke
and bulky power forward
Kendrick Washington
. All three are senior transfers, and have added about 38 ppg, and 15 rebounds to the roster. Johnson, a 6-6 transfer from UTSA, is a deadly three point threat, who has made 8-15 on the season, including 4-8 up in Laramie over the weekend. Van Slyke, a 6-10 transfer from Houston, is another shooter, so don't let his 6-10 frame fool you. Washington, also from Houston, is the team's best rebounder at 6-7, 255, but not much of an offensive piece.
Johnson, the transfer from UTSA, is a legit shooter.
They're lead in the backcourt by another transfer,
Brandon Reed
. Originally the Sun Belt freshman of the year in '09-'10 with the Red Wolves, he tried his hand at power conference ball with Georgia Tech before deciding to finish his career back in Jonesboro. He's joined at the back by 6-0 sophomore
Cameron Golden
, who bucks the trend by being a completely homegrown talent.
All told, these guys like to live outside. They've tried over 40% of their shot attempts from long range, which should worry BuffNation, as the close-out man-to-man the Buffs utilize has been late in getting to shooters on the year. CU is at their best when they simply don't allow the shooter to get their hands on the ball, and I'd love to see Dinwiddie, who is great at ball-denial, get tasked with Melvin Johnson to mute him before he can go off. It'll probably be Xavier Johnson, assuming he's healthy, with the Mayor on Reed, but my point stands - Spencer is the best option to cancel out a great shooter like Johnson.
Assuming whoever guards Melvin Johnson keeps him quiet, Colorado should have an easy go of it tonight. If he does get hot, things could get dicey...
Texas Southern dicey
. Still, I like CU to win, regardless. At the very least, the Buffs are more dynamic on offense this season, and should be strong enough to overcome a good night from an opponent like Arkansas St.
Tip-off from the CEC is set for 7pm this evening. Television coverage is on Pac-12 Networks, with the radio call on 850 KOA. If you have a ticket, but say you'd rather stay home and watch whatever lousy football game is on ESPN, I will come to your house an hurl things at you.
GO BUFFS! PROVE ME RIGHT, AND BEAT THE RED WOLVES!