This is it, we've reached the end. Farewell football season.
If you absolutely need an answer to the question 'was this season successful,' even before the final game is played, I think I can safely answer 'yes.' Going back to my
2013 wishlist
post from August, you'll find the team has already checked off four of the six boxes, with a solid chance of seeing a fifth when Paul Richardson is drafted in at least the third round of the upcoming NFL draft. Progress on the sixth, the facilities project is still nebulous (though I've heard some positive whispers), but the key thing to focus on is that the team
on the field
met or exceeded every expectation.
While the Buffs never beat a team they weren't supposed to, they are at least finding wins against those they should beat. A step forward from years past. If they pull an upset this Saturday in Utah, I'll give the year a solid B+. If not, I'll leave it a B, and happily forget about football till late July.
--
Kickoff from
Rice-Eccles Stadium
in Salt Lake City is set for high noon on Saturday. You can catch the action on Pac-12 Networks, with the radio call on 850 KOA. Feel free to throw yourself into the game as you would normally, but, remember, the CU/Air Force basketball game tips at 2pm... plan your exit strategy accordingly.
Click below for the preview...
When last we met -
The Buffs limped into the final game of the 2012 season already carrying the burden of one of the worst records in program history. With that in mind, few had any hopes for their effort against regional rival Utah - I certainly had long since
checked out
. Weirdly, however, the Buffs girded up their loins for a pretty good showing against the Utes. Unlike previous games against Pac-12 opponents, the Colorado offense was able to move the ball (418 yards), the defense was far less sieve-like than normal (336 yards), and the Buffs enjoyed, and even extended a lead for the first time all season.
What's this? Scoring? Touchdowns? From the Buffs? Wonders never cease. From: the BDC.
It all started with a pretty damn entertaining first quarter, which saw the teams trade scoring blows. Into the second, the Utes seemed poised to walk away, as they turned a Nick Hirschman interception (one of four on the day) into a Kelvin York touchdown run to open up a 17-7 lead with just under four minutes to play in the first half. Undeterred, the Buffs responded with a beautiful 11-play, 78 yard scoring drive of their own, culminating in a Hirschman plunge at the goal line. Colorado was alive, although still down 17-14 at the break.
In the second half, the Buffs started with one of their best quarters of the season. After a Utah field goal on their opening possession, CU would score 14 unanswered points to take a 28-20 lead. The event was semi-miraculous. The Utes would respond, however, scoring on a 75-yard drive that spanned into the 4th quarter, and then capitalizing on yet another Hirschman interception to take a 35-28 lead with just under nine minutes to play. Colorado wasn't yet out of the fight, as returner Marques Mosley sent up a lightning bolt 100-yard touchdown return to tie the score at 35. With Folsom rocking, even this battered soul was starting to believe that the Buffs were capable of claiming victory.
One last heartbeat before the fall. From: the BDC
Unfortunately, the heroics from Mosley weren't enough, as the CU special teams provided an immediate let down by parting the black sea for Utah's Reggie Dunn. His 100-yard kick off return for touchdown erased Moseley's, and were the final points scored on the day. The Buffs headed home, losers once again, this time by the score of
42-35
.
Ballgame.
Of course, after the game, the only news that anyone focused on was that head coach Jon Embree
had been fired
. The decision had been made prior to the game, despite
insinuations
that Embree had been granted a third season, so no amount of senior day magic was ever going to save the CU legend from the axe. So ended the disastrous 2012 campaign - on a sour note and a clean wipe of the coaching staff.
The Utes in 2013 -
After a perfect run through their non-conference slate - including an important rivalry
win over BYU
(their fifth in six years) on the eve of a hiatus for the
Holy War
- Utah has been battered in Pac-12 play. They've lost seven of eight, including an
ugly one
last weekend at Washington St. The thing is, I don't really blame them for many of the losses. What, are they supposed to go on the road and beat teams like Arizona, USC, and Oregon? I don't think so; they never claimed to be that good. Still, those seven losses mean a second-straight bowl season spent at home for the Utah program.
Defying logic, their lone win against a conference foe came in week six
against
the then-5th-ranked Stanford Cardinal. I guess, if you're only going to have one win, you might as well make it a big one. Behind a heroic day from QB Travis Wilson, the Utes stunned the Cardinal with a last second field goal. A fleeting bright spot in an otherwise forgettable year.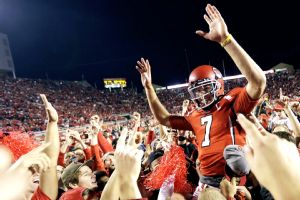 How they beat Stanford, but lose to Wazzou is beyond me.
Statistically, there's a lot of *meh* on their
stat sheet
. 70th in total offense, 67th in total defense; they're neither awful nor fantastic at anything. If you are looking for a nit to pick, how about their run/pass defensive split? They're 23rd nationally in run defense (only 138 yards per game, including only 145 given up to the always ground-centric Oregon Ducks), but 106th against the pass (267 yards per game). Accordingly, don't expect to see CU runners get much on Saturday (101st nationally), but it wouldn't be out of the norm for P-Rich to get loose one last time in a Colorado uniform.
Star Players -
Utah was dealt a blow when it was announced that QB
Travis Wilson
, the hero of the Stanford win, was out for the rest of the season, and possibly
more
, with a
concussion
. The sophomore from California was diagnosed with a rare disorder that puts his continuing career in doubt. It would the second time
in as many years
that the Utes have lost a program-defining quarterback prematurely.
The Utes miss Wilson greatly.
In his place, Utah has turned to sophomore
Adam Schulz
. The Wisconsin native has made the last two starts, including a slightly impressive 347 yard, three touchdown performance last week at Washington St. The down side? He's prone to the interception (5-to-4 TD-to-INT ratio), and is far from accurate (under 50% passing since taking the reins).
The Utes lost more than just a passer when Wilson was ruled out. He is still the team's second-leading rusher despite missing the last two games. Sophomore
Bubba Poole
is Utah's best true running back, but hasn't been all that explosive this season, only rushing for 606 yards and two scores through 11 games. He splits time with senior
Kelvin York
.
Poole should continue to develop into a nice runner in the future.
Out on the edge, the Ute's brightest star is undoubtedly
Dres Anderson
. The 6-1 junior from Riverside, CA is closing in on a 1,000 yard season, and leads the team in touchdowns scored (seven). Senior
Sean Fitzgerald
is another solid target for Schulz, and has five scores on the year.
Anderson is a legit threat.
The leader on defense is hybrid linebacker
Trevor Reilly
. A 6-5 senior from California, Reilly leads the Utes in tackles, tackles for loss, sacks, and fumble recoveries. Also staring on defense is the coach's nephew, linebacker
Jason Whittingham
, and defensive back
Keith McGill
.
Coaching -
2013 was Kyle Whittingham's ninth season as head coach in Salt Lake City. After taking over for Urban Meyer after the '05 Fiesta Bowl, he lead the Utes through their final years in the Mountain West, forging them into a non-BCS power that averaged 9.5 wins per year from '05 through '10, including a perfect 13-0 run in 2008. None too shabby, especially when you consider the Utes went 5-1 in Bowl games over that span.
Whittingham has a long history in SLC, but could time be running out after another rough season?
Since joining the Pac-12, however, the Utes have slowly been getting worse under Whittingham. After a solid 2011 campaign, which ended with a humiliating loss at home to Colorado that cost them an appearance in the inaugural Pac-12 title game, they've slipped to 3-6, and now 1-7 in conference play. A loss this Saturday would doom them to last in the Pac-12 South, and seriously heat up the seat under the long-time head Ute.
At least he's still beating BYU,
amirite
?
Prediction -
(My record on the season: 11-0. Against the spread: 5-5. Optimistic/pessimistic: CU +1.9 pts/gm)

Lines as of Tuesday @ 7pm - CU +17, M/L +500, O/U 56.5
Games like last week are why I could never be a long-term gambler. I had the game pegged, with USC rolling before the Buffs scored 22 fourth quarter points to pull off the cover. Cool, and all, for the players, but a lost bet for yours truly...
if
I illegally bet on sports, that is, which of course I don't (*cough*).
Does anyone else think -17 is a little high for a team like Utah? Yes, it's at SLC, and yes the Buffs are far from good, but the Utes have been bad recently, and they're without their starting QB. CU may not win, but I have to think they'll cover 17 points. Give me the Buffs one last time before I forget football exists for eight months.
Utah 31 - CU 17
GO BUFFS! PROVE ME WRONG, AND BEAT THE UTES!