"This is the fast lane, folks...and some of us like it here." - Hunter S. Thompson
It's been too long since our local heroes, the University of Colorado men's basketball team, took the court in anger. 288 days have passed since CU walked away from the NCAA Tournament in Austin, Texas, having suffered a fatal blow from the University of Illinois. A bitter end to a season spent dealing with growing pains.
2012-13 was, by all rights, a phenomenal year in the history of Colorado Basketball.
The Buffs finished 21-12, earning an at-large bid to the NCAA Tournament for the first time in a decade. Buoyed by a strong opening run to non-conference play, they claimed a
number
of
eye-opening wins
, a
non-conference tournament title
, and the program's first
national ranking
since 2006. From season's tip-off in November, to senior night in March, the stadium was packed, and the denizens of BuffNation were treated to a show.
From: the BDC
Yet, something was missing. The team struggled early in conference play, and had to turn to grind-it-out basketball (that many fans termed 'Tad-Ball') to win games in February and March. There was nothing free-flowing about this style of play, and it redefined the old phrase 'winning-ugly.' The Buffs just didn't seem ready for the expectations that early success placed on their shoulders. They weren't there yet.
After a summer spent regrouping and redeveloping the roster, 2013-14 looks to be a season spent fighting the ghosts of that campaign. Expectations will be just as high, if not higher, and much of the season will be defined by the team's ability to wear the burden of those expectations with a little more grace than their predecessors.

While the veteran heart of last season's squad has drifted away to professional opportunities, four starters return for 2013-14. That fact alone has lead many to laud the Buffs' pre-season chances. Early indications were even that CU could be in line for their first pre-season top-25 ranking since 1969. The departure of Andre Roberson to the NBA may have thrown a wrench into those plans, but the AP still lists CU at #29, while the coaches poll has Colorado coming in at #27. The Buffs have even been picked by most pundits to finish in the Pac-12's top-three, and contend for a third-consecutive NCAA Tournament appearance. Slight disappointment aside, that is, by far, the rosiest pre-season projections of the modern era.

This is an entirely new feeling for BuffNation when it comes to basketball. Gone are the days of the plucky little underdog, fighting against the world for recognition and respect. The Colorado Buffaloes, once the hunters, are now the hunted, widely perceived as one of the best teams in the West. They won't be sneaking up on anyone anymore. In fact, teams will be circling CU on their calendars as an opportunity to make a statement.
Welcome to the fast lane, folks.
Traps abound.
It's a double-edged sword. You'll see Colorado highlights on SportsCenter, College Gameday may make an appearance in Boulder later this season, and the national media will be fully up to date on the comings and goings of the program. On the flip side, the team now carries with it the weight of expectations. That weight has buried promising teams throughout the history of organized athletics, and it'll be up to the Buffs to prove themselves worthy of the hype. As Coach Boyle said a few weeks ago, "We're excited to be in the hunt, we're excited to be in the conversation of one of the better teams in this league. Now we've got to go out and prove it."
In this virtual tome, I attempt to preview the season from a variety of aspects, and predict whether the team will, in fact, be able to 'go out there and prove it.' I'll look at the roster, profiling the players, and discussing how the coaching staff could enjoy some bench depth for the first time in their tenure. I'll look at the schedule, touching on both the non-conference and conference slates, and announcing my baseline win projection for the campaign. I'll look at the Pac-12, noting how our rivals have developed over the offseason. And, finally, I'll take a brief look at the future by breaking down the incoming 2014 recruiting class.
Those of you who have been here before know that the word 'massive' in the title is not a misnomer. I'm long-winded to a fault. Consider yourselves warned. If, after reading that, you're not dissuaded, if you love Colorado basketball too much to let a thing like 'TLDR' get in front of a good time, then grab a beer, strap in, and
click below for the preview...
This is the fourth iteration of the Massive Basketball Preview. Previous installments can be found here, here, and here.
THE TEAM
In previous years, much of the discussion headed into a new season season was about what the team had lost. After 2010-'11, it was the loss of 75% of team production. After '11-'12, it was the departure of a highly successful four-member senior class. This season will be slightly different.
The biggest loss is, of course, Andre Roberson, who left a year early to join the NBA's Oklahoma City Thunder. Building off of his defensive presence, the Buffs held opponents to under 64 points per game and only .903 adjusted points per possession last season. One of the most gifted rebounders I've ever seen, the Buffs need to find a way to
replace
Roberson's nearly 12 rebounds per contest.
CU will also have to make due without veteran jack-of-all-trades Sabatino Chen, now toiling in the Taiwan professional league, bulky backup center Shane Harris-Tunks, now plying his trade with the Wollongong Hawks of Australia's NBL, and swing-guard Jeremy Adams, who used his 5th-year exemption to transfer to Grand Canyon University.
Undoubtedly, these departures will be felt early and often as 2012-'13 unfolds, particularly when you consider the invaluable boost a senior can provide off the bench. However, compared to the previous two offseasons, it's a relatively minor speed bump. The 2013-14 Colorado Buffaloes will return four starters, 78% scoring, 64% of rebounding, and 69% of win shares. For a team that doesn't boast a single senior amongst its heavy rotation, that not only bodes well for this season, but next year as well.
Amongst that group of returnees is a pair of bulldog junior guards, ready to stake their claim as the best backcourt duo in the West, an instate sophomore power forward, who has returned with a bulkier frame to improve on a solid freshman campaign, and an explosive swing forward with a seemingly limitless ceiling. Added to that group is a five-pack of freshmen, four true and one redshirt, who look to make an immediate impact. It is an incredibly deep, athletic, young roster, capable of success previously thought impossible on the Colorado hardwood.
The task of managing that talent, and the accompanying expectations, will fall to a man has become a local legend in an eye-blink of history. Along with his staff, they have proven in short order that you
can
win in Boulder.
In total, it's a group that has the potential to continue to build on the foundation of success laid over the last three years, and set a new bar for basketball excellence at the University of Colorado.
Guards
- Kevin Nelson, 6-2, 185lbs, Sr from Albuquerque, NM - #12
From: Buffzone.com
A walk-on transfer from Missouri State-West Plains, Nelson is the lone senior in the backcourt. He had to miss the entirety of last season due to an ankle injury, leaving him a complete mystery to BuffNation.
Injuries have, sadly, been a way of basketball life for the former New Mexico Lobo. The journeyman walk-on has spent most of his career in recovery, rather than on the court, having missed a total of three seasons to various ailments. That he has stuck it out, all while paying his own way, is a testament to his love of the game, and his feel for the role as a teammate.
Like all walk-ons, Kevin works his ass off behind the scenes to make the team better. Coach Boyle
said recently
,
"He's making the coaches take notice, in terms of what he's doing in practice. He and Askia (Booker), in my mind, are our two hardest workers off the (practice) court on their own game." I don't know how much playing time that effort will buy him, but he's a great example to have on a very young team.
- Spencer Dinwiddie, 6-6, 200lbs, Jr from Woodland Hills, CA - #25
From: the Pac-12
'The Mayor'
returns
for what could be his final act as a Buffalo, on the cusp on becoming one of the all-time greats to ever don the Black & Gold. An All-Pac-12 first team performer last season, he's primed for even more accolades this winter as an early contender for the conference player of the year title, and, possibly, even loftier national recognition.
A natural point guard in a swing-guard's frame, Dinwiddie causes matchup problems from the second he steps on the court. He has deceptive speed, a strong outside shot, and a silky handle that makes him a triple-threat whenever he gets the ball. Last season he also became known as a
lock-down defender
, holding flashier opponents to muted efforts. At only 20 years old, and still
fighting a Pokemon habit
, he's already a complete package.
Spencer is your basic stat-sheet stuffer, capable of putting up big numbers in any category. According to Kenpom, he lead the 2012-13 Buffaloes in minutes played (80.1%), offensive rating (114.7), true shooting percentage (59.1%), fouls drawn per 40 minutes (6.2, 50th nationally), and free throw rate (76.7, 19th nationally).
You could tell, however, that the burden of carrying the team weighed on him last season. Down the stretch, over the final nine games, he shot a paltry 29% from the floor, and was forced to rely on his excellent free throw shooting to put
anything
on the board. Opponents would pound on him, willing to give up some trips to the line, rather than allow him the opportunity to dictate play. The Mayor needs help, either in the form of more consistent scoring from his backcourt brethren, a solid season-long performance from his front court options, or some
judicious whistles
from the men in stripes. Either would open up more lanes, and take some of the offensive pressure off of Dinwiddie.
If the deeper roster affords him such luxury to operate freely, expect Dinwiddie to become the third CU star in four years to leave the program early for the NBA. His
stated plan
is to see if he can make it as a projected top-15 pick in the 2014 NBA draft. If that's the report from the professional ranks, then he'll jump early. If not, then Dinwiddie will probably return for an
improbable
4th season. To that end, the experts are undecided, with
Draft Express
putting him on the cusp, and
NBADraft.net
leaving him off the board entirely.
He's not a perfect player, of course. At 6-6, he
should be
a better rebounder. Ski Booker, all 6-1 of him, had a higher defensive rebounding rate (10.4%) than the Mayor (9.8%) last season. Spencer can also be a little pedantic in bringing the ball up-court, allowing the defense to set, and stifling offensive rhythm. To combat that, I'd love to see him be a little more aggressive, particularly in regards to
taking over games
when needed. He's the rare player who can dominate a game without scoring a point, but there were numerous times last season when a more assertive performance from the point guard would've salted away or even out-right stolen wins. There's a reason, after all, that he's considered the
nation's #1 junior
, a
top-5 guard
, a
national sleeper
, and included on
Team USA's World University Games roster
. He has the capability to control games from start-to-finish, and a little selfishness isn't entirely uncalled for.
Those concerns aside, the simple fact is that whatever the Buffs accomplish this season, it will be on the back of their talismanic point guard. As dynamic and deep as the roster is, Spencer's talent and
maturity
will be the deciding factor between just a good season, and a special one. Having watched him grow over the last two years, I'm betting on the latter.
- Askia Booker, 6-2, 170lbs, Jr from Los Angeles, CA
- #0
From: Buffzone.com
Akin to former CU point guard Nate Tomlinson, 'Ski' has become a controversial figure on the Colorado roster. Between his streaky shooting and occasional lapses in focus, many fans can't stand 'the Scrat,' and openly ask for his banishment from the starting lineup. I, on the other hand, can't get enough of the scrappy two-guard. I liken his roller coaster shooting experience to 'riding the dragon,' and love to see him pull up. Why? Because I know exactly what it means for this team to see him get hot.
The overall picture wasn't kind last season. His 36% shooting performance, despite leading the team in usage, was good for team worst (among the 10 primary contributors). He
struggled
even more away from home, and was prone to extended slumps that could last weeks or longer. You could tell he was pressing to regain lost form, which is never a good plan.
Yet, still, there were those flashes. He single-handedly carried the team to a
tournament title in Charleston
, and nearly
pulled off the same feat
when it mattered most in the NCAA Tournament against Illinois. If he could manage any level of consistency, the Buffs would only be stronger for it.
Striving for that consistency, Booker - an old-school gym rat, and one of the hardest workers on the team - spent the offseason working to improve his shooting touch.
"This summer I put in so much work on my jump shot. Before I left to go back home (for the summer), coach told me I have to become more consistent. I worked on form shooting, getting my range a little deeper and becoming more consistent off the dribble."-link
If Askia can translate that off-court effort into his play, find his stroke, and avoid prolonged slumps, this team becomes dangerous. Frighteningly dangerous. A consistent outside threat was one of the things CU sorely lacked last season. Without it, opponents were allowed to clog the lane, keeping both Dinwiddie from openly penetrating, and Josh Scott from freely operating. Given that outside threat, defenses will have to play more honest, and the points will rain down.
Even acknowledging the potential for a CU team buoyed by a consistent Booker, many detractors still want to see him come off the bench. Given some of the incoming talent, it certainly is easy to envision a starting lineup without Ski, and his scoring spark off the bench did serve Colorado well in '11-'12. That's not the way to go, however. This team is
at its best
when Ski is on the court and producing, and as a returning starter and team leader, it should take more than a few missed jumpers to relegate him to the bench.
Give me Ski, early and often, and let the chips fall where they may.
-
Beau Gamble - 6-0, 180lbs, RJr from Boulder, CO - #14
From: Buffzone.com
The 'victory cigar.' If Gamble gets into the action, you know the proceedings have been wrapped up for a while.
A local-born bench warrior, and creator of the much-loved
BuffsTapeTV video series
, Beau Gamble is the walk-on darling of the program. He only got into five games last season, all blow-outs, but his hustle and effort endeared him to the fan-base, and the C-Unit is prone to chanting his name as games wrap up.
Much like the other walk-on, Kevin Nelson, Gamble's biggest contributions to the roster won't be felt in the stat-sheet. Rather, behind the scenes, his effort on the scout team and in the classroom will go towards making this program better.
- Xavier Talton - 6-2, 180lbs - So from Sterling, CO - #3
From: Buffzone.com
Last season didn't start well for Xavier Talton. The freshman point guard from small-town Sterling, CO struggled in early practice sessions, and seemed to wrestle with the step-up in competition. Behind closed doors, members of the attendant media openly fretted about a 'wasted scholarship,' and fans quickly began to call for a redshirt season.
The redshirt never came, however, and it was probably for the best. Slowly but surely, Talton turned detractors into defenders as he continued to improve throughout the season. By March, he had become a dependable defensive option off the bench, with a strong handle and a comfortable outside shot on offense.
That exponential development seems to have continued over the offseason. His handle and control of the offense helped lead 'Team Black' to a 77-51 win in the recent open-house scrimmage, and he freely dropped
16 points
(including 4-4 three point shooting). As a result, I'm expecting him to be one of the first players off the bench this season, slotting nicely into the back-up point guard role as a player who adds a spark on both sides of the ball when he hits the court.
- Eli Stalzer - 6-3, 190lbs - So from Brea, CA - #5
From: 9News.com
When compared to fellow sophomore Xavier Talton, Stalzer's performance from last season looks like a mirror opposite. He started strong as a valued member of the rotation, but faltered as the season progressed, and was frequently left out of the action down the stretch.
Stalzer, a gritty back-up point guard, saw his minutes reduced from about 12 per game in non-conference play to only about four per game in Pac-12 action, including six DNPs. Based on the deeper roster, it's going to be even harder for him to crack the regular rotation in 2013-14.
When he does see the court, he needs to be a steadying factor. Nothing flashy, just good, solid direction of the offense.
- Jaron Hopkins - 6-5, 190lbs - Fr from Mesa, AZ - #23
From: Buffzone.com
Hopkins was the
first
of this season's four-member recruiting class to commit to Colorado. Multiple recruiting services started him out as a four-star prospect, but J-Hop finally
settled-out
as a three-star, #119 overall, according to Rivals. Even with the drop, many still consider him the best prospect from the state of Arizona this cycle. Projected as a two-guard by scouts, at Colorado he'll also log minutes at the point, as Coach Boyle
likens
him to Spencer Dinwiddie. Don't pigeon-hole him, however, as he can play multiple positions.
Jaron is an elite-level athlete, capable of cutting to the lane and finishing with authority. While his jump shot can be a little bit of a question mark, he's known to have excellent court vision, and does a good job getting teammates the ball in good areas.
I've heard many mention him as a potential starter from opening day, as CU could use an athleticism boost in the starting lineup, but I'm willing to stay patient while he develops. He's still getting
comfortable
at this level, and aggressiveness, a key to unlocking his potential, is still a work in progress. Pencil him in for a substitute role, with anything more coming as a bonus in year one.
-
Tre'Shaun Fletcher - 6-7, 200lbs - Fr from Tacoma, WA - #10
From: AllBuffs.com
Each of the scouting services has different views on the four incoming freshman.
ESPN
is the highest on Fletcher, labeling him a top-15 prospect in the region, and awarding him four stars.
His 6-6 swing-guard frame
fits perfectly
in Coach Boyle's style, and his southpaw handle could cause some matchup problems,
a la
Sabatino Chen from last season. He's an excellent passer for his size, and can play anywhere from the two to the four. I envision him as a back-up to Xavier Johnson (also a lefty), capable of making an impact anywhere on the court, and stretching opposing defenses past the breaking point.
At the mid-October scrimmage, he impressed me with his positioning, defense, and his overall basketball IQ. He may not have put many points on the board, but he struck me as a player capable of almost anything.
- George King - 6-5, 208lbs - Fr from San Antonio, TX - #24
From: AllBuffs.com
The last of the four true freshmen to commit to Colorado, King was a
surprise addition
in early May, long after most (myself included) had thought the recruiting cycle was completed. King landed on CU's radar after a
strong showing
at the Best Buy Mile High Classic in late April, and Coach Boyle quickly moved to sign the explosive athlete.
A strong finisher at the rim, he averaged a double-double his senior season, and was named the
San Antonio area player of the year
for 2013. A growth spurt and a re-dedication to academics helped him burst onto the scene, and he quickly de-committed from Northern Colorado when bigger offers began to roll in.
While he's from the same area as the great Andre Roberson,
took
'Dre's open scholarship, and even
occupies his old locker
, I don't look at him as a replacement for the departed defensive dynamo. How he fits into the current rotation beyond that fact, however, is a complete mystery.
Forwards/Centers
- Ben Mills, 7-0, 230lbs - Sr from Hartland, WI - #32
For the third straight offseason I head repeated rumors that Mills was going to transfer out of the program, but the 'people's champ' is made of stronger stuff than most. Against all odds, Ben Mills is still here, and will finish a four-year career with the University of Colorado.
Blessed with a bright smile, a great attitude, and a baby-giraffe-like running style, Mills is quick to warm the heart of anybody he meets. As Coach Boyle
said
of his first recruit earlier this summer, "he's the best teammate of anybody I've ever coached. I'm not sure you can compliment a kid more than when you say that." Indeed, as the lone scholarship senior on the roster, he has become an essential part of the makeup of this team, even though he has rarely seen the court through three seasons.
In a refrain almost as familiar as those continuous transfer rumors, there have been some
rumblings
that Mills could play a bigger role this year. This time, however, it makes a certain amount of sense; with Shane Harris-Tunks graduated and
playing professional ball in Australia
, there are no other reserve centers on the roster. If Josh Scott comes out, and Coach Boyle still wants to play a big lineup, the team will have to turn to Mills. For the fan favorite and his legion of devotees, a little spate of meaningful playing time would a welcome denouement to his career.
Regardless of whether the rotation continues to elude him, Ben can hold his head high, having made a positive impact on CU and the community.
- Josh Scott, 6-10, 245lbs - So from Monument, CO
-
#40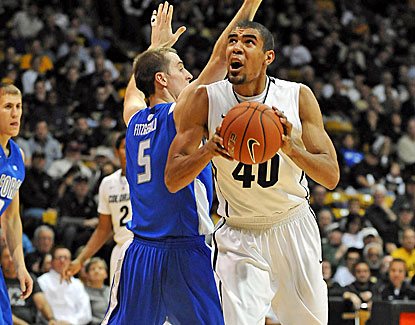 The 'Young Fundamental,' Josh came to Boulder last season with a bevy of lofty expectations in tow. As a four-star recruit, generally accepted as one of the top-60 incoming freshmen of the 2012 recruiting cycle, he was expected to start and star from day one on a team in desperate need of a paint presence. While those expectations were high, the lanky big man met them, becoming the silky-smooth interior scoring presence that CU had lacked for decades.
Featuring surprising speed for a man his height, and a full repertoire of polished post moves, 'Jelly' put up an impressive offensive rating above 111 last season. That was good for second on the team and 9th in the Pac-12, all while posting a shockingly-low 12.6 TO rate (4th in the Pac-12). His 10/6 nightly average belied his overall importance to the team, and most considered CU possessions without a Josh Scott touch a waste. For his efforts, he was deservedly named to the
Pac-12 All-Freshman team
.
The only hole in his resume was a
sharp decline
in performance as the season wore on. A result of opponents using
physical tactics
to abuse the slender-framed Scott, his dwindling numbers took a heavy toll on CU's output later in the season. The
concussion
the big man suffered in the home leg of the Arizona State series was probably a larger issue than many realized, as the Buffs were 4-5 after the incident, with Jelly only averaging four points per game in those five losses. Something needed to change, as CU is far too reliant on the big man for him to be taken out by some random Canadian thug.
From: StatSheet.com
To combat this, Scott eagerly
hit the weight room
over the summer, looking to add as much size as possible. He was largely successful, adding a little more than 20lbs to his frame, and is now up to about 245.
"I stayed up here in Boulder all summer -- lifted a lot, a lot of protein shakes, a lot of food, changing my diet [...] At first it was kind of an adjustment, but it feels good to be strong and not be able to get pushed around, so I like it."
Josh looks like a man now, with the frame to match his role, yet, most importantly, he doesn't seem to have lost a step. At the fall scrimmage, he dominated the competition. No one could guard him, and he wowed the spectators by showing off his scoring, rebounding, shot-blocking, and passing capabilities. If his performance under live-fire can come even close to what he showed in the pre-season, the Pac-12 is in trouble.
- Xavier Johnson, 6-7, 220lbs - So from Los Angeles, CA - #2
Of all the returnees, I expect the
biggest leap forward
from Xavier Johnson. That's not to say that last season was a disappointment from XJ. Quite the contrary, in fact, as Johnson was one of the few Buffs to improve as the season wore on, upping his production to a resounding 10/6 average in Pac-12 games. Simply, if he becomes the
complete player
he wants to be, he will be a lethal weapon in the CU arsenal that few teams are capable of defending.
The lefty proved to have all the explosive athleticism advertised when CU signed him out of LA's Mater Dei High School. He's a highlight reel finisher with a nasty streak. Said Askia Booker:
"He'll let you know that he just dunked on you. He's going to talk about it. He's going to rub it in your face.That gives the whole team confidence. We feed off that."

-link
But he's more than just a dunker. His performance last year was buoyed by an emerging 3-point shot that opponents never seemed to respect properly. He shot 44% from deep, 60% from February 7th on, and was the team's best shooter overall. If he can keep that up, while improving his free throw percentage (a sub-par 56% in '12-'13) and limiting turnovers (6:29 assist-to-turnover ratio), he becomes impossible to stop.
On the defensive end, I liked what I saw. While it's hard to stand out with the freakishly good Andre Roberson patrolling the paint, XJ managed to open some eyes with a decent 14.3% rebound rate. Many took that as a sign that he could be an important
cog
in the effort to replace 'Dre's rebounding production. While his offensive climb is what I'm most focused on, he did seem to have a nose for the ball, and should see his rebounding numbers increase, along with his playing time.
Summer notes: Xavier
went on a horse
for the first time,
beat
a former SEAL in hand-to-hand combat, and
loves cheese
.
- Wesley Gordon, 6-9, 225lbs - RFr from Colorado Springs, CO - #1
From: Buffzone.com
If there is any hope that the gaping defensive hole left by the NBA-bound Andre Roberson can be filled, rather than just boarded over, it is personified by redshirt freshman Wes Gordon. Last season, Gordon rode the pine on a redshirt year, gaining experience, and acclimating to college. Now, free from the restraints of his freshman apprenticeship, he's chomping at the bit to make his presence felt on the court. "I'm hungry," Gordon
said
over the summer. "I feel like a beast that hasn't eaten yet . . . like a giant that's been locked away in a cage and is finally getting some air."
When 'the Beast' hits the court, it may be a revelatory experience for those worrying about the loss of 'Dre. His rebounding skills are unquestioned, as only the great Roberson was
able
to out-rebound him in practices last year, and he may be the only player on the current roster
capable
of blocking a shot when needed. Anecdotally, I was also told last year that Roberson, admittedly not the best offensive talent, was never able to score on Gordon in practice. While this is probably an apocryphal exaggeration, I do give the rumor
some
credence. As Spencer Dinwiddie
let slip
this summer, Gordon may have the most NBA talent on the squad. It could simply be a case where Gordon has the skills to dominate average offensive players from day one.
He can play either the four or the five, and is apparently capable of guarding anyone in the paint. More than that, however, I've also heard that he's a great passer, a player more than capable of making that extra pass to a wide-open shooter. Seriously, if he even lives up to half the quiet hype I've heard this summer, BuffNation could be on to something special. I expect him to
start
from opening night.
- Dustin Thomas, 6-7, 220lbs - Fr from Texarkana, TX - #13
From: the Texarkana Gazette
From a small high school in far east Texas comes Dustin Thomas, a highly versatile forward who has shown flashes of a scary-good offensive game.
He arrived in Boulder with a
chip on his shoulder
, having been largely overlooked in an area more known for its high school football. His under-the-radar recruitment may have served CU well, as he looks to me like a high-major impact prospect.
There's some Sam Perkins (or maybe even some Chris Copeland) to him, with the ability to step out and hit the long shot; he was a 48% shooter from three-point range as a high school senior. His shot can, at times, appear to be a fade-away, but it's a scary combination of smooth and pure you don't often see from someone playing as a power forward. His handle is better than you might expect, as well. When I watch his
film
, I'm struck by how developed and
dangerous
his perimeter game looks.
Over the summer, he competed in the Colorado ProAm league in downtown Denver, and posted some
big-time numbers
. Combine that with
recent reports
that the coaches value his consistency and his stock may be rising faster than any other player on the roster. As a result, of all the freshmen, I'm most excited to see him in uniform, and you should expect him to
fight
for starters minutes early. The only limiting factor here would be his defense, which, as far as I know, is still a mystery. Still, with the paucity of bodies available in the 4-5 slots, he will play a vital role in making the Buffs as good as they can be.
Head Coach
- Tad Boyle, 50 years old, from Greeley, CO, graduated from Kansas -
From: the CU Independent
Head Coach Tad Boyle,
praise be his name
, along with returning bench coaches
Jean Prioleau
,
Mike Rohn
, and
Rodney Billups
, has worked wonders turning CU into a respectable basketball entity. After only three seasons they've posted 69 wins (23 per season), the first conference title in 40 years, the highest winning percentage in program history, and the most post-season wins ever from a Colorado staff. The improved recruiting, the three consecutive post-season appearances, the similarly unprecedented three-consecutive 20+ win seasons, the
sold out
Coors Events Center, the .863 winning percentage at home... all of it, after barely more than 1,200 days on the job, has contributed to turn Colorado basketball from a doormat to an emerging power. The group has no equal in the modern history of the program; no one else is even close. Not too shabby for a man no one had heard of when he was hired in April of 2010.
Colorado is respectable now, with the accompanying
expectations
. The trick for Coach Boyle and staff this winter will be
managing
those expectations so that the program can continue to grow past the just-in-Tournament plateau, and into regional power status. For a man who has never had to do
anything but build
throughout his coaching career, it may prove to be a
challenge
too tough to handle. In some respects, he's just as unproven as much of his roster is.
That alone is reason enough that I
didn't break a sweat
when UCLA fired former coach Ben Howland in the spring, and started flipping through the rolodex for possible replacements. For most, it was another offseason of bated breath in Boulder, with many dreading the next news cycle under the fear that Coach Boyle would bolt for the first open job that came calling. For me, I knew Boyle wasn't going anywhere. He simply hasn't done enough at CU to warrant the kind of job offer that would entice him away from the Foot of the Flatirons. No Sweet Sixteen appearances, no regular season conference titles, never finishing a conference season higher than fifth... and UCLA's supposed to come calling? Pshaw! The Buffs need a season of national impact, a statement that what BuffNation is experiencing is more than just a local flirtation: CU basketball is for real, and here to stay. Then, and only then, will I worry about whether Coach Boyle will leave for greener pastures.
In reality, regardless of how the season goes, it is far more likely that Colorado will begin to lose the treasured trio of bench coaches. Rodney Billups
seems interested
in staying on a more permanent basis, but I cannot fathom why some smaller program hasn't snatched up the other two yet.
Prioleau especially
would be a boon for any developing program, as he has proven to be an effective recruiter and game manager. While I'd hate to see him leave the program, it's well past time.
Depth
The buzzword this year will be depth. With a strong corps of returners and a five-man freshman class ready to contribute, Coach Boyle will be afforded roster flexibility heretofore unknown in the #RollTad era.
While I had
initially liked
the potential depth last season, it spit the bit under live fire, leaving the team woefully undermanned come conference play. The problems were both circumstantial and conspiratory.
Front court depth was hampered by the redshirting of promising forward Wes Gordon. With 'the Beast' riding the pine, Xavier Johnson was the only forward left on the bench who I would consider 'playable' for more than a few minutes at a time. Once XJ was promoted to the starting lineup in January, depth was essentially non-existant. As a result, there were plenty of times last season that the Buffs were caught short without another big-body presence to turn to. It wore on Josh Scott, as showed in his slipping performance in the second half, even before the concussion.
In the backcourt, the issue was youth. With Sabatino Chen pressed into the opening day starting lineup, and Jeremy Adams still struggling with injuries, there was no veteran presence coming off of the bench, forcing freshmen Xavier Talton and Eli Stalzer into the fire ahead of schedule. Their youth showed in early struggles, and, while Talton came on later in the year, I never got the feeling the pair completely earned Coach Boyle's trust.
Matters certainly weren't helped by the continuing string of injury issues for Adams. A do-it-all senior (now on a 5th-year transfer to Grand Canyon University), Adams, if healthy, would've added depth at a number of positions, while also contributing serviceable production.
Acupuncture
gave 'Jerry Football' back the final games of his Colorado career, but his health roller coaster hampered any hope of meaningful bench output.
In total, CU only received 16.7% of points and 27.6% of minutes (240th nationally) from players in non-starting roles. Those numbers only got worse in conference play, with points dropping to 14.9% and minutes falling to 23.7%. The team wore down, as a result. With starters forced to constantly play extended minutes, the Buffs lost five ppg from the first half of their conference schedule to the second. An ugly crack in the foundation of an otherwise solid 2012-13 campaign.
This year will be a different story. While youth will be an issue, the coaching staff now has numbers and athleticism to throw at the problem.
I expect the starting five to look like this:
Spencer Dinwiddie - PG
Askia Booker - SG
Xavier Johnson - SF
Wes Gordon - PF
Josh Scott - PF/C
... with the key reserves looking like this:
Jaron Hopkins - G
Xavier Talton - PG
Dustin Thomas - SF/PF
Tre'Shaun Fletcher - SF
The big difference between last year's depth, and the extended bench that Coach Boyle will get to work with this season, is that last year the staff wasn't able to put guys on the court to contribute, only to spell the five or six man rotation. If they produced, it was bonus. If not... well, hopefully they didn't blow the lead. This year, the bench is all Coach Boyle, with everyone recruited to fill a role and
contribute
when they get their run. The days of the Chen/Adams/Harris-Tunks reserve malaise are over. When the Buffs go to their bench, they'll be doing it with authority.
An awkward wrench was thrown into that plan just yesterday afternoon. Chris Jenkins, a wiry, athletic swing guard/forward
left
the
team
on the eve of the season opener. The Detroit native who was a part of the 2012 recruiting class, but who never saw the CEC court due to a redshirt year, may not have been a threat to start this season, but projected to at least be a contributor.
As a second year player, his presence off the bench was one of the few you could point to as 'veteran,' even though he had yet to play in a game. He had enjoyed a great summer (Boyle:
"I thought in June that Chris Jenkins was one of the bright spots of this team."), and spent time
with
Athletes in Action
- an experience which helped propel former CU stars like
Levi Knutson
and
Austin Dufault
into breakout campaigns in the recent past. In that light, it was easy for me to expect a strong reserve performance from Jenkins as the season approached.
The problem is, he's still a very wiry 185 lbs (a fact which his coach
bemoaned
), and the enticing aspects of his game (tweener height, athleticism, outside shooting) are available from other sources on the roster. Moreover, at the recent scrimmage he didn't impress. His stock dropped precipitously, and I had trouble deciding if he was just having an off day, or if it was a factor of decreased focus. At the most, I was going to play wait-and see with him as the non-conference season developed.
I had originally feared that Coach Boyle would find himself in a roster crunch, with too many players fighting for too few minutes. If you're looking for a bright spot, the departure of Chris Jenkins at least lessens that worry significantly.
Of the four primary returners (Dinwiddie, Booker, Scott, and Johnson), they accounted for 116.5 minutes per game last season. You could argue that those numbers aren't necessarily predictive (for example: Dinwiddie, Johnson, and Scott should see an uptick, while Ski might see a reduction), but, more than likely, that quartet will combine to average about what they did last season in '12-'13.
This leaves around 80 minutes per game to be used by seven contributors, including Wes Gordon, who I expect will be above 20 mpg. If two of the freshmen step up and become key role players, taking up 15 min per contest each (let's say, for the sake of argument, Jaron Hopkins and Dustin Thomas), and taking for granted a larger role for Xavier Talton, a bench including Chris Jenkins would've had five scholarship players fighting over as few as 20 minutes each night. With Jenkins now out, the math is a little friendlier for the bench mob, but I still wouldn't be surprised to hear of a redshirt by the time opening night comes around.
While it has yet to be determined how the bloated back-end of the roster will shake itself out, what is for certain is that CU should have no problem throwing a plethora of skilled, young athletes at the court at any given moment. That's a good thing. A bench featuring Jaron Hopkins, Xavier Talton, Dustin Thomas, and Tre'Shaun Fletcher has flexibility, tons of athletic potential, and the promise of
production
. Yes, it is a group made up of three freshman (one of them a redshirt) and a sophomore, but you can't argue that they aren't more athletically and offensively capable then their 2012-13 counterparts. I have a hard time not looking at it as an upgrade.
The thing is, a strong, usable bench can be a big boon at altitude. As friend of the blog
@JGisland
pointed out
on AllBuffs, with the CEC being worth .08 net ppp, any increase in possessions at home should be a boon production-wise. One easy way to increase possessions is to play into the bench, allowing rested players to go harder, faster when on the court. That alone could be worth an extra win or two on the year.
Overall
In a recent Denver Post
article on recruiting in the Tad Boyle era
, the criteria for what the CU coaching staff looks for in high school prospects was passed along. Among the traits listed in the "Colorado profile" were: character, work ethic, love for the game, skill level and athleticism. There is no doubt that each and every one of the 14 players I just previewed passes each one of those qualifiers, and they, even compared to the recent run of success, will be a peek at what an idealized Tad Boyle roster looks like.
This program now has a complete identity - a pipeline of talent that has been recruited for specific purpose. With that foundation now in place, look for the coaches to
push
the team more than ever. The Buffs have seen their
pace ranking
slip over the last few years, the result of a shortened bench and a limited number of offensive options. Those excuses are gone now, and I expect more possessions and faster play to become the norm this season.
I love the versatility of this roster. There's length all over the place, and players have been recruited and groomed to play multiple positions. Colorado will be a matchup nightmare for teams throughout the season.
Defensively, the trick will be replacing Roberson. Beyond just the rebounding, his lurking presence
deterred action at the rim
, and made defending easier on his teammates. 'The Beast' Wes Gordon will have to pick up much of that slack, working with Xavier Johnson and Josh Scott to replace the best defender in program history.
I'm also concerned by how new rule tweaks, particularly those concerning the
block/charge
, will effect the style the coaches like to teach on defense. CU plays tough man-to-man defense, which can lead to a lot of contact. Coach Boyle was very vocal in the offseason about how much he
values a charge call
, and I worry that, with many of those charges now being called blocks, the Buffs could struggle early on defense.
Said Boyle
, "We're going to have to adjust, but I don't like the rule." Luckily, the roster now provides flexibility for early foul trouble.
On offense, I'm less concerned. One of the quiet problems of having 'Dre on the court the last few years is that, at some point, 'Dre had to play with the ball in his hands, and it sometimes felt like CU was playing four-on-five. Offense was never a strong suit for the departed leaper, and CU will benefit having the ball go through more confident scoring options.
Shooting should also improve. CU had the worst eFG (46.3%) of any team in Pac-12 play last season. With sharpshooters like Dustin Thomas and Xavier Talton added to the rotation, and assuming the promise of Ski's offseason dedication pays off, that deficiency should be a thing of the past.
The only limiting factor will be
youth
. It's a shame that CU couldn't have gone on an international exhibition tour like they did in August of 2012, as most agree the trip to Europe helped expedite the development of key freshmen like Josh Scott and Xavier Johnson, and set the Buffs up for a strong start to non-conference play in 2012-13. In the end, however, it is what it is.
Some
are quick to point out that the roster is unproven, with 9 of 12 scholarships taken up by underclassmen. Certainly the five freshmen are inexperienced, having yet to play a collegiate game. From day one, they'll
have
to be thrown into the fire on a continuous basis. It's a reality born out of basic arithmetic -
the kids will play
. That said, I feel the whole issue is overblown. Having a roster featuring four returning starters who fought their way to an NCAA Tournament berth should more than make up for a few freshmen coming off the bench. Besides, the Buffs were in desperate need of an infusion of talent and fire as the calendar flipped to 2013. Defensive caveat aside, I look at the comings and goings this summer as a net-gain.
Things may be a little rough at the onset of the season, as the bench continues to gel with the returning vets. As Coach Boyle said on media day, it's like
two completely different teams
. After the opening few weeks, however, I expect constant improvement as the year goes on. If we see a slow drop-off in production, like we saw last season, then something is seriously wrong. This is a roster that should consistently improve from November through March.
--
THE SCHEDULE
Non-conference
11/8 -
Baylor
- Dallas, TX
11/10 -
UT Martin
- Boulder, CO
11/13 -
Wyoming
- Boulder, CO
11/16 -
Jackson St
- Boulder, CO
11/18 -
Arkansas St
- Boulder, CO
11/21 -
UC Santa Barbara
- Boulder, CO
11/24 -
Harvard
- Boulder, CO
11/30 -
Air Force
- Colorado Springs, CO
12/3 -
Colorado St
- Ft. Collins, CO
12/7 -
Kansas
- Boulder, CO
12/13 -
Elon
- Boulder, CO
12/21 -
Oklahoma St
- Las Vegas, NV
12/28 -
Georgia
- Boulder, CO
In college basketball, often times it's not how you played, but
how your opponents played
that spells the difference between an at-large berth in the NCAA Tournament and a hard crash into the NIT. Case-in-point, Colorado rode their strong non-conference schedule past an inconsistent conference performance to the promised land last season. Built on big wins over teams like Baylor, Murray St, and CSU, and boosted by a loss at national power Kansas, their 10-2 run notched the 23rd best non-conference RPI, according to ESPN. All told, CU would play over 50% of their games against teams in the RPI top-100, with only two of their 32 games coming against teams outside of the top-200. Come Selection Sunday, that daunting schedule paid off, as bubble teams like Kentucky, who played a ridiculous nine games outside of the top-200, were relegated to the NIT, and CU made the Dance for the second-consecutive year.
It certainly helped that local rivals Air Force, CSU, and Wyoming had strong campaigns. All three finished in the top-100 of the RPI rankings, and made Colorado's schedule look tougher than it probably was. Unfortunately, all three of those teams look to take a step backwards this season, and the Buffs can't rely on their success to prop up their statistical performance in 2013-14.
To make up for that dip from the regional three, Coach Boyle had to go big by scheduling a couple of high-profile, neutral site contests. Games against Baylor (in Dallas) and Oklahoma St (in Las Vegas) will make headlines and move the RPI needle, even with a loss. Add in the highly anticipated marquee home date with Kansas, and the schedule actually looks to be stronger than it was last season. Coach Boyle, much like he did
last fall
, is openly fretting that he
may have over scheduled
, as four of the thirteen non-conference opponents were either ranked or received votes in the pre-season AP top-25 (#5 Kansas, #8 Oklahoma St, #25 Baylor, #31 Harvard). Unfortunately for the bags under Tad's eyes, that's the cost of doing business, and I would expect that to become a familiar refrain in years to come.
I'm most concerned by the November stretch post-Baylor. While, on paper, the only difficult game should be against Harvard (a pre-season top-25 candidate), eight is a lot of games to cram into a three-week stretch. Additionally, the start times are all over the map, ranging from, of all things, 10
AM
, to eight at night. It's the kind of schedule that spells
trap
. A random, let-down home loss to a team like Jackson St because the team comes out flat will do some damage to the resume. Even if things go terribly, however, CU should finish November with a minimum of six wins.
It's especially important that the Buffs come out guns blazing in the early going as there are no more 'cupcakes' once the calendar flips to December. CSU will be
down
this year, having lost almost every contributor from their Tournament team of a season ago, and Georgia is a train-wreck in the wake of Kentavious Caldwell-Pope jumping to the NBA, but those two contests bookend a tricky slate of five games. Even Elon - the lone 'guarantee game' of the month, taking place on, of course, Friday the 13th - is far more difficult that many casual fans would expect. Combined with monster showdowns with top-10 juggernauts Kansas and Oklahoma State, there is no respite in the weeks leading up to conference play. Still, CU should see a minimum of three wins from December.
At least the team won't have to travel much. After they get back from the season-opening game against Baylor, the Buffs will only leave the state once prior to conference play - for their other neutral site contest with Oklahoma St. Limiting road trips to jaunts up and down the I-25 corridor has become tradition under Coach Boyle, and it sets up a bulwark against disaster. With 11 games in the state, it's hard to imagine the Buffs dropping more than one or two of them.
Given the extended homestand, expect the bare-minimum, bottom-line performance in non-conference play to be around 9-4. Past that, any wins are gravy, and only add steam to the top-25 march, and any additional losses only increase the work needed to be done against the Pac-12.
The biggest prize would be a win over old Big-8 foe Kansas. The Jayhawks thumped CU in Lawrence last winter (what new), and are probably the only team standing between Colorado and a non-conference sweep at home. This time the Buffs have KU, a Final Four contender, where they want them - up at altitude, with a ravenous Black and Gold crowd at their back. Having failed to beat KU since January 2003, a win this season would be on par with football's win
over Nebraska in '86
. I'm talking program-defining, montage-leading stuff that boosts the program towards future success. I'd almost trade the rest of the non-conference schedule for a win over the Squaks. Almost.
--
Conference (10/21)
1/2 - Oregon St - Boulder, CO
1/5 - Oregon - Boulder, CO
1/8 - Washington St - Spokane, WA
1/12 - Washington - Seattle, WA
1/16 - UCLA - Boulder, CO
1/18 - USC - Boulder, CO
1/23 - Arizona - Tucson, AZ
1/25 - Arizona St - Tempe, AZ
2/1 - Utah - Boulder, CO
2/5 - Washington St - Boulder, CO
2/9 - Washington - Boulder, CO
2/13 - UCLA - Los Angeles, CA
2/16 - USC - Los Angeles, CA
2/19 - Arizona St - Boulder, CO
2/22 - Arizona - Boulder, CO
3/1 - Utah - Salt Lake City, UT
3/5 - Stanford - Palo Alto, CA
3/8 - California - Berkeley, CA
As strong as their non-conference performance was in 2012-13, the Buffs were the picture of mediocrity once the schedule flipped the page to conference play. Fighting through a 10-8 campaign that would have cost them the Dance had conference results existed in a vacuum, they took head-scratching losses to Utah Arizona St, and Oregon St that undercut big wins over Oregon and Arizona. Luckily for CU, the NCAA Tournament committee takes the entirety of your schedule into consideration.
Unfortunately
, the Pac-12 is only stronger this season. Powerhouse Arizona will be their traditionally strong selves, Oregon and Cal added some nice pieces over the summer, the LA duo of UCLA and USC brought in new-blood coaching staffs which could shake up the pecking order, and dark horse contenders Stanford, Washington and Arizona St lurk, hungry for upsets. Improving on that 10-8 mark, a necessity for the season to meet expectations, won't be easy.
At least the Buffs don't suffer from a lack of confidence. Spencer Dinwiddie used Pac-12 media day to pass the
following message
onto the conference:
"We view ourselves as the cream and everybody else can fight for the rest of the spots. That's how we're going to approach the season and we're going to try to win all of our games."
The easiest path to that end will be a strong start. Last season, CU stumbled out of the gate to a
chicanery-aided
1-4 start to the conference slate. With seven of the first 11 games being played in the CEC, including their only look at the Oregon schools, a better start shouldn't be an issue.
Problems arise, then, when you look at the home stretch. CU will play five of their last seven on the road, including their only matchups with the San Francisco pair of Cal and Stanford, leaving post-season positioning in doubt. If the Buffs are still in contention for a league title, their play in those final five road games will be the deciding factor.
Overall, Colorado needs a breakthrough away from home. Last year was a step in the right direction, with big wins on the road over Oregon and Stanford (... and Arizona), but the Buffs need to get more consistent without the benefit of the C-Unit at their backs. They're 7-11 in road conference games over the last two years, which is far from championship caliber. I want CU to claim at least five, if not six wins on the road this year, leaving them plenty of work to do.
If CU can win at least seven at home (a bare minimum, I would say), and claim the five road wins I'm looking for, that would leave them with 12 conference wins; a hefty haul, but not enough to really threaten Arizona's grip on the conference title. They'll need to get nasty - probably sweep the nine home games - if they want to get serious about claiming hardware prior to the Pac-12 tournament.
--
THE PAC-12
From top-to-bottom, I really like the Pac-12 this season. Granted the league has only been together for two years, but 2013-14 is already shaping up to be, by far, the strongest overall campaign since the 2011 founding. According to the
USA Today coaches poll
, six schools, Arizona (#5), Oregon (#18), UCLA (#23, Colorado (# 27), Cal (#34), and Arizona St (#42), are worthy of national attention and NCAA Tournament consideration, and I think even teams like Stanford and Washington could jump into post-season consideration with upsets in conference play.
A step behind their peers no longer, the Pac-12 should stand as one of the nation's best this winter. According to Kenpom, the Pac-12 was the third strongest conference last season, only behind the Big 10 and the now-reworked Big East. A bolstered ACC should replace the Big East atop the chart, but the Pac-12 should be able to leap-frog the Big 10 for the #2 slot, a remarkable achievement, considering the nearly one-bid 2011-12 campaign.
The key has been talent retention. As ASU coach Herb Sendek noted at Pac-12 media day:
"We went through a period of time when we had more NBA draft picks than any conference in the country. We were spitting out lottery picks like nickels.

Recruiting couldn't keep pace with that, when you coupled that with the senior graduation we were experiencing.

" -link
It's taken a while, but recruiting may finally have caught up with the 23 first round picks produced by the conference over the last six years. In addition to some superb recruiting and transfer hauls, talent which could have gone pro after last season (ASU's Jahii Carson, UCLA's Jordan Adams, UW's CJ Wilcox, and Stanford's Dwight Powell) stayed in school, allowing the second-tier teams to stay in the hunt. As a result, the conference is deep and dangerous.
The race for the conference title is assumed to be Arizona's for the taking, but any of the top-tier of Arizona, Colorado, Oregon, and UCLA is seemingly capable of a championship run. It should make for a deliciously entertaining campaign.
One wildcard will be the new officiating system. After an
embarrassing episode
with departed head of officials Ed Rush, Larry Scott took
my suggestion
, and
partnered with the Mountain West
in the hopes of finally getting some good officiating for one of the nation's best basketball conferences. Officials will now be graded,
extensively
, and held accountable with an eye towards making things more consistent. As a result of the new management, and 28 rules adjustments, expect to see more reviews, and more freedom of movement fouls called (like hand-checking and blocks). If the referees take to heart this new era of officiating, while we could see more whistles this season, the Pac-12 should eventually evolve to a more free-flowing version of the game, free of brawls and thuggery. If that alone doesn't get you excited, then I can't help you.
-
Arizona
-
Arizona is back atop most preseason Pac-12 polls, and has been labeled a consensus Final Four contender. What else is new?
Despite loosing forward Grant Jerrett a year or two too early, they've re-tooled with talent by hauling in the #3 recruiting class in the nation, making it three straight years in the top-five for the 'Cats. Headlining the batch of new talent is #3 overall recruit
Aaron Gordon
. A prime candidate for one-and-done status, Gordon, the reigning
McDonlds All-American Game MVP
, is an explosive athlete who can make a difference on either end. Combining Gordon with returning forwards Brandon Ashley and Kaleb Tarczewski, the Wildcats have, easily, the most talented front courts in the league. 'Dre's absence will be felt most when playing these guys.
Gordon is the story in Tucson. From: AZStar.net
On the plus side, the Buffs seem to have gotten into their heads. Shooting guard Nick Johnson called CU the Wildcats' '
Kryptonite
,' and noted that the CEC is the
toughest road environment
in the conference. Just another layer added to a budding rivalry that stands at 3-3 since 2012.
-
Arizona St
-
Grounded in the All-Pac-12 performance of breakout freshman guard Jahii Carson, the Sun Devils shocked many by racing out to a 9-5 start to conference play in 2013. At that moment, they were in contention for an at-large berth in the NCAA Tournament. Unfortunately, down the stretch they lost their last four conference games, relegating them to the NIT where Carson's heroics would stay tucked away in late-evening spots on ESPN2.
With Carson returning, the Sun Devils are a threat. From: ESPN
The good news here, both for the Sun Devils and the conference, is that Carson returns. Behind the dynamic point guard, ASU boosted their ppp a full tenth of a point to 1.05, which was tied for second in the Pac-12. With Carson at the helm, they posted a coach HerbSendek-era best 71.8 points per game, and actually became watchable compared to years past. If Carson can combine well with
incoming transfer
guard Jermaine Marshall, the Sun Devils become an awfully difficult team to beat.
Of course, for BuffNation, they'll always be the team with the Lurch-like thug of a center - Jordan Bachynski. The seven-foot Canadian galoot put an elbow to Josh Scott's chin last fall, causing a
concussion
for the CU big man, and drawing a foul on Scott for his trouble. Abused by such tactics, the Buffs were swept by the Fightin' Bachynski's last season. Colorado needs to find a way to match up against them if they have any hope of competing for a conference title.
-
Cal
-
The Bears have boasted the Pac-12's player of the year in three of the last four campaigns - Jerome Randle in 2010, Jorge Gutierrez in 2012, and Allen Crabbe in 2013. For the streak to continue, it'll have to come from either senior guard Justin Cobbs or super-freshman Jabari Bird. Combined with sophomore point guard Tyrone Wallace, the trio make up one of the most talented and versatile backcourts in the West.
Now out from under the shadow of Allen Crabbe, look for Justin Cobbs to light up the scoreboard this winter. From: SFGate.com
Unfortunately, I just don't think the Bears have the depth to turn that backcourt into a contending team. They should make the post-season, maybe even the Dance, but I'm not buying Cal as a serious Pac-12 contender this winter.
-
Oregon
-
The defending Pac-12 champions are also the erstwhile home of transfers from coast to coast (Olu Ashaolu, Arsalan Kazemi, Devoe Joseph and Tony Woods have all stared in recent years after transfers to Eugene). Coach Dana Altman was at it again this summer, having added familiar name
Mike Moser
and scintillating scorer
Joseph Young
to the fold as immediate-play transfers. (I can't help but laugh, as Moser dares show his face in the Pac-12 only
after
seeing Andre Roberson head to the NBA.)
We'll always have Albuquerque, Mike. From: the AP
Coach Altman and the Ducks have been forced by circumstance to turn to collegiate free agency, as Altman has a hard time keeping his own recruits on campus. Three more left after last year (none of them contributors), and the constant flux on the roster sheet raises numerous chemistry concerns.
As a result, the Ducks are in the interesting position of being both oversold and undersold at the same time. The talent is there for title contention and a deep Tournament run, but I wouldn't be surprised to see them struggle early in the year as the roster comes together. When they do, however, look out, because these guys are dangerous. They'll miss Kazemi more than many expect, but ink them in for a top-three finish in Pac-12 play.
-
Oregon St
-
How is head coach Craig Robinson still there? With all the extra money flowing into the conference, it makes no sense for the Beavers to stick it out with a coach who has done next to nothing with five years in Corvallis. His resume shows a consistently bad 31-59 Pac-12 record, and results have only gotten worse as the years pass by, with last season culminating in an embarrassing 12th-place finish.
Seriously, how have they not fired him? From: Pacifictakes.com
If there was any hope for the Beavers in '13-'14, it revolved around the returning frontcourt pair of Eric Moreland and Devon Collier. Both face
suspensions
headed into the season, however, with Moreland out until January. Under that dark cloud, I have a hard time seeing OSU break out of the bottom quarter.
-
Stanford
-
They're my dark horse; I'm a lot higher on this group than others. I love that the Cardinal will start five upperclassmen, a core built around the fantastic international forward Dwight Powell, giving them all the makings for a surprising run into March.
Powell is fantastic, and should help Stanford break through this season. From: SFGate.com
Of course, that core has tempted before, winning the NIT in 2012 only to falter under the weight of expectations last season. I just think there's too much veteran talent to fall into that trap again, and I actually like Stanford to slip into the top-four, possibly at the expense of Colorado or UCLA.
-
UCLA
-
Despite a regular-season Pac-12 title for the departed Ben Howland, it's a new era in Westwood, as Steve Alford was
picked
to sit on the bench once graced by John Wooden (*checks off obligatory Wooden reference on his to-do sheet*). Of course, this being UCLA, his hire was immediately met with controversy.
First, many in the rabid Bruins fanbase were less than thrilled with the hire of a coach with minimal post-season success at two previous major-conference stops. Additionally, many were not happy with the
terms of his exit
from New Mexico, where he had agreed to a contract extension only hours before bolting to Los Angeles. Quickly following on the heels of those concerns was a report out of Chicago that Alford
covered up a sexual assault case
while the head coach at Iowa. He quickly apologized for the Iowa incident, but the damage had been done - the
honeymoon was over
. If Alford didn't know what he was getting into by leaving sleepy Albuquerque for the bright lights of one of the premier programs in the nation, he does now.
'I beseech you, oh ghost of Wooden, to save me from these media hordes.' From: the AP
What success he's able to generate in his first year, with the press and a negative fan base breathing down his neck, will have to be done without the services of one-and-done
malcontent
Shabazz Muhammad. Luckily for Alford, 'Bazz was maybe the third best player on last year's team that was actually built around the pure scoring talent of Jordan Adams, and the point forward skills of Kyle Anderson. With them returning, they should be just fine.
Still, I don't like them as much as national reporters do. How can they possibly rebound from the devastating loss of
Lizzi
from the dance team?
-
USC
-
While a new coaching hire landed with a thud across the city, in University Park, the new blood on the bench was met with applause. Enter: Dunk City and
Andy Enfield
.
Huh, somehow I've picked a photo of Coach Enfield with his wife, Amanda. From: USCTrojans.com
Coach Enfield made a name for himself with tiny Florida Gulf Coast, who came out of nowhere to steal the show and a Sweet Sixteen berth in last season's NCAA Tournament. In a city devoted to flash, the Trojans couldn't have made a better hire - they easily
won the press conference
.
The trick, now, will be winning on the court. Under
Kevin O'Neill
, the Trojans had been an unwatchable doormat program, and I'm very skeptical that Enfield will make much of an immediate impact. They'll run more, sure, and there will be highlights, but I just can't see them treading water in this deep pool. Guard JT Terrell still intrigues me, but the rest of the roster is a massive question mark. It'll take more than a few lobs to cover that dog turd up.
-
Utah
-
Slowly,
very slowly
, the Utes are improving. A year after proving to be one of the worst major conference teams in the history of college basketball, Utah played enough opponents tough in Salt Lake City - including the Buffs, who they beat
58-55
in one of the ugliest games ever played - to escape the Pac-12 basement all the way up to 10th. They even sniffed the RPI top-150 for a while. Congratulations!
Loveridge is fantastic, but Utah still has a long way to go. From: UtahUtes.com
Still, after a bevy of graduations, they're Jordan Loveridge and a pile of
developing
filler. Noted
crime stopper
and part-time head coach Larry Krystkowiak needs more time to turn the roster over, but at least we can say they're
more athletic
than they used to be.
-
Washington
-
Woe is me, the outside observer of Washington Huskies basketball! The head-scratching hilarity that was Abdul Gaddy running the point is gone, and I no longer have an appetite for basketball in Seattle. Nihilism reigns, I no longer care about those in purple.
Wilcox is going to be deadly this season. From: SeattleTimes.com
All kidding aside, the Huskies will do just fine without Gaddy (and fellow graduates Aziz N'Diaye and Scott Suggs). Behind CJ Wilcox, who should pair well with freshman Nigel Williams-Goss, they have a strong backcourt, and should contend for an upper-half finish.
-
Washington St
-
I had assumed that when Brock Motum left, Washington St basketball would cease to exist, such was his role on the court for the program over the last few years. The Cougars are still here, however, and must look elsewhere for production now that the lanky Australian is gone. Fringe talents like KU transfer Royce Woolridge and newly eligible DeMarquise Johnson will have to make up the difference. That's not nearly enough, and they should fight with Oregon St, USC, and Utah for the basement.
Coach Ken Bone looks lost without his safety blanket. From: NWSportsbeat.com
Of interest to BuffNation, they named CU as their opponent for the annual 'home game' in near-by Spokane.
--
RECRUITING
CU has been blessed with the opportunity over the last two recruiting classes to add 10 fresh faces to the roster.
That's over 75% of the available scholarships brought in under the guise of re-loading, rather than rebuilding. That process will continue next season, as Colorado looks to add two more talented high school stars to the mix.
The first addition came last May, when local prodigy
Dominique Collier
committed
to becoming a Buffalo. It was a statement recruiting coup, as CU held off national names like Arizona, Gonzaga, and UCLA for his services. It's not a case where Coach Boyle got in early on a recruit who eventually blossomed (like, say, Josh Scott). Collier has been on the
national recruiting radar
since even before his freshman year of high school. He's a unanimous four-star prospect, with Rivals positioning him as the
#94 player
of the 2014 recruiting class.
Collier heads the '14 class. From: Maxpreps.com
Collier is the the next evolution of point guard for the Colorado system, with the scoring ability that demands the ball in his hands on every possession and the high basketball IQ that is often lacking in similar players. Building off of a fantastic first-step, he is an excellent passer, with a next-level feel for the game. While his shooting touch isn't elite, it's more than strong enough to compliment his other skills. ESPN
says
, "Collier is a point guard that knows how to play. He reads, creates and scores as needed. Great feel for what to do and when to do it." Exactly what Coach Boyle is looking for.
The most interesting thing for me when considering how Collier will fit into this roster is that CU won't depend on him to make or break next year's team. He'll be allowed to grow at his own pace, as, even should Spencer Dinwiddie jump to the NBA, there are enough returning options to allow Collier a year-or-two of development. Not that I expect that to be the case (he'll play, and play early), just that it's nice for the program to be in a position where the gaudy four-star recruit is the cherry on top of the sundae, rather than the two scoops of ice cream
and
the banana.
Complimenting Collier in the 2014 recruiting class is AAU teammate (KC Run GMC)
Tory Miller
. A more recent
commitment
, the big body (6-8, 247) from KC fill a gaping need in the roster with an infusion of low-post bulk. More than a blocking dummy, however, Miller also brings with him a deft touch at the rim, and a nose for rebounds.
Throw it down, big fella! From: Twincities.com
CU had to beat out schools like Marquette, Iowa, and ASU for his services. While only a three-star prospect now, I think there's a good chance that, after the services get a final look at him over the coming months, Miller could wind up as another top-150 haul for CU, giving the program eight of them over the last three recruiting cycles. Incredible.
With Collier and Miller coming over the horizon, the future still looks bright for those in Black and Gold. Still, I'd like to see a next-level addition in 2015 - a top-50 national-level recruit that leaves opponents salivating and jealous, like, say,
Bennie Boatwright
. The coaches have proven capable of taking unheralded talent and helping them develop into NBA prospects, now it's time to bring in some bigger fish.
--
CONCLUSION
It's easy to get used to this - constant post-season contention, a packed house on a nightly basis, national attention, and, above all else, expectations. But I don't think this program is nearly to the ceiling of it's potential. There is still more to achieve.
In that vein, I have a wish list for this season. A few goals are a given in my eyes - another 20-win season, and a fourth-consecutive post-season appearance. The difference between that minimum standard and living up to preseason expectations comes in the form of seven goals - some easier to achieve, some much more difficult - that would spell concrete advancement for the program. If the team can hit a least five of these, I'll call the year a resounding success. Fewer than three, and the Buffs will have left much of the preseason hype unfulfilled.
#1 -
A win over Baylor
Two years ago, the Bears, still lucky not to be playing ball in C-USA,
sent the Buffs home
from the NCAA Tournament to a chorus of '
Big XII rejects
.' Beyond the immediate pain of that loss, it carried with it the realization that the inhuman shooting display from 'Scott the Dick' stopped what could've been a miraculous Elite Eight run. CU got some measure of revenge last November when they
dropped
#16 Baylor in Charleston, propelling the Buffs to a Charleston Classic title, but the wound still festers from that fateful night in Albuquerque.
The rubber-match tips off the season this Friday in Dallas. I have it on good authority that the whole team, from coaching staff through the returnees on the roster, still seethes at the very mention of the Baylor Bears. There could be no sweeter start to the season than a satisfying win over those assholes from Waco.
#2 -
A win over Kansas
As much as I'd like a win over Baylor on opening night, for me, there is no bigger game on the schedule than December 7th against Kansas.

Beating KU means something, far more than now common-place victories over Arizona and Oregon.

A win that night could set this program up for a leap into the next dimension of growth.

I dare you to point to another night on the calendar that offers that kind of opportunity.
The stage has been set. Through BuffNation coming through over the last two years to eat up season tickets, the red and blue horde that used to dominate the CEC should be shut out. The arena will be hot, musty, and primed for a thunderclap of fan fervor. If the team can rise to the occasion, the tremors could reverberate across the national basketball landscape.
#3 -
Go undefeated at home
Alongside the KU win, I'd like to see the Buffs sweep the home schedule. It won't be easy. In addition to Kansas, the CEC will play host to tough squads from Harvard, Oregon, UCLA, and Arizona. After coming
oh-so-close
over the past three seasons, to see the squad breakthrough against that group would be a definitive statement that the Coors Events Center is the toughest destination in the West.
#4 -
A first round bye in the Pac-12 tournament
The quiet secret of CU's success over the last three seasons is that they've never finished higher than 5th in-conference. That has left them with work to do at the conference tournament stage, forcing them to play in awkward first-day games against Iowa St, Utah, and Oregon St - games that the team would rather just avoid. While a regular season Pac-12 title may be asking too much, seeing the team make the top-four of their conference for the first time since 2004 would be a nice consolation.
#5 -
A top-8 seed in the NCAA Tournament
Related, finishing in the top-four of a top-two conference like the Pac-12 should earn the Buffs a top-half seed for the NCAA Tournament. This is something the program has never earned. CU was a #9 in '97, a #10 in '03 and '13, and a #11 in '12. Prior appearances came in the pre-seeding era.
The key to that end is an RPI ranking under 30, and a top-four conference finish. The non-conference schedule is lined up correctly, and the team is talented enough. All that is needed to fulfill that promise is wins.
#6 -
A trip to the Sweet Sixteen
Similarly, the program has never made the Sweet Sixteen in the modern era of the NCAA Tournament. This is probably the hardest of the seven goals to achieve, and may a bridge too far at this point in time.
#7 -
Spencer Dinwiddie leaves early, and becomes a lottery pick
Of all the seven wishes, this is probably the most likely to occur.
Spencer stated repeatedly over the offseason that he's gone if he receives a top-15 draft grade from the NBA draft committee. At least in Coach Boyle's eyes, that's as good as in the bag, as he
said recently
, "(Spencer) will be a 1st round draft pick; there's no question about it. This most likely will be his last year at the University of Colorado."
--
I don't want to give off the impression that I think things will be easy in '13-'14 for the Buffs.
With nine of the 12 scholarships on the roster being taken up by underclassmen, a non-conference schedule as tough as any laid before the program in the #RollTad era, and the Pac-12 as strong as it has been in years, to say things are going to be easy would be foolish. Statistical projections echo this; all-mighty Ken Pomeroy computes the Buffs to finish 20-11, 10-8 in Pac-12 play, or about on par with what we saw last season, and nropp.com has the Buffs logging the 8th-best offense in the Pac-12 (I just don't see how that's possible this year).
However, projections like Kenpom's, as comprehensive and insightful as they are during the season, struggle before any games have been played. That's because they have to
project
the performance of unproven, incoming talent. In a world like college basketball's, with heavy turnover each summer, it adds a certain level of chaos to the mix. For CU, with five freshmen added into the fold, and many of them expected to be major contributors, projections can and will be all over the map. While Kenpom is bullish, others, like ESPN's Dan Hanner, are a
little kinder
, allowing that CU
could
end up as one of the top-15 squads nationally. Pick your poison; personally, I think 21 wins is a good baseline projection.
For me, at least, I like this team. The questions surrounding youth and replacing Andre Roberson are valid, but the offense should improve, and the four returning starters should ease the transition into a new era. The schedule, as tough as I've seen in these parts, will challenge, but the team is still capable of hitting all seven of the goals I listed above, which, in and of itself, is a statement.
That said, regardless of how this season should end, it's impossible to argue that the trend is not 'up' for Colorado Basketball. Even if the team stumbles this winter and fails to meet lofty expectations, the tent will not fold up. Fans will still pack the CEC
next
season, and the product on the court will only get better. This is a
program
now, one that is here to stay. What we've witnessed the last three seasons was only the foundation being laid, now is the ascendancy.
There's no other way to put it - on paper, the 2013-14 Colorado Buffaloes have the potential to go down as one of the best to ever grace the hardwood in Boulder, but this is only the beginning. Colorado is just entering the fast lane of college basketball, with no intention of changing out anytime soon. That suits me just fine, because I like it here.
In summation, Tad Boyle is awesome.
- Fin -