Breathe it in.
You know what that smell is? It's the intoxicating aroma of leather and hardwood. It can mean only one thing: basketball is back! Let it ring!
I can't hold it in any more: IT'S GAMEDAY! We made it folks! It's finally November! Hit the lights, lace up the sneakers, and let's get this party started!
--
Coach Tad Boyle (
praise be his name
), in all of his wisdom, has decided that Colorado should begin 2013-14 on the road by playing hated rival Baylor in the semi-neutral setting of Dallas, TX. This is quite a step out of the norm for CU, as the program hasn't started the regular season away from home in a decade. You have to go back to November of 2003, when the Buffs traveled to Evanston, IL on opening night to take on Northwestern. Behind 21 points from Michel Morandais, Colorado claimed a solid
67-56 victory
.
However, even in that year, CU hosted a pair of exhibition games at the CEC before their opening road-trip. To find the last time CU played their first public game of the year outside of beautiful Boulder, CO, you have to go back to 2000, when the Buffs opened the year against the University of Alaska in chilly Fairbanks as part of a non-conference tournament. They won that one, too, 79-68.
Certainly, tonight will be a much tougher matchup than either of those two were. Baylor starts the season as #25 in the initial AP rankings, and has all the pieces for a run to a good seed in the NCAA Tournament. But this is what we as fans should want - marquee matchups with some of the best in the nation. I wish it was at a more convenient locale, but I'm heartened to see that the Buffs have the cachet to pull in these kinds of showcase events.
Tip-off from
American Airlines Center
in Dallas, TX is set for 8pm MT. Coverage can be found
on ROOT
. Mark Johnson and the radio broadcast will be on 850 KOA.
Click below for the preview...
When last we met -
In March of 2012, Baylor sent CU home from the NCAA Tournament to a classless chorus of 'Big XII rejects.' Last season, Colorado was afforded an opportunity to gain some measure of revenge for the bitter defeat at the second round of the Charleston Classic. Through a gritty
60-58 win
, the Buffs did just that, upsetting the #16 team in the nation, and advancing on to an eventual tournament title.
Revenge is a dish best served with A MONSTER BLOCK!
Lead by Askia Booker's 19 points, CU gained a statement win the the Old South by turning to the 'TadBall' that served them so well throughout the season. They played physical man-to-man defense, locked down the interior, scrapped on both sides of the ball, and got a little lucky.
By all rights, Colorado should've lost that game. They turned the ball over 17 times, and shot a miserable 22% from the free throw line - more than enough mistakes to earn a loss. But they out-rebounded their opponent, forced the Bears into awkward mid-range jumpers (stat guru
@JGIsland
notes that Baylor saw their mid-range rate jump nearly
30 points
against CU), and refused to let Baylor get going from beyond the arc (3-16 from 3-point range). CU dictated play, and clearly seemed to want it more than their opponents (maybe a little
too
much). It was, in essence, the picture-imperfect Coach Boyle game - everybody watching was made uncomfortable, it still ended up as a CU victory, and all was forgiven.
Hugs all around after that one.
The Buffs would go on to earn the Charleston Classic title a few nights later against Murray St. No amount of regular-season victories over the Bears will ever assuage the pain of that night in Albuquerque - revenge is rarely as sweet as we would like it to be, after all - but at least the Charleston game gave BuffNation their pound of flesh.
The Bears in 2012-13 -
2012-13 was not a strong season for the Baylor program. Riding high in the wake of their 2012 Elite Eight appearance, and carrying in a
top-10 recruiting class
, expectations were that the team could pick up where their predecessors left off. It wasn't to be however, as the sloppy,
passive
team that CU saw in Charleston played inconsistent ball for much of the year.
When the games were blow-outs, and the offense was flowing in Waco, the Bears were a very good team. They rolled to big wins over
Kentucky
,
BYU
,
Oklahoma St
, and even
Kansas
. But, when the going got tough, Baylor folded like a lawn chair. They lost eight of nine games decided by five points or less, and dropped eight of 12 down the stretch as their NCAA Tournament hopes vanished into thin air. This was a team that lacked focus and will, and it showed throughout their 18-14 regular-season run.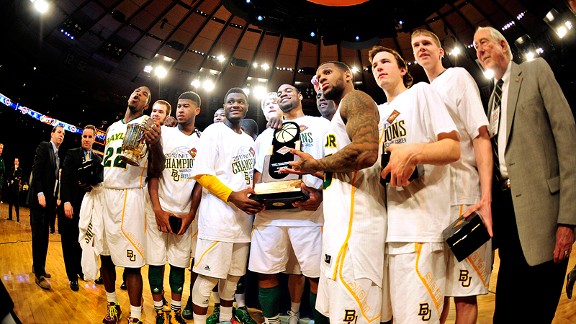 From out of nowhere came an NIT title. From:ESPN.
Then, blessed with second life in the NIT, they seemed to find the light switch. They rolled through five straight victories en route to
cutting down the nets
in Madison Square Garden. The NIT is never where you want to end up, but, as BuffNation knows well, a successful run to NYC can help prepare you for even greater heights the following season.
So, the question then becomes, which Baylor team will we see tonight? The team that lost 14 games last season, or the team that scored 86 points per game on their way to a post-season title? I wouldn't put a bet on either.
Coaching -
Scott Drew
has been making quite a name for himself in Waco. Leading a steady march upwards from the depths of the Dave Bliss era, he has taken the Bears to five post-season appearances in six years, including two Elite Eights and a pair of NIT championship games.
All smiles for Drew in Waco.
Kick-started by a string of recruiting coups (2013 was their 5th-straight year in the Rivals.com top-25), the run has turned Baylor into one of the elite programs in America. They have won 15 post-season games over those same five years, thriving in the world of immediate-impact freshmen recruits. Drew has them rolling, and it's only a matter of time they break through to something truly remarkable, like a Final Four or conference title.
Star Players -
The roster lost star point guard Pierre Jackson to the professional ranks. It'll hurt, as Jackson lead the squad in points, minutes, usage, and assist rate last season, but they still return a key core of vets who will push CU.
First off,
you-know-who
is back for his senior campaign. Yep, it's the one, the only, Scott the Dick, aka
Brady Heslip
. A pure shooter who can hit from anywhere, Heslip actually struggled last season, failing to live up to the hype created when he
single-handedly beat
CU in the 2012 NCAA Tournament. Defenses would key on him, checking his free movement around the perimeter, and keeping him from getting into rhythm. As a result, he was well under 40% three-point shooting for the season. Since he's pretty much useless when he's not dropping bombs, his slumps haunted Baylor in big games.
WATCH OUT FOR SCOTT, HE'S STILL A DICK!
In Charleston, CU mostly muted the annoying Canadian, holding him to seven points on 1-5 shooting from deep. They'll need a similar defensive lock-down against the sharp-shooter to win this evening. If he gets hot, the Buffs are in trouble. Also, fuck him.
Up front, the Bears return a pair of fantastic forwards.
Senior power forward
Cory Jefferson
is probably the Bears' best all-around player. He posted a 61.5% eFG and a 128.1 offensive rating last season (13th best nationally), and should be close to averaging a double-double in his final bite at the collegiate apple. Most importantly, he works his ass off. While Josh Scott is l
ooking forward
to the challenge of guarding him, I am significantly less thrilled seeing the bulky Texas native.
Jefferson is the player I'm most concerned about this evening.
Sophomore center
Isaiah Austin
declined a guaranteed spot in the NBA draft to return, and the Bears are much better off for it. Austin, who stands at a lanky 7-1, 225, plays a soft version of the pivot, preferring to pop for outside jumpers. He only took 36% of his shots at the rim last season, and I wouldn't expect much to change in that regard. He spent the summer
recovering
from a knee injury, but I expect him to be healthy and ready to go tonight.
Yeesh, that dude is skinny.
The probable starting lineup is rounded-out by a pair of newcomers. JuCo transfer
Kenny Chery
inherits the point guard duties from Jackson, while freshman
Ish Wainwright
looks to lock down the swing-forward slot. Chery is unusually experienced for a JuCo transfer, having spent time with different levels of the Canadian national team, and Wainwright was considered a top-30 talent in the 2013 recruiting class.
Prediction -
Lines as of 9pm Thursday night - CU +4, O/U 145
My biggest personnel concern comes inside, where Cory Jefferson matches up well against whoever Coach Boyle tabs to guard him. It's Scott this evening, but it doesn't really matter, Jefferson will get his points. Oh, for the days of Andre Roberson.
Other than that, however, I like the way the Buffs matchup against Baylor. Austin plays too soft to push around either of the freshmen, I'll take the Mayor over any newcomer point guard, and Xavier Johnson should have a nice game against the freshman Wainwright. The streaky duo of Askia Booker and Brady Heslip is a wash, with Ski getting the nod because he can contribute in other ways if his shot isn't falling.
Perimeter defense has long been a bugaboo for Colorado, and sharpshooters like Heslip and Chery will probe that potential weakness early and often. If last season was any indication, however, the Buffs learned their lesson in Albuquerque, and will quickly close down to keep the Bears from getting into an outside rhythm. Assuming this holds true tonight, I like CU to escape with a close win.
What? Like I was going to pick those fuckers to beat my beloved Buffs on opening night? Objectivity later, homerism now.
CU 68 - BU 63
GO BUFFS! PROVE ME RIGHT, AND FUCK BAYLOR!