The Buffs seem to have been having some trouble with the alarm clock the last two games. While their opponents have comfortably made it to the field wide awake and rarin' to go for the opening kickoff, CU has tried to pound the snooze button in vain. Oregon State and USC put up a combined 45 points to Colorado's seven through the last two first quarters, which is especially painful when you consider that the Buffs outscored those two 52-47 over the other hour and a half of action.
It hasn't been much better at the start of second halves this year, either. Overall, CU is down 82-45 in third quarters in 2014. The simple fact of the matter is that CU isn't using the locker room to their advantage. Once they find their feet, they play well enough, but whatever is being said behind closed doors is lost by the time they leave the tunnel. Maybe it's nerves, maybe it's preparation, but the fact stands. If the Buffs are ever going to get back in the win column this season, they need to perform better in the odd numbered quarters.
--
Kickoff from beautiful Folsom Field is scheduled for high noon tomorrow. Televised coverage can be found on Pac-12 Networks, with the radio call on 850 KOA.
*cough* For those interested, there's also a men's basketball scrimmage starting at 10am at the CEC. It's free for all, and would make for a wonderful aperitif to your sports Saturday. *cough*
Click below for the preview...
When last we met -
As much as I would
like
to break down the 2013 meeting with UCLA - a
45-23 Colorado loss
, by the way - another game with the Bruins has been on my mind this week. You see, thanks to the celebrations surrounding Homecoming Weekend, I will step onto Folsom Field this Saturday, tuba in hand, and play with the Golden Buffalo Marching Band for the first time since the fall of 2005. (I do apologize, in advance.)
With that in mind, I can't help but drift back to my sophomore year (2003), when a
RANKED
CU football team hosted the Bruins under the shadow of the Flatirons. With the newly-open east-side expansion looking down, Joel Klatt lead a clutch touchdown drive deep in the 4th quarter to give the Buffs a late lead. The Colorado defense held strong after the ensuing kickoff, giving the #22 Buffs a nerve-wracking
16-14 win
.
Jeez, Gary, don't look too happy to win one over your old assistants...
Of course, it was a different sort of homecoming that day, as the Bruins brought Karl Dorrell, Jon Embree and Eric Bieniemy back to Boulder. Dorrell, himself a former CU coach, had enticed Embree and Bieniemy, prized assistants under coach Gary Barnett, to Los Angeles the previous winter, and this game marked their first return to Dear Old CU wearing opposing colors. At the time, I didn't really process what it meant, but, looking back, I'm sure it was a weird day for all involved.
As to the game itself, what a difference a decade makes. Last year in the Rose Bowl, these two teams combined for almost 800 yards of offense and 68 points, with players running all over the place. Back in 2003, however, neither team could crack 250 yards, and the droll affair was
lucky
to feature 30 total points. CU, in fact, rolled up 218 yards on their three scoring drives, meaning that they only managed 27 yards over their other 10 possessions. Yep, that's 2.7 yards
per possession.
Not exactly the picture of consistency.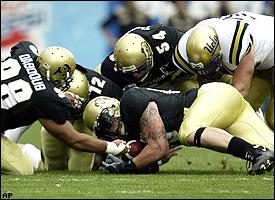 An ugly day of football, but at least it was a winning one. From: ESPN
The weird thing is that there was a lot of offensive firepower on both sidelines that day. UCLA had future NFL players Maurice Jones-Drew, Matt Moore, and Marcedes Lewis in white. CU boasted Klatt, DJ Hackett, Joe Klopfenstein (who caught the winning score), Jeremy Bloom, and Bobby Purify. How could these crews stay stuck in the mud for so damn long?
At least the Buffs found a way to win. As ugly as it was, I'd get down on my knees and bless the football gods if CU can somehow conjure a beautifully unwatchable repeat of that defensive struggle tomorrow.
The Bruins in 2014 -
I really liked this Bruins squad at the start of the year. They were my pick to win the South back in the summer, and, outside of a few hiccups, they've lived up to their billing. The problem is, those hiccups - back-to-back home losses to
Utah
and
Oregon
- ceded control of the Pac-12 South to their bitter rivals, the USC Trojans, and, barring a win-out scenario, UCLA may already be out of the Pac-12 title hunt.
The home slip-ups against Utah and Oregon really hurt the Bruins.
There's nothing wrong on the offensive side from a volume standpoint, where they stand in the top-20 nationally yardage, and feature in the top-5 for passing efficiency. They've yet to fail to convert a redzone chance, and seem to go stretches where they score at will. Additionally, UCLA has been ticking off their nearly 500 yards per game this season with some pretty decent balance (290 passing, 200 rushing per game), and I expect that they'll be damn near impossible for CU's 90th-ranked defense to stop under normal circumstances. Generally, very entertaining; if left to their own devices, the offense, alone, makes them an elite football team.
Unfortunately, for as impressive as the offense is, they've developed a problem in recent weeks
of coughing up the ball
. Through seven games, the team has 10 turnovers, and rank tied for 84th nationally in turnover margin. It's putting a
heavy burden
on an already suspect defense, and those 10 have turned directly into 69 points. The TOs have already cost the team one game (Oregon), and nearly cost them another (last week's
win over Cal
). It's not really the result of inexperience, either, as veterans like QB Brett Hundley have been the culprits over last few weeks. The whole situation has OC Noel Mazzone stumped, leaving him to shrug, "Yeah, I don't know. I don't want to talk about that anymore." If CU has a path to victory tomorrow, it probably has to be through here, as turnovers on the road will usually kill a team.
FUUUUUMMMMBBBBLLLEEEEEEE!!!!!
Of course, the defense hasn't been much help, either. The Bruin 'D' is 84th nationally in total yardage, and a pathetic 101st in passing yards allowed. Opponents have been ripping off over five yards per play, and converting over 40% of third down attempts, which is not good for a team with as much defensive talent as UCLA. A large part of the problem is on the ground, where
poor gap discipline
lead to dreadful performances in the two home losses. Getting gashed with the run is a good way to allow patient teams to rack up easy sets of downs, as they can stay on schedule, and keep long thirds to a minimum. As a result, their opponents have moved the chains at least once on over 70% of all drives this year, which seems to bode well for Colorado.
A team that can't really defend and can't seem to hold onto the ball is going to drop some games, even ones at home, so maybe the Utah and Oregon losses shouldn't have surprised anyone. Still, if they shore up the turnovers, they have the ability to make defensive coordinators across the West lose some sleep. Deficiencies aside, I'm not ready to write them off for the trip to San Francisco, just yet.
Star Players -
The offense is lead by Heisman hopeful
Brett Hundley
. The 6-3 junior from Arizona has been starting games for the Bruins since his redshirt-freshman year, so he's an old hand at all this, but it's still impressive the numbers that he has been able to put up. Averaging over 265 yards through the air and 40 on the ground each game means that Hundley is a modern, balanced double-threat from under center, and can beat you multiple ways. Case in point, through two starts against Colorado, he has produced a total of eight touchdowns - four through the air, and four on the ground.
Hundley is on the verge of history.
Brett enters tomorrow only three TD passes away from setting the Bruins' all-time record for touchdown tosses. While it's far from a guarantee, considering recent history, I almost
expect
a second-consecutive record-setting performance from a Los Angeles-based quarterback.
The principal running back, and
key
offensive piece, is sophomore
Paul Perkins
, who leads the team in rushing yards. He averages about 116 per game, at a clip of about 6.2 per attempt. Normally, I'd be predicting that he'll have a field day against the Buffs, but he's been fighting a wrist injury in recent weeks. Perkins is still
expected to play
on Saturday, but maybe the injury is just enough to level the playing field a bit.
Perkins runs with authority.
Out on the edge, it's all about
Jordan Payton
, who sets the tone for the receiving corps. The 6-1 junior out of Santa Monica is Hundley's
go-to target
, hauling in a team high six catches for 83 yards per game. He also leads the team in touchdown receptions (five), so look for him to get his targets in the red zone.
On defense and special teams, the star has been sophomore speedster
Ishmael Adams
. Legitimately one of the
most dangerous
return men in America - whether via the kicking game, or on defense - he seemed to single-handedly take over the Arizona State game a few weeks back, and already has three total returns for touchdown (two interceptions and a kickoff). I'm more than worried to see what he can do against Colorado's hit-or-miss kick coverage, even as teams have learned to
limit
his ability to make those returns.
Adams is a dynamic threat.
In addition to senior
Eric Kendricks
, who leads the team in tackles, the linebacking corps also features the multi-talented
Myles Jack
. Used as a power running back last season, in addition to his defensive duties, Jack won a large amount of national attention, along with
both
the Pac-12 Offensive and Defensive Freshman of the Year awards. A larger focus on the
fundamentals
, however, seems to have cooled him down in his sophomore campaign, and he's seen his offensive importance, certainly, severely reduced. Still, on defense at least, he's a player to watch, as he leads UCLA in pass breakups.
Up front, of a group who accused the CU offensive line of
skulduggery
this week, the best is probably
Owa Odighizuwa
. The senior from Portland has 6.5 tackles for loss and a pair of sacks this year. He was
moved inside
last week, which seemed to work wonders for the oftentimes inconsistent Bruins pass rush.
Coaching -
Jim Mora remains on the Westwood sidelines, continuing to beat the extremely low expectations I had formed when he first took the job in 2012. Coming on the heel of two extremely indifferent coaching tenures - the aforementioned Dorrell and Rick Neuheisel, each with their own CU connections - the two plus years of Mora seem to have completely turned around the UCLA program. A Pac-12 South title in 2012 and a strong 10-3 Sun Bowl campaign a year ago have lead into this season, where the Bruins are already 5-2, and figure to continue to compete for another division title.
Mora has brought his own brand of passion to LA.
With only a handful of seniors listed in the starting 22, the success of the last few years, if anything, figures to continue. As such, the Bruins easily fit in with a league that seems to be doing nothing but getting better from 1 through 12.
Prediction -
My record: 6-1. Against the spread: 3-4. Optimistic/pessimistic: CU +5 pts/gm)
Line as of Thursday @ 11am - CU +12.5, O/U 69.5
CU leads the conference in total first downs (fifth nationally) and protecting the QB. To pull the upset tomorrow, or even really compete, the Buffs have to get the chains moving early and often, keeping Sefo Liufau's uniform clean in the process. They have to keep the ball, give their defense some rest, and put pressure on the Bruins to force some quick decisions, hopefully leading to some turnovers. It also wouldn't hurt to come out of the tunnel with some fire, erasing two weeks of first quarter frustration.
Anything else, while I'm shopping for unicorns? I mean, Tyler Dorsey hasn't made up his mind yet? Why not just throw him on the pile while I'm getting giddy...
Anyways, while I think we'll see a lot of that tomorrow, certainly a better performance than last week's in Los Angeles, I just don't see it being enough to beat UCLA. Cover? Sure, I'll buy that... along with the unicorn.
UCLA 45 - CU 34
GO BUFFS! PROVE ME WRONG, AND BEAT THE BRUINS!