The Buffs are officially onto the second half of their season, riding high on a wave of improvement-based optimism. However, the schedule gods were far from kind with the back-loaded portion of the slate that they are about to tackle. Over the next six game weeks, CU will play some of the best teams in the Pac-12, a set that boast a combined 27-8 record in 2014. When the national media said at the beginning of the year that the Pac-12 was the best conference in America, they weren't kidding. This bunch is loaded. As well as the Buffs have been playing recently, I'm starting to worry that all of this momentum could get drowned out over the next month and a half against the West's elite programs.
It's undeniable that Colorado Football is in a better position today than it was a year ago. Across the board, this program has improved. Dramatically. If you don't recognize that - whether through ignorance, resentment, or jealousy - your opinions are no longer welcome. Yet, with one fewer win on the books than this point in 2013, and a bevy of difficult games on the horizon, I'd be kidding myself to ignore the fact that a 2-10 finish is a real possibility. It sucks, but that's what could be on the table.
In a results based business, I'm worried about the impact that could have on the fanbase. The big question for me is how, exactly, will BuffNation take the results over the next few weeks. The Broncos are rolling, basketball is just around the corner, and ski season is about to ramp up. As exciting as the team has proven to be this campaign, will the fans stick with this bunch if results continue to mirror what we've seen to-date, or will the denizens grow distracted and disinterested, as they have in the past? Will the fans - alums, students,
et al
- still show up and help create a competitive atmosphere next Saturday against UCLA, November 1st against Washington, or November 29th against Utah? God, I hope so.
See, I've bought in. I've already committed to going to every game played in the state this fall, so I will be in attendance, hell or high water. I shouldn't be alone on this journey. For half a decade, the fan base - myself included - has been screaming for any sign of life from those in Black and Gold. Well,
we
finally have one, and
we
as a group need to vote with
our
feet and show up. The team sure has, now BuffNation needs to have their back. Make your plans now; show up next week, show up in November. Get it done.
--
Kickoff from the historic LA Memorial Coliseum is set for 4pm MST. Televised coverage can be found on Pac-12 Networks, with the radio call on 850 KOA.
Click below for the preview...
When last we met -
The University of Colorado has never bested the University of Southern California on the football field. Shit, the Buffs have rarely sniffed 'close' over eight tries that stretch back to 1927. The all-time scoreboard stands at 277-76, with only one meeting,
September 9th, 2000
, being competitive. Some 'rivalry' we manufactured for ourselves a few years back, isn't it? (Remember
these
? Maybe it's more like a plea?)
Last year's meeting was not all that different from the previous seven, other than the fact that CU finally cracked the 20-point barrier for the first time in the series. While scoring some points was nice, Colorado continued their historical norm of allowing the Trojans unfettered access to the endzone, as the Buffs were forced to swallow a
47-29 loss
on a brutally cold Senior Day. At least I got a
pretty cool scarf
out of the deal.
Sefo and the Buffs didn't fare much better than their predecessors last season against USC. From: the BDC
Despite some faint whispers of an upset prior to kick off (Senior Day, cold weather, USC's coaching situation, yadda yadda), CU was steamrolled from the opening kickoff. Here's the first half drive chart for Colorado: punt, punt, safety, punt, punt, interception, fumble. Woof. In all, CU could only manage 69 offensive yards in the opening frames, and scored more points for USC (two) then they did for themselves (zero). While the defense was hanging on for dear life, their offensive counterparts were throwing them back into peril drive after drive. Not exactly the type of performance that backdoor bowl bids are made of.
Take note, as I get the feeling that USC will try to win the exact same way this weekend. The Trojans relied on their defense and pro-style rushing attack to control the pace of the game and smother any attempts from the underdog Buffs to mount a challenge. They forced two turnovers that lead directly to scores (and banked a safety), all while throwing running back Javorius Allen at the Buffs until he found paydirt. If you take away CU's three successful 4th quarter offensive drives, the team was held to a total of 102 yards, while USC rolled for 243 yards and four scores on the ground. If it ain't broke, don't fix it.
Of some small consolation, Colorado did 'win' that 4th quarter with those three strong drives, 22-14. Sure, it was against the USC second string, but many of those players are now on the front lines...
The Trojans in 2014 -
I'm not going to jump out and say that the Trojans are 'back,' or anything like that, but they do seem to be making a quick recovery from the
Lane Kiffin error
.. er, era. The coaching shuffle dwarfed all other SC storylines last fall, to the point that I almost forgot about the actual team on the field. With all of that garbage in their rear view, it's easy to be impressed with their early success, with the caveat that it'd hard to go backwards from where Kiffykins had them. By comparison, anything better than below-average would look good right now. The thing is, they're far better than below-average, and sit as an intriguing second choice in the chaotic Pac-12 South.
Southern Cal enters Saturday at 4-2 (3-1), with a decent argument to be made that they could, should be 6-0. There's just no reason that this team would
lose to Boston College
, or fall asleep on an
underthrown
Hail Mary
against Arizona State
. With their pedigree, those slips could end up being the difference between Holiday Bowl and playoff entrant. Whoops.
Of course, the flip side is that they
should
have
lost to Arizona
, considering the number of chances they gave the Wildcats, and haven't looked all that comfortable over the last two weeks. For a team that entered week five having not allowed a passing touchdown (opponent aided, but still), they've coughed up six over the last two weeks to go along with 936 total yards of passing. Suddenly, what looked like a titanic challenge for the CU passing game, doesn't seem
as
daunting. USC will still be the best pass defense CU has seen all season - 29th in pass efficiency defense, even after those two weeks - but I'm not fearing for Sefo's life anymore.
I get the feeling that a
really
good offensive unit will beat them. The teams that struggled to move the ball, Fresno State, Stanford, and OSU, are all either indifferent offensively, or completely out of rhythm with the ball in their hands. Teams like BC and ASU, however, with strong offensive identities kept the chains in motion. I would say the Buffs have a strong offensive identity, which gives me hope for Saturday.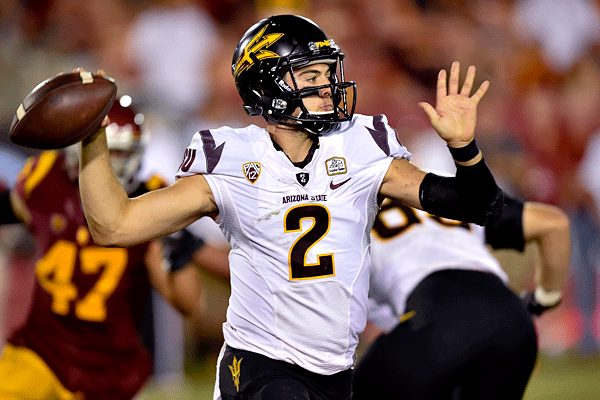 Who would've guessed Mike Bercovici would be the QB to break down the Trojans?
Overall, nothing really screams off the page when looking at USC
stat sheet
, the way, say, Cal's passing offense does, but that just speaks to their balance. This team really excels with being efficient when it matters. They're in the top-20 nationally in both 3rd down defense and offense, converting close to 50% of the time on their own drives. At the end of the day, the Trojans make plays on both sides of the ball, which is the reason that they're enjoying a nice, not great, season right now.
Star Players -
Woah, let me tell you about
Javorius 'Buck' Allen
. A junior running back out of Tallahassee, FL, Allen brings the seductive combo of size and speed to the position. He's averaging nearly six yards per carry, and already has 781 yards and seven touchdowns on the year. Buck isn't just a running threat, though. He is also strong in the receiving game, placing second on the team in catches with nearly four grabs per contest and almost 50 yards per game. As much as any other runner in the country, he looks like the real deal. Allen's good. Real good.
Add it all up, and Buck Allen is fifth nationally in all purpose yardage, with over 175 yards per game. As the Trojans learn to rely on him, I would expect that number to only climb higher as the weeks go by. On the strength of back-to-back monster games against the Arizonas (348 and five touchdowns), he's even
vaulted himself
into a wide-open Heisman race. Against a CU defense that is giving up a worst in the Pac-12 five yards per carry, he could be inline for his third-straight statement performance.
Playing quarterback for USC is one of the most scrutinized position in all of college sports. Taking on that mantle is the much maligned
Cody Kessler
. You hear the criticisms about Kessler quite frequently - even from his coach - that he's
not being explosive enough
, especially with the flashy athletic options in place around him. 'Throw downfield a little more,' they say. Despite being one of the more accurate passers in the sport, who hadn't even thrown an interception prior to last week, the junior from Bakersfield is still dogged by grumbling. People are funny like that. Kessler's not going to make many mistakes.
I'll always take a QB who keeps the trains moving. To me, a player like Kessler, who you can trust to take care of the damn ball, is far more valuable than a Favre-esque gunslinger. With the athletic set-pieces around him, he doesn't
need
to be flashy for the Trojans to succeed. Let the receivers and backs get the glory they so dearly covet. It's winning football, in the end.
Kessler, unsurprisingly, has one of the best receivers in the country to throw to.
Nelson Agholor
seems destined to be the next Trojan receiver in the NFL, and is one of the deadliest threats in an offense-happy league. An understudy of Marquise Lee for too long, Agholor finally is i
n the spotlight
on the edge, and a true leader in the offense. At 6-1, 190, he may not be one of the towering fade threats that's so trendy these days, but he's an absolute speed merchant. You can also see his talent in the return game, where he's legitimately one of the nation's best. CU better be ready for him tomorrow.
On defense, the star is massive 6-5, 300 lb defensive end
Leonard Williams
. The Daytona Beach, FL product is, undoubtedly, one of the best defensive players in the country, to the point that ESPN's Todd McShay
tabbed
him in a recent mock as his #1 overall selection for next year's NFL draft. He's big, strong, fast, and inventive in his pursuit of the ball. That combination has, so far, produced four sacks and 38 tackles, despite seeing a lot of schematic avoidance from opposing offensive coordinators. With him chasing after QBs, it's no wonder that it took til week five before a passing touchdown was scored against USC.
Dude is going to be making a lot of money next fall.
Hayes Pullard
continues to top the tackles list, as he's done for two of the previous three years in LA. A 6-1, 235 lb product of Inglewood, he stands as the heart of a pretty nasty Trojan defense. Not used so much as a pass rusher, he's all about getting to the ball carriers that Williams and the d-line don't swallow up. He's a captain, an emotional team leader, and a damn tough linebacker.
In the backfield, the big threat is safety
Su'a Cravens
. USC puts the sophomore all over the place, using his activity to disrupt in the Troy Polamalu mold. He blitzes, he drops, he's kind of everywhere. Cravens actually leads the team is tackles for loss (9.5), and has added five passes defended and four broken up. I expect to hear his name quite a bit tomorrow.
Coaching -
There's new blood on the Southern Cal sideline, but it's in the form of a familiar face.
Steve Sarkisian
, formerly of the University of Washington,
took over
after the unceremonious dumping of the Kiffin last season. He had to leave the Huskies in the lurch to do so, ruffling the fur of quite of a few of his former fans in the Pacific Northwest. In true modern coaching fashion, he snuck out the back door, even
denying
that he was leaving to a radio show the very day he was, in fact, leaving for USC. I'd be pretty pissed myself. Dude, just own up to it.
No more purple for Coach Sark.
In a way, it makes sense that Coach Sark would return to University Park. It's at USC that he first made his name, originally as a QB coach, then as the replacement offensive coordinator when Lane Kiffin was hired away from the Trojans by the Oakland Raiders. Sarkisian has come back to LA to follow in Kiffin's footsteps yet again - I'm sure it's very lucrative to clean up that man's coaching messes.
Prediction -
My record: 5-1. Against the spread: 3-3. Optimistic/pessimistic: CU +3 pts/gm)
Line as of Tuesday @ 11am - CU +19
Damn, that's a lot of points. That's especially a lot of points for a home team in this league, where road teams are 14-4 through the first three weeks. Seriously, 19 points? CU covered that last season when they weren't nearly as good. That just seems odd to me...
Anyways, I like the Buffs to stay in this one. USC is still a little short on depth, and, as they've shown through the first half of 2014, Colorado likes to run
a lot
of plays. Like
a real lot
. CU is 29th in total offensive output, but 11th nationally in total number of plays run (fourth out of those who've taken a bye week; 521 total, about 100 more than their opponents). They're averaging nearly 87 offensive plays per game, which is obscene. Assuming the Buffs can get over the hump of the first 10 yards to gain on every drive, I like their chances of wearing out the Trojan 'D,' and getting on the scoreboard per their usual clip; at which point, I figure Colorado will easily cover the 19 points,
Still, USC does a lot of things offensively that will make the Buffs uncomfortable - running the ball with Buck Allen being foremost. On the road, against a pulverizing rushing attack, I just don't see the Colorado run defense making the big plays necessary to keep the Trojans on their heels. For that reason alone, I'll still taking Southern Cal to win.
USC 37 - CU 28
GO BUFFS! PROVE ME WRONG, AND BEAT THE TROJANS!