The Pac-12 is next-level stupid right now. What does Week Six bring but
another
converted Hail Mary, major home upsets of the league's two presumptive juggernauts (hahaha, Oregon), and ridiculous scores all over the place. No other league in the country is this interesting. I don't even care what Katy Perry
did in that bar in Mississippi
, the Pac-12 was more captivating on Saturday.
Just another boring weekend in the world's dumbest league. From: 30 FPS
Yeah, that Cal/Washington State game you turned off in the third quarter? That ended up
60-59
, and featured the all-time NCAA passing record being set in a loss. Your division leaders? Fucking Cal and Arizona. The Wildcats, BTW, are the only remaining undefeated team in the league, and probably the only team on the West Coast with an honest shot at the national title (wut?). Whatever you though about this conference before the season started, I hope you wrote it down in pencil, because it's all wrong right now.
I get the feeling that we're all going to wake up in two months, and this all will have been on regional-sized acid trip. We've left the bounds of reason and convention, and are floating in clouds of absurdity. Can't wait for next week...
--
Today in the bag, I'm talking the game against OSU, the upcoming schedule, and the start of basketball practices.
Click below for the bag...
Just throw it on the pile with the others -
*sigh*, it happened again. CU, after constantly putting themselves in a position to win a ballgame, found a way to lose it. Thanks to a terrible start from the offense, a poor second half from the defense, and a boat-load of traditional Pac-12 refereeing 'misadventures,' the Buffs just couldn't get over the hump, and allowed another winnable game to pass them by. This is becoming all too familiar.
Close, but no cigar for Colorado. From: the BDC
Colorado didn't help their cause with a terrible start. Their first three drives went punt, turnover on downs, interception, allowing the Beavers to build a 14-0 lead before the first counter-punch was thrown. In years past, this would've equaled a coming onslaught of points from the enemy. This year, however, the team is built of sterner stuff, and would rebound by reeling off back-to-back 75-yard touchdown drives. Another score before half would give CU a lead at the break for the third-straight game. Not too shabby.
The second half, unfortunately, would see Oregon State make some adjustments, and begin to shred the Colorado 'D.' For four straight possessions, and with a little help from some suspect officiating, the Beavers marched down the field. They would clip off 260 yards and 17 points in only 34 plays to wrest control of the game back to the west sideline. By the time they plunged into the endzone for their final points of the game, they had a 12 point lead with just over five minutes to go. Sure seemed like
GAME OVER, MAN
to me.
Yet, once again CU would respond, marching 75 yards in only eight plays and two minutes. Suddenly there was a flicker of life. That flicker would turn into a bonfire after a terrible special teams blunder from the Beavers dumped them deep in their own territory. The field position forced them to shut down their effusive offense, allowing Colorado's defense to make some simple stops. An ugly punt would then give the Buffs the ball back with only 44 yards to gain and a-buck-42 to do it in. Seemed simple enough, right? Not to be, however, as QB Sefo Liufau would miss on three of four attempts to end the threat. Ballgame:
36-31
, Oregon State.
Give 'em credit, the Buffs never gave in. From the BDC
If there's any solace to take in Saturday's action, it was that it confirmed, once again, that this young Colorado team is capable of competing in the Pac-12. But, that's not good enough. This team
should
be 5-1 right now, with an outside shot at competing for the Pac-12 South crown. Instead, they're 2-4, and have lost all reasonable hope of making a bowl game. Damn frustrating.
I don't want to complain too loudly. These kids are busting their asses off, wearing their hearts on their sleeves, and playing entertaining football. Certainly, the 2014 Buffaloes are the most interesting team to play in these parts since 2007; I just wish the record book reflected that turnaround a little more emphatically.
As it is, this is just another heart-breaking loss for BuffNation. While it's not as damaging as some of the piss-poor efforts of years past, it's just another one for the pile. At least I've become anesthetized to this feeling. Bring on the bye week.
The Bulle(i)t points -
As expected, the Beavers went to great lengths to limit Nelson Spruce. Only six catches, 35 yards, and no scores for the standout wideout. *sad trombone*
While Spruce was quiet, a full 10 Buffs recorded catches yesterday, and Liufau still cracked the 300 yard passing barrier. Colorado was forced to spread the ball around, and they obliged.
While Oregon State did manage to do what others hadn't, what success CU had in the passing game seemed to come as a result of the Beavers paying too much attention to the Biletnikoff candidate. I saw the Buffs utilize multiple route packages that encouraged OSU to keep their eyes on Spruce, only for Sefo to throw to a different receiver in the same general area who otherwise would've been covered better. Colorado got some nice gains out of it, as a result. This is more than a one-man team...
That refereeing, *smh*. No consistency, calls made after seeing the result of the play, etc. Generally chickenshit officiating. But, what else is new? The sun rose in the east today, that was pretty cool.
I like seeing MacIntyre stick up for his kids, and he obviously had a gripe, but he's got to keep his shit together. Chasing the refs off the field at the end, with the cops having to decide whether or not to hold him back, was very uncouth.
Darragh O'Neill is back! After having his first inconsistent game of the year in Berkeley, he launched all four of his efforts on Saturday, averaging over 50 yards a kick.
With Christian Powell out with a concussion, someone in the backfield had to step up. Surprisingly, it was Michael Adkins, who tabbed 79 yards and a score on 13 carries. Had a few drops in the receiving game, but it was still his best effort on the year.
Addison Gillam had to leave the game with his second concussion in three weeks. It was thanks to a brutal hit that saw the offending Beaver ejected for targeting. I didn't get to see the replay, but the general consensus from those at home was that it was ugly and cheap. Hope Addison recovers quickly, because the defense needs him.
Upcoming schedule update -
USC 34 - ASU 38 -
Just two weeks after Arizona escaped the jaws of certain defeat with a converted Hail Mary, their intrastate rivals did the deed against USC. Yep, a handful of Trojan defenders had the best seat in the house as Sun Devil Jalen Strong arrived late to the endzone, and easily plucked QB Mike Bercovici's pass from the air. I'm sure, in retrospect, those Southern Cal defenders wished they'd have actually gone for the ball, rather than just sit back and await it's arrival, but hindsight is always 20/20.
Seriously, at least *try to knock it down.
Beyond the poor defense on the final play, the Trojans were far from blameless this weekend. They allowed the still Taylor Kelly-less Sun Devils to throw for 510 yards, including USC's first five allowed passing touchdowns of the season. This actually makes me more nervous the CU game, as I'm sure Southern Cal will redouble their efforts to stop the pass over the upcoming weeks.
UCLA 28 - Utah 30 -
At the end of the day, having a good kicker in college can make or break your season. Just ask UCLA, who saw their specialist miss two game-winning attempts with zeroes on the clock. Bruin Ka'imi Fairbairn missed a 55-yarder, before getting a 50-yard re-rack, thanks to a running into the kicker penalty. He'd miss that one wide right, too, leaving the Bruins hopes of a dark horse national title bid in tatters.
A huge win for the Utes in Los Angeles.
It was a big win for the Utes, who may finally be getting the hang of this Power 5 thing. They held the vaunted UCLA offense to only seven points in the first half, and
severely limited
Heisman candidate Brett Hundley for all but two plays - fourth quarter touchdown strikes of 93 and 40 yards. The Bruins' season is far from over, but a whole lot of what they were playing for died late Saturday night in Pasadena.
Washington - bye week -
The Huskies enjoyed their bye this weekend, their only bit of respite in the middle of a grueling, Hawai'i enhanced 13-game slate. As the 2011 CU team could attest, the extra game allowed by the NCAA when you travel to Hawai'i is no treat. Much the opposite, in fact, as it takes a tremendous amount out of a team. So far, so good for the Huskies, who swept their four non-conference games, but, as conference play wears on, I would imagine that they'll begin to regret their athletic department's cash grab.
I don't see good things on the horizon for Washington.
Speaking of results, Washington has yet to put an impressive one on the board. They barely survived the Hawai'i excursion, eeked by Eastern Washington, and pasted the lowly also-rans from Illinois (*sigh*) and Georgia State. Yes, they played Stanford tough in their first Pac-12 game, but the Cardinal doesn't seem quite as impressive this fall as they normally do. UW will play three more games before they visit Colorado on November 1st. I honestly wouldn't be surprised if they drop them all.
Basketball season is upon us -
OK, so the football team has proven to be entertaining, and the Pac-12 is a ridiculous morass of absurdity, but I'd be lying if I said that my mind wasn't on the CEC this weekend. Practices have tipped-off on the south-end of campus, finally signalling the start of basketball season. HUZZAH!
The Buffs have been getting at it early, or as assistant coach Rodney Billups
put it
, "We do more before 9am than most teams do all day!!" In his first post-practice presser, Coach Boyle said that, while they may not be a 6AM team, they are a 7:15 team," leaving the players plenty of time throughout the day for class and extra reps in the gym.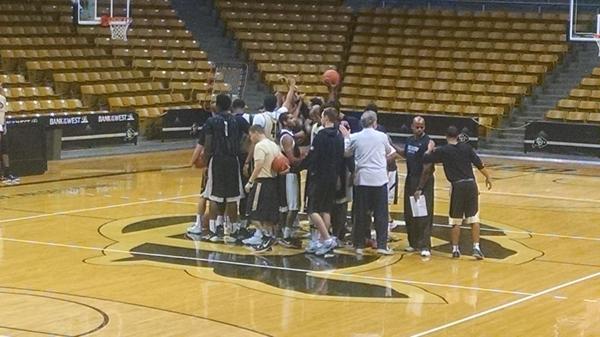 7:15 seems impressive til you realize I've already been at work for half an hour. From @CUBuffsMBB
The early word is that the team is putting a lot of work
in on the offense
, which makes sense, as they were 159th last season in adjusted offensive efficiency. There are promises of off-ball movements, a commitment to back cuts, and a general free-wheeling attitude to life with the basketball. I'm all about it. Weirdly, however (yet 100% true to form) Coach Boyle was downplaying the tweaks to the 'O,' and harping on the defense,
saying
($), "the fact of the matter is, in the four years that our staff has been in Colorado, last year's team was our worst defensive team." Unless I missed something, Boyle's worst defensive team at CU was the 2010-11 squad (by a country mile), but it wouldn't be Colorado basketball without Tad talking about defense. #TADBALL WILL NEVER DIE.
While the Buffs are beating the rising sun into the gym to improve, other teams are falling apart long before a ball was ever tossed in the air. Take for example the Oregon Ducks, who extended their impressive run of personnel issues with the
burglary arrests
of Elgin Cook and Jalil Abdul-Bassit. In true Altman form, he let the potentially criminal activity of his charges simmer before the press got wind of it, and only then did the UofO deem the incident worthy of comment. Apparently no lessons were learned from their
painfully lethargic
reaction to the sexual assault allegations leveled earlier this year involving Dominic Artis, Brandon Austin, and Daymean Dotson. After four years of Altman allowing his program to drag that institution's name through the mud, maybe no one should be surprised by anything less. All I know is, there's a real thin bench in Eugene that's only getting thinner...
Happy MondayTuesday!