Just saying, but tomorrow is November. You all know what that means... (*barely holding the tidal wave of excitement back*)
Before the insanity of basketball season descends, however, BuffNation has another home football game to peruse. The weird thing is, by the time the Buffs next grace the home gridiron, I will have seen four basketball games, and essentially completely given myself over to the hardwood. While there is still football to be played, important games, too, it's almost as if this weekend, against Washington, is my last opportunity to appreciate the 2014 Buffs without distraction. Don't get me wrong, I'm not calling it quits on the season, and I'm still going to go to the Utah game. I'm just trying to live in reality, which is that basketball will soon dominate.
At least, for this final, uninterrupted look at football, Colorado should be competitive. The Washington Huskies are not nearly as strong as their 5-1 start belied, and, while they need this game to keep an easy path to bowl eligibility open, I figure the Buffs should have as good a chance as any to break their losing streak.
I'm ready, bring it on!
--
It's the last home game before Thanksgiving. Kickoff from beautiful Folsom Field is set for 11am tomorrow. The weather's supposed to be lovely, so get your ass to the stadium bright and early to bathe in that last gasp of fall sunshine. For those stuck at home, coverage can be found on Pac-12 Networks, with the radio call on 850 KOA.
Click below for the preview..
When last we met -
Like many of the teams in the Pac-12, Washington has had their way with Colorado since the re-alignment of 2011. In the three meetings since then, the Huskies have dominated by a combined scoreline of 149-34. That may sound absurd, but that actually makes things seem closer than they have been, as CU has only scored 10 points against this bunch in the last two years.
Just take last season's meeting in Seattle, when the Buffs weren't competitive in the least. They went behind early, despite a random 53-yard touchdown strike to Paul Richardson in the first quarter, and proceeded to shoot themselves in the foot until any semblance of a pulse was washed away. By the end of the third, Washington had pulled their starters, meaning the
59-7
final, while an eyesore, actually undersells how thoroughly beaten Colorado was.
P-Rich had a nice grab in his future hometown... and that's about it. From: the BDC
UW scored touchdowns on eight of 11 drives (never punted), including six-straight at one point, to capitalize on six CU turnovers - a pair of interceptions, a fumble, two missed field goals, and a turnover on downs. It was a disheartening performance, to the point that Coach Mac got particularly blunt about the affair:
"We didn't have a chance to win tonight and I think that's the first time I've completely felt like that. We just couldn't give ourselves a chance at all on defense, a chance to win at all. We didn't tackle, we turned the ball over in key areas at times . . . we haven't really done that either and it got out of hand. It was kind of ugly."
'Kind of' was a little... well,
kind
, but the rest is dead-on. At no point did Colorado give themselves a chance in this one, an all-to-familiar sight for the reeling fanbase. Sure, 2014 has been frustrating, but at least the team isn't losing games like this, anymore.
CU getting shrugged aside hasn't been the norm this season. From: the BDC
For Washington, the star last year was current Tennessee Titan Bishop Sankey, who ticked off 196 yards of combined offense. For the Buffs, other than that scoring pass to P-Rich, there wasn't much to write home about. Overall, the teams were separated by over 325 yards of offense. I'm looking (Hoping? Praying?) for something much closer this go-around.
The Huskies in 2014 -
At first glance, the 5-3 Huskies may seem to be on the verge of bowl eligibility, but that's not actually the case. They scheduled a 13th game, thanks to the Hawai'i road trip exemption, meaning they need a full seven wins to make the post season. With difficult tests against UCLA, @Arizona, and Oregon State still to come, all of whom can fluidly score the ball, UW desperately needs a win tomorrow. Otherwise, they will be forced to win one of those
in addition
to the Apple Cup season finale against Washington State, all while playing without a bye week the rest of the way. They will want this one tomorrow.
Along with senior QB Keith Price and monster TE Austin Seferian-Jenkins, Bishop Sankey added an offensive dimension last year that the team just doesn't have in 2014. With a
new offense
, this group has struggled to score all season, or even, really, just move the ball down field. They're 102nd in average yards per game, and look to be a completely different team. Much of it has to do with the loss of those veteran leaders, but there's still talent on this team - it's a puzzle as to why they've struggled so mightily this year.
The Washington 'O' seems to be stuck in neutral.
It's been especially bad in conference play. The Huskies went a perfect 4-0 in their non-con slate, but are only 1-3 against Pac-12 competition, having worked to crack 300 yards of offense each game at a four yards per play clip. By comparison, even against the Pac-12, CU is getting around five yards per play, and looking mostly competent with the ball. UW simply struggles to bring offensive dynamism and explosiveness to the field, and it's put a once-promising season in jeopardy.
That said, they do excel in one offensive area that should send a chill through every Buff fan's spine - first quarter scoring. To-date, they've outscored opponents 72-37 in the opening frame. Colorado, as we're all acutely aware, is down a cumulative 93-45 throughout the first 15 minutes this season. While the Huskies generally have a difficult time putting up points, don't be surprised if they go up early tomorrow.
Luckily for them, one thing that has remained consistent from a year ago is their ability to both create turnovers, and turn them into points immediately. That defensive explosiveness remains, and will be on display tomorrow. UW as forced 16 turnovers on the year, returning six for touchdown to mark a
new school record
. This strength has been a lifesaver for the Huskies, who would be really up against it without their defense chipping in on the scoreboard.
A big play defense has kept Washington in games this season.
The only problem is, the defense, as thievish as they are, aren't really all that good. They're a very mediocre 68th in yards allowed, and seem to play to CU's strengths by struggling against the pass (107th in pass yards allowed) and in watching the chains move (101st in first downs surrendered). While they're 2nd nationally in sacks, and 27th in tackles for loss, the Buffs have shown an ability to avoid both this season. They've got some nice pieces who love to make big plays, but they don't seem to be able to sustain their quality against teams who keep forward momentum going. Assuming Colorado can avoid gut-wrenching turnovers, it actually sets up nicely.
Star Players -
The headlining star of the roster is big 6-3, 246 lbs outside linebacker
Hau'oli Kikaha
. The senior from Laie, HI has been wreaking havoc in offensive backfields this season, as he
leads the nation
in both sacks (14.5) and tackles for loss (19.5) through eight games. There's yet to be a game played in 2014 that he hasn't recorded a sack in, and, unsurprisingly, he was
named
as a midseason semifinalist for the Butkus Award.
Kikaha has been impressive this fall.
Hau'oli is entering rarefied air with his sacking pace. In an era of quick routes and read options designed to suck would-be rushers in, he's
getting to the quarterback
in a way that has't been done in a while. He's already got the single-season program record after only 2/3rds have been played, and sits only a half a sack away from 15, which no one has put up since 2010. While it's still a ways off, he also remains on pace to challenge Terrell Suggs' all-time single-season record of 24. Just incredible
This isn't anything new from Kikaha, who changed his name from Jamora prior to last season. The hybrid blitzing 'backer/pass rushing end recorded 13 sacks a year ago, and was named to the All-Pac-12 second team for his efforts. Now, it's not just conference awards that he's inline for. Should he keep this pace up, All-American status can't be far behind. Whatever CU can do to neutralize him tomorrow would be appreciated. It's all about getting to the quarter back in Seattle.
Kikaha isn't alone in getting to the QB from the Husky defense. Senior defensive linemen
Danny Shelton
and
Andrew Hudson
each make their presence felt, as well, combining for 12.5 sacks on the year. The three make for a scary defensive front, one that is, by far, the best the Buffs have seen to-date (as if there was a doubt).
The front seven leads the way, but, if in the backfield you must look,
Marcus Peters
leads the team in breakups and interceptions.
Bridging the gap between offense and defense is
Shaq Thompson
, yet another two-way star. A
brutal baseball player
, Thompson is so good at football that he can play on either side of the ball. A linebacker on defense - good enough to be named as a Butkus semifinalist along with Kikaha - he's been
pressed into service
at tailback in recent weeks as the sluggish Husky offense looks for answers.
Suddenly on offense, Thompson continues to shine.
Last week against Arizona State, he actually had a pretty good game, running for 98 yards on 21 carries. It's now to the point that he's seeing more snaps with the ball, rather than against it. With the defense the strength of the team, it makes sense that they could afford to lose some talent to the benefit of the offense, but it's a shame Thompson can't keep devoting all of his time to what he's eventually going to play in the professional ranks.
Under center is a familiar face for high school football fans across the state of Colorado. It's
Cyler Miles
, the onetime CU recruiting target and Mullen product who's taking snaps as a sophomore. It hasn't been a smooth run for Miles in 2014, however. He missed last week due to a concussion suffered against Oregon, and is only throwing for about 173 yards per contest. Certainly, if you were to make a direct comparison, CU's sophomore QB, Sefo Liufau (coincidentally from Washington), is having a much better season. Still, Miles is
excited
to be back in the Centennial State, and I would expect him to play well in front of friends and family.
Miles isn't quite, yet, the standout dual-threat QB of promise.
The rest of the group hasn't put up much on the statsheet. Junior wideout
Jaydon Mickens
leads the team in receiving yardage, but only records about 40 yards per game. Freshman
Lavon Coleman
had been the feature running back, but injuries and inefficiency from him are the whole reason Thompson is splitting snaps now. It's a really imbalanced roster at this point, as the young offensive pieces continue to cut their teeth.
Coaching -
Hey, look! Some fresh blood in the conference's coaching ranks. It's former Boise State coach
Chris Petersen
. Boy, do we in BuffNation have some stories to tell about how the Boise coaching tree shakes out...
BOO
, happy fucking Halloween to all!
Petersen went 92-12 over eight seasons as the head Bronco in Idaho, earning numerous accolades and bowl wins along the way. Only twice did his teams finish outside of the Coaches top-25, and he can claim two undefeated seasons: 2006 and 2009. The offensive coordinator under dear old Hawk, Petersen turned a solid, exciting mid-major program into football gold, once given the chance. The notion, then, was that Petersen was really the goods in Boise, which did little to assuage the pain felt in Boulder as Colorado slowly slipped our of relevancy with the coach we got.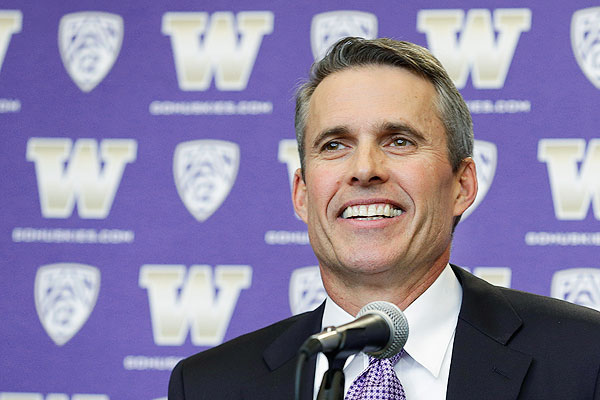 Petersen is trying to bring that Boise magic to Seattle.
But, as is always the case, the coach at the small school eventually began to look for a bigger school to pay him a large amount of money. After years of turning down suitors from across the football landscape, he finally gave in to UW and a
minimum of $18 million
in straight cash, homey. After eight games of poor offense and diminishing returns, however, I bet the Washington fanbase isn't exactly thrilled with their ROI to-date. Wouldn't it be ironic if Petersen turned out to be just as ineffective away from the blue turf as Dan Hawkins did? I know I'd laugh.
Prediction -
My record: 7-1. Against the spread: 4-4. Optimistic/pessimistic: CU +3.38 pts/gm)
Line as of Thursday @ 11am - CU +4, O/U 61.5
The key to victory tomorrow will be CU's ability to avoid the turnover and keep the chains moving. The Huskies thrive on big plays on defense, either sacks generating positive field position, or forced turnovers leading directly to points. If the Buffs can avoid both - which, playing to form, they should be able to do - I like their ability to score the upset over Washington. Oh, and staying within a touchdown after the first quarter wouldn't hurt, either.
If only because I won't have another opportunity to do so this year, I'm saying the Buffs win this one, finally leaving the losing rapids behind to break through into the sweet, sweet waters of Lake Victory. Cats and dogs living together, mass hysteria! Rush the field, tear down the goal posts! Get crazy, everybody!
CU 31 - UW 24
GO BUFFS! PROVE ME RIGHT, AND PUT THE HUSKIES IN THEIR CAGE!