The most evident difference between the Colorado Buffaloes of 2014-15 and this season's version is the credible threat the team poses behind the arc. Last winter, they were 33% shooters from deep, good for 204th nationally, and really were dependent on whether or not Askia Booker was hitting. This campaign, it's a completely different story, with CU knocking down over 40% of all three point attempts, making them one of the 15-best shooting clubs in the country. What's more, lead by George King's insane 49% clip, the Buffs have a number of versatile, talented long range assassins who are able to make opponents pay when they double the post, and it's made them, overall, a competent offensive proposition only a year after they were one of the most frustrating offensive clubs I've ever seen.
Good. From: the BDC
But, even as good as the Buffs have been hoisting the rock this year, they had never approached the performance they displayed in Wednesday's
91-75 win
over Stanford. Shut the doors and turn off the lights when looking at the stat sheet, because their 13-19 shooting from three is decidedly NSFW. George King, Josh Fortune,
et al
were on fire, hitting almost every time they rose up. I got caught up in it and was yelling 'GOOD' before the ball even left their fingers --
Prince knows what I'm talking about
. It was the difference in the game, too. Think of it this way: if the Buffs are normally 40% shooters from beyond the arc, then you would expect them to hit about seven or eight threes in 19 attempts. With CU winning by 16, those extra five or six threes made for the margin of victory. Sometimes, shooting three pointers well can cure a lot of problems.
This wasn't a perfect performance by any means. Sure, the Cardinal were abysmal offensively in the first half, shooting under 30% from the floor, but they came alive in the second, and pushed CU possession-by-possession over the final 20 minutes. Rosco Allen, looking to shake off the horrible things Wes Gordon did to him in Palo Alto, poured in 25/9. Add to it Josh Scott feeling a little under the weather (still put up 14/8/4/3), and Colorado needed all that juice on the perimeter.
A little under the weather, Josh Scott still put up solid numbers. From: WTOP.com
In addition to the shooting, CU paved over mistakes (another 15 turnovers, three straight missed 1-and-1s in the second half) by sharing the basketball and securing the rebounds. In all, the Buffs handed out 21 assists on 27 made baskets, easily their best mark in Pac-12 play, while playing +8 on the glass. It's hard to beat Colorado, especially at home, when they are making the extra pass, rebounding to their numbers, and holding opponent shooting under 37% for the game. Add in the three point shooting, and it becomes an impossible task. By the end of the game, the 'Larry Bird All-Stars' were in, and the assembled crowd was hitting the parking lot early. Really, nothing to complain about here.
And so, the Buffs look to wrap up the first half of conference action on a high note. A win tomorrow against the Golden Bears would make for three in a row, five in six overall, and keep them in the running for the league crown. More importantly, it would make for sweet revenge for the absolute dismantling Cal put on Colorado back on New Year's Day, and stand as another top-50 RPI win. I won't go so far as to say this is the '
most important game of the Tad Boyle Era,
' or anything like that, but this is a huge game. Time to get to the preview!
--
Hype Music for the Evening: "Ballad of Davy Crockett" by Fess Parker
Why? Because 'he
kilt
him a
b'a
r
when he was only three,' of course. Enjoy!
--
Tip-off from the CEC is set for 3pm on Sunday. There's no excuse for a halfhearted crowd for this one. It's a big game between two very good basketball teams, the Broncos are on a bye week (don't even pretend to care about the Pro Bowl), and the snow won't fully hit until Monday. If you're a warm-blooded member of BuffNation, and you live in the area, you better be trying to get a ticket. If, for some reason, you hate your university, you could always stay home and catch the action on either FOX Sports 1 or 850 KOA, but then we won't be friends any more. Be my friend, and get your ass to the CEC!
For reference, my preview from the first matchup can be found here.
Click below for the preview...
When last we met -
Throughout the season, no matter the caliber of the opponent, the venue, or the situation, the 2015-16 Colorado Buffaloes have proven that they can be relied on to bring consistent intensity and grit for 40 minutes of play. That was not the case New Year's Day in Berkeley, however, as CU was punked from tip to final horn by the Cal Bears. It was a sight BuffNation had grown accustomed to a year ago, but not this season. No, this season has been about a new attitude, free flowing offense, and a larger return to #TadBall principles of defense and rebounding. All of that was thrown out against Cal, though, as the Golden Bears controlled every second of the action, en route to a commanding
79-65
final.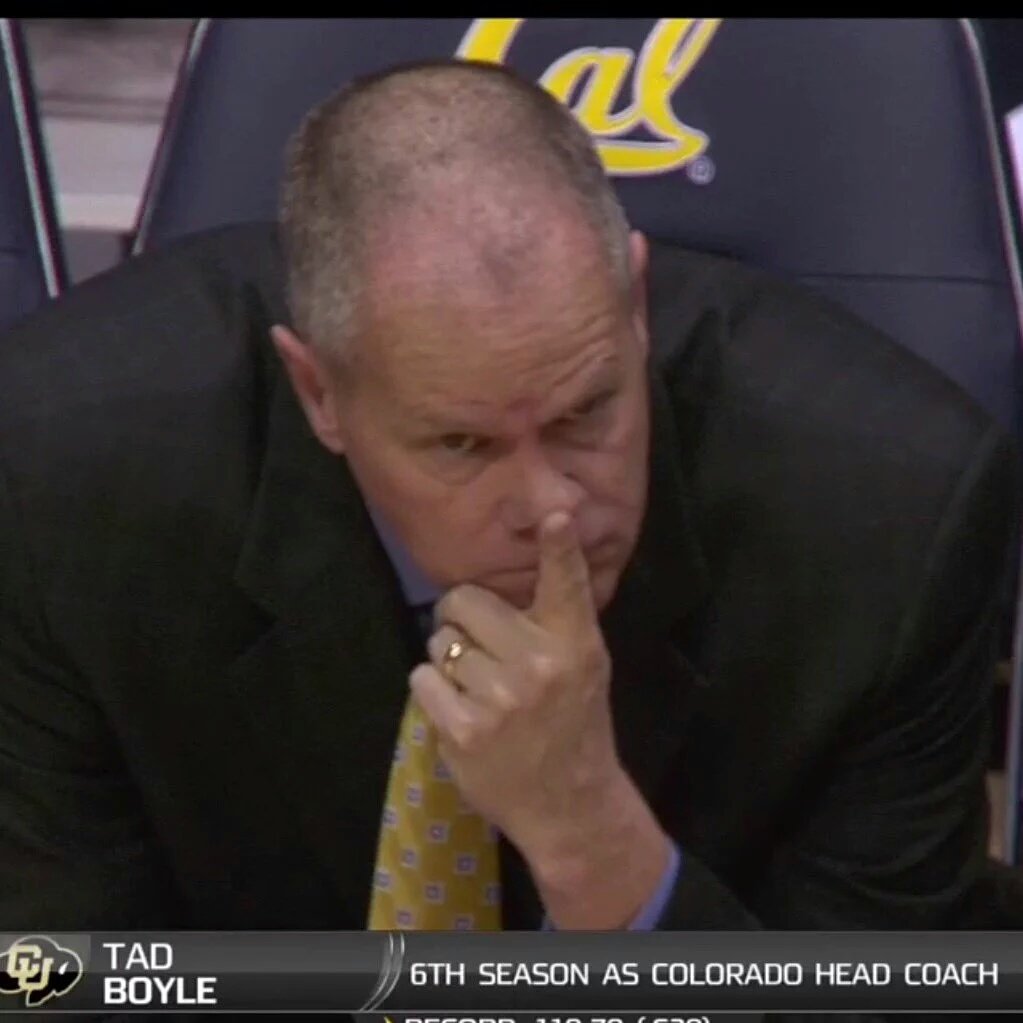 Yep, that look pretty much sums it up. From: @TheGhostofMarv
Even Coach Boyle noticed the different timbre of the action, saying after the game, "It's the first time I felt all year where we got out-toughed and really got out-scrapped and outplayed." Quite simply, it did not look like the Buffs were ready for the ramp up in intensity and competitiveness that always comes the start of conference action. They had been sitting idle for nine days between the end of the Las Vegas Classic and the game with Cal - an abnormally long time off between the end of non-conference play and the start of the 'second season' for Coach Boyle and crew - and the rust showed. Colorado had routinely scheduled a game or two between Christmas and New Year's in the #RollTad era, a practice that was adjusted last year in deference to the long flight back from Hawai'i, and then outright abandoned this winter. While I had grumbled at the time about mid-break tilts with the likes of Western New Mexico, New Orleans, and Hartford, those games served an important rhythmic purpose. It'll be interesting to see how scheduling breaks out next season, but don't be surprised to see a return of the pre-conference cupcake after Christmas.
Regardless, the stat sheet from the first meeting is pretty damn ugly. Colorado allowed 52% shooting form the floor for the game, were down 10 rebounds at the end of the first half, and only generated six assists (from two players) on 21 made baskets. Looking back, the names Kinglsey Okoroh and Kameron Rooks should cause any true BasketBuff some heart palpitations. The pair of seven-footers had barely registered on the radar before this game, but they came to dominate the action throughout. Behind their efforts, Cal was able to completely disrupt everything that had made CU special over the first two months of the season, snuffing out activity in the paint without doubling to cancel any inside-out action.
Mathews and Okoroh had massive games against Colorado. From: USA Today.
As a result, not a single Buff had what I would call a 'good' game, with typical scoring leaders Josh Scott and George King going a combined 8-28 on the offensive end, and numerous defensive issues springing up (Jordan Matthews, again, lit up CU, going for 22 points on 5-6 shooting from deep). It was a combination of the Bears being better than they had shown previously this season, the Buffs being far worse, and, to top it off, almost every 50-50 bounce of the basketball seemed to go the way of the home team. It was a perfect storm of suck, one that Colorado was lucky to escape from with only a 14-point loss.

Luckily, the Buffs rebounded. That remains the only time this year that CU has failed to answer the bell, and even in their other loss by a sizeable margin (last week in Seattle), Colorado managed to keep pushing for traction until the end of the action. It's the only true blemish on the schedule to date, and one that deserves an answer. Let's see what kind of answer the Buffs have been cooking up over the intervening month...
The Golden Bears since then -
Cal were my anointed winners of Week 1 in Pac-12 play, finishing off their sweep of the 'Ski Schools' by
thumping Utah
a few days after dispatching Colorado. Since then, however, nothing has been easy, particularly on the road. The Bears would go on to drop three straight away from Haas Pavilion, including close losses to
Oregon in Eugene
and
Stanford in Palo Alto
. They weren't getting blown out, but something was certainly upended at the heart of a team picked in the preseason top-15. Throw on top the devastating loss of star senior point guard Tyrone Wallace to a
broken hand
, and the train seemed ready to jump the tracks in Berkeley.
The Bears are missing a lot without Ty Wallace. From: NCAA.com
However, a quick turn of fortune on home hardwood staunched the bleeding, and got them back on course. The capper, a
74-73 win
over Arizona, was an impressive, emotional victory. Jordan Mathews lead the way in that one with 28 points on 17 shots, something that he needs to do game-in-game-out with Wallace on the sidelines. If anything, that effort proved that Cal is still a loaded, dangerous proposition, even without their senior leader. They still have those talented freshmen forwards (Jaylen Brown and Ivan Rabb) to add to what Mathews can provide, and, for CU's purposes, that deep front line still looms on the horizon. Don't take them lightly without Ty.
Overall, the Bears have continued to play solid basketball against Pac-12 competition. Their focus on limiting action inside the paint has served them well, and they stand as the league's best in both eFG and two-point field goal percentage. They simply do not give up easy looks down low, and do so without having to double or trap on every possession. Which is exactly why their
73-64 loss
at Utah earlier this week got my eyebrows up in intrigue. The Utes got next to nothing
outside
, with Brandon Taylor, Lorenzo Bonam, and Jordan Loveridge combining for 7-24 shooting on the night, 3-12 from three. No, it was the interior strength of Jakob Poeltl, Kyle Kuzma, and Brekkott Chapman putting up 44/16 that lead the way for Utah. Is this result the exception that proves the rule, or a sign that teams are starting to figure out how to attack Cal? We should a pretty good indication of the answer tomorrow night.
The Utes powered past Cal this week. From: Topix.com
Elsewhere, Cal remains the best team in all of college basketball at limiting transition opportunities, allowing only 18.2% of initial shots on the run. Of those, they're also 2nd nationally in defending transition looks, holding all opponents to an eFG barely over 42% on all attempts on the break. These guys make a point of getting back, and it help buoys their defense, especially against teams like CU who rely on these kind of looks. Add to it that they continue to limit opportunities to get to the line - 3rd in the Pac-12 in defensive FTA:FGA ratio - and it's reasonable to expect that Colorado will, once again, struggle to score against them tomorrow night.
Why things could be different -
First and foremost, the absence of Ty Wallace removes the #1 reason why many 'experts' (myself included) had the Golden Bears pegged to win the Pac-12 at season's onset. The 4th year senior starter is a special, unique talent that creates matchup nightmares across the court. An incredible facilitator and defender, he could beat you on both ends, and Colorado had long struggled to answer his presence on the Cal roster for years. Without him, the lead point guard duties fall to Sam Singer -- a good basketball player, but nowhere near the capable threat of Wallace. CU can take advantage here.
Singer now has the reins in Berkeley. He's no Ty Wallace. From: SFGate.com
Additionally, the change of venue is very important. Sure, Cal has proven to be a very good basketball team this year, notching a number of big wins over the calendar, but, as was the case with the statement wins over the opening week of conference play, all of that fun took place at home. Certainly, in the safe familiarity of Haas, backed by a rowdy wine and cheese crowd, the Bears can still play strong ball without Wallace, as their win over Arizona proved. But, on the road, I'm not so sure. Even before the injury, Cal had been struggling away from home, with their lone win on foreign soil coming in overtime over a
very
suspect Wyoming team (who, if you remember, lost to Ft Lewis...), and now comes their effort against Utah. It's easy to question them outside of Berkeley, at this point. While that doesn't make this game any easier, by any measure, it does seem to close the gap between the teams significantly.
Finally, let me circle back to three point shooting. Colorado was damn near 70% from range this week, but only hit 3-11 attempts in Berkeley. Certainly, their efforts against Stanford were inhuman, never to be duplicated this season, but there has to be a happy medium. Cal is a good defensive club, even out on the perimeter, but I'm expecting improvement here. A few more attempts and a few more makes from those in Black and Gold are in store, and will be sorely needed to make up for the issues in transition and in the paint.
Prediction -
My record on the year: 6-2. Against the spread: 3-4-1. Optimistic/pessimistic: CU -1 pt/gm)

Lines as of Saturday @ 12pm - CU -3.5, O/U 140
There's not a single part of me that expects the Buffs to come out as flat and as lifeless as they did in the first game. Colorado will answer the bell tomorrow night; if they lose it won't be because they were caught flat-footed. Looking deeper, while the Buffs will still struggle to score in paint, Cal won't be able to eviscerate them like they did in Berkeley without Ty Wallace. Sure, Mathews will get his, probably going for another 25-ish points, as he always seems to do against Colorado, but I'm the others on the roster will struggle without consistent service from the injured senior.
In the end, backed by a home crowd, and with hot shooters ready to roll, I'm going to take the Buffs. It'll be close, but a win, nonetheless.
CU 70 - Cal 67
GO BUFFS! PROVE ME RIGHT, AND BEAT THE BEARS!