The shortened work week has left me precious time for chatter. Straight to the action!
Today in the bag, I'm talking the big win over Oregon, the goings on in the Pac-12, and some recruiting notes from both football and basketball.
Click below for the bag...
Buffs bench steps up against Ducks -
As ugly and discordant as Wednesday's night's affair with the Oregon State Beavers was, Sunday night's game between Colorado and Oregon was a celebration of everything that is joyous and fun about college basketball. Played to 72 possessions, the action was open and flowing from the start, with both teams seemingly scoring at will. That's not to say there was no defense played, it's just that these teams came to run (and score) over the weekend, and kept the tempo and activity up throughout. It was a blast to watch, and a true treat for all 8,459 in attendance (... and a dirty rotten shame that number wasn't higher). In the end, CU came through, riding an explosion of bench points (45) to a
91-87 win
that they sorely needed.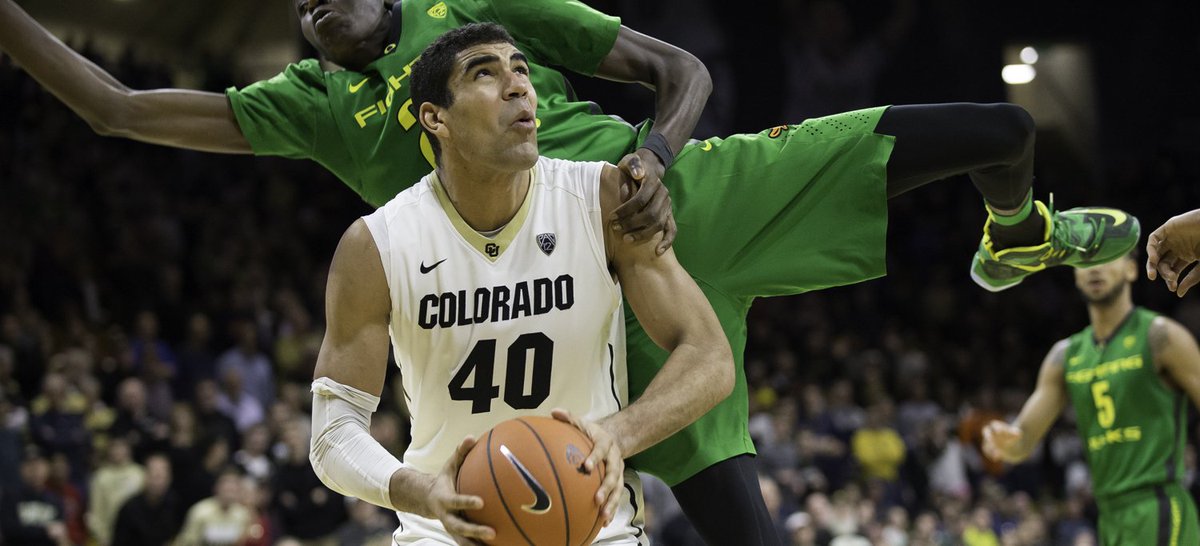 Weeeeeeeeeeeeeeeeeee! From: Bleacher Report.
Xavier Talton, Tre'Shaun Fletcher, Tory Miller, Thomas Akyazili. While Fletcher had seen some starts this year, and Akyazili is quietly coming into his own at the point, this is not a collection of names that would usually seem to strike fear into the hearts of opponents. However, in a game the Buffs had to have, these four came alive off the bench against the Ducks, accounting for just under half of the overall team point total. They were reliable, they were efficient, and, more importantly, they were playing better than their starting counterparts (all five starters were even or worse
on +/-
, all four subs were positive). Josh Scott got his 17/11 and Dom Collier handed out six assists against zero turnovers, but, as a whole, the starters struggled all night long. Thank God for the bench! (never thought I'd say that)
Talton was particularly good. Over 26 minutes he put up 13 points and three assists against just one turnover while playing +19 basketball. It was, by far, his best performance of the season (the points and minutes were season highs), and really the first time since his sophomore year that he
earned
high leverage minutes at the end of a game. What really struck me was his aggressiveness; Xavier was a menace off the perimeter, attacking with poise and speed the rotating Oregon defense, making them pay for over-pursuit on the edge.
That's
the Xavier Talton I hoped to see what I talked him up in the season preview, a senior presence that Colorado could really use going forward. Fletcher and Miller joined him in double-figure scoring, with Tory playing extra minutes because of a minor injury to Wes Gordon (Tad shrugged it off on Monday), and Tre'Shaun hitting seven of eight free throws (including a number of huge ones down the stretch). The freshman Thomas came in and put together another solid stretch, playing great defense (four steals, fronting the post like a madman), and showing a good amount of poise and grit. All told, a shocking, dramatic impact from some often maligned players.
The bench has something to say. From: the BDC
But, really, the story of the game was how competitive it was. Two years ago I sat in awe of the picture perfect beauty that was CU's
100-91 win
over the Ducks. This game was largely reminiscent of that back-and forth affair, and was was just fun to watch. CU would punch, Oregon would counter. There'd be one huge play, only to be quickly answered and forgotten in a tidal wave of big moments. While there was some unnecessary referee involvement, it never felt too encroaching, and the game flowed throughout. If I could watch it again right now, I would, and I'd stay riveted until the end.
I think, ultimately, the game turned on something I talked about in my preview: foul trouble. Two of Oregon's biggest stars, Chris Boucher (didn't realize that kid was as much of a cocky asshole as he was...) and Dillon Brooks, played to form, and grabbed some quick whistles. Boucher, particularly, was getting lit up by the zebras early and often, taking three personals in the first, mostly of the soft, not-playing-smart variety. Come the second half, the two really had to change their styles, and Boucher was limited to only 15 minutes of action. The pair both fouled out before the end, and the Ducks really missed them down the stretch. I honestly don't think CU wins with them there to the finish, but you never know.
Dillon Brooks does not want. From @Matt_Sisneros
Overall, it's a huge result for Colorado. Having dropped the home conference opener to Utah, they needed a positive result in this one to keep any hopes of a top-four finish alive. These are the kind of games Tournament teams win, and, to their credit, the Buffs found a way to enter it in the left-hand column. Up next: a tough trip to the Pacific Northwest, first to the league-leading Washington Huskies, then the always difficult trek to Pullman and the Washington State Cougars. A sweep could put CU top of the table, but I'd be satisfied with a split. Someway, somehow, the Buffs have to recover the ground lost to the Utes, and at least one win this week would do nicely.
Around the world of Pac-12 Hoops -
Arizona 90 - Washington St 66 -
In a close decision, I'm tabbing the Wildcats as my weekend winners. I'll get to the runners up, USC, in a minute, but it's hard to look past two statement wins by an average of 28 points each, which is exactly what the UofA grabbed against the Washingtons. While the linked win over WSU was nice, it was mere
digestif
to the full meal created by cracking open the Huskies on Thursday night. It was a declarative performance from the defending champs: we aren't just going to roll over after one rough road trip to LA.
Zeus is back, and so are the Wildcats. From: the Daily Wildcat
A key to track: this Arizona team continues to be serious about rebounding. They were a combined +29 on the glass, which absolutely negated anything the Huskies or Cougars could do. CU has been the statistically stronger rebounding squad through three weeks of conference play, but, as I think we'll find out when the 'Cats visit next month, 'Zona is a step above. With Kaleb Tarczewski now back and healthy, there's just no approaching them under the rim.
USC 89 - UCLA 75 -
Not to be out-done, USC flexed their might against their crosstown rivals last week, making their chase for a Pac-12 crown suddenly very realistic. Jordan McLaughlin was star here, putting up 23 points and four assists against zero turnovers. The Trojans just have so many offensive weapons right now that it's hard to point to just one (and I highlighted Julian Jacobs last week), but McLaughlin has been quietly going on a tear, averaging 16/5 since the start of conference play. The sophomore point guard can be very nasty when he's on, and he has been the last month.
The Trojans are starting to scare me... just a bit.
USC now embarks on a particularly tough road trip to the Oregons this week, which will finally confirm, one way or the other, if these guys are for real. One thing is for sure, these aren't your slightly older brother's Trojans. What was once a laugher of a visit to a dead Galen Center is now a suddenly very difficult proposition. I'm not kidding, when the Buffs travel to Los Angeles next month, I'm far more nervous about the visit to University Park than the pilgrimage to Westwood. What a time to be alive...
Stanford 77 - Cal 71 -
Hrmmm, I didn't see this one coming. Those Golden Bears, who looked so strong in Week 1 against Colorado and Utah have now lost three straight, all away from home, capped by this surprising defeat at the hands of the Stanford Cardinal. With a coming homestand featuring a visit from Arizona, followed by a stop in Salt Lake city to play the Utes, Cal could be 3-5 by the time they hit Boulder for the return game on the 31st. At that rate, you start to wonder if they will even make the Tournament (especially now with Ty Wallace
out for a month
).
Rosco Allen is starting to assert himself. From: Cal Golden Blogs
For Stanford, Rosco Allen continues to shine. Since the start of conference play, his only bad game was against Wes Gordon and Colorado; take that out, and he's averaging 18/6. Those are All-Pac-12 kind of numbers (given the bloated first team), and a testament to the kind of player he's growing into being. The Cardinal are a surprising 3-2 in league play right now, pretty much all down to his performances. 'Furd might just be able to round into a top-half finish if the league continues to sleep on him and them.
Utah 59 - Oregon State 53 -
After a trainwreck defeat at the hands of Oregon, the Utes were in desperate need of a win against the Beavers. For much of the game, however, they didn't look to be capable of earning it. They were down 11 at the half, and didn't seem to have that much life immediately out of the locker room. OSU, however, began to implode, both physically and
mentally
, allowing Utah back into it. When it was all said and done, the Utes outscored State 36-19 in the second half, and secured the much needed win.
Jarmal Reid had some... issues with the officiating in this one. From: Oregon Live
Following this game on twitter, it seemed to me like the Utah faithful had seen enough. There were rash statements, questions of Lary Krystkowiak, and a constant stream of unbearable whinging. Much like #CUTwitter the night of the Stanford win, however, all of that whiny bitching was premature. Behind 15 points from Jakob Poeltl (probably very thankful to be going against OSU's soft front line, rather than the menacing force of Josh Scott), they ground out the victory, scoring their last nine points from the line. Certainly, they had the refs in their pocket after the Reid incident, and the Beavers did themselves very few favors in the second frame, but all credit to the Utes for making chicken salad out of chicken
shut-your-mouth
.
Recruiting notes -
Tad Boyle currently holds at least one open scholarship for next season (potentially two, if Xavier Johnson leans that way), and he's looking to spend it on a highly touted prospect from Down Under. Enter:
Harry Froling
, a 6-10, 250 lbs forward from Australia currently receiving the four-star treatment from most publications. The big kid was in town this weekend (as was fellow Aussie and former Buff Shane Harris-Tunks. Purely a coincidence, of course), checking out CU at the Oregon game, and seemed to have fun
serving as the Buffs' lucky charm
. While he didn't originally have CU on his visit list, a late decision to drop Wisconsin from his final grouping put Colorado in the running. He's also considering, and visiting, Illinois, Arizona, and SMU. Heady competition...
The Buffs need a new forward, and Froling could be the answer. From: the Herald Sun
With Josh Scott graduating this year, and Wes Gordon right on his heels next spring, the time is right to bring in a power forward for the next generation. I'm not even going to come close to commenting on his abilities, having barely seen any film on him, but the people I trust are all saying good things. Further, none other than CU's last Australian hero, Nate Tomlinson, was on twitter
talking the young man up
. If he's good enough for Nate, than he's good enough for me.
On the football side of things, with just a little over two weeks remaining until national signing day, the trail is starting to heat up. Mike MacIntyre and crew hosted a boatload of recruits this weekend, hoping to sell the facilities and the promise of a program on the rise to some potential future Buffs. The biggest name in the group, however, was a senior collegiate QB looking for a fresh start.
Davis Webb
, formerly of Texas Tech, was in town over the weekend, kicking the tires on the new home of former position coach Darrin Chiaverini. It would be a big get for the Buffs, still searching for their first bowl berth in the better part of a decade, to land the graduate transfer. Webb is a proven commodity, with experience in the style of play Chiaverini looks to bring to the east sideline in Folsom. While all indications are that Sefo Liufau will be back and healthy, this is a make or break year for the MacIntyre program, and there's no reason not to maximize the quality of play under center.
Happy Tuesday!