Bad news, everyone! I
didn't win the lottery last Saturday
. As such, the dream of a revitalized CU Baseball program continues to lie dormant, at least for a few more days. Don't despair just yet, Boulder-based seam heads, the Powerball pot continues to grow into Wednesday's drawing, meaning we may still get that program up and running before the end of the calendar year. Here's to hoping!
--
Today in the bag, I'm wrapping the game with Utah, taking a look at how the rest of the Pac-12 fared, and touching on last night's national championship.
Click below for the bag...
Buffs blow golden opportunity, fall to Utes -
*Bounce-bounce*... *bounce*... *bounce*... *falls in*
The Colorado Buffaloes had been playing the Utah Utes near-perfectly Friday night. In front of a really nice crowd, they had all but eliminated positive contributions from the Utes' superstar center, Jakob Poeltl, were enjoying a strong scoring performance from George King, and had leveraged #TadBall (+6 on the boards, Utah shot barely over 40%) into a seven point lead with five minutes to play. But, down the stretch, just as we had seen against SMU and Stanford, the Buffs just stopped scoring, committed too many turnovers, and ran out of gas. When a broken kickout handed Utah the final possession hammer in a tie game, I think everyone knew what was coming. The follow-up floater from Utah's Lorezo Bonam lived on the rim, but eventually fell to seal Colorado's
56-54 loss
. It's CU's fourth straight loss to their regional rival; the haunting stuff of nightmares.
*Stream of unintelligible swearing* From: the Deseret News
Bonam owned the final minutes of this one. He scored or assisted on each of Utah's final four baskets, and collected the final miss-fired pass from CU's Josh Fortune that doomed the Buffs. We may not have known much about the JuCo transfer from tiny Gillette College in Wyoming prior to Friday's action, but he's a true nemesis now. His final drive to the basket reminded me a lot of the
2013 home loss to Arizona State
, which saw the Buffs lose on a last-second layup in overtime. It left me just as devastated, just as numb. I only wish CU had taken the opportunity offered them, and trapped the Ute at the timeline at the start of the final possession.
Bonam's heroics wasted a hell of an effort by Josh Scott and Tory Miller to all but erase future NBA lottery pick Jakob Poeltl inside. Poeltl, who had come in shooting damn near 70% from the field on the year, only made two of eight attempts on the day, and went into the halftime locker room without a point scored. Scott and Miller pushed the Austrian import around, making him work for even the easy looks, and it paid off. It helped that Poeltl missed a few bunnies, and that the refs lost their whistles for most of the evening (other than the odd moment when Verne Harris felt he needed the spotlight back on a clean Wes Gordon block), but all credit to the pair for doing the dirty work inside; Jakob looked exhausted and frustrated for most of the evening. Scott would finish with a solid 10/10 double-double for his troubles.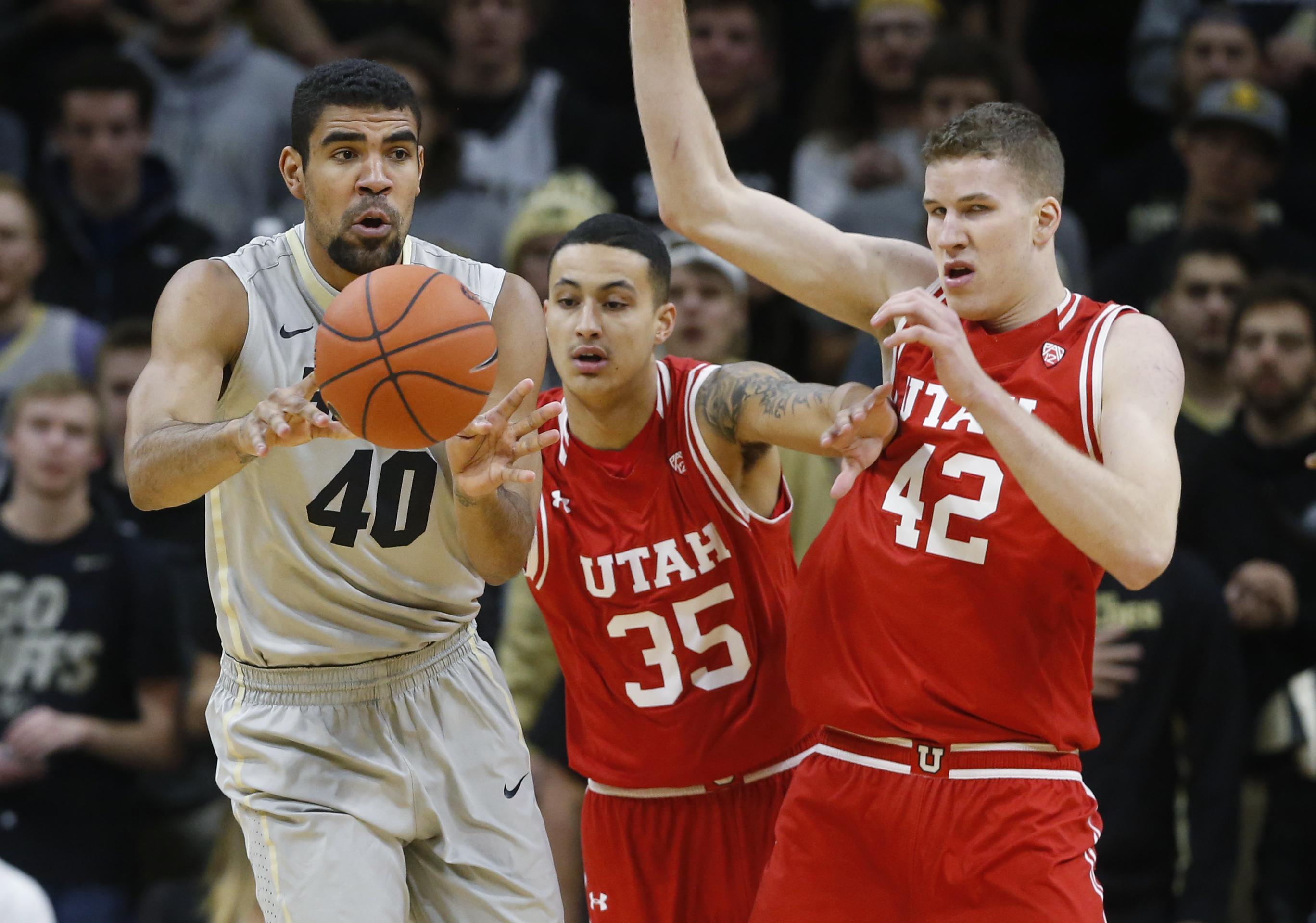 J40 had made Poeltl's life a living hell in the paint. From: the Washington Post
Elsewhere, George King went off, scoring 21 points on 10 attempts. Four turnovers aside, it was easily his best performance since mid-November. My only question: why wasn't he the one making the drive towards the basket on CU's final possession? Josh Fortune had silently struggled offensively all night (2-6 from the floor), continuing a lengthened slump that has seen his importance in the wing hierarchy plummet, and I wasn't exactly 'shocked' when he threw the ball into the waiting hands of Bonam. Colorado needed to live or die with King and/or Scott there, and, while King was waiting for the errant pass, should've been the one in position to dictate the play.
Before we all over-react too much, this isn't a season-ruining loss, as the rest of the league exists in turmoil. However, Colorado missed a golden opportunity to step over the Utes' sinking ship and into the driver's seat for a top-four finish. Into the final media timeout, this was CU's game to lose, and they did. It's a fact that the team will come to rue come March, much to my chagrin.
Cest la vie.
Around the world of Pac-12 Hoops -
USC 103 - Arizona 101 -
The undisputed winner of the weekend was USC. Not only did they sweep their pair of games (a prerequisite for such a crown), but they proved, at least to me, that they are for real. For weeks, their top-25 RPI had seemed soft. Surely, these Trojans, who had been a true doormat for the last four years, were ready for a collapse once conference play hit, right? Nope, not if Julian Jacobs has anything to say about it. Leading Southern Cal to a big win over the UofA - in four overtimes, no less - Jacobs and his 13/5/6 averages threw his hat into the Player of the Year ring. In a season where every Pac-12 game is apparently one giant coin flip, that the Trojans are still floating along speaks volumes. I'm starting to believe.
Jacobs has the Trojans flying high. From: CBS Sports
For Arizona, they are probably the biggest
loser
of the weekend. Swept in LA, they lost a much of their luster, plummeting out of the national top-10 and into a tie for 8th in the Pac-12. Further, the 'Cats lost more than just the games in SoCal, as guard Alonzo Trier
broke his right hand
, and will be out for at least a month. Just an awful, no-good trip for the presumptive front-runners. I wouldn't dismiss them out of hand just yet, however. They've yet to play a home league game, and still register as the best rebounding team in the entire country, according to KenPom. 'Zona'll be just fine, come March.
UCLA 81 - ASU 74 -
A close runner-up to the Trojans for the title of 'weekend's best' were the crosstown rival Bruins. They also earned a sweep of the Arizona schools, capping the set with a hardscrabble win over the Sun Devils. Isaac Hamilton scored a game-high 26 in this one, and continues to power the UCLA attack, who, after a rough first weekend in Washington, may be in the best shape of any of the preseason favorites. They're going to have to prove it on the road, though. After this week's battle with the Trojans, the following road trip up the coast to the Oregons will go a long way to determining just how serious UCLA will be in the hunt for the league crown.
UCLA bounces back from a rough opening weekend. From: AZCentral.com
On the other side of the court, ASU is, very quietly, 0-3 to start conference play; the only winless team in the league. Not a good look for the fiery Bobby Hurley, who has more ejections under his belt than Pac-12 victories through two weeks. Thursday's home game against Washington State, though, may be a prime opportunity for him to break the seal.
Washington 99 - Washington State 95 -
Speaking of the Cougars... how 'bout them Washington Huskies! With an Apple Cup win, they remain the only undefeated team in the Pac-12, defying all manner of expectations. Andrew Andrews, again, had a massive night, dropping 29/10/7. The kid can flat fill it up, averaging just under 30 points per game early on in league action. As he goes, so will UW, and, so far, that has put them in a pretty strong position. Check back after Thursday's tilt with Arizona, though...
Andrews is a particularly nasty scoring threat this season. From: the Seattle Times
Oregon State 77 - Cal 71 -
In retrospect, maybe the furor over Cal's two sparkling efforts on home hardwood was over-hyped. Their travels north to Oregon and Oregon State over the weekend did not go well, culminating in two losses that sent them tumbling back down the mountain into the mucky middle. There's no shame in losing on the road, believe me, but I was expecting at least a split on this trip if they really were going to take control of this league.
GPII and the Beavers were able to hold Rabb and the Bears at bay. From: the Statesman Journal
For our purposes in BuffNation, however, the key to take from this game was the continued strength posited by Oregon State. Gary Payton II, who had 20/11/8/4 against the Bears, is a special, special talent, one who could lead them to great things as spring begins to blossom. Overall, the Beavers are going to be a tough nut for Colorado to crack Wednesday night. Be sure to check out my preview tomorrow morning for my full thoughts on the game.
Buffs add blue-chip talent under center -
Stuck in the aftermath malaise of another late Colorado basketball collapse (three in four games now, though one of those was a win over Stanford), I turn, weirdly, to the football program for comfort food. And just what are they dishing up this week? Why, an incoming four-star QB transfer, of all things!
Jones looks to push for starting time in two years. From: Bleacher Report.
Enter: former Tennessee redshirt slinger
Sheriron Jones
. Tabbed as a top-10 dual-threat QB coming out of Rancho Verde High School in Moreno, Valley, CA, he rode the pine in his one year at Rocky Top, and looks to head back to Pac-12 country to be closer to home. According to reports, including the linked BSN article, Jones will be enrolling in classes this semester before sitting out the 2016 season due to transfer rules. After that, however, he'll have three years to play three.
It's a timeline that makes sense, in light of Sefo Liufau's final year of eligibility, to be bringing in a lot of fresh blood to refill the most important position on the field. Between Jones, then-reshirt sophomore Steve Montez, the returning Cade Apsay, and incoming freshman QB Sam Noyer, the Buffs could have one hell of a QB competition brewing by the start of fall camp 2017.
Happy Tuesday!