Well, that was unexpected. Throughout the season, no matter the caliber of the opponent, or the venue, or the situation, the 2015-16 Colorado Buffaloes could be relied on to bring consistent intensity and grit for 40 minutes of play. That was not the case Friday night in Berkeley, as CU was punked from tip to final horn by the Cal Bears. It was a sight BuffNation had grown accustomed to a year ago, but not this season. No, this season was supposed to be about a new attitude, free flowing offense, and a larger return to #TadBall principles of defense and rebounding. All of that was thrown out against Cal, however, as the Golden Bears controlled every second of the action, en route to a commanding
79-65
final.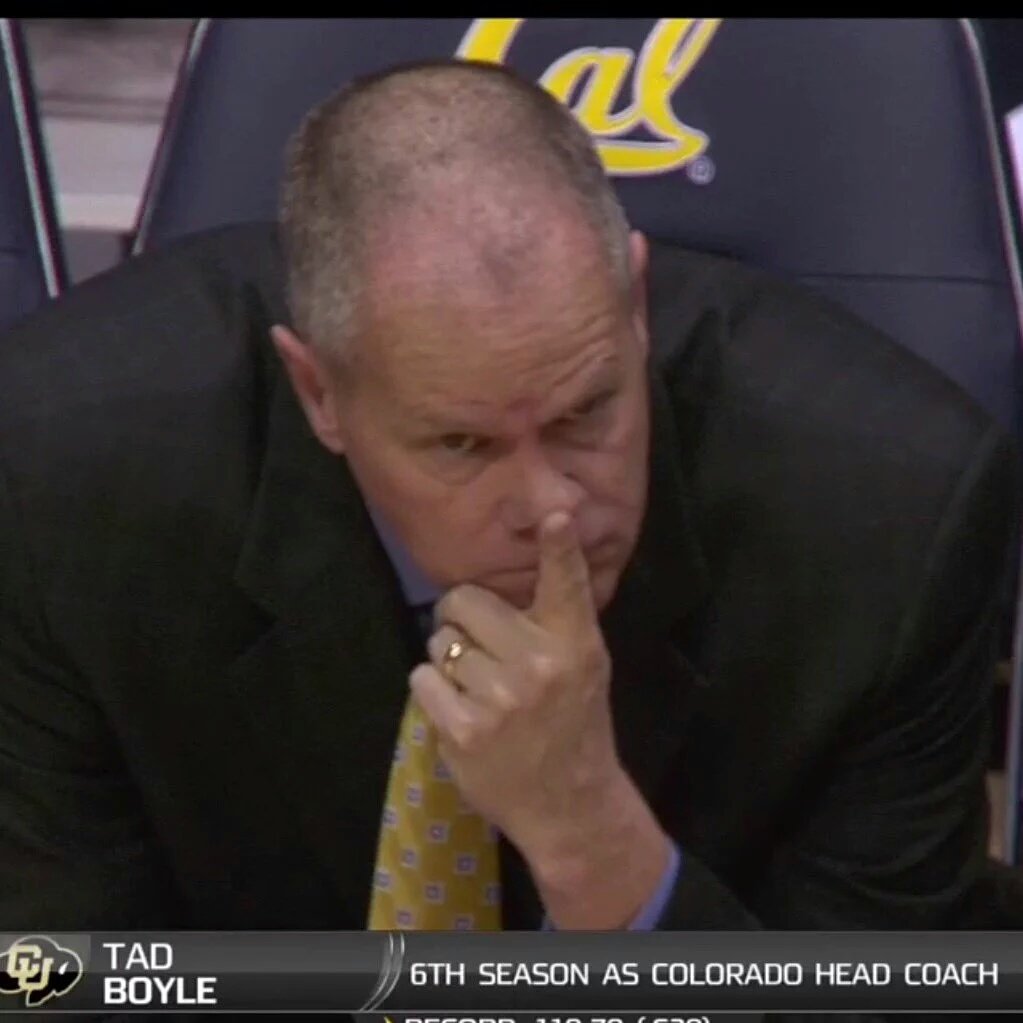 Yep, that look pretty much sums it up. From: @TheGhostofMarv
Even Coach Boyle noticed the different timbre of the action, saying after the game, "It's the first time I felt all year where we got out-toughed and really got out-scrapped and outplayed." Quite simply, it did not look like the Buffs were ready for the ramp up in intensity and competitiveness that always comes the start of conference action. They had been sitting idle for nine days between the end of the Las Vegas Classic and the game with Cal - an abnormally long time off between the end of non-conference play and the start of the 'second season' for Coach Boyle and crew - and the rust showed. Colorado had routinely scheduled a game or two between Christmas and New Year's in the #RollTad era, a practice that was adjusted last year in deference to the long flight back from Hawai'i, and then outright abandoned this winter. While I had grumbled at the time about mid-break tilts with the likes of Western New Mexico, New Orleans, and Hartford, those games served an important rhythmic purpose. It'll be interesting to see how scheduling breaks out next season, but don't be surprised to see a return of the pre-conference cupcake after Christmas.
Regardless, Friday's stat sheet is pretty damn ugly. Colorado allowed 52% shooting form the floor for the game, were down 10 rebounds at the end of the first half, and only generated six assists (from two players) on 21 made baskets. Cal was able to completely disrupt everything that had made CU special over the first two months of the season, snuffing out activity in the paint without doubling to cancel any inside-out action. As a result, not a single Buff had what I would call a 'good' game, with typical scoring leaders Josh Scott and George King going a combined 8-28 on the offensive end, and numerous defensive issues springing up. It was a combination of the Bears being better than they had shown previously this season, the Buffs being far worse, and, to top it off, almost every 50-50 bounce of the basketball seemed to go the way of the home team. It was a perfect storm of suck, one that Colorado is lucky to escape from with only a 14-point loss.
Mathews and Okoroh had massive games against Colorado. From: USA Today.
Unlike many, however, I'm not ready to hit the panic button. As frustrating as the effort and execution was to watch in the dying embers of a New Year's hangover, it
was
the first time CU had failed to answer the bell this season. I would only get concerned if that level of play was repeated this evening against the Stanford Cardinal. As it is, the goal on every road trip is to get a split -- that carrot is still on the table, but that only further places emphasis on the result this evening. It's not a 'must-win,' or any of that nonsense, but it's a game that can no longer be looked at as a simple run out. The Buffs need to show up and play well, or the once promising season will suddenly start to get disjointed.
Tip-off from Maples Pavilion in Palo Alto is set for 8pm this evening. Colorado has done pretty well in recent years against the Cardinal, winning each of the last four, including two trips westward in 2013 and '14. In a game they most certainly need, hopefully the Buffs will be able to keep that good run of play against Stanford rolling. Coverage can be found ESPNU.
Click below for the preview...
When last we met -
Going into last season's only game with the Stanford Cardinal, our CU heroes were fighting to change the narrative. The Buffs had been bogged down by the mental scars of a three-game slump, and, as losers of seven of their last nine, had spiraled into the basement annex of the Pac-12 standings. Considering that recent run of play, you'd be forgiven for expecting the worst as the game neared its conclusion. Indeed, it seemed like
deja vu
all over again as they coughed up an early second half lead, struggling to hang on against the oncoming horde from Palo Alto. Instead of another dour collapse, however, the Buffs rewrote the conclusion behind some key contributions from the reserves and a forceful performance from Xavier Johnson, managing what they had so seldom been able to last season: make the plays that mattered down the stretch to earn a damn
64-58
win.
Don't know why Nastic is smiling, 'cause his ass is about to take an 'L.' From: the BDC
The proceedings turned on a key late game sequence that highlighted the rollercoaster ride of 2014-15. With CU still clinging to a three point lead with just 20 seconds to play, they stared down a closely defended baseline out of bounds set. XJ was on inbounds duty, and wasn't finding anyone open as the count pounded towards five. Instead of calling a quick timeout (Colorado still had two), he panicked, and forced a pass into traffic. Stanford's Chasson Randle was there to pounce on the wayward pass, and began to drive the gift possession towards the basket. It seemed as if, once again, the Buffs were going to snatch defeat from the jaws of victory. Johnson, however, was not done with the play. He was looking to atone for his gaffe, and stepped over to challenge Randle's aggression. Chasson ran headlong into him, and Xavier earned the charge call from the refs. Buffs' ball, game: blouses. In an instant, Johnson had gone from throwing away the game to sealing it.
The win was built on a lot of little moments like that. Colorado had been getting good at finding ways to lose last season, but never-say-die moments, like XJ's, showed a team surprisingly finding ways to win. Another example: down the stretch, a previously silent Jaron Hopkins (remember him?) came alive, attacking the rim (rocking the baby to sleep!), and turning three consecutive plays in Colorado's favor. Yet another: similarly late in the action, Xavier Talton grabs a huge offensive rebound, but only because he wasn't scrambling to get back on defense. A little fluky, sure, but fortune favors the bold, and all of that.
A well earned sigh of relief. From: the BDC
What was not the least bit fluky, however, was the declarative display of #TadBall on hand. The Buffs dominated the glass, winning the rebound battle by nine (a margin entirely made up on the offensive end). They also smothered the normally effusive Cardinal, holding the highest scoring team in the conference to 33% shooting from the floor (only 26% from deep), and a paltry 58 points. Sometimes such advantages are the result of luck, but not in this game. Misses were the result of getting a hand in their face, rebounds were the result of positioning and effort. For the most part, Colorado just flat out-hustled Stanford, making them uncomfortable, and exhausting the undermanned visitors; a refreshing return to the roots that fed the program's revival in the last half-decade.
Strong performances in 2014-15 had, to that point, mostly been a product of superb individualism. The top four players, usually whoever was hottest, would carry the team, while the bench played Ed McMahon at his least funny. That was not the case against the Cardinal, however, as almost the entire roster has a say in the result. Colorado's five off the bench almost universally provided strong minutes against Stanford, contributing nearly 40% of the offense and rebounding. Headlined by the moonlighting Xavier Johnson's 10/13 double-double (despite still not being 100% on that bum ankle), the group would score 25 points, while getting after the startled Cardinal on defense. The Stanford reserves, on the flip side, were almost nonexistent, failing to score a single point. Don't kid yourself, at altitude this makes a difference, with starters forced to log heavy minutes; only one Cardinal sub played more than 10 minutes.
It was the little plays, like this sideline save from Ski, that stopped the losing streak. From: the BDC
Of course, this win was doomed to inconsequence as the season would quickly return to malaise. This was the lone victory in a stretch of six losses in seven attempts that killed off any hope of significant postseason action for the Buffs. Tonight, we're looking for a similar turnaround effort against the Cardinal, with 40 minutes of intense, team-oriented ball pacing the way towards victory. If CU can achieve that, then we can all hope that the turnaround is a better projector of good things to come than it was last year. First thing's first, however, the Buffs need to figure out how to win this one in Palo Alto...
The Cardinal in 2015-16 -
It's not going to be easy. Yes, the Cardinal is a less than impressive 8-4 on the season, but each one of those losses has come at the hands of a team in the KenPom top-50 (SMU, St Mary's, Villanova, and Texas), which is highly excusable. They're just another tough, gritty club, one that is supremely capable of defending their home court with tenacity. Don't believe me? Just ask Utah, who took an
overtime loss
at Maples Friday night. Yes, it was a game that featured an epic collapse at the free throw line from the Utes - no facepalm occurs in a vacuum - but take it as a warning: overlook Stanford at your peril.
Utah, what are you doing? From: the SLC Trib.
Overall, the Cardinal plays slow, measured, possession-focused basketball, getting fewer than 67 trips each night, and generally keeping each attempt to 18 seconds or more. If you've been paying attention, these are the kind of teams that give CU the most trouble, forcing them into possession-by-possession battles where they can't get off quality looks in a timely manner. No transition and no open three point attempts are a sour recipe for the Buffs. Once again, it'll be up to Colorado to open up the taps in this one, and find ways to get out on the run.
Beyond just pace, though, the thing that really stands out about the Cardinal's statistical profile is that they really do a good job of drawing fouls and getting to the line, even better than Colorado. 5th in the nation with a 50.2 FTA/FGA ratio, they get a full quarter of their overall points from the free throw stripe; that's good for 22nd in the nation. It's a product of the fact that a full 47% of all of Stanford's shots are at the rim. Through a combination of dribble drive and the deft entry pass, these guys know how to attack.
These guys know how to get to the rim. From: the AP
Against Utah on New Year's Day, it wasn't so much the free throw attempts, but the general accumulation of fouls that got the Utes in the end. Their entire front line was in foul trouble, with Poeltl and Chapman fouling out, and Loveridge and Kuzma taking home four whistles each. Wes Gordon and Josh Scott have each proven to be adept at defending and helping in the paint without fouling, but a quick pair of whistles against either could spell disaster for Colorado quickly. Hopefully, the home whistle in Palo Alto is more generous today than it was Friday.
One big area of weakness for Stanford, however, is the defensive glass, where they only grab about 68% of misses, good for 236th nationally. Second chances are bread and butter opportunities for Scott and crew, and could be enough to turn the tide in CU's favor. This isn't the imposing front line that the Buffs faced in Berkeley, with fresh seven-footers coming in at every whistle, so CU has no excuse not to take full control of the boards tonight.
Star Players -
Already struggling to overcome the loss to graduation of former stars Chasson Randle, Stefan Nastic, and Anthony Brown, along with the
season-ending injury
to sophomore point guard Robert Cartwright, the Cardinal has been really hampered in recent weeks by the continued absence of starting forward
Reid Travis
. The sophomore from Minneapolis would be Stanford's best individual talent, but has missed the last few games with a '
stress reaction
' in his left leg. It's an injury and timing eerily similar to last season, when he missed the first few games of Pac-12 play with a
stress fracture
. I haven't seen an update one way or the other for his availability this evening, but it did not sound hopeful on the broadcast of Friday's game with Utah. Without him, the Cardinal lose one of their most consistent scoring and rebounding threats. In his absence, look to see more from forward
Michael Humphrey
. The powerful 6-9 sophomore from Phoenix can be nasty in the paint with a top-40 block rate and strong rebounding numbers.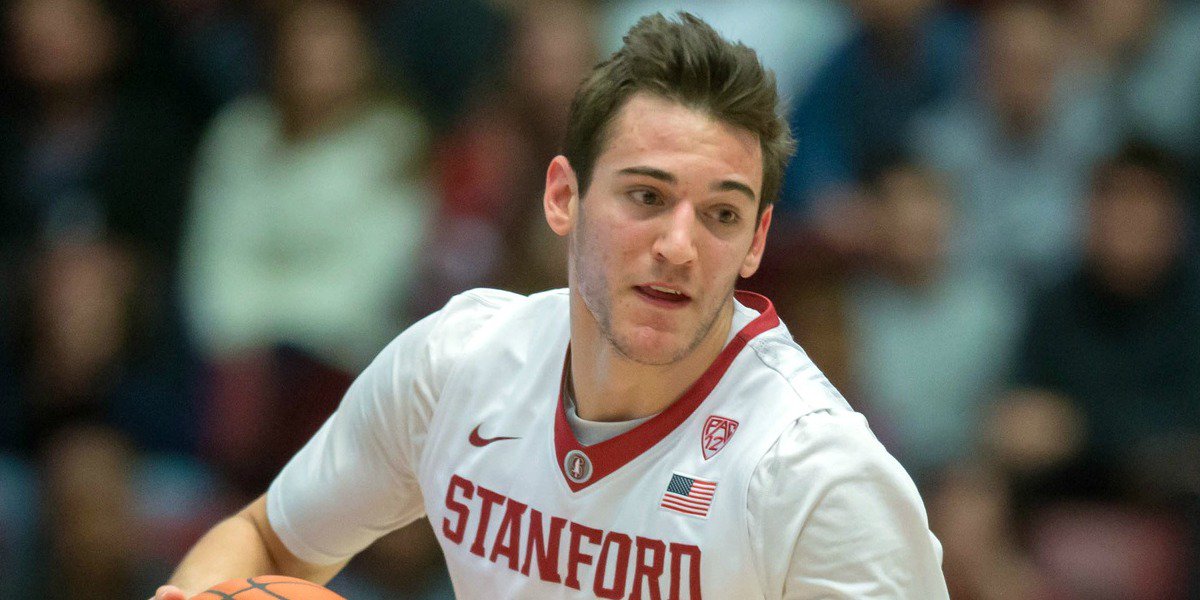 Where has this version of Rosco Allen been?
But, really, with Cartwright and Travis out, the star of the show becomes senior
Rosco Allen
, who currently leads the Cardinal in minutes and scoring. CU didn't have to face Rosco last year, when he was out with a back issue, and he could be a major difference maker this time around. He almost single-handedly turned the momentum in the final minutes and overtime against the Utes with a pair of
earth-shattering
drives off the wing -- moves I didn't know he had in his arsenal. The 6-9 swing forward from Hungary hadn't been known as a rim-wrecker previously, but hew flew off the dribble-drive towards the rim like a man on a mission. If he can consistently show off moves like that, then his 42% shooting from beyond the three-point arc projects to be all the more dangerous, and he becomes a tough player to guard against.
Starring in the backcourt is 6-3 junior
Marcus Allen
. Seemingly fully recovered from his own injury woes (a
stress fracture
that cost him the first two games of the year), the shooting guard is very quick and explosive. He's averaging over 13 points per contest, and does a great job of attacking the rim, where the undersized dynamo gets off over 60% of his shots. Allen is also a strong defender, and has posted a 3.2% steal rate this winter. Not a great shooter (11/42 on all jumpers), he can none-the-less cause a number of headaches for CU's oftentimes shaky perimeter defense off the drive, and needs to be accounted for.
Marcus Allen knows how to attack the rim. From: the LA Times.
Marcus primarily combines well on the wing with backups
Malcom Allen
(his twin brother) and freshman
Marcus Sheffield
. Sheffield may be the most interesting case here, as he came off the bench to score 17 points against Utah after not really factoring all season. He's long, athletic, and has a good future in front of him. Sure, the young kid will take some weird shots, but seemed to make it work on Friday, at least. It'll be interesting to see if he gets a little extra run this evening in reward for his efforts against the Utes, and could make for an interesting matchup problem on the wing.
Rounding out the normal starting five are
Dorian Pickens
and
Christian Sanders
. Pickens is a 6-5 sophomore minutes eater with a nose for the free throw line off the wing, while the 6-4 senior Sanders has earned the starting point guard role in the absence of Cartwright. I'm not enamored with either, but that probably just means that they're primed for breakout affairs today.
Anne and Tony Joseph Director of Men's Basketball-ing -
Once on the brink of definitely, 100% going to be shit-canned two years ago, Stanford head coach
Johnny Dawkins
has completely flipped the script of his tenure in Palo Alto. Over back-to-back postseason runs of note, he not only secured his job, but solidified his status as the second-longest tenured coach in the Pac-12. In 2014, it was a surprising run as a 10-seed to the Sweet Sixteen, last March it was a
second NIT championship
in four years. Now
that's
how you save your job.
Coach Dawkins continues to defy expectations. From: the San Francisco Chronicle.
I may not be his biggest fan, but even I have to be impressed by the job Coach Dawkins has done the past couple of seasons to cover up a myriad of injury issues. On a team of role players, they all seem to have difficulty staying on the court. Last season Rosco Allen, Malcolm Allen, Grant Verhoeven, Reid Travis, and Michael Humphrey all missed time. This year, projected starter Robert Cartwright was gone for the season before it even started, Reid Travis is missing even more games, and Marcus Allen started the year on the trainer's table rather than the hardwood. It's damn tough to do much of anything if the talent on your roster can't stay healthy, but Johnny keeps plugging along. When they end up back in New York for the NIT Final Four this spring, please don't be surprised.
Prediction -
My record on the year: 1-0. Against the spread: 0-1. Optimistic/pessimistic: CU +10 pt/gm)

Lines as of Saturday @ 8pm - CU +1, O/U 159
Against the Bears, it was the size and athleticism in the paint that really threw Colorado for a loop. Cal was able to defend without doubling Josh Scott, which kept shooters like George King and Josh Fortune from finding open looks, and left the offense stuck in neutral for most of the night. I don't see a repeat happening tonight, as the Cardinal simply don't have the horses down low (I'd love to see them try to leave J40 one-on-one down low). This should still be a tough, grind-it-out game for CU, but I like their chances for a bounce-back victory. Give me the Buffs in a close one.
CU 69 - Stanford 67
GO BUFFS! PROVE ME RIGHT, AND BEAT THE CARDINAL!