One step forward, one step back. The Buffs lost any momentum gained by the scrappy victory against Stanford in Palo Alto when they coughed up that late seven-point lead to the Utes. All that accomplished is put more pressure on this weekend, when the Buffs entertain the Oregon schools. Colorado now
needs
a home sweep of the Beavers and Ducks to stay relevant in the Pac-12, and it's not going to be easy. Like everyone in this league, these two teams are very good, and full capable of winning away from home. As always, there are no gimmies. Damn that price of poker, can't you stay low?
--
Hype Music for the Evening: "Take on Me" by Reel Big Fish
I present this cover of A-Ha's one-hit wonder by the greatest third wave ska group still around today: RBF. An old basketball band stands tune, it always got my toe tapping. Enjoy!
--
Tip-off for tonight's game is set for 9pm MT. That's apparently not a typo. The Pac-12, in all their media-fueled wisdom, decided a weeknight game in Boulder deserved the late time slot. Woof. Well, at least the students should be in the building tonight. For those of you adults needing to get to work tomorrow, and more than happy to catch this one at home, coverage can be found on ESPNU, with the radio call on 760AM.
Click below for the preview...
When last we met -
My initial thoughts when I tried to remember the last time CU played Oregon State took me back to the disastrous visit to Corvallis in late February of last year. Facing one of the best zone defenses in the land, the Buffs came out unprepared and confused in their offensive sets, struggling to identify soft spots and open shooters. A slumping attitude quickly spread to the defensive end, where the suddenly viable OSU offense lit up the scoreboard. Just like that, the rout was on. While CU would bounce back a bit in the second half, the damage had already been done, and Colorado suffered their 9th loss in 12 games by a
72-58
final.
Wait, this isn't right...
However, that's not actually the last time these two programs met. No-no, they actually last met in the first round of the 2015 Pac-12 Tournament. A much different story here, as the Buffs rode a vintage Askia Booker performance to an upset win over the Beavers.
78-71
in the City of Sin? That'll work.
While the previous meeting in Corvallis was a fit of frustration, with Colorado never finding traction against the Oregon State zone, on a neutral court, CU played particularly well on offense, using incisive passes to carve up the Beavers. Eventually, OSU had no other option but to ditch the zone for man-to-man, as CU shot 50% from the floor against one of the nation's best defenses. That effort was supported by fantastic free throw shooting, with the Buffs getting near full value out of their 26 attempts. Just an outstanding performance all around.
The last gasps of #SkiSeason
For Booker, his 20 points lead the team. The diminutive spark plug would only shoot 4-13 from the field, but continually pushed his teammates for something better on the offensive end than they had achieved in the Beaver State. He had been off his game in the first half, finishing without a made field goal, but still found a way to contribute by repeatedly catching the Beavers in the air on pump fakes. When he finally found his groove, over a definitive three minute stretch in the second half, it turned the game. With Colorado down 52-50 on the scoreboard, Ski produced a full house trio of three-pointers and pair free throws to jolt the Buffs into a 13-2 run. After that, it was all over but the crying for the 7-seed from OSU. The Buffs would never relinquish the lead, and skated home with the win.
That was the last memorable
Askia Fuckin' Booker
performance BuffNation would enjoy in the final throws of #SkiSeason. The all-time bulldog of a shooting guard would continue his fight with accuracy in the subsequent quarter-final loss to the Oregon Ducks, and awkwardly exited stage left before the start of the CBI. This, then, makes for a fitting finale for the man who had no fucks to give -- another 'Ride the Dragon' experience. For that brief stretch in the second, the world was his to toy with. For the rest of the time, however, you just had to grin a bear it through his scattershot play. The ultimate in stress-inducing excitement.
The Beavers in 2015-16 -
Right off the bat, Oregon State seems very reminiscent of what we saw last year. Measured in pace, they play some zone, look to attack the rim, and generally get after you. Their transition defense has improved a bit, year-over-year, as has their offensive rebounding (although, defensive remains a mess, 66%), but they'll still give up a lot of three point attempts (not all of them good looks) and assists as the mixing zones leave open passing lanes on the perimeter. The Beavs are getting a lot of love in the regional media, however, and most have them as going to the NCAA Tournament, a year after blowing such an opportunity by losing 9 of 12 down the stretch. Why so much of a positive spin, then? Well, it's all about a serious uptick in offensive production, coming off a year where they finished 280th in KenPom with an adjusted 96.6 ppp. They've flipped that on its head, and are cranking out a blistering 111.1 ppp in 2015-16. No more
47-37
snoozers for these guys, no sir.
It's a whole new look for the Beavers this season. From: Building the Dam
Looking into the numbers a bit, though, the Beavers strike me as a paradoxical bunch. They're one of the best in the country at getting to the rim, taking 44% of shots from within a few feet, but are 245th in FG% once they get there. On the perimeter, they're top-25 in three point percentage, but only 30% of all attempts are from behind the arc (281st nationally). They seem to be emphasizing something they're not good at (inside scoring) at the detraction of something they
are
good at (hitting the long bomb). With a defense not as statistically impressive as it was last season (down about .06 ppp), they seem, at least to me, to be leaving a lot on the table.
Through the opening weeks of conference play, I feel vindicated in that thought process. They
capped
in-state rival Oregon on opening night, only to turn around and
drop
a home game to Stanford. The Cardinal were able to come into Gill, and churn out 1.16 ppp, well beyond anything they should've been able to accomplish. They did this by owning the glass. A few nights after allowing Colorado to play +14 on the boards in their own gym, Stanford was +17 on the glass against the Beavers in Corvallis, including a full fucking 20 offensive rebounds (50% of all opportunities). As a result, I remain unconvinced that OSU deserves a true place in the run for an at-large bid for the NCAA Tournament -- they seem to be just short of a complete package.
Seriously, how do you allow 20 offensive boards at home? From: DailyJournal.net
My verdict: OSU is a feisty, interesting team that will win a lot of home games. The real question they will be looking to answer this week is how they will fare on the road. They've only played in two true road games this year (although, the Sprint Center in Kansas City can be assumed KU territory), beating
Rice
and
UCSB
in Houston and Santa Barbara, respectively. Going on the road and winning in this league is like sprouting wings and flying away (read: a damn miracle), so don't be surprised if they experience some hiccups on this, their first true trip of the winter.
Star Players -
Is there any doubt who gets top billing here? Of course it's
Gary Payton II
, the do-it-all dynamo at the heart of everything positive the Beavers are achieving this season. The senior out of Seattle (by way of Salt Lake Community College) is into his second and final season of college play, and he is, night in and night out, worth the price of admission. It's pretty simple here: he leads the team in minutes, points, steals, assists, and rebounds. If the Beavers win, it's almost assuredly because he had a big night, and he's capable of some
truly explosive moments
.
Payton is an electrifying presence in the OSU lineup. From: bballaddicts.com
Following in his father's footsteps, GPII comes in as the reigning Pac-12 Defensive Player of the Year, and seems a shoe-in to earn repeat honors. Despite a 6-3 frame, he plays almost impossibly bigger, shrinking nearby passing lanes, and sneaking rebounding position like a pro. He's averaging nearly three steals per game, and is coming down with over eight boards each contest. Those are serious numbers from a point guard, even before you factor in his offensive averages (17 points and 5 assists). There are some nits to pick with his portfolio, especially at the free throw line, where he's shooting 64% for the year, but his ability to attack the rim and get buckets makes up for a lot of that. In the end, 'the Mitten' is the engine at the heart of this beast, and if the Beavers are destined for their first Dance ticket since 1990, it will be on the back of his accomplishments.
What's more, Gary finally has some offensive help this year, the wellspring of which is a top-25 recruiting class that changed the vibe in Corvallis almost overnight. Headlining the class is the coach's son,
Tres Tinkle
. The 6-8 frosh hit campus after a stellar high school career in Montana that put him in the Rivals top-100 as a four-star recruit. Accordingly, he could've gone anywhere for school, but chose to play for his dad. While we in Boulder may have some wary thoughts on that subject, it has been so-far-so-good for the Tinkles; Tres is second on the team in points and rebounds, despite coming off the bench every night this year. His fellow freshman,
Stephen Thompson, Jr.
, is also a welcome addition to the scoring attack. The 6-4 guard was a top-50 wing out of Gardena, CA, and is already starting to show off his scoring touch, putting up about 10 points per game, despite getting less than 20 minutes per night. Combined, they've added 22 points per off the bench, which is really spectacular. As the pair develops, this combination of Thompson to Tinkle projects to be a force to be reckoned with in coming campaigns.
Tinkle the younger has added much-needed scoring depth in Corvallis. From: the Statesman Journal
The freshmen have overshadowed the contributions of veterans like
Malcolm Duvivier
,
Langston Morris-Walker
, and
Olaf Shaftenaar
. I swear Olaf has been in school for a decade, but the four-year senior contributor still stands as the 6-10 stretch-four wing ready at the arc to capitalize on dribble-drive penetration created by Payton,
et al
. The Netherlands native is hitting 44% of his three-point attempts this season, and needs to be marked far from the rim (61% of all his attempts are from deep). Duvivier and Morris-Walker are lesser talents, but still carry with them the wight of experience (junior and senior, respectively). There's a reason, after all, that they're getting the starts over the freshmen Thompson and Tinkle. They will scrap defensively, and make the little, heady plays that you would expect from players who have survived difficult Pac-12 campaigns before.
Up front, the paint is maintained by freshman
Drew Eubanks
and spot minutes from senior
Jarmal Reid
. Reid is a big, bulky '4,' who, weirdly, doesn't rebound much at all. Eubanks, the starter, is the more interesting case, and has proven to be a strong shot blocker (7.7% blk rate) and inside scorer (shooting 80% in the paint). Regardless, you would expect the pair of Josh Scott and Wes Gordon to be able to get pretty much whatever they want tonight, especially as Eubanks has struggled with foul trouble (essentially five fouls per 40 minutes played). The trick, however, will be getting them the ball past the hawkish Payton...
Coaching -
With a few more options on the offensive end, Beavers head coach
Wayne Tinkle
has opened the taps, just a little bit, compared to his pedestrian attack from a year ago. I was really worried with this newcomer from Montana last winter, when he held his charges back to 61 possessions per night and seemed content to take the air out of the ball, but they haven't been unwatchable, yet, this season. The Beavers have even cracked 70 points scored in all but three games in '15-'16, and seem to be a much more competent bunch. As I mentioned above, there are some inefficiencies to clean up, but OSU certainly seems to be headed in an upward trajectory, both in the W/L column, and the stat sheet.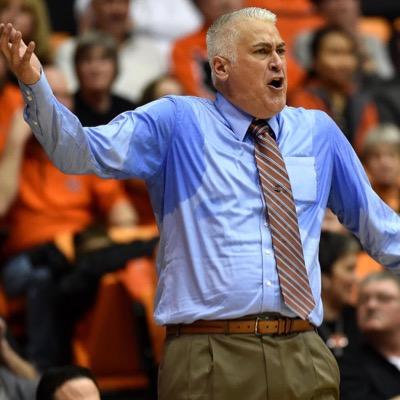 Oh yeah, that's a good look. From: Twitter
I will point out some,
interesting
, coaching decisions, though. First, Tinkle risked a post-season bid by starting five walk-ons in the Civil War season finale last March. The decision back-fired as the walk-ons struggled against the merciless Ducks, and the Beavers lost a three-point decision that probably cost them a berth in the NIT. Now, Oregon State is taking the unusual step of
splitting up
this in-conference road trip into separate jaunts. Citing the primacy of academics, Tinkle is having the team fly home after the game this evening (woof), with the expectation that they attend classes Thursday and Friday before hopping back on a plane for a final trip to Utah. By my calculation, they'll get back to Corvallis around 2am... and you expect college kids to get to early classes the next day? Uh-huh. And just wait til Sunday when the team struggles with travel lag in SLC. Both decisions seem like the selfless acts of a classy man in the age of cynical coaching exploits, but I would argue that just a little more pragmatism is warranted.
Still, you can't argue with success, and through 292 games, Coach Tinkle is winning at a 62% clip. None too shabby, and if he can finally punch that Dance ticket that Corvallis has been waiting for since the first Bush administration, you may continue to see walkons starting against the Ducks for many years to come.
Prediction -
My record on the year: 3-0. Against the spread: 1-1-1. Optimistic/pessimistic: CU +3.7 pt/gm)

Lines as of Tuesday @ 8pm - CU -2.5, O/U 140
Ooooooh, this one's tough. At first pass, I wanted to chalk this one up as a loss. GPII is just so dynamic, and will be able to disrupt the CU attack in so many ways, that it gave me a lot of pause, even with the Buffs in the CEC. However, the Beavers give up enough offensive boards and
transition opportunities
to allow Colorado to stretch their legs a bit, and I think the Buffs will be able to put up some points. It's nervy towards the end, but the hometown heroes hold onto this one.
CU 71 - OSU 66
GO BUFFS! PROVE ME RIGHT, AND POUND THE BEAVERS!