There was a moment early on in Wednesday's game between Colorado and Arizona that the hair on my neck stood straight up. The air was thick with anticipation, the packed student section was frothing, and the home crowd in South Campus was jumping at every opportunity to make their presence felt. The CEC was
alive
in a way it hadn't been all season, and really not since the Oregon game in early 2014. Blood was in the water, and BuffNation, like a once dormant shark, had woken up with a ravenous hunger. It startled me. Sure, this was a big game, and a
big time
crowd was to be expected, but this was more than that. There was an anger in the tone; a fan base not willing to take any shit that particular night. Every time the patches of Arizona fans spoke up, they were quickly shot down. Every time the refs blew a whistle there was a ravenous bellow. The fans in attendance were playing for keeps; it's a club I didn't think we fans still had in our bag.
The Buffs met Arizona at the top of the mountain, and sent the champs tumbling back down. From: CBS Sports.
It's an energy that fed and informed the proceedings. After a minute or two of tentative start, the Buffaloes snapped into a fiery activity that stood up for the rest of the action. They hounded the mighty UofA on the boards, playing to a draw while snatching 14 amazing offensive rebounds against the best defensive rebounding team in the country. They dug in and played spirited defense, running shooters off the perimeter, and forcing 11 turnovers. And, more importantly, they played composed offensive basketball, keeping the rock in their own hands (only nine turnovers) to forestall any ugly fast break opportunities. There were some familiar struggles, of course, with the team scoring just two points in the final six and a half minutes of the game. But, with an old-school crowd at their backs, the Buffs would not be denied. In the end, both the team and the denizens were rewarded for their efforts with a
75-72
win over the #9 Wildcats, a victory that seems to clinch a spot in the NCAA Tournament for CU.
The Big Damn Hero for the evening was Josh Scott. In his penultimate home game as a Buffalo, he was everywhere on the court, playing with a hungry intensity that you don't always see from the calming senior. He would finish with a mighty 26/9/3, as the Colorado native carried the team on his back, particularly in the second half. On one stretch, from 10:07 to 6:36 of the second frame, he scored on five of six possessions to help keep Arizona at arms length, a stretch that proved to be decisive. Overall, J40 would finish with 12 of the team's final 14 points, playing an oversize David to 'Zona's Goliath. He was supported in his efforts by his running mate, Wesley Gordon. The lanky power forward from the Springs continued his burgeoning run of stellar play, chipping in 8/12 and a whopping total of
six assists
. This was a forwards-first performance from the Buffs, and Scott and Gordon lived up to their billing as one of the best front court duos in America.
Josh Scott would not be denied. From: the BDC
Of course, the only thing anyone could talk about in the days following this win was how the students rushed the court in the happy moments after the game. Arizona head coach Sean Miller made sure of that,
using his platform
to complain about the lack of security, and concern-troll over the potential for reactionary violence by one of his players that feels threatened. The interesting thing to me, however, is that Miller, for all his protestations of worry for his charges, did absolutely nothing to help get his team off the court after the game. He just stood there in a stupefied, simmering silence, seemingly too frustrated to do anything normal like direct his team while the kids continued to pour onto the court. He didn't even move to go and shake Coach Boyle's hand, he just... stood there. Maybe he was angry with himself for blowing all four of his timeouts before the nine minute mark of the second half, leaving his team with scant opportunities to re-group in the key possessions of the end game sequence. Maybe he was angry with himself for taking a tech early in the second half, costing his team two points that they would desperately need later. Maybe he was searching for a ref to yell at, 'cause that's what coaches do. And, finally, maybe he was really just angry at the C-Unit for acting like students, and the semi-professional security staff for doing nothing to prevent it. All I know is this: Sean Miller was as contributory to his players uneasy circumstance as anything.
Such a cool scene, I don't really care what anyone else thinks about it. From: @B_Brynestad and @CUSnowBuff
However, I am particularly tired of this ground, and it distracts from what was, otherwise, a
very
entertaining basketball game. Was it the most well-played exhibition of the sport ever put on? Certainly not. What it was, however, was a high level experience for all of those willing to make the commitment to show up. I'm happy I was there to see it, and I hope the thousands of other students and fans who hand't been making Colorado Basketball a weekly part of their winter lifestyle will use this as an impetus to return both this afternoon and next season. With that atmosphere at their back, CU becomes a deadly serious basketball entity, one that few are going to be able to contend with.
Looking forward, it's time to bring the home portion of this season to a close. Arizona State comes to town for the home finale, looking to spoil the surge in emotion generated in the wake of the win over the UofA. It wouldn't be the first time, either. Back in 2013, just days after the Valentine's Day Massacre, the Sun Devils clipped the Buffs in over time; a loss that ultimately cost the team a first round bye in the Pac-12 tournament, and left them playing Arizona, again, in the quarterfinals. It'll be up to the Buffs to make sure history doesn't repeat itself.
--
Hype Music for the Evening: "Hell" by Streetlight Manifesto
The original version of this song is by the
Squirrel Nut Zippers
, and is fantastic, and makes for a SPECTACULAR basketball band song (sadly lost from the CU book, as far as I can tell). This version, by Streetlight, is a masterpiece, somehow improving on the original. It's a cherished centerpiece of my ska rotation, and deserves a place in yours, as well. Enjoy!
--
Tip-off from the CEC is set for 2:30 this afternoon. There is no excuse not to follow-up Wednesday's crowd with another just as strong for this one. The senior class, and particularly Josh Scott, deserves as much for their final home game. For the alums, that means
use your damn tickets
. For the students, that means take advantage of a
number of promotions
, including $1 tickets, free food, and giveaways of sunglasses and rally towels. Fill the Keg, no excuses.
For those unwilling or able to heed the call, the action can be found on either Pac-12 Networks or 850 KOA.
Click below for the preview...
When last we met -
There was a moment the last time these two teams met that I forgot the larger picture. Graduating senior Askia Booker got into it with Gerry Blakes, Herb Sendek, and the rest of the Sun Devils, and my blood started to boil. Suddenly, with an honestly dramatic and entertaining game unfolding on the court below, the frustrations of a sub-.500 season washed away, and I was left as one with the action. I desperately wanted to see ASU, so frequently the villain in a conference of upstanding citizens, put to Colorado's sword, and I couldn't have cared less what CU's current record was. Luckily for me and the rest of BuffNation, a story book ending was in the cards, and Colorado capped the home portion of the schedule with a very satisfying
87-81
win.
Ski rose above some early BS to knife the Sun Devils. From: the BDC
With 168 total points scored, you can tell that defense was mostly optional, but I defy anyone to say that they were not entertained. 53 combined makes from the floor, a speedy pace to the action (although the overall flow was stifled by some overly-aggressive officiating), and an intense finish made for plenty of red meat for the faithful. CU was still miles away from the defensively-forward squad of Coach Boyle's dreams, or anything resembling success, but I sure feel like I got my money's worth with this one.
The story, of course, was all about Booker and his senior day exploits. The kid was everywhere, engaging the opponent (which earned him an early technical), firing up his teammates, scoring effusively, and otherwise owning the stage. It was the perfect
denouement
to Ski's career in Booker, playing the swashbuckling hero to a very appreciative crowd; he would finish the game with 29 points on 9-16 shooting from the floor. True to the end, when Booker was on his game, the Buffs excel, and this affair last season was no different.
Josh fought through the pain to make some huge plays. From: the BDC
As good ask Ski was, however, the win wouldn't have been possible without a throwback performance from hobbled Colorado center Josh Scott. Grimacing with pain with each step, the then-junior big soldiered on in a gritty, physical tilt with the ASU front line. His injured back may not have been anywhere near healthy, but Scott proved he could still be effective, and it was up to the Colorado Springs native to put a cap on the evening. With CU clinging to a 77-76 lead and only a minute left to play, the Sun Devils decided to go right at Josh with sophomore Savon Goodman. Scott, however, was up to the moment, patiently waited through Goodman's series of post moves, and expertly timed his jump to block the crucial attempt. He would follow that up with a tip-in off a missed free throw to end all doubt. All in all, Scott finished with 14/6/3/3.
In the end, it was a happy little evening, fulfilling all my most optimistic projections (and then some). Booker left the CEC a winner, the Buffs stopped ASU's dastardly plot, and a lot of the negative taste from a season gone wrong was flushed away.
The Sun Devils in 2015-16 -
After a promising start to their season - going 10-3 in non-conference play, including solid wins over teams like
NC State
,
Creighton
, and
Texas A&M
- the Sun Devils have collapsed in Pac-12 action. Sitting at 4-11 in 2016, they've been taking rough loss after rough loss, particularly in recent weeks. Nothing seems to be going right for the squad; they're down to eight scholarship players on the active roster, and have lost their last three contests by an average of 29 points. Simply, ASU is just not a good basketball team right now, and seem destined for the 11th spot in the conference, with a losing record overall.
ASU wasn't terrible early in the season. From: the AP
The crowing jewel in their profile of crap is their most recent effort, an
81-46 drubbing
at the hands of the Utah Utes. If anything, however, that score actually makes it seem as if ASU was
more
competitive than they actually were. At one point in the first half the Utes were up 30-2. Note: that is not a miss-print.
Thirty-to-fucking-two!
There's got to be a point, considering run of play like that, where the team doctor comes and throws in the towel. Regardless, that's a bludgeoning of epic proportions. For the game, the Sun Devils shot 25% from the floor, and surrendered 16 three-point makes, all coming just days after losing by 38 to their in-state rivals. Simply: it's been a bad week for those from Tucson.
Unsurprisingly, their statistical profile leaves a lot to be desired. Given an overall glance, it's not terrible, with offensive and defensive efficiencies both in the top-100. They're in the upper-third nationally in rebounding and score a sizeable amount of their points from long range. The problems start to emerge, though, when you isolate their in-conference numbers. 9th in offense and 11th in defense, they've been playing like you would expect a team near the bottom of the barrel would be. It's particularly worrisome on the defensive end, where they've been trying out the obscure 'wet paper bag' style to minimal effect. Pac-12 opponents have an eFG over 56% against them, and are just pounding the Sun Devils inside. Largely, they don't have the horses right now to complete with the bigger teams, and it's showing on the scoreboard -- it's no wonder that their worst defeats have come against teams with imposing front courts.
The Utes simply thumped ASU this week. From: the AP
Still, they
beat USC
just a few weeks back, and have some decent talent in the fold. You can't call the Devils completely devoid of life at this point, even if they are listing on their side with their eyes glazed over. Much like we saw with Washington State back in early February, if you don't take an opponent seriously, even at home, weird stuff can happen. The principle danger comes from outside, as they are the #1 team in the Pac-12 in scoring distribution from outside range. If they come out firing - and hitting - their three-point attempts, things could get nervous in a hurry. Therefore, Colorado needs to come out like they give a damn, and defend the perimeter like they mean it, or else ASU could find a reason to stay interested. Best to let sleeping dogs lie, and put them away early.
Star Players -
Arizona State is lead in the back court by fiery sophomore guard
Tra Holder
. The 6-1 spark plug from Los Angeles is a lightning quick, inventive offensive threat, one who can beat you in a number of different ways. Primarily, he will create his own shot; even on three point attempts, Holder is only being assisted about 32% of the time. Think of him as you would Askia Booker: yes, he will help his teammates and hand out some occasional dimes, but he's first and foremost looking to
create
, often for himself. As a result, Tra leads the team in scoring (near 15 points per game). Look out for his outside shot, particularly when he works open some space, as he's hitting 39% of his outside attempts this year.
Holder is legit. From: AZCentral.com
Playing off Holder is the very talented
Gerry Blakes
. The 6-4, 195 lbs senior from SoCal has really struggled with his shot this year, hitting only 29% of his outside attempts, but he is still a dangerous scorer. More of a traditional wing or scoring guard, Blakes will attack and swing the ball as needed, and generally finds a way to be in the thick of the action, even on the defensive glass. He really hurt Colorado in the road fixture in Tucson last year, and can be a big problem if allowed to get into rhythm. He's supported off the bench by the unorthodox
Kodi Justice
. The 6-5 sophomore from Mesa, AZ has taken some big steps forward this year, and is a deadly three-point artist (40% from deep, making up almost 70% of all his shots from the field).
Up front, there is just not a lot of depth. The starting big man is 6-10 senior
Eric Jacobson
, and he has put in some big minutes against CU before. A known quantity at this point, it's easy to point out that that he's a tireless worker underneath, one who is unafraid to put in the dirty efforts that you would expect from a roster put together by former head coach Herb Sendek. Unfortunately for ASU, after Jacobson they start to get real thin in the post.
Savon Goodman
and
Obina Oleka
are nice pieces, and each can put up strong performances in certain situations, but are a bit undersized, and have struggled to put it together this year. Oleka, weirdly struggles at the rim, only hitting 50% of his attempts near the basket, and Goodman (after a
four-game suspension
earlier this season) has seemed to be in his coach's dog house, playing limited minutes. When allowed to act, however Goodman can be nasty, as the former UNLV Rebel has some of the better rebounding numbers in the entire conference.
Jacobson is often left to go it alone in the paint. From: FOX Sports.
Last, but not least, is wing
Willie Atwood
. An interesting figure, he has pretty strong offensive numbers (119 ORtg), and was a big key for the Sun Devils in non-conference play. Lately, however, he has struggled while working through a sprained wrist. He has totaled just 17 points in the last five ballgames, and has seemed to completely disappear when I tune in. If ASU can get him going, though, they become all the more dangerous. Willie can be a versatile scoring threat.
Coaching -
I remember hating new ASU head coach
Bobby Hurley
as a kid. I was decidedly anti-Duke, and he was the Dukiest of the Dukesters, running around, slapping the court, and generally playing the stereotypical role of white, asshole point guard. I'm happy to see Sendek
gone
, no doubt about it, but did his replacement have to be Hurley?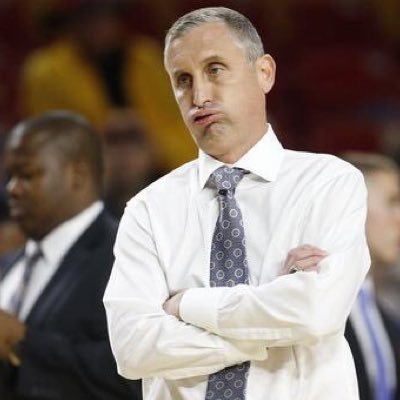 2015-16 has not been good to coach Hurley. From: @ASUCoachHurley
Despite his relative coaching inexperience, however, Hurley
seems like a good hire
; the first sentence of the Devils' Blue Ribbon profile helpfully notes that he "has never failed in college basketball." Indeed, the two-time NCAA champion as a player was successful through two seasons at the helm of the University of Buffalo Bulls (his only two years as a head coach), winning the MAC's East Division twice, and the league as a whole last spring. When he took the Bulls to the 2015 NCAA Tournament, it was the program's first ever Dance, and, though they lost in the First Round to West Virginia, stood as a major accomplishment.
It hasn't been easy for him in Tempe, though. While he inherited a roster that featured four returning starters and some nice talent, it doesn't appear that those pieces fit his more up-tempo style. What's more, the holdovers appear to be chaffing under the rule of a coach they didn't sign with. There's been a number of disciplinary problems throughout the season, and just this past week a key role player, Andre Spight, abruptly
left the program entirely
. Now, those roster issues and the probable losing season aren't dooming Hurley to an unsuccessful tenure at ASU, but it's not a good look to start with. In a state dominated by the tales of their biggest rival, it's already hard enough for the Sun Devils to gain traction; it's only made harder when you struggle out of the gate.
Prediction -
My record on the year: 12-4. Against the spread: 8-7-1. Optimistic/pessimistic: CU -1.31 pt/gm)

Lines as of Saturday @ 8pm - CU -5.5, O/U 142.5
On Senior Day, with the program honoring the
2016 senior class
, and against this fading bunch from ASU, there's no way in hell I'm picking against the Buffs. CU should win this one going away, but I'll stay slightly conservative with my pick, hedging against another random struggle, like what we saw against Washington State. Josh Scott should have a huge night, though; ASU just doesn't have anything to check him, especially if they get into foul trouble.
CU 77 - ASU 64
GO BUFFS! PROVE ME RIGHT, AND EXORCISE THE DEVILS!