Not much to say, straight to the action today:
Today in the bag, I'm wrapping the crappy weekend in Oregon, taking a look at how the rest of the Pac-12 fared, and giving my outsider view of the Super Bowl whether you want to read it or not.
Click below for the bag...
Buffs cough up ball, chance to beat Oregon State -
Following a rough showing in Eugene, the Colorado Buffaloes needed a bounce-back game in Corvallis if they had any hope of staying on the path to a top-four seed. Simply, they needed to play well, and handle a reeling and inconsistent Oregon State Beavers squad in hostile territory. Instead, they turned the basketball over a season-high 24 times, squandering a +18 advantage on the boards to fall into a
60-56 loss
. As a result, they slide out of the lead pack in the Pac-12, and into a 5th-place tie with Utah. Oh, and Josh Scott tweaked his ankle, missed the entirety of the second half, and is a question mark this week. Just about as bad of a Saturday as you can get, right there.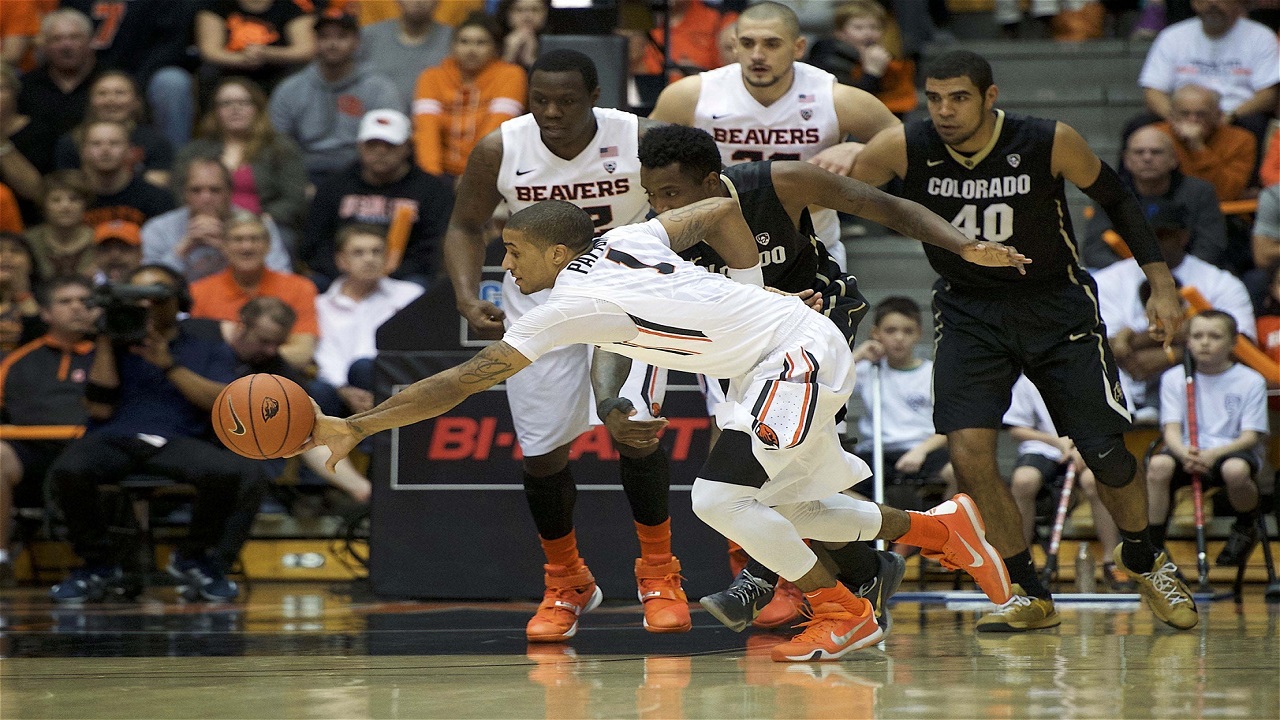 Too. Many. Turnovers. From: KGW.com
24 turnovers. Let that sink in. Twenty-four-fucking-turnovers. One for every hour in the day. One for every point the Broncos would score in the Super Bowl. One for every win in that magical run of 2011-12. It was an incredible display of ineptitude, with many of those TOs seemingly springing out some dark comedy script. Of the nine Buffs who saw the court Saturday, only two of them - Thomas Akyazili and Tory Miller - got out unscathed. Six had at least two. Dom Collier, who had been posting solid numbers in conference play, took eight home with him. On a day that called for their best basketball, most of those in Black and Gold were playing their worst.
In the light of those damning numbers, I find it hard to grab at the few scapegoats available. I could blame the refs, who were at their #Pac12Refs worst, but the Buffs were, once again, their worst enemy. I could blame the injury to Josh Scott, but CU actually played better without him on the court (an aberration, don't get hasty). I could even blame that first half, as ugly as it was, but they slumped into that halftime scoreline, and still turned it over 11 times in the second. No, at it's core, this was just another example of the bad Buffs owning the narrative. Colorado, through their play, did not deserve the win. Oregon State may not have deserved it, either, but someone had to claim the 'W,' and it might as well not be the team that turned it over four more times than they hit a shot.
OSU may not have deserved it, but they were all smiles Saturday. From: the Statesman-Journal
But, while I'm stomping up and down on the turnover numbers, let's not let the second half performance slide by unnoticed. Down 11 at the break, and looking disheveled going in, CU stormed out of the locker room, cutting the lead to a single possession almost instantly, and playing with the Beavers the rest of the way. Behind brilliant work from Tre'Shawn Fletcher, who scored all 15 of his points and secured five of his six rebounds after the break, CU put themselves, in spite of all the first half garbage, in position to flat steal the win on the road. Fletcher teamed up with Wes Gordon (13/11) and Tory Miller (8/5) to control the glass, grabbing 75% of defensive stops and near 50% of offensive misses. Without those rebounds, there's no way that Colorado is even marginally competitive at the end. It showed a lot of character for the team, playing far fro their best basketball, to mount a comeback bid like that -- if only it had ended in victory.
Looking forward, beyond the basic concerns over Josh Scott and his ankle, I'm really interested to see how the team responds. Collier, in his second year and still developing, is especially concerning. What does he take from that performance, and how does he put it into improving his play over the final seven games of the regular season? Does he, in fear of making even more mistakes, clam up and play overly conservative? Or, does he use it as a jumping off point for better, craftier performances? I think we're going to learn a lot about this sophomore over the next two weeks, especially as it pertains to his growth as a point guard and, more importantly, a leader.
Around the world of Pac-12 hoops -
- Oregon 76 - Utah 66 -
Oh, those Ducks. With this win over the Utes, they finished off a demonstrative sweep of the Ski Schools, and sprinted out to a commanding lead over the rest of the conference. 1.5 games up on USC with a game in hand, and at least two games up on everyone else, they're now the odds-on favorite to claim the Pac-12 crown. I may loathe their coach, and have a sour view of their program as a whole, but there's no denying the joyous way they play ball, and the purity with which they are ripping their competition right now.
When Brooks is on, he's one of the best in the country. From: the Register-Guard.
In this game, the story was Dillon Brooks. The point/power forward put up an eye-popping 30/6/9, controlling the pace throughout. With Andrew Andrews and the Washington Huskies slowing down a bit in the second half, it's hard to doubt the inevitability of Brooks being handed the Pac-12 Player of the Year trophy. The best player on the best team playing out of his mind? Yeah, sounds like a league MVP to me.
- Arizona 77 - Washington 72 -
While the Ducks were flying high on home territory, the Wildcats were keeping pace in Washington (albeit two games back). In one of the better games across the country over the weekend, they clipped UW in the final minutes, surging ahead thanks to a monster 22/15 game from Ryan Anderson. Combined with some good defense on the lead Husky guards, Andrews and Dejounte Murray (combined 9-28 from the field), it was just enough to help the UofA overcome 20 turnovers on the road.
Ryan Anderson, yo. From: Tucson.com
If you're looking for someone, anyone to push the Ducks in their sprint to the finish, I wouldn't look too much further than the 'Cats. They finish with a home heavy final four weeks, playing five of seven at McKale, and only have to play one other team in the top four (USC). My only regret for this season is that we only get to see one matchup between the Ducks and Wildcats in the regular season, because a return leg in Eugene would've made for some compelling-ass television. Oh well, we'll just have to wait for the weekend in Vegas for a rematch.
- USC 80 - UCLA 61 -
But, while Arizona surged in the Evergreen State, the Trojans still sit a half game in front of them in the league table, thanks to this seemingly effortless win over the rival UCLA Bruins. Jordan McLaughlin lead the way, posting a ridiculous 9/3/10/5 line. Those 10 assists aren't a miss-print, either. Just the latest in a display of that Dunk City Magic that coach Andy Enfield is finally starting to spin in the City of Angels. Such a fun team to watch, a fact the Southern California faithful are starting to catch on to, as the 10,258 in attendance for this one can attest.
McLaughlin was so good that he was able to complete passes with his eyes closed. From: CampusInsiders.com
It's been easy for many in this conference to look past USC in this race, but I'm a believer. An ugly road trip to Oregon aside (and who hasn't had an ugly road tip to Oregon, huh? *nervous laughter*) they've been solid. Really, all that stands in their way for a last-ditch run at the league-leading Ducks is their upcoming trip to the desert. Seriously, I cannot wait for Sunday's Arizona/USC game in Tucson. Their last meeting went to four overtimes, what will they have in store for us in the return match?
- Cal 76 - Stanford 61 -
The bottom seems to have fallen out of the Stanford express, which is a shame since the win over them has been CU's lone road victory of note. Counting this loss to Cal, they've now lost four of five, and have completely squandered any juice generated by their 4-3 start to conference play. Their next two, at home against the Oregon schools, aren't exactly cupcakes, either, and I could see them losing both. My pick for them to finish 10th seems more and more likely as the weeks go on.
Cal rolled over the Cardinal, in spite of some inarticulate moments. From: Cal Golden Blogs
For Cal, while they haven't taken off without the injured Tyrone Wallace, they have at least held themselves afloat. In this one, they flat curb-stomped the rival Cardinal, at one point leading by 26 in the second half. The Bears still have yet to win a Pac-12 road game, but they haven't needed to. With two more home games on the horizon, if they can claim both of them, they should still manage to get into the Dance, even with Wallace's return still a question mark.
Broncos win Super Bowl; I yawn -
Well, look at that. The little Donkeys that could claimed their trophy. Through four quarters of withering, omnipresent defense, the Denver Broncos smothered and suffocated what had been a very entertaining Carolina Panthers team, en route to a commanding
24-10 victory
. Denver carved up Cam Newton and his mighty offense, forcing three lost fumbles and an interception, and turning two of those fumbles into a decisive pair of scores. As a non-partisan, it was a very slow, deliberative process (especially since the Broncos could do next-to-nothing offensively), like watching a python swallow a goat. Still, none-the-less impressive.
Miller and the Denver 'D' did something awful to Cammy-Cam. From: MileHighReport.com
Really, this Super Bowl was like every Floyd Mayweather fight I've ever watched. Think about it: Money always comes out, scores some early rounds, then does nothing but defend for the rest of the fight. In the end, it doesn't matter that he can't can't really hurt anyone with his offense, because his opponent can't break through his world-class defense. That's exactly what we all saw Sunday. The Broncos got their early points, then turtled (setting a SB record for the most failures on 3rd down) to victory. I'm not saying anything against it - it's a winning strategy, and a win is always a win - but it makes for less than thrilling football. In the same way you bemoan a Mayweather fight for following a script and playing out like grass growing in your back yard, this game clomped along to inevitable conclusion. Purists and Denver fans loved it, but, for those in the audience, like myself, who didn't have a dog in the fight, it lead to a number of, well,
sleepy situations
.
There wasn't even a good halftime performance to fall back on. Coldplay? Are you kidding me? A band so beige as to transcend the mere concept of milquetoast? Just the thought of them carrying an entire halftime lead the producers to drag Beyonce and Bruno Mars back to the stage, almost as an apology of sorts. "Yeah, sorry we screwed up and booked these guys, but remember how fun this can sometimes be?" This is the Super Bowl, damnit! If you're going to put someone up on the stage, they'd better be able to command it. Coldplay sure as shit ain't at that level.
And so, meekly, the football juggernaut is laid to rest for another spring and summer. Not that I'll miss it. Basketball, baseball, and hockey playoffs on the horizon? Nope, I won't even miss it for a second.
Happy Tuesday!