After a weekend like that, with the Buffs getting out-scored 111-65 over the final 49 minutes of action in Los Angeles, I feel the need to drive back into a familiar trope. Yes, it's time for the return of CUTE PUPPY PICTURES to salve BuffNation's collective wounds!
I don't know what that stuffed animal did to that puppy, but GET HIM, PUPPY! GET HIM!
Just the most adorable puppy ever!
Awwwww, this one fell asleep!
There, all better now. The cuteness has cured a weekend of awful basketball. Like frickin' magic!
--
Today in the bag, I'm wrapping the action in LA, talking about how the rest of the Pac-12 fared, and touching on a recruiting note.
Click below for the bag...
Buffs blown out by Bruins -
Coming off one of the more painful losses the program has suffered in the #RollTad era, the Colorado Buffaloes were looking for a rebound performance Saturday night against the UCLA Bruins. But, with their backs against the wall and hopes for a top-four seed fading fast, the Buffs hit the hardwood of Pauley and immediately started to get their asses kicked. Some hot three point shooting kept them within reach of the Bruins for much of the first half, but the inevitable late-half collapse hit like an uppercut from Mike Tyson, and CU was laid out on the canvas in the final minute before the break. The second frame contained nothing of note, and Colorado took a
77-53 loss
on the chin.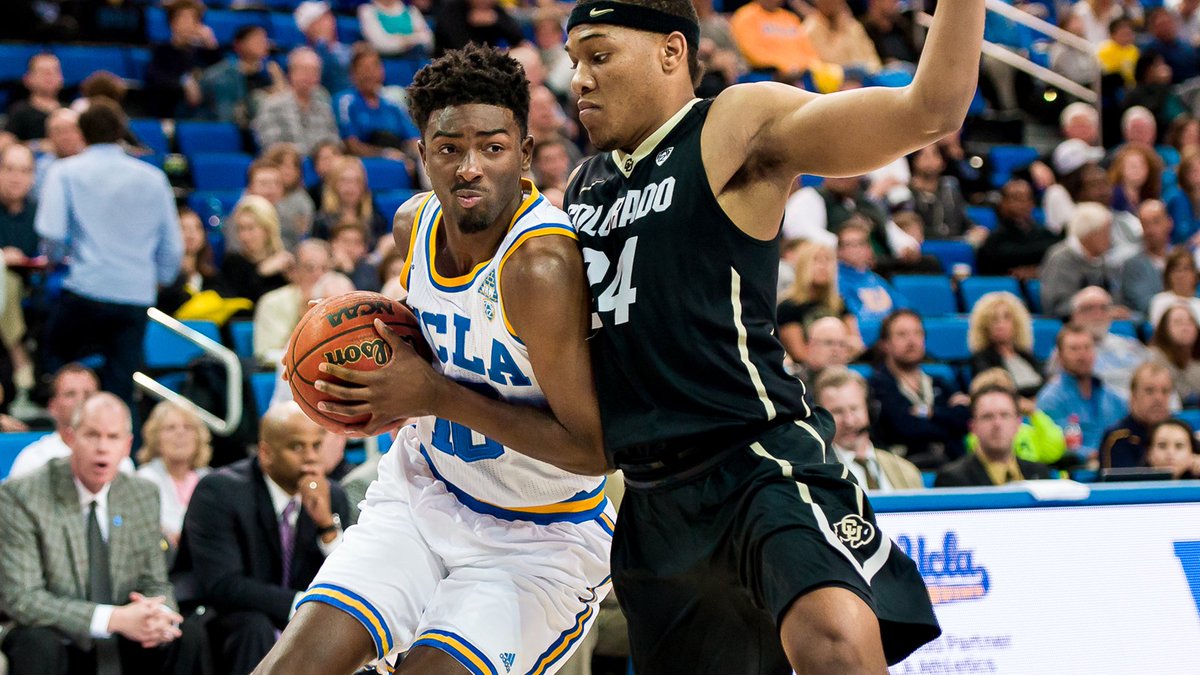 The Bruins blew past the Buffs. From: @UCLAMBB
Nothing went right. Well, I shouldn't say that. CU did hit 47% of their three point attempts in the first half (Xavier Talton doing work), and Josh Scott was used in a pick-and-roll for the first time... ever, as far as I can remember. Outside of those notes, however, it all pretty much sucked. The most efficient defensive team in the Pac-12 (Colorado, if you didn't know), allowed UCLA to shoot 50% from the floor, 78% from three in the first half; a harrowing sermon on the punishment for defensive sins on the perimeter. Offensively, while a few three pointers fell, the Buffs got next to nothing inside the arc, making just 28% of all two point attempts. Just ridiculously impotent.
With a result like that hanging in the air like skunk spray, it's time from some analysis from Coach Boyle: "[UCLA] opened up a can of whoop on us and they gave it to us in every way." Yep, pretty much. This whole road trip, including the USC collapse, was a treatise on the importance of point guard play, both defensively on the perimeter, and offensively in facilitating ball movement into effective areas of the court. Colorado had little to show on both ends over 80 minutes of play, and got roundly thumped for their efforts, particularly over the last 49. In retrospect, I wonder how this glaring weakness - lead guard play - something that I talked about all the way back in my season preview, wasn't exposed and attacked sooner. I suspect, however, that this won't be the last time that a lack of leadership in the backcourt will come back to haunt CU (oh, look, Arizona is coming to town).
As a result of ineffective guard play, CU struggled to get anything inside. From: SeattlePI.com
In and of itself, this weekend does not spike the Buffs' chances of making the Tournament. As of today they are still solidly on the right side of the bubble, with a number of teams between them and a defeating trip to the NIT. The RPI math done with respect to the non-conference schedule is helping here, as is that 11-game win streak back in the waning weeks of 2015. But, taking a step back, plenty of work still needs doing. Those realities can and will change with three weeks to go before Selection Sunday, and, by my reading of the aligning stars, CU still needs at least one, if not two more wins to feel safe (depends on the opponent). They'll get a chance at redemption this week with the year's final homestand against the Arizona schools. A sweep and CU is in the Dance, no ifs ands or buts. A split, with the win coming over ASU - or even, Tad forbid, and pair of home losses - and you can feel free to start sweating it out. I fucking hate February.
Around the world of Pac-12 hoops -
- Utah 80 - USC 69 -
While Colorado was floundering in the City of Angels, the Utes were a big winner over the weekend, sweeping their pair of games in SoCal. The finale, this pull-away win over the Trojans, was huge. It was the first time all year USC had lost at home, and set the Utes up as a near lock for a top-four seed with their final three games of the season being played at the Huntsman Center. The star here was Jakob Poeltl, who put up a massive 29/13 line with four assists and four steals. I'm sure the NBA scouts in attendance loved that.
Poeltl was a one-man show in Galen. From: BlockU
I don't think there's any doubt about it at this point, Utah is in with a chance to win the Pac-12. Only a half game behind the two leaders, Oregon and Arizona, the key will be losses somewhere along the way by Ducks. If the Utes simply win out, they'll leap 'Zona by virtue of their game with them this upcoming weekend. But, in a tie with Oregon, they would still wind up behind a UO team that holds a tie-breaker over them. So, unless there's a three-way tie at 13 wins (possible), where second and third-level tiebreakers come into play, any winning scenario for UU must be accompanied by a late Oregon collapse. Overall: unlikely, but not outside of the realm of possibility.
- Oregon 91 - Oregon State 81 -
For the Ducks, who still stand as the league leaders, they held serve with a perfunctory win over the Beavers. The game was essentially over early when OSU's Gary Payton II was whistled for two fouls in the first five minutes of the action. He was forced to sit, as a result, and Oregon briskly pulled away. Some late activity from the Beavs closed the gap to make the final respectable, but this one was never in doubt.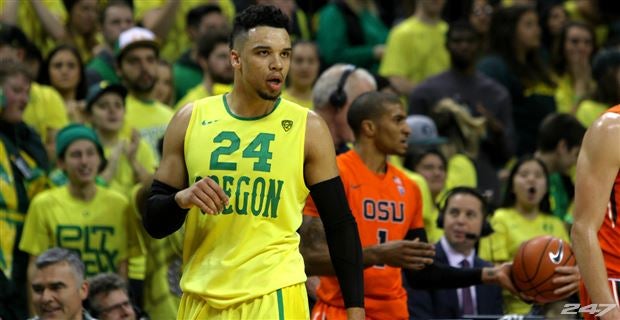 Behind Brooks, the Ducks continue to roll. From: 247 sports
This UO team is something special when both Dillon Brooks and Chris Boucher are on the court. The Pair combined for 31/11/5/3/5 on the evening, buoyed by 19/20 shooting from the line. With the dribble-drive tenacity of Brooks playing off the weakside activity of Boucher, these guys are a nightmare to defend. Defensively, they're two of the best in the league, and, even with a number of calls going against them, make it very tough for opponents to score on them. While I think Utah is peaking at the right time, and is a real challenger for the title, Oregon continues to set the pace out West, as they have for the past month.
- Arizona 99 - ASU 61 -
But, and this is very important, Arizona still lurks. The Utes main argument in this title chase is that they get to host the UofA, but that also means that they have to come through and actually
beat
the Wildcats, something no team has done since January (*cough* Oregon *cough*). Cutting through the clutter, Arizona still boasts the most talent, the best home court advantage, and the best head coach of any team in the league; even though the Ducks hold the tiebreaker, and the 'Cats have to go on a tough road trip this week, there's no reason to count them out.
ASU had nothing for Arizona in the paint. From: AZCentral.com
This past weekend, in McKale against their
little brother
, the UofA rolled, as expected. They won behind an utter domination of the glass, out-rebounding the Sun Devils by 24. It was comical at times, with Bobby Hurley's wallflowers left to just watch dominating big men control the paint. Kaleb Tarczewski lead the way with 15 boards in 25 minutes of play. At times I get the feeling that, while Colorado rebounds for fun, Arizona rebounds because they
need to
. What defensive line play is to Alabama in football, rebounding the basketball is to Arizona in hoops.
- Cal 80 - Washington State 62 -
Also, this game happened. The return of Ty Wallace to the Golden Bear bench has proven vital, as Cal has won four straight with him back in the lineup. This includes massive wins over Oregon (at home) and Washington (in Seattle). As a result, in the lead-up to the Pac-12 Tournament, it's important to note that the Bears are on fire, and will be a very dangerous entity in Las Vegas. They play some of the best overall defense in the league, completely erase transition basketball, and have a senior point guard back running their show. I cannot wait to put some money on them as my dark horse entrant; someone please give me 10-1 on these guys.
Oh, hey, look who's back. From: SFGate.com
For this win over Washington State... there's really nothing much to look at. Any team worth their salt should be able to dispatch the Cougars easily, and yes I know what I just said about Colorado in that statement. Wallace lead the way here, going for 17/5 in limited action (20 minutes). Each half was an identical 40-31 scoreline. Yawns were had all around.
Dallas Walton commits to Colorado -
Back before the Buffs slumped in SoCal, they got some happy news from the recruiting trail. Arvada West's big seven-foot center
Dallas Walton
committed
to play his college hoops in Boulder, joining guards Deleon Brown and Bryce Peters in the 2016 recruiting class. While Brown and Peters are already signed, we'll have to wait until mid April for Walton to
officially
become a Buff, but this seems about as official as any verbal commitment can get. The phrase '
dream school
' was dropped in a number of articles regarding his decision, after all, and Walton has been going to CU games since he was a kid.
Walton commits to the Black and Gold! From: the Post
In his senior season for the Wildcats, just down the road for the Coors Events Center, he has posted solid 17/10/3 numbers. While there's certainly the caveat that he has a height advantage over essentially anyone else in Colorado high school hoops at the moment, that's some nice productivity. Additionally, his film shows some nice post moves, including touch on the jumper, and good shot blocking attentiveness. He's not Josh Scott, by any means, and any Scott-sized expectations need to be tossed out immediately, but he appears to be a serviceable big man, nonetheless. Given some years in the program, he could be a very nice asset for the Buffs as other forwards like Wes Gordon and Tory Miller graduate out; there's certainly some playing time to take advantage of here.
There are a couple of concerns, however. First, Dallas is a two-time sufferer of ACL tears in his left knee, which cost him most of his sophomore and junior seasons at A-West. There's nothing scarier for a basketball prospect than 'two ACL tears in the same knee,' and you have to wonder how that knee will handle the stress of four years in the Pac-12 (though video proves he can still finish above the rim, albeit as a two-foot leaper). Secondly, he's a little undersized, coming in with only 215 lbs on that seven-foot frame. A svelte youth can become a bulky collegian very quickly, but, after four years of watching Ben Mills struggle to put on any weight and get pushed around in the paint, there's no sugarcoating the fear. Still, I like the upside, he's a local product, and a fun story.
Welcome aboard, Dallas!
With Walton in the fold, Colorado will have used the three known available scholarships for the 2016 class. The lone question mark separating the class from completion (other than unexpected attrition) is the decision by Xavier Johnson to either explore his professional options after four full years in Boulder, or avail himself of the opportunity to play a redshirt senior campaign in 2016-17. For the record, while I have absolutely no inside information on this subject, I expect Xavier to take his degree, and hit the professional trail. That would leave CU with one more scholarship to fill in the class. The Buffs seem to still have a few irons in the 2016 fire, just in case, so we'll just have to see how the XJ decision shakes out.
Happy Tuesday!