There's a lot going on this week. Yesterday was National Signing Day (with good results for BuffNation), the Super Bowl looms, and political insanity is descending for those so inclined. There is a pass out there for you who would want it, that it is too distractive right now to focus on college basketball. I would encourage all of you to avoid that trap, however. Good hoops is anywhere and everywhere, as long as you can be bothered to look for it. Take tonight's game, for example. CU vs Oregon looks, on paper, to be a big game. Number one in the Pac-12 vs a prominent member of the second place pack. If anything deserves your attention this evening, it's this tilt.
Realistically, the Buffs are fighting for relevance tonight. Even after last week's impressive sweep of the Bay Area schools on home hardwood, CU still can't manage to garner a single vote in the AP top-25 poll. Stony Brook -
fucking Stony Brook
- and their zero wins over Power 5 competition has a vote, but not Colorado. Win or lose against the Ducks, the team needs to show they're as deserving of their lofty place in the Pac-12 standings (still the deepest, most competitive league in America) as I think they are. A good showing is essential; a win monumental. Time to pony up to the bar and get serious.
--
Hype Music for the Evening: "Zoot Suit Riot" by the Cherry Poppin' Daddies
Hey! Apparently these guys are from Eugene. That's kind of cool... Anyways, I fell hard for the swing/ska/punk movement of the late-90s, and I will admit to having this album buried in a stack of CDs somewhere in suburban Chicago-land. Even to this day this stuff gets my toe tapping. Enjoy!
--
Tip-off from Matthew Knight Arena in Eugene, OR is set for 7pm this evening. Coverage can be found on FOX Sports 1, with the radio call on AM 760.
For reference, my preview from the first game can be found here.
Click below for the preview...
When last we met -
The last meeting between Colorado and Oregon was a celebration of everything that is joyous and fun about college basketball. Played to 72 possessions, the action was open and flowing from the start, with both teams seemingly scoring at will. That's not to say there was no defense played, it's just that these teams came to run (and score) that weekend, and kept the tempo and activity up throughout. It was a blast to watch, and a true treat for all 8,459 in attendance (... and a dirty rotten shame that number wasn't higher). In the end, CU came through, riding an explosion of bench points (45) to a
91-87 win
that they sorely needed.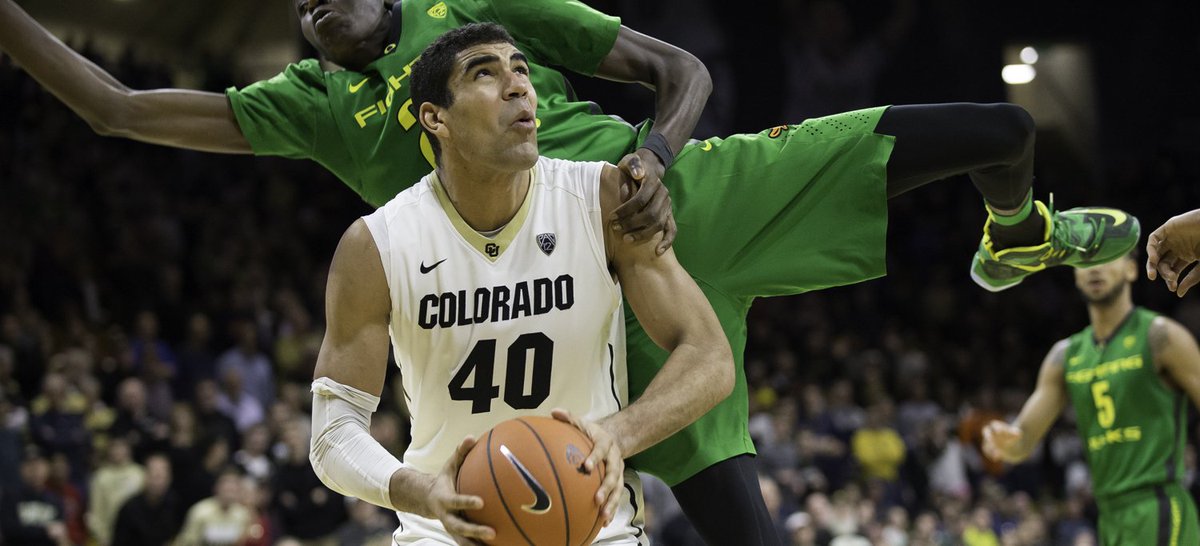 Weeeeeeeeeeeeeeeeeee! From: Bleacher Report.
Xavier Talton, Tre'Shaun Fletcher, Tory Miller, Thomas Akyazili. While Fletcher had seen some starts this year, and Akyazili is quietly coming into his own at the point, this is not a collection of names that would usually seem to strike fear into the hearts of opponents. However, in a game the Buffs had to have, these four came alive off the bench against the Ducks, accounting for just under half of the overall team point total. They were reliable, they were efficient, and, more importantly, they were playing better than their starting counterparts (all five starters were even or worse
on +/-
, all four subs were positive). Josh Scott got his 17/11 and Dom Collier handed out six assists against zero turnovers, but, as a whole, the starters struggled all night long. Thank God for the bench! (never thought I'd say that)
Talton was particularly good. Over 26 minutes he put up 13 points and three assists against just one turnover while playing +19 basketball. It was, by far, his best performance of the season (the points and minutes were season highs), and really the first time since his sophomore year that he
earned
high leverage minutes at the end of a game. What really struck me was his aggressiveness; Xavier was a menace off the perimeter, attacking with poise and speed the rotating Oregon defense, making them pay for over-pursuit on the edge.
That's
the Xavier Talton I hoped to see what I talked him up in the season preview, a senior presence that Colorado could really use going forward. Fletcher and Miller joined him in double-figure scoring, with Tory playing extra minutes because of a minor injury to Wes Gordon, and Tre'Shaun hitting seven of eight free throws (including a number of huge ones down the stretch). The freshman Thomas came in and put together another solid stretch, playing great defense (four steals, fronting the post like a madman), and showing a good amount of poise and grit. All told, a shocking, dramatic impact from some often maligned players.
The bench has something to say. From: the BDC
But, really, the story of the game was how competitive it was. Two years ago I sat in awe of the picture-perfect beauty that was CU's
100-91 win
over the Ducks. This game was largely reminiscent of that back-and forth affair, and was was just fun to watch. CU would punch, Oregon would counter. There'd be one huge play, only to be quickly answered and forgotten in a tidal wave of reciprocating big moments. While there was some unnecessary referee involvement, it never felt too encroaching, and the game flowed throughout. If I could watch it again right now, I would, and I'd stay riveted until the end.
I think, ultimately, the game turned on something I talked about in my first preview: foul trouble. Two of Oregon's biggest stars, Chris Boucher (didn't realize that kid was as much of a cocky asshole as he was...) and Dillon Brooks, played to form, and grabbed some quick whistles. Boucher, particularly, was getting lit up by the zebras early and often, taking three personals in the first, mostly of the soft, not-playing-smart variety. Come the second half, the two really had to change their styles, and Boucher was limited to only 15 minutes of action. The pair both fouled out before the end, and the Ducks really missed them down the stretch. I honestly don't think CU wins with them there to the finish, but you never know.
Dillon Brooks does not want. From @Matt_Sisneros
Overall, it's a huge result for Colorado. Having dropped the home conference opener to Utah, they needed a positive result in this one to keep any hopes of a top-four finish alive. These are the kind of games Tournament teams win, and, to their credit, the Buffs found a way to enter it in the left-hand column. Up next: a tough trip to the Pacific Northwest, first to the league-leading Washington Huskies, then the always difficult trek to Pullman and the Washington State Cougars. A sweep could put CU top of the table, but I'd be satisfied with a split. Someway, somehow, the Buffs have to recover the ground lost to the Utes, and at least one win this week would do nicely.
The Ducks since then -
All the talk among league insiders this week was about Oregon, and with good reason. They have been rolling the past month, winning seven of their last eight contests (with the above example being that lone defeat) to find themselves atop the heap in the crowded Pac-12 standings. The big exclamation was their declarative
83-75 win
over the Arizona Wildcats last week in McKale, snapping the 'Cats 49-game home winning streak. It raised up a lot of regional eyebrows, and made a lot of national observers sit up and take notice. As a result of the exploits in the desert, the Ducks have risen all the way up to 16th in the latest poll, and probably should be higher. 3rd in the RPI rankings, 14th in KenPom, 20th in Sagarin, and with a home-heavy schedule in front of them, they are the league's golden child, seemingly on the verge of running away and hiding with the league crown.
Oregon has been making a strong claim for the Pac-12 title. From: the Daily Emerald
The key for the Ducks has been their effusive offense. 9th nationally in averaging an adjusted 1.18 points per possession, they've only continued to put up big numbers in conference play, with only Arizona themselves playing deadlier on a possession-by-possession basis against Pac-12 competition. Maybe not as
fast
as they've been in recent years, Oregon is still getting a ton out of each opportunity, and they're a nightmare to defend against. One big reason, point guard Casey Benson and his obscene
assist-to-turnover numbers
(H/T
Adam Butler
). He's now 31:5 in league play; a steady handler of the rock, metering out the power to the numerous prolific options in various shades of green and yellow.
More than Benson, however, Oregon is really powered by Dillon Brooks. The point-forward has been especially afire in recent weeks, averaging 21/6/3 over his last six ballgames. This includes the trip to the desert, where he put up a combined 42 points on 50% shooting in big wins over the Arizonas. The efforts earned him
national player of the week honors
, deservingly so. Beyond just the accolade, though, the simple eye test hands him eye marks -- he dominated stretches of the action when the Ducks and Buffs met back on January 17th, and you can see how his performances feed into his teammates. A monster off the dribble-drive, and with a deadly mid-range jumper, he's a tough assignment for anyone in Black and Gold, the kind of talent you mostly hope to contain, rather than flat cancel.
Brooks and Oregon have been on a tear as of late. From: NCAA.com
Something that really catches my eye, though, is the way the Ducks play defense. In the past, at least since Arsalan Kazemi graduated, Oregon has been a score-first, ask defensive questions later kind of bunch. Not so this season. They've been very respectable defensively, featuring in the top-60 nationally in efficiency, and in the upper-half of the Pac-12 in league play. The real key for them is their ability to block shots. They're 3rd in the country in shot blocking rate, and easily the best in the conference. It's the result of a lot of athleticism across the board, but specifically because of the presence of Chris Boucher. Silenced a bit in Boulder with foul trouble, Boucher has been exceedingly active in recent weeks, tallying 13 blocks in the four games since visiting Colorado; he had seven to go along with 26/10 in his last game against the Sun Devils. With Jordan Bell taking a back seat with injury and a bit of a sophomore slump, Boucher's emergence in the Oregon attack makes them a viable, dangerous entity.
Really, overall, the only weakness the Ducks have shown is at the line. 9th in the Pac-12 in FTA/FGA ratio and 11th in raw shooting percentage from the stripe, Oregon has, at times, both struggled to get, and then convert, free throw attempts. They get more than enough points from the run of play, though, and it hasn't really hurt them in the win/loss columns.
Why things could be different -
I think the biggest change will be that Brooks and Boucher will play complete games. They both earned quick whistles throughout in Boulder, with some reason, and ended up fouling out before the game's conclusion. On home hardwood, though, some of those borderline fouls may get overlooked, leaving them in the action longer. This will be especially evident for Boucher, who was limited to only 15 minutes in the first game. Assuming Oregon can get him into the flow for his normal 25+ minutes, he could have a major impact both offensively and defensively. It's well established the shot-blocking terror he can be, but he's also a sneaky good offensive piece, as well. Weak-side threes and offensive rebounds are his biggest tools, and he can be a tough option to stop when you're already struggling to contain Brooks, Tyler Dorsey,
et al
.
A little home cooking from the officials will keep Boucher in the action. From: USA Today
Their presence will also will hurt on the boards. Colorado played +14 on the glass in the first game, and really seemed to own the action in the paint. It helped them generate 26 second chance points, and 34 overall under the basket. There's a lot to that being a stylistic reality - CU is constantly looking to win through rebounding - but I can't help but think that Oregon's best two rebounders struggling with fouls helped immensely here. If Boucher is in for an extra 10 minutes, maybe that +14 turns into a +6, which probably isn't enough for CU to see those kind of advantages on second chances and in the paint, overall.
Finally, I wouldn't put much stock in seeing a repeat performance from the bench mob. Xavier Talton, especially, played out of his mind in the first fixture, and, while he's had some nice moments since, has yet to approach the aggressive, attacking attitude he brought against Oregon the first time. Although, with the way Colorado has been shooting threes, they may not need his over-sized contributions in the rematch.
Prediction -
My record on the year: 7-2. Against the spread: 3-5-1. Optimistic/pessimistic: CU -1.44 pt/gm)

Lines as of Wednesday @ 5pm - CU +10, O/U 140
*woof* That's a lot of points. I don't begrudge Vegas for throwing that many CU's way, though, and certainly see Oregon as a good team stepping into their own. If they can pull away from Arizona in Tucson, they should be able to throttle Colorado in their home gym, right? Well, it does seem to set-up that way. The Ducks have yet to lose at the Matt, and CU is as suspect away from home as anyone else in this topsy-turvy world of college basketball.
But, and this needs to be stated, you always like defense to travel. Colorado continues to post the most efficient defensive numbers in conference play, and rebound well enough, in addition, to add some credibility to claims of being able to compete in this one. The only reason I doubt them is a rash of turnovers - highly likely - but cut those out, and we may have a very interesting game on our hands.
In the end, I think it's much more likely that the Ducks to roll, just because I think they're clearly the best team in the West right now, and Boucher is a shoe-in to play more than 15 minutes. Still, I don't think I'll put any actual money on the line...
UO 89 - CU 77
GO BUFFS! PROVE ME WRONG, AND BEAT THE DUCKS!