It was all going so well. The Colorado Buffaloes were playing good, if not great, basketball on the road against the USC Trojans Wednesday night, looking to claim a victory that would clinch their Tournament bid and keep faint hopes of a Pac-12 title alive. With nine minutes to play in the ballgame, a Wesley Gordon jumper had staked the Buffs to a 60-45 lead, a margin, surely, even Colorado could protect down the stretch. Unfortunately, the basketball gods turned a sour eye towards the faithful of BuffNation, and the Trojans started to mount a comeback. By the U8 timeout, the lead was down to 10; by the U4 it had shrank to three. When a Jordan McLaughlin sank an open corner three with 2:55 left, it gave the Trojans the lead, and the Buffs were left cowed and broken as they slumped into a Tad Boyle timeout. Eventually CU would settle into a
79-72
loss, leaving me with just one reaction: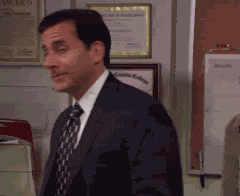 I don't really have all that much to say about it. The Buffs simply spit the bit. According to KenPom, once Colorado took that 15-point lead, they had a 94% chance of winning the game. It took a concentrated effort of turnovers, missed front-ends, poor defense, and impotent guard play to spike that lead. If it didn't break my heart, I'd have been impressed by totality of suck on display down the stretch.
If you're looking for some positives, look no further than the healthy, successful return of Josh Scott to the lineup. Coming off the bench, Jelly put up a solid 17/3 in 23 minutes, showing off a number of deft and power moves around the rim that proved he was recovered from his ankle injury. Accompanying his performance, Wes Gordon stayed hot, putting up 13/7 and really powering the surge that built that fleeting lead. The problem was that their efforts in the paint were counteracted by some flat awful guard play. Dom Collier had one of his ugliest games in a CU uniform, turning the ball over six times and committing four fouls against just one rebound, with no points or assists to show for his 18 minutes. His fellow backcourt mates weren't all that much better, with George King matching Dom's turnover numbers (Colorado had 20 total, #sigh) and Josh Fortune needing 11 shots to get to 10 points.
That turned in a hurry. From: KenPom
That's the rub of this game. While the Buffs had built that big lead, mostly due to another abnormally massive rebounding advantage (37-21 for the game), they weren't exactly blowing the doors off the gym. Turnovers remained a problem, scoring was inefficient (outside of the two post players), and I was preparing to write a wrap-up that stated that CU had pulled a rabbit out of their hats. The illusion went wrong, however, and the Buffs were booted from
the Alliance of Magicians
, unceremoniously. In many ways, they got exactly what they deserved. College basketball is all about guard play, and Colorado had an especially putrid run of it Wednesday night. On the USC end, McLaughlin and Julian Jacobs combined for 42 points, and served as a pair of spark plugs for their teammates. It was that duo that walked away with the win, and with good reason.
CU now turns to another late evening tip with the UCLA Bruins. If they have any realistic designs on claiming a top-four seed int he upcoming Pac-12 tournament, they're going to have to nab this one, and earn a split in LA. The only problem? They've yet to win in Pauley. Oh boy. Better get to it...
--
Hype Music for the Evening: "You see me" by Childish Gambino (lyrics NSFW)
Asian girls everywhere... UCLA. Gambino, also known as Donald Glover of "Community," is a legit EGOT threat. Dude can do it all. This one, purely picked for the hook, is a personal favorite. Enjoy!
--
Tip-off from venerable Pauley Pavilion is set for 9pm this evening. Coverage can be found on FOX Sports 1, with the radio call on 850 KOA.
Click below for the preview...
When last we met -
There was no Hollywood ending to the LA trip last season. Following up on Askia Booker's transcendent 43-point performance in the first game against USC, the Buffs struggled to find the same spark and determination the succeeding Saturday in their
72-59
loss to the UCLA Bruins. Familiar keys from that ugly season were there: long scoring droughts, poor second half defense, a lack of urgency or efficiency in attack the rim on offense. Much like everything emanating from the town these days, this LA sequel was a dud. Zero out of five stars, would not watch again.
No LA repeat for Ski and the Buffs last winter. From: Pac-12.com
The team as a whole seemed exhausted in the wake of their triple-overtime effort against USC. Jumpers flagged as the game went on, and the Bruins slowly, but surely, claimed ownership of the glass and the paint. Colorado would hang around through the first half, but, out of the break, the rout was quickly on as UCLA stormed out on a 25-4 run partway through the second frame. It was a run that featured little creativity from the Buffs, and more than a few sideways glances on defense (the Bruins shot 56% after halftime). Opportunities were missed, mistakes were made. It was a scene all too familiar last winter. When that team went bad, it went
real
bad.
While I called for it in my preview, Super-Ski was never going to be able to go off for a second-straight game to save the ballclub. The Bruins were waiting for him, running the spark-plug off the line, and driving him to double-teams on the wing. Without an inch to spare, Booker struggled through a 6-15 shooting night, only tabbing 16 points. On a team in desperate need of as many scoring threats as they could muster, this just wasn't enough. Ski tried to make up for it by dishing out the ball (five assists,
NO
turnovers), but teammates dropped as many beautiful passes as they turned into points.
Early heroics from Xavier Talton were short-lived. From: CUBuffs.com
Elsewhere, while Xavier Talton started out the game red hot (eight points out of the gate), a single heat check was all that followed. Wes Gordon had a nice 10/8 line, but was mostly attacking the UCLA front line by himself, as CU dropped into 4-1 ball for most of the evening. On the injury front, Jaron Hopkins returned to the lineup after only a one game absence for a sore ankle, but seemed to be missing that fire that had served him so well over the previous few weeks of play (zero points, one rebound in 16 minutes). Similarly, while Xavier Johnson saw his second spate of action after
his
ankle problem, he was much less effective this time, going for 0/6 in 21 minutes. Both looked to be still mired in the recovery process.
Honestly, this game was about what I expected. Barring a Ski-splosion, UCLA was always going to win this one in breezy fashion. It just hurt to see it go down in real time. Hopefully, with a more balanced approach, Colorado can pull their feet out of the fire, and earn the desperately sought after road split this evening.
Star Players -
It won't be easy, however. While on the surface the Bruins seem like a beatable proposition, they still offer a roster stocked with some of the best talent in the entire country. They're lead by
Bryce Alford
, the coach's son with a nose for scoring. The 6-3 junior point guard is a deadly shooter with a sense of the dramatic, one who seems to love the spotlight and the moment. Maybe not as pure of a shot artist as his dad was at Indiana, Alford can still stroke it, with 55 makes this season on 152 attempts from deep. That's not all, though. Bryce can be nasty off the dribble, especially when he's able to find an open shooter off his penetration, and the Bruins as a whole get a lot off of his versatility running the offense. It's no surprise, then, that he leads the conference in assists.
Alford is the impetus behind most of what happens for the Bruins, #DaddyBall. From: the LA Times.
The big thing with him is that he's constantly on the court. Alford's getting 90% of available minutes, and maintains a firm grip on the controls of the team. In that light, Bryce's 16/4/5 numbers are not eye-popping,
per se
, with per-40 averages on the middling side, but he's the kind of talent (eagle-eyed sharp shooter, good off the dribble) that has often given Colorado fits. Defending him will be a big problem for the Buffs' backcourt.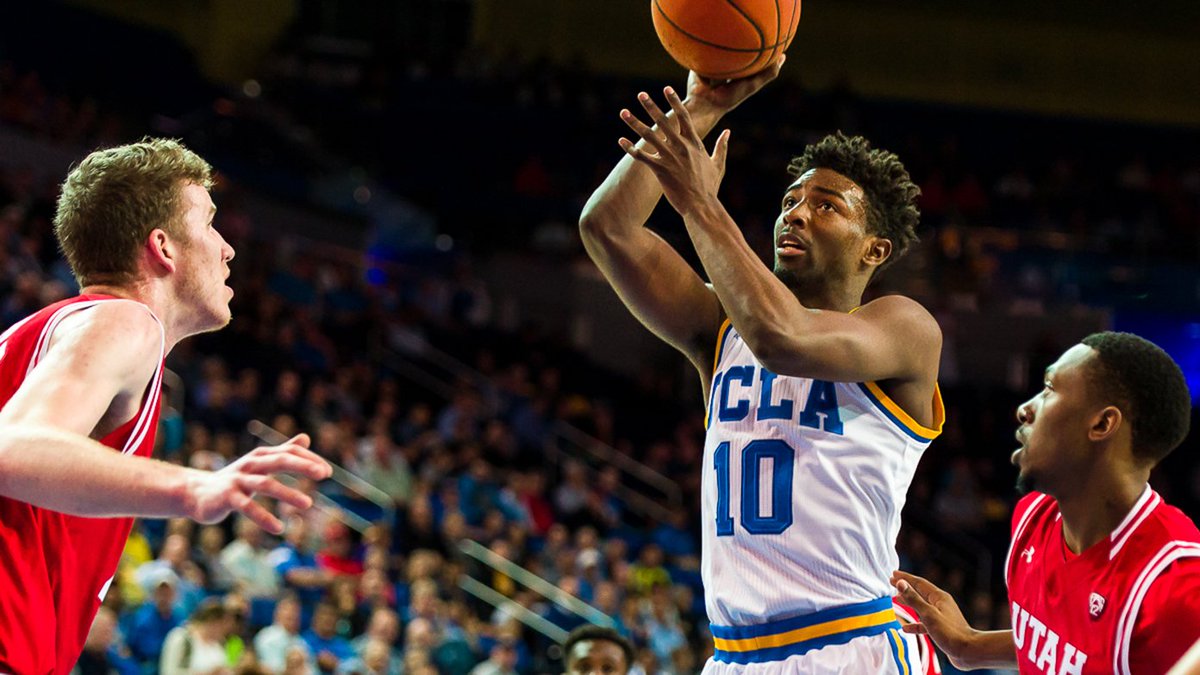 Hamilton is a pure scoring threat. From: @uclambb
And, if Alford alone wasn't enough to scare you, he gets to work off a devastating scoring wing in
Isaac Hamilton
. A true bucket getter, Hamilton has cracked double figures in scoring 22 straight games, which is the most for a Bruin since Kevin Love. A more efficient offensive piece than Alford, Isaac benefits from the open looks generated by the point guard, posting an eFG near 56%, and the pair are #1 and 2 in the Pac-12 for minutes played per game. My only real knock on him is that he doesn't get to the free throw line nearly enough -- for as much as he's been a scoring threat this season, Hamilton only has 69 free throw attempts. If he was getting to the stripe with any regularity, on top of his shooting numbers, Isaac Hamilton would be one of the most prolific players in the country. Regardless, he's a dangerous piece that CU will struggle to guard.
The dangers don't stop with that duo, either. Up front UCLA is anchored by traditional big man
Tony Parker
. The big 6-9, 260 lbs senior is a load in the paint, combining bull-in-a-china-shop power with a deft touch near the basket (essentially, what BuffNation hopes Tory Miller develops into). Near 75% of his attempts are at the rim, and the combination of Josh Scott and Wes Gordon will have their work cut out keeping him off the block. Tony's big problem, however, is foul trouble. He's averaging five fouls called per 40 minutes played, and, anecdotally, I can tell you he always seems to wrestle with the whistle when I tune in.
Parker is a major presence under the rim. From: Kentucky.com
Parker combines with the lanky 7-0, 245 lbs
Thomas Welsh
in the paint. The pair are the two biggest offensive reboudning threats in the conference (grabbing 15 and 13 percent of opportunities, respectively), and handle a large portion of UCLA's scoring load. Whereas big Tony is all about attacking the rim, Welsh is more of a pick-and-pop threat. 65% of his shots are from mid-range, and he loves the 10' baseline jumper the same way the Wear twins used to. The danger here is a Bryce Alford drive drawing attention, Welsh popping out to the baseline, Bryce hitting him in space, and Thomas canning the attempt with little effort. This will happen at least four times tonight, guaranteed. It will also, in turn, open up the underbelly of the offense even further for Alford to attack, only increasing the defensive headache.
The Bruins' starting five is usually rounded out by guard
Aaron Holiday
. A 6-1 freshman, Holiday has yet to really come into his own, and takes more of a deferential role in the UCLA attack, falling in behind Alford and Hamilton. The main backcourt reserve is
Prince Ali
(
fabulous he
), who is a jack-of-all-trades kind of talent. Supporting Parker and Welsh up front is a very interesting sophomore, Australian stretch-four
Jonah Bolden
. The 6-10 combo wing has seen a sharp uptick in minutes played (and even a couple of starts) recently, and has rewarded the confidence with 11/7 averages the last three games. After them, though, the roster pretty much stops, with UCLA 339th in the country in bench minutes.
The Bruins in 2015-16 -
The weird thing is, for all of that front-line talent on the roster, the Bruins have yet to prove capable of turning it into consistent winning basketball this season. There have been some highlight wins - over
Kentucky
,
@ Gonzaga
, and
vs Arizona
- but those have been answered by head-scratching losses - to
Monmouth
,
Wake Forest
, and
Washington State
. In conference play, the inconsistency has only shown duller, with UCLA going 3-6 over their last nine, dropping three of those losses at home, and proving incapable of winning two in a row. I would say this isn't even a 'good' basketball team now, with the Bruins clearly average (or worse) in a league filled with squads better than that.
They can beat the Wildcats, but not the Cougs? From: Pac-12.com
The problems have largely been defensive. In Pac-12 play, they're 10th in efficiency, allowing opponents an average of 1.07 points per possession, with the culprit scoring coming from deep. They're over-leveraged on the perimeter, giving up a league-worst 33% of scoring from three-point range. Essentially, they trade two-point jumpers (32nd nationally in percentage of shots from mid-range) for outside makes, which has long been a losing strategy. Combine with the fact that they don't force too many turnovers (306th nationally in defensive turnover rate), and UCLA puts themselves behind the eight ball. Notably, their recent victories (over
ASU
,
OSU
, and
WSU
), have all featured strong defensive efforts, with the Bruins holding the Sun Devils, Beavers, and Cougars to an average of 63 points.
It's a better picture offensively, with an average efficiency over 1.12 points per possession. UCLA boasts an attack built around sharing the basketball (2nd in the league in assists per bucket) and those mid-range attempts (56% of points come in between the basket and the arc). The one knock I have here is their ability to get to the line. All those soft jumpers don't draw a lot of fouls, and the Bruins have been dead-last in league play in FTA ratio, getting under 19% of their points from the charity stripe. Where's the beef, so-to-say, that earns crunch-time points? If Alford's not going off late, they can quickly see games slip away.
The Utes stole one late on Thursday. From: BlockU.com
Overall, this is a team that like to play fast (top quarter in Pac-12 play for tempo), but a team that is losing the battle in the margins. Too many mid-range jumpers and defensive struggles along the perimeter are cutting into the good work they do on the offensive glass. Even with some meat on their resume, I worry if the Bruins are even worthy of an NIT bid at this point (if those blue-bloods would even accept such a thing). Still, with all that talent on the roster, they're not exactly a team you want to see in your bracket in Las Vegas, and could be a very difficult out with their backs to the wall.
Coaching -
Year three of the
Steve Alford
experience in Westwood, and the returns are starting to turn south. After back-to-back Sweet Sixteen runs to start his tenure, this season has hit SoCal like a wet fart, burning what little good will had been salvaged from the first two campaigns. Watching USC take great strides on the other side of town certainly doesn't help, either, with the Trojans
sweeping
UCLA this season for the first time in six years. The Bruins are soft, inconsistent, and trending downwards; not a good look.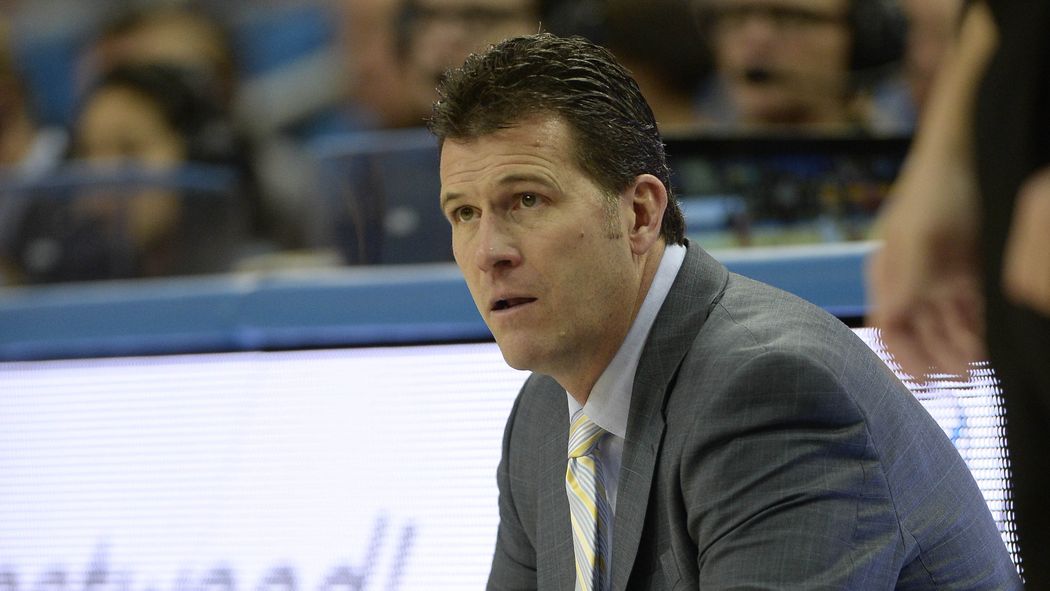 Coach Alford has struggled in his search for consistency this season. From: Bleacher Report
With the locals particularly boisterous in their delusion that it's still 1972, and that only Final Fours will be accepted in Pauley, you have to wonder if Alford will be given a fourth season. He's built a nice recruiting class for next year, centered around five-star prospects Lonzo Ball and TJ Leaf, but I'm starting to doubt if he'll ever get to coach them. What could save his job, though, is a strong finish to the regular season, combined with a run in Vegas and, eventually, the NIT. In a completely different scenario, that exact blueprint has saved Johnny Dawkins numerous times at Stanford, and it might just be enough to get Alford into year four. I wouldn't bet on it, though.
Prediction -
My record on the year: 11-3. Against the spread: 7-6-1. Optimistic/pessimistic: CU -1.3 pt/gm)

Lines as of Friday @ 8pm - CU +5.5, O/U 147.5
With the Bruins as inconsistent and soft as they are, I really want to pick the gritty Buffs to steal away with the win tonight, but I just don't see it. That loss at the Galen Center the other night is not the kind of implosion that you just get over, and should have some reverberations. I expect a dour start from Colorado in a gym where they've never won, leading to a deep hole that they never really recover from. The second half is better, but, with damage already done, a loss is a loss. Give me the Bruins with a cover.
UCLA 76 - CU 69
GO BUFFS! PROVE ME WRONG, AND BEAT THE BRUINS!