Updated:
All five have signed their LOI's. Welcome aboard guys!
Unlike football, which waits until the dead of February to ink the recruits, basketball allows teams to get the heavy lifting out of the way before the season even starts. The first of two signing periods, the early signing period allows recruits to commit to their program of choice and play their senior seasons without the hassle of recruiting weighing on their performance. They also lock in the guarantee of a scholarship, essentially insuring themselves against injury or other terrible happenstance.
Today marks the start of a full week of early signing availability, and all of the Buffs five commitments are expected to sign during the week, if not today. With little opportunity to improve the team with the 2013 class (seeing as how the team has only one junior: walk-on transfer Sabatino Chen) the 2012 class is essential to the future growth of the program.
All told, three native Coloradans and two out-of-staters look to make CU very competitive in the future. This is a solid class, easily one of the best, if not
the
best, in school history, with two of the commitments considered top-100 players nationally. It's focused on high-motor players who showcase plenty of athleticism - perfect fits in the up-tempo style of ball that Coach Boyle likes the Buffs to play on both ends of the court.
Many consider this class to be one of the top-20 in the nation, and one of the better landed in the Pac-12 this fall. While it would have been nice if Coach Boyle and his staff were able to land all of the top-flight recruits interested in coming to Boulder, I'm still more than satisfied with how the class turned out.
In this post I'll be recapping the class; touching on each player's recruiting profile and how I see them impacting the Buffs over the coming years.
Click below for the recap...
Josh Scott
- PF/C - Monument, CO - 6'9", 225 -
Josh is, quite honestly, the crown jewel of the class. The big kid from The Springs has made quite an impression in the AAU circuits, many even naming him as a
top-50
recruit nationally. He has great length and athleticism, allowing him to dominate on both ends of the court. Known for possessing a high-motor, he is a great fit for Coach Boyle's system. He committed to CU
early in the process
, and stuck with that commitment throughout the summer.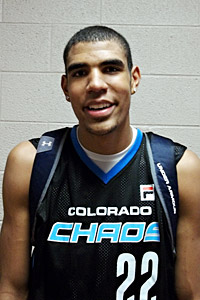 Josh should make an immediate impact in Boulder.
Colorado hasn't produced a player of this caliber in a few years. It's great to see that he's 'staying home' and donning the Black and Gold. He's not a bulky center in the mold of, say, a David Harrison type. Instead, Josh possess superlative athleticism for his frame, allowing him to do great things on both ends. Noted for also showcasing good passing skills for a big man, Josh should prove to be a dangerous weapon on the fast break. Some have noted a weakness with his jump shot, but few centers show up to college with
both
good post-skills and a good jumper; if he works at it, I'm sure he can get it to the point that it can be an effective tool in game situations.
All told, Josh is a fantastic get for the program. Coach Boyle made a statement with this kid by grabbing him early, and I have no doubt that Josh will do great things in a CU uniform. Should be able to start from day-one.
Xavier Johnson
- SF - Temecula, CA - 6'6", 185 -
Xavier is 'the other' top-100 recruit committed to CU. The southpaw from Cali can do a lot of things with the basketball. He's got a good long-range jumper, and has enough athleticism to speed by his defender on the way to the hoop. He could prove to be deadly off the dribble in the motion's half-court. As with most high school kids, a lot will be determined by how much work he puts into bulking up to compete with bigger forwards on both ends of the court.
Johnson has a nice outside shot.
He should be able to team with Josh Scott to form a nice 1-2, inside-outside offensive punch for the Buffs in future years. Them running the fast-break together should be explosive. I see him as a 6th man type next season. When competing against some of the best the nation has to offer, he's shown the ability to do things like this:
Wesley Gordon
- PF - Colorado Springs, CO - 6'7", 195 -
Long and athletic, Wes is a defensive dynamo. Rebounding, shot blocking, on-ball defending; these are his hallmarks. He's all about high energy and doing the dirty work required to win. I'm sure Coach Boyle took one look at this kid and wanted him in a uniform the next day. While he may not have much of a offensive game just yet, time and practice should help that improve.
Wes brings high energy on defense to the Black and Gold.
Wes reminds me a lot of Lamar Harris. Very active on the defensive end of the court and a pain in the ass of every opponent who walks through the gym. He could get significant minutes next season simply based on his willingness to affect shots and get after rebounds. He committed to CU
shortly after
Josh Scott did, and he should team with his high school rival quite well in the paint.
Chris Jenkins
- SF - Detroit, MI - 6'6", 190 -
Chris kind of slipped through the cracks through the recruiting process. It was a pretty quiet commitment when he signed, as most of Buffs Nation was focused on glossier names, yet I see a lot of potential here. Like the rest of the class, he has a high-motor and good length. A 'tweener, he should fit well in the Coach Boyle system that requires a lot of matchup rotation and tireless effort. He needs to work on his outside shot, but there are other players ('Ski' and Dinwiddie from the '11 class, Xavier Johnson from '12) who can be expected to do the work from range.
Jenkins has good upside potential.
He was pegged by many to be a mid-major prospect, but a lot of the recruiting services like that he has good upside potential. If he pans out, CU may have landed a good diamond in the rough. I expect him to play off the deep end of the bench next season as he works on improving his game.
Xavier Talton
- PG - Sterling, CO - 6'1", 175 -
Committing
just last night
, Xavier rounds out the class. Coach Boyle loves point guards, often to the point of using multiple on the court any any given time. I expect that he will never sign a class this large without inking at least one PG. He was named Mr 4A basketball for the state of Colorado last season, and lead his Sterling High squad past Josh Scott's Lewis-Palmer team in the state 4A finals.
Here's Xavier guarding future teammate Josh Scott in last year's state playoffs. From: the Post
I saw 5 minutes of Xavier's game this past spring in Boulder for the State Basketball Tournament. While I liked what I saw, I still wonder how well he'll perform in a major conference like the Pac-12. Still, it's nice to have a 3rd Colorado kid on the roster. He's a good shooter and a tough competitor, but it may take some time for him to see much of the court with the point guards already on the roster. Don't look at him as a replacement for Ty Wallace, look at him as a good get with growth potential, who should work well in the guard-oriented playing style of Coach Boyle.
--
You can see where Coach Boyle is going with this crew, emphasizing versatility, athleticism, and a willingness to do the little things. They should all help the Buffs play an exciting brand of ball on both ends, but above all they should help the Buffs win.
Let's be honest, there's a lot expected of this group. If they can't help the Buffs to the promised land of the Tournament, then I would consider it a huge disappointment. But I don't see disappointment coming out of this crew, I see massive potential to compete amongst the best the Pac-12 has to offer.
I can't wait to see them all in uniforms next fall!