.... I really like the senior leadership on this team. Nate Tomlinson and Austin Dufault have been around for four years now, and... Wait, football, got it. Sorry, I'm still decompressing from my
massive basketball preview
.
To the matter at hand: the annual blackout game is upon us. We may not have created that tradition, but the CU fanbase has done a pretty good job making it our own. Ever since the '07 night game against Florida State, one night game per year has been designated the "Blackout Game," allowing the University to get some value out of those lights it installed in Folsom, while affording the fans a unique and intense venue to watch football. I love the tradition, and hope that it continues long into the future.
Despite stumbling in that first blackout evening affair with FSU, the Buffs have played good football under the lights, winning in '08 over West Virginia and last season over Georgia. I don't know why there wasn't one in '09 (I blame Dan Hawkins), but CU carries a 2-game win streak when the crowd gets their Johnny Cash on.
Folsom, by itself, is an awesome stadium, but under the lights, with everyone decked in black, it's intimidating and spectacular. There's a sense of grandeur that surpasses what would be normally be expected, and I'm thrilled that us fans can do our part to set the stage for great football.
All the better, CU will apparently once again
don the all-black
uniform combination for tomorrows game. I love the all-black combo with a burning passion that knows no end; this was the color scheme that dropped the Huskers 62-36, afterall. Still, I happen to know AD director Mike Bohn hates the combination, so I'm surprised, and pleased, to see the all-blacks back in play. *cues AC/DC's back in black*
Anyways, as always for the blackout... FUCK 'EM UP, FUCK 'EM UP, WEAR BLACK!
--
Tell the boss you're leaving work early, cause there's some serious tailgaiting to do as the sun slips behind the Flatirons. Kickoff is set for 7pm on Friday night. It's supposed to be damn cold so wear some thermals under all that black you throw on. If you can't make it up to Folsom, you can turn to, of all things, ESPN 3D to check out the action. If you haven't yet bought into that bullshit 3D fad, then you can check out the game on ESPN, regular flavor.
Click below for my preview...
Good news everyone!
(Two straight weeks with Futurama references!)
A few of the suspended defensive backs are
returning to practice
, and, best of all,
Speedy and P-Rich
will be back this weekend! In a season full of some truly depressing shit, just the mere return of the two offensive dynamos is cause for celebration. In fact:
*click photo to animate*
I don't think this will mean much in terms of on-field success, but at least CU isn't headed into battle with both hands tied behind it's back anymore.
Ephemera -
Much like the Ohio State game, I need to drag out the ephemera section. USC was
the shit
in the early 2000s. More talent than should be available to a college program rolled through Los Angeles, and the wins flowed like fine wine. Arguably the best collegiate talent to don the cardinal and gold during that period was Reggie Bush. He had the speed, agility, hands, and intelligence to become the best college player that many had ever seen. So dominate was Bush that he won the Heisman Trophy in 2005.
Unfortunately, that trophy wouldn't survive the decade.
See, Reggie had taken thousands of dollars in improper benefits when he was a Trojan, which the NCAA later found in their investigation to be a major violation for the whole USC program. As a result the Trojans were handed 4 years of probation, a massive reduction in scholarships, and a 2-year bowl ban which expires after this season. Upperclassmen, uncomfortable with the prospect of no post season play, were allowed to transfer out of the program, and head coach Pete Carroll ran screaming from the scene to take a sub-par job offer from the Seattle Seahawks. It was a terrible blow to the proud Trojan football program.
Yeah, we're gonna need that back when you get a chance.
Facing intense scrutiny for his part in the scandal, Bush voluntarily forfeited his '05 Heisman.
Opponents season so far -
Not only are the Trojans ineligible for a bowl game this season, they can't even appear in the Pac-12 title game. They're essentially playing this season with nothing but pride to play for, and the once formidable Trojan juggernaut is desperately trying to survive the punishments with the house still on its foundation.
Yet, despite the sanction disaster, the Trojans have put together a respectable season so far. A 6-2 (3-2) record is nothing to snarf about when you've been hit with major sanctions, and the Trojans can gloat about a season defining win at Notre Dame. Things haven't been all roses, however. They allowed a feisty ASU squad to stamp their ticket for the Pac-12 title game by one-upping them in Tempe earlier on the year.
The win over ND was quality. The 21-point loss to ASU... not so much.
Additionally, last week, in what many were calling their
de facto
bowl game, USC hosted the fightin' Andrew Luck's. A fantastic game to watch, the Trojans fell in triple overtime 56-48. Had USC won that one, I imagine they'd feel comfortable with their efforts this year, and head into the post bowl-ban portion of the sanctions with much confidence.
Offense & Defense -
Offensively, the Trojans use a typically proficient attack to gobble up over 430 yards per game. Relying on the stellar QB/WR combo of future NFL stars
Matt Barkley
and
Robert Woods
, the passing game alone provides for near 300 yards a game, while providing 22 scores. They can also hurt you with the run, netting 4.5 yards per carry. This is a strong unit, capable of standing along side the explosive Trojan offenses of the past decade.
Barkley to Woods has been a magical combination for USC.
On defense the Trojans have been a little inconsistent, looking strong against some teams (Cal, ND, Utah) while looking porous against others (Stanford, ASU, and, surprisingly, Arizona). Should you get to the redzone on these guys, they'll let you score a TD a rather high 68% of the time.
Star Players -
On offense, the Barkley-to-Woods show has already connected an eye-popping 81 times. Woods alone accounts for more than 43% of the aerial attack for the Trojans, having nabbed 991 yards receiving on the year. The duo have combined for 9 scores on the season, and the two are one of, if not the, premier QB/WR combos in the nation. Woods also happens to be a very dangerous return man.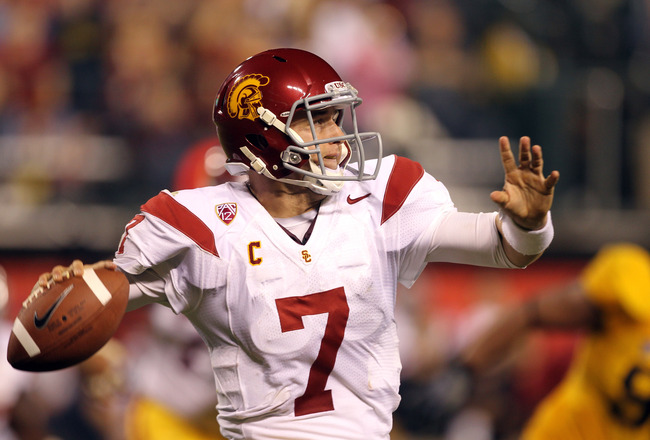 Barkley is a fantastic QB, and he may very well be manning the Broncos next season.
With RB
Marc Tyler
possibly still out with a
dislocated shoulder
, the rushing duties are now being manned by junior speedster
Curtis McNeal
. While McNeal looked good last Saturday, and I expect him to have a good game tomorrow night, the danger of the offense remains in passes from Barkley to Woods.
McNeal is coming in off a real nice game against Stanford; 145 yards and 2 scores.
On defense, the mantle of leading tackler is carried by freshman LB
Dion Bailey
. He has 67 recorded tackles on the season, and has also contributed a pair of sacks and picks a piece to the cause. We'll be hearing his name quite a few times over the next couple of years.
Nickell Robey
is also a budding star out at CB.
Coaching -
Lane Kiffin, or Kiffykins as EDSBS liked to call him, is a pseudo-controversial figure in the football ranks. A talented offensive mind, groomed in the glory days of mid-2000s USC football, Lane has jumped around the last few years, seemingly incapable of staying put, endearing himself to the locals, or
staying out of trouble
with the recruiting violation police.
When it rains, it pours.
Snatched up from USC in '07 by the now passed head of all vampires, Al Davis, Lane "lead" the Oakland Raiders for just over one full season. He got the chop from Al early in the '08 season after compiling a lack-luster 5-15 record in the NFL. Kiffin then matriculated to Tennessee. Getting railroaded by the cut-throat nature of the SEC, and doing nothing but
stepping into recruiting bullshit
, he bailed after only one season in Knoxville to take the open USC job.
Everyone but Lane seemed concerned that USC would soon get the sanction axe from the NCAA, but he took the job anyway, and set about remaking the mighty Trojan in his image. Shocking everyone, he seems capable of lasting into his second season in his new digs. All told, he has compiled a 21-13 record in college football, 14-7 of that coming from his time in Los Angeles.
To be fair, I can't help but be impressed by the way he's been able to keep the team together this season despite no attainable goal to play for. He seems to be doing a good job at 'SC', and he's still a brilliant and promising young coach.
Prediction -
Before the season started, and everything went to shit, I was fairly optimistic about CU's chances in this game. I rationalized it
this way
:
"I actually think CU has a chance to steal this one from a more talented team. Not only do I perceive Lane Kiffin to be the coaching equivalent of a wet paper bag, but the game will be played in November, so the weather could be lousy, it'll be a black-out game, so the students will be fired up, and USC will come in on a short week, fresh off brutal games @ Notre Dame and vs Stanford, and vulnerable to a trap game. If, and it's a very big if, CU is still healthy, the Buffs could pull a huge upset on national television."
While that short week thing still holds true, and the weather will, at least, be very chilly tomorrow evening, Lane Kiffin has proven to be more than the coaching equivalent of a wet paper bag this season, and CU has failed to stay reasonably healthy. If the team that saw the field in weeks 1-4 was playing in this game, CU would have a pretty good chance of stealing one. With this down-trodden and oft-injured crew crawling towards the finish line I have no hope of victory.
Yes, the offense should be better with the return of Speedy and P-Rich, but that defense still has the containing properties of a sieve.
It's almost over, folks. Basketball season is only eight short days away, and there are only three more football games after this week to mope through. Keep those comforting thoughts in mind as CU loses by 40 points. CU will remain the only Pac-12 team without a conference win so far this season. Huzzah!
USC 54 - CU 14
But, hey, it could be worse; we could be watching
this sad sack of crap
.
GO BUFFS, PROVE ME WRONG AND BEAT THE TROJANS!