After only 15 games, I believe you can begin to get a sense of what kind of player a freshman starter will turn into. How quickly have they fallen into the rhythm of collegiate life? Has their been play consistent? Are they showing improvement? The answers to those questions can go a long way towards determining if a first year starter will have just a strong collegiate career, or a legendary one. You can't necessarily build a definitive judgement off of those early results, but they often attest to a player's future trajectory.
You can also use those first 15 games to begin to put a player's talents into perspective. Much like last year, when I
compared Spencer Dinwiddie's first 15 games
with those of his recent star-guard predecessors, I'm interested in comparing Josh Scott, the star of CU's heralded 2012 recruiting class, with a recent high profile post. With last Thursday's USC game, Scott and the Buffs crossed the 15 game mark this season, making this an appropriate time to begin that process.
CU, along with many other programs, have long been searching for a true "star" post player. While there were ample recent examples to compare Dinwiddie against, there's really only one player in the post-Billups era who can hold a candle to Scott's skill and prowess in the paint. I've had to go back over a decade, but I've dug out the stats on the one, the only, David Harrison.
Below the fold, I'll touch on each player's narrative before discussing how Jelly compares to Big Dave, and what that means for the future. A little history, a little analysis. What could possibly go wrong?
-
Josh Scott
has quickly become a local favorite in Boulder. As the Gatorade Colorado Player of the Year and Colorado Mr. Basketball, Scott garnered high praise from recruiting experts and a
top-50
national ranking from ESPN. That the in-state star chose to stay home was seen as a sign that CU's recent rise amongst the basketball ranks was solidifying. Scott brought both the pressure of a national ranking and hometown expectations with him to Boulder, but has managed to live up to the hype through his first half-season.
CU fans got a close look at the future, with Scott appearing in multiple 4A Final Fours in the CEC. From: the Denver Post.
Back before the bright lights of Pac-12 play, Scott was the
first commitment
of the 2012 recruiting class, choosing CU early in the process over schools like Stanford, Wake Forest and CSU. A strong performance on the AAU circuit, combined with the big-time numbers he was putting up for Lewis-Palmer had some worried that he was flying too close to the sun, and would soon earn offers from the kind of high profile schools that you can't say no to. To his credit, despite lurking outside interests, Josh honored his commitment to CU and Coach Boyle.
As soon as he arrived on campus, everyone paying attention could tell that he was a special player. Unlike similar young power forwards, Josh brought with him an offensive game pre-packaged for immediate production. Combining a deft ambidextrous touch in the paint with surprisingly strong shooting skills, he was a complete offensive force from day one. He's the kind of once-in-a-generation post talent that generally passes CU by.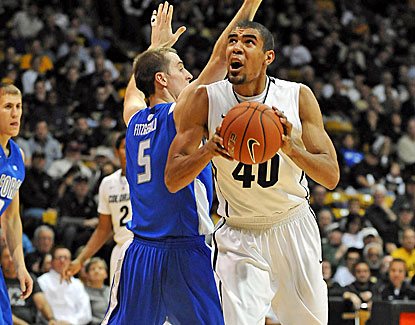 Despite his youth, Scott has an offensive package that most bigs would kill for.
While he has shown that there's still plenty of work to be done in refining his game, especially on the defensive and rebounding sides, Josh's undeniable offensive talent made him a Pac-12 star from the season's opening tip-off. Time and time again, BasketBuffs have demanded more touches for the big man, who is already one of CU's most consistent scoring threats.
- Much like Scott,
David Harrison
came to CU with sterling high school credentials. Even more then
The New Fundamental
, however, Harrison was lauded nationally, ranked in the nation's
top-15 prospects,
and even secured a coveted spot on the
2001 McDonald's All-American Team
. Landing Big Dave was a recruiting coup for the Buffs, who had been quietly sliding back to irrelevancy in the wake of the Chauncey Billups era. The feat was only made possible through his older brother D.J.'s presence on the roster, and coach Ricardo Patton's recruiting connections in the Tennessee region.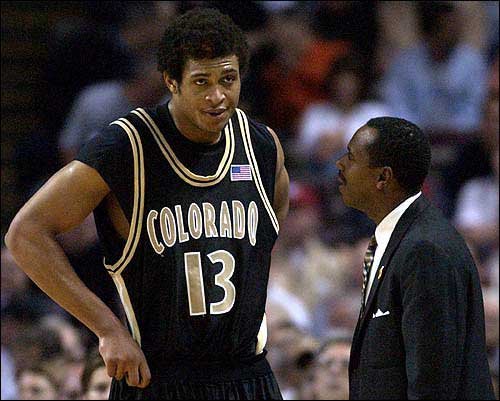 Patton landed a whale when he brought Big Dave to Boulder.
Dave came to CU with the one physical gift that Josh currently lacks: size. At a hefty 270 lbs, the freshman Harrison had a listed 55lbs on Scott. Remember, 2001 was the height of the Shaq era, and teams wanted their centers large and powerful. Harrison fit that bill to a 'T,' and his game evolved around that strength. Whereas Josh scores through finesse and polish, Dave's game was all about power and size. That's not to say I prefer one over the other, but, while equally heralded, Dave was a completely different kind of post presence than Josh is.
By the time his 15th start rolled around, Harrison was already proving the gaudy recruiting hype justified. A pair of injuries delayed the inevitable, but, by the team's return from holiday break in late-December '01, Dave was ready to shine. Starting with a 22/8 performance against St Mary's on Dec 30th, he began to reel off a series of 18 straight games scoring in double figures that would define his freshman campaign.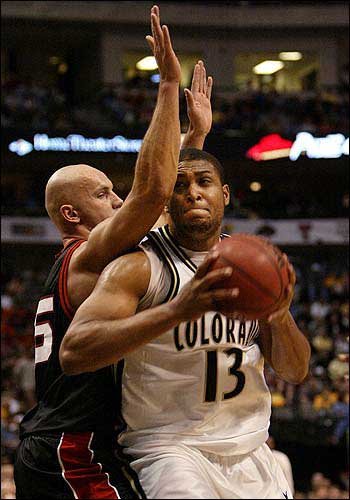 Harrison's play dominated CU box scores for three seasons.
Harrison would go on to power CU to back-to-back postseason appearances, including a memorable Tournament run in 2003. He would earn All-Big XII honors in his final campaign ('03-'04) before turning pro and becoming a first-round selection of the Indiana Pacers. Dave remains CU's all-time leader in every major blocking category, and is one of only 28 Buffs to have scored over 1,000 points in their career.
--
I compiled each players Freshman 15 stats in
this spreadsheet
for ease of use.
At first glance, things appear very similar They each scored a little over 13 points per game while grabbing six or seven rebounds. Scott is more efficient and hits his free throws, but Harrison has consistent leads in off-the-ball numbers like rebounds and blocks. Expand your view a little bit, however, and you notice a big discrepancy in minutes.
Scott is on the floor an average of six minutes more per game, a result of the fact that Big Dave was in seemingly constant foul trouble. Take away that foul trouble, and it's kind of scary to think where Harrison's numbers could've been at this point. Expanding his production over Scott's minutes, we find Harrison would've averaged a projected 17/8. Just monster numbers for a freshman big, and in-line with his numbers as a junior, when he learned to play with foul trouble.
Dave at this point was raw, but prolific. Josh is refined, but has yet to take his step forward. Therein lies the comparison. Despite producing fewer points in more minutes, Scott gets the nod in efficiency because he had fewer touches than Big Dave. Harrison was a primary focus of Ricardo Patton's offense whenever he was on the court, whereas Scott, surrounded by more talent, is often a second option on possessions. Jelly has yet to approach Dave's level of per-minute production, but only because he's not given the chances. I think it's within Scott's ability to live up to Dave's offensive potential, he just needs the ball more often.
I don't think it's a stretch to imagine Scott enjoying a career on-par with Harrison's. All-conference honors and a few trips to the post season are easily within his grasp. By the time he turns pro, probably early, Josh may eclipse Big Dave in the pantheon of modern CU greats.
--
P.S.
There's been a
lot
of
talk
this week about what changes need to be made in order to kick-start offensive production. Different starting line-ups, rotation shake-up, different ball handlers, etc. I think the required change is much more subtle. Give Josh the ball! It'll force an adjustment from the opponents, and open things up for the guards itching to attack the rim.
He's so efficient that getting him more touches can be nothing but positive.